There's nothing quite like New York City during the holidays. It's nothing short of magical, and it's no wonder that so many Christmas movies take place in the Big Apple. Even lifelong New Yorkers love to hit the streets this time of year and take in the holiday spirit, but sometimes you'd rather enjoy it from the comfort of your apartment. Here's a roundup of the best NYC Christmas movies to watch, curated by the StreetEasy editorial team.
The Best NYC Christmas Movies
Elf (2003)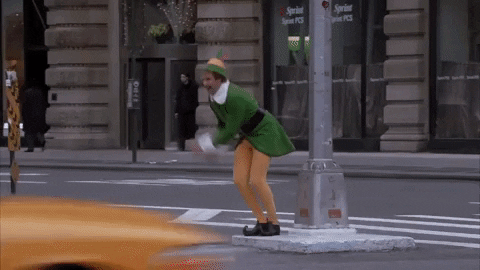 If you think your humor is too sophisticated for Will Ferrell and the likes of Elf, you're taking yourself too seriously. This modern Christmas classic is the epitome of New York City cynicism meets holiday cheer, which makes it an obvious choice for the list of best NYC Christmas movies. The plot may be a simple, if implausible one, but the real appeal is Buddy the Elf's indefatigable optimism in the face of typical NYC ambivalence. The doe-eyed elf, played by a yellow stocking-clad Will Ferrell, arrives in Manhattan from the North Pole in hopes of finding his real father. He ends up finding a whole lot more, including a love interest (Jovie) in the form of Zooey Deschanel, the Empire State Building, taxis, crosswalks, revolving doors, and of course, the "world's best cup of coffee."
Notable NYC filming locations: Lincoln Tunnel; Grand Central Terminal; Empire State Building; Rockefeller Center; Queensboro Bridge; Central Park (Pinebank Arch, Belvedere Castle, Bethesda Terrace); 10 West 33rd Street (now affably marked as the Elf Revolving Door on Google Maps)
Trivia: The "Gimbels" department store where Buddy meets Jovie is actually the Textile Building at 295 Fifth Avenue in Tribeca, enhanced with CGI. Gimbels was a real department store chain until 1987, and its New York location was just one block from the present-day Macy's Herald Square. In our next film on the list, it plays an important role as a major Macy's rival!
Miracle on 34th Street (1947)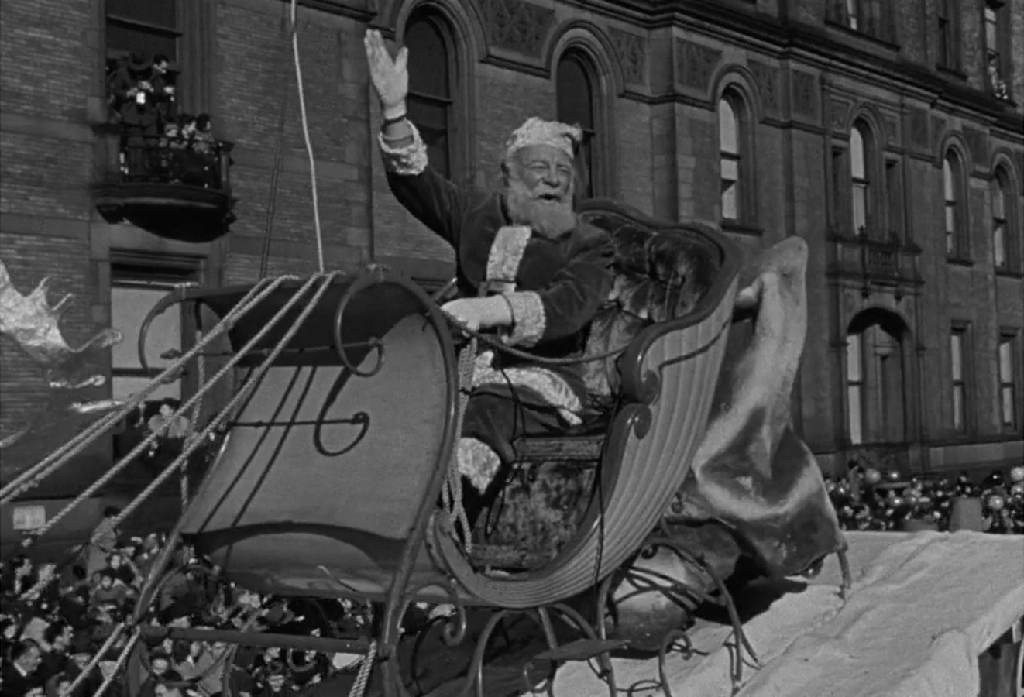 No list of NYC Christmas movies would be complete without including the archetype of NYC Christmas movies: Miracle on 34th Street. Whether you have children or not, this classic holiday movie is a must-see. A childhood ignorant of the hopes and dreams of little Susan is a sad one. The seemingly simple Christmas story turns into a courtroom drama when Susan, played by Natalie Wood – the perfect eight-year-old in her peacoat and beret – and her adult lawyer friend come to the aid of a kind old man, Kris Kringle, who claims to be the real Santa Claus himself. The Macy's flagship store at 34th Street and Herald Square, where Kris Kringle works, plays a crucial role in the film – including its title, of course!
Notable NYC filming locations: Macy's Herald Square; East 61st Street from Madison Avenue to Central Park; Central Park West; New York County Courthouse; 24 Derby Road, Port Washington, Long Island (Susan's dream house)
Trivia: The film was shot during an exceptionally cold NYC winter, and at times the cameras would literally freeze.
Home Alone 2: Lost in New York (1992)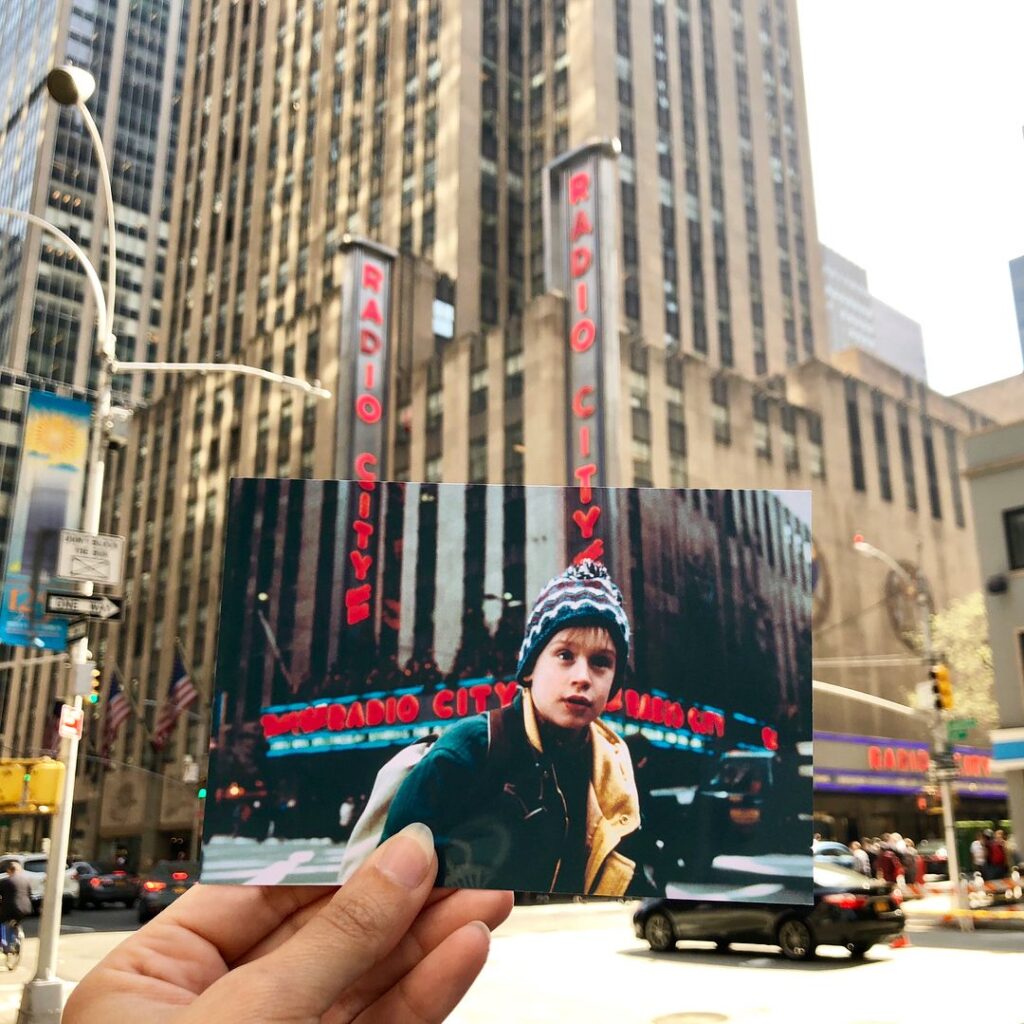 Ah, to be alone in New York as a 12-year-old, living in the Plaza Hotel, shopping at fancy toy stores, ordering room service and charging it all to your dad's credit card. No wonder this Macaulay Culkin classic is an eternal favorite and easily one of the best NYC Christmas movies. A sequel to the original Home Alone set in the suburbs of Chicago, Home Alone 2 takes little Kevin McCallister to New York City. It all starts when his family manages to lose him again, this time at O'Hare en route to spend Christmas in Miami. Kevin accidentally boards the wrong flight and ends up in New York City, where despite having to evade the Wet Bandits yet again, he adapts – and quite enjoys himself. He books a suite at the Plaza Hotel, meets the head honcho of Duncan's Toy Chest (aka FAO Schwarz, now closed, at the time located on Fifth Avenue and 59th Street), catches a concert at Carnegie Hall, befriends a pigeon lady in Central Park, and breaks into a brownstone on the Upper West Side. Along the way, he also bumps into a fledgling Donald J. Trump in the lobby of the Plaza and asks him for directions. And as any NYC Christmas movie should, the denouement takes place in front of the tree at Rockefeller Center.
Notable NYC filming locations: The Plaza Hotel; Radio City Music Hall; Central Park; Rockefeller Center; Carnegie Hall; Queensboro Bridge; Empire Diner
Trivia: According to director Chris Columbus, production spent a large sum of money on artificial snow for the Central Park scenes – only for the city to have a blizzard with plenty of natural snow soon afterward. Also, like Miracle on 34th Street, several cameras froze during filming due to cold temps.
Upper West Side Homes Under $1.5M on StreetEasy Article continues below
Scrooged (1988)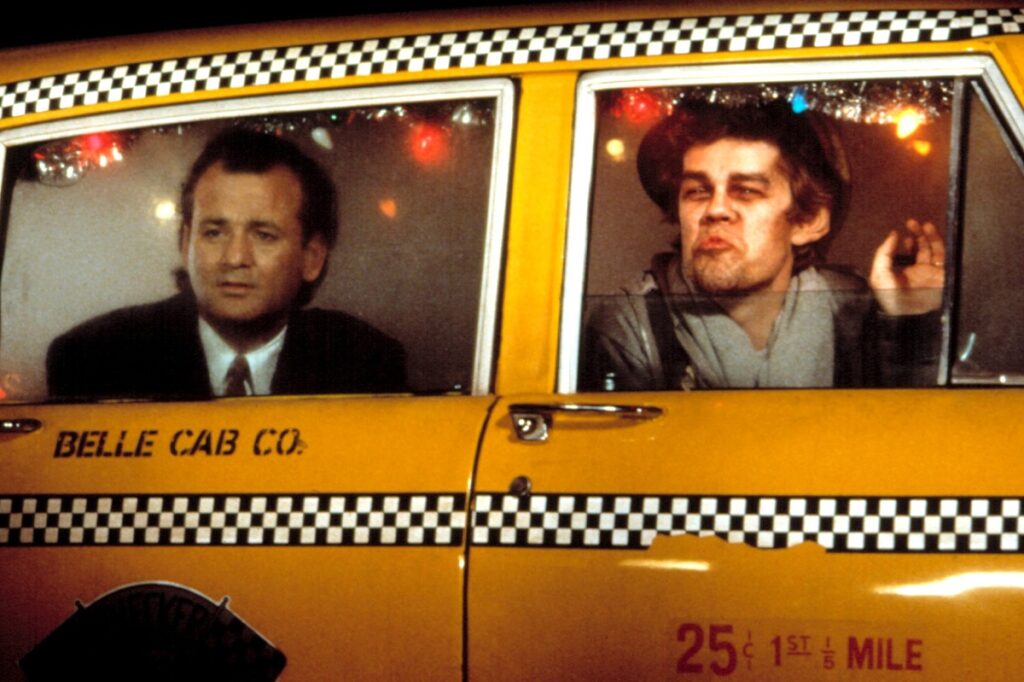 The Charles Dickens classic A Christmas Carol gets a local twist in this lesser-known holiday flick set against the backdrop of 1990s New York City. Starring none other than Bill Murray, fresh off his Ghostbusters success, the movie roughly retells the story of Ebenezer Scrooge as Frank Cross, a powerful and money-hungry Manhattan media mogul. The Seagram Building, Philip Johnson's iconic post-modern tower on Park Avenue, figures prominently as the opulent HQ of Frank's broadcasting company. In true New York City form, the Ghost of Christmas Past is a beleaguered taxi driver.
Notable NYC filming locations: Seagram Building; Rockefeller Center; Court Square–23rd Street subway station; 58-28 41st Drive, Woodside, Queens (Frank's childhood home)
Trivia: At the end of the scene at the "A&M Club" restaurant (filmed at Atlantic Grill on the Upper West Side), Bill Murray's trip and fall was unscripted.
Woodside Homes Under $500K on StreetEasy Article continues below
The Thin Man (1934)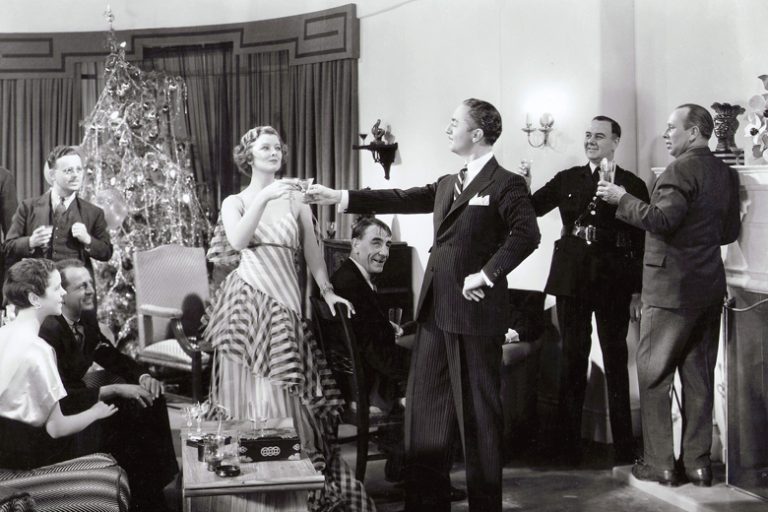 The Thin Man's claim to fame is not that it's a Christmas movie, nor that it's a New York City movie, and it's most certainly not an NYC Christmas movie. However, it's easily one of the most iconic and timeless movies of the 20th century, inspiring a whole genre of detective movies to follow, countless crossword puzzle clues, and a rise in popularity of wire-haired fox terriers. In addition to all the accolades it's received over the years and the unforgettable banter between Nick and Nora (the film's protagonists played by William Powell and Myrna Loy), the movie happens to be set in New York City during the holidays. On top of this Christmas season backdrop, the fast-talking, cocktail-fueled couple takes on a missing person case. On Christmas morning, the couple spends the holiday lazing about, shooting ornaments off the Christmas tree for target practice.
Notable NYC filming locations: Well, there are none, since the movie was mostly filmed at MGM Studios in Culver City, California.
Trivia: In one of many scenes revolving around alcohol, Nick Charles describes his favorite cocktails: "The important thing is the rhythm. Always have rhythm in your shaking. Now a Manhattan you shake to foxtrot time, a Bronx to two-step time, but a dry martini you always shake to waltz time." While you probably know the Manhattan, the lesser-known Bronx cocktail is believed to be invented by a bartender at the Waldorf Astoria New York in the early 1900s, who named the drink after visiting the Bronx Zoo. It's made with gin, equal parts sweet and dry vermouth, a little orange juice, and orange bitters – make one for yourself and enjoy it during the flick!
The Apartment (1960)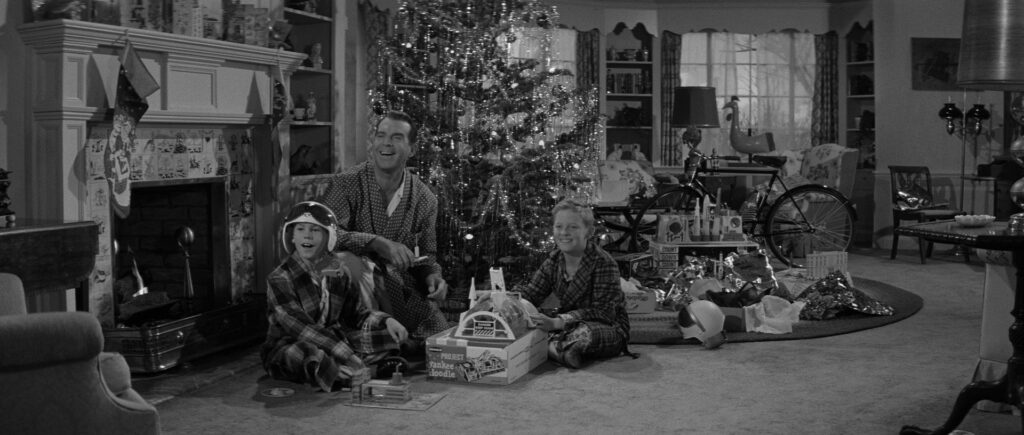 Riding on the success of Some Like It Hot, director Billy Wilder next released The Apartment, another rom-com featuring Jack Lemmon and an all-star supporting cast including Shirley MacLaine and Fred MacMurray. The movie received praise when it came out in 1960 and went on to win five Academy Awards, including Best Picture. It's also been included on several lists of the greatest films of all time, including one by the American Film Institute, and was added to the United States Library of Congress National Film Registry in 1994. Set in New York City during the holidays, The Apartment tells the story of an average office cog, C.C. "Bud" Baxter (Lemmon) who attempts to curry favor with the company execs in hopes of landing a year-end promotion and holiday bonus. Bud's Upper West Side apartment – given as 51 West 57th Street in the movie, but filmed on a West Hollywood lot – plays a prominent role in the film, as does the office Christmas party. The movie culminates on New Year's Eve with a mix of plot reversals, popping bottles, and the film's now famous last line: "Shut up and deal."
Notable NYC filming locations: 2 Broadway; Majestic Theatre; The Emerald Inn (205 Columbus Avenue, now a retail store after closing in 2013); Central Park West near Columbus Circle
Trivia: 2 Broadway, the office building where Bud works, became the MTA headquarters in the early 2000s after much controversy.
Upper West Side Rentals Under $2,500 on StreetEasy Article continues below
When Harry Met Sally (1989)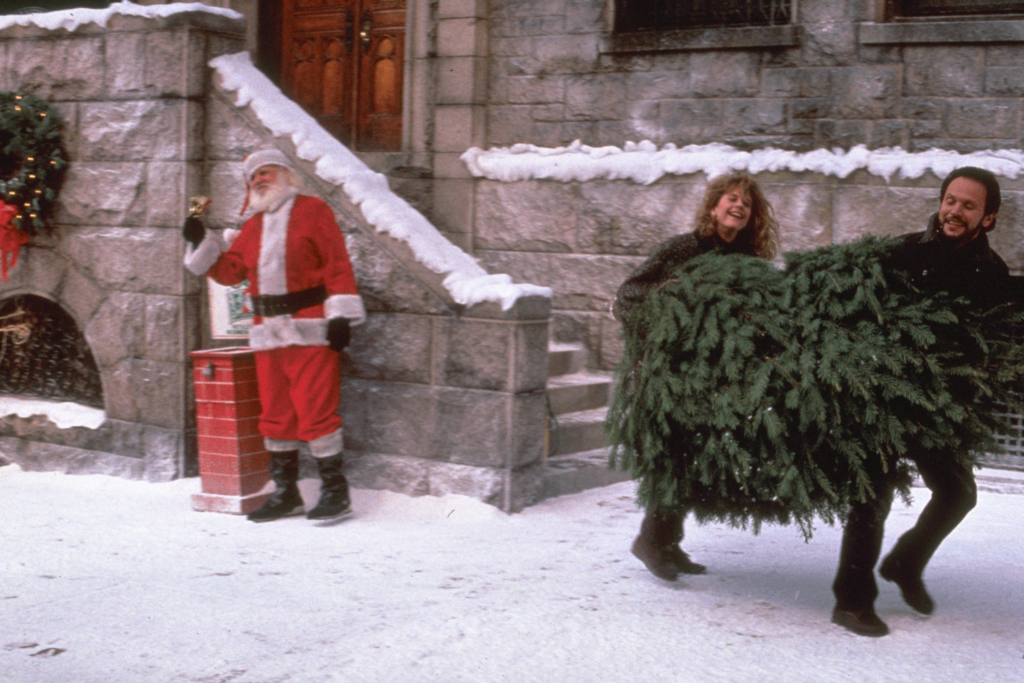 When Harry Met Sally is probably more closely associated with autumn and New Year's Eve, but not including the Nora Ephron rom-com masterpiece on the list of best NYC Christmas movies just felt wrong. The tale of friends-turned-lovers follows Harry Burns and Sally Albright over 12 years in New York City, with many beautifully shot scenes full of vibrant fall foliage and the NYC holiday season. A montage segment set to Ray Charles' "Winter Wonderland" – right after the infamous "I'll have what she's having" scene in Katz's Delicatessen – depicts a snowy Central Park, ice skaters at Rockefeller Center and the Wollman Rink, children sledding, holiday window displays, and Harry and Sally buying a Christmas tree at West 96th Street and Broadway. In the end, the two finally profess their love for each other at a New Year's Eve ball (taking place at the Puck Building in Nolita), where Harry famously tells Sally: "When you realize you want to spend the rest of your life with somebody, you want the rest of your life to start as soon as possible."
Notable NYC filming locations: Washington Square Park; Central Park (Loeb Boathouse, Bethesda Fountain, and more); Metropolitan Museum of Art; Katz's Delicatessen; Cafe Luxembourg; Coney Island; 32 West 89th Street (Jess and Marie's home); and many, many more.
Trivia: The Upper West Side spot where Harry and Sally purchase a Christmas tree is PlantShed 96th St. – which is still open today!
Where to Buy a Great & Cheap Real Christmas Tree in NYC
FIND OUT HERE
Serendipity (2001)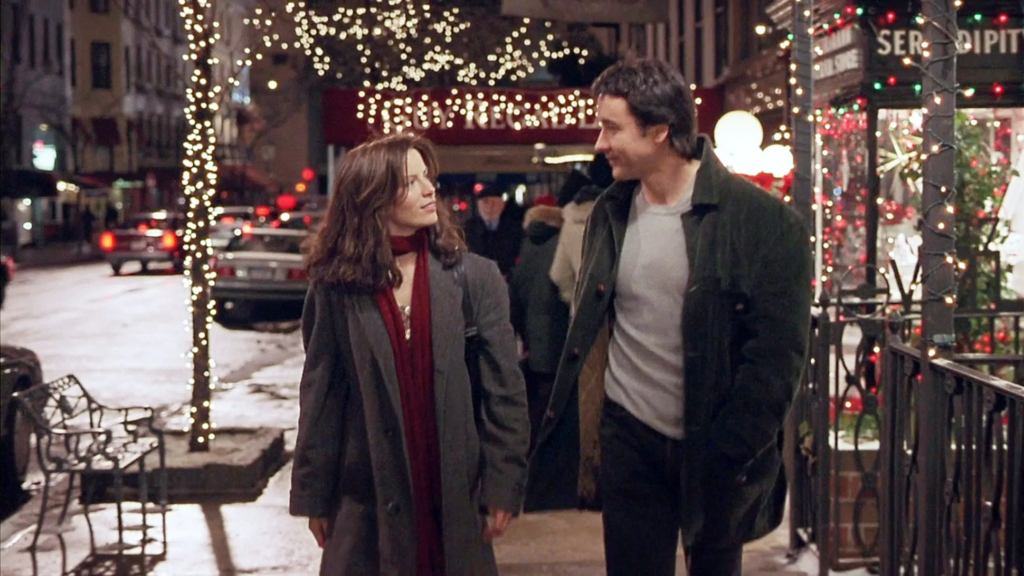 It's cheesy as all hell, but like the previous film on the list, it just didn't feel right to leave out Serendipity. In true New York fashion (no pun intended), Jonathan Trager (John Cusack) and Sara Thomas (Kate Beckinsale) have a meet-cute while Christmas shopping at Bloomingdale's when they try to buy the same pair of cashmere gloves. They then have dessert at Serendipity3 on East 60th Street, where they enjoy the famous Frrrozen Hot Chocolate, followed by ice skating at the Wollman Rink in Central Park. The two later board separate elevators in the Waldorf Astoria New York and decide that if they arrive on the same floor, they're meant to be together, but the experiment fails and they separate. A series of, yes, serendipitous happenings eventually bring Jonathan and Sara back to each other, all involving the aforementioned NYC locations. It's a bit predictable and trite, but isn't that what makes holiday rom-coms so comforting?
Notable NYC filming locations: Bloomingdale's 59th Street; Serendipity3; Wollman Rink; 33rd Street subway station; Waldorf Astoria New York; Chelsea Piers; Grand Army Plaza
Trivia: The table at which Jonathan and Sara sat in Serendipity3 is now known as the Star Table. Try your luck at the restaurant and see if they seat you there!
All I Want for Christmas (1991)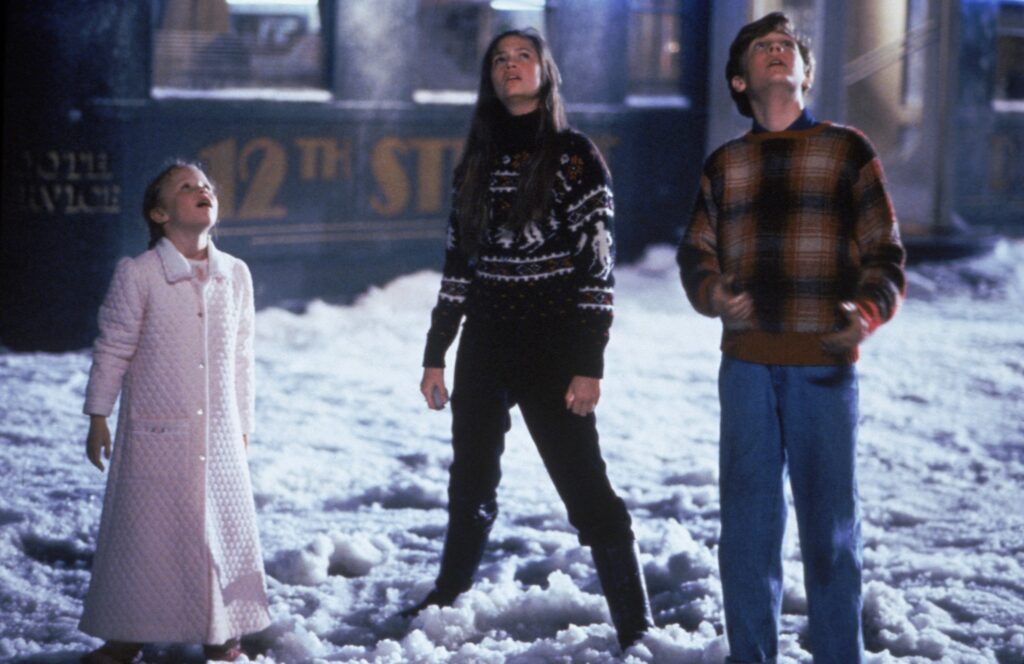 Let's round out our list of best NYC Christmas movies with this underrated gem. All I want for Christmas…is this movie getting the recognition it deserves! Although it was a flop among both critics and the box office, if it belongs on any list, it's this one. Starring a young Ethan Embry and Thora Birch, two New York City siblings carry out a scheme to get what they most want for Christmas: their divorced parents back together. Along the way, they get a little help from Santa Claus, played by none other than Leslie Nielsen. The film is a fun depiction of how savvy and wise beyond their years NYC kids can be – especially when it comes to making their holiday wishes come true.
Notable NYC filming locations: Don't get your hopes up, as All I Want for Christmas was filmed entirely in Los Angeles, mostly at Paramount Studios and Downtown LA.
Trivia: Not only was the movie filmed in Los Angeles, but during a scorching hot LA summer.
SOURCES: otsoNY.com, movie-locations.com, IMDb
More NYC Christmas Content