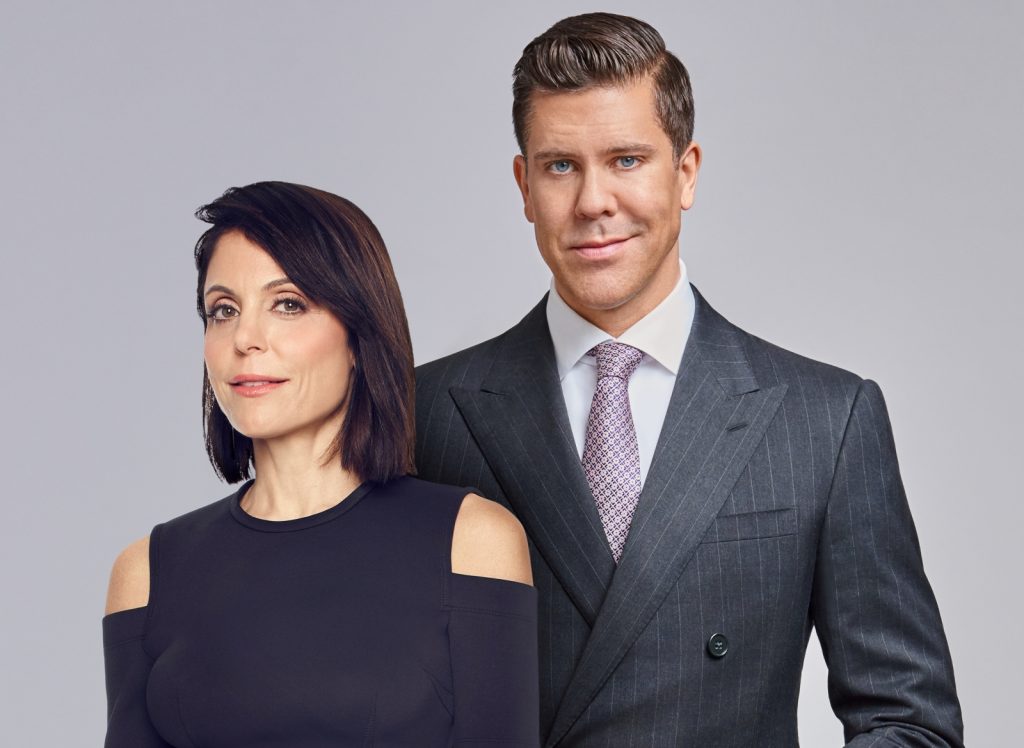 Bethenny Frankel first saw Fredrik Eklund's million dollar touch when he sold her Tribeca loft for asking price within one day. Now, the Bravo stars (he appears in Million Dollar Listing and she's an alumna of The Real Housewives of New York and Bethenny Ever After) have embarked on a partnership to flip houses. Their inaugural venture, a 2-bedroom unit in the newly converted 10 Madison Square West, is documented in the new series Bethenny and Fredrik. Ahead of the show's Feb. 6 premiere, StreetEasy met the pair in the apartment they renovated — No. 2D — to talk about design style, doing business with friends, and how Bethenny earned the title of "budget queen."
How would you describe each of your aesthetics and how did you combine them for the apartment?
Fredrik Eklund: She's all about layouts, efficiency, storage, how to live in the apartment, to generalize a little bit. And I'm very much about the surfaces.
Bethenny Frankel: That's a great answer and it's so true.
Fredrik: I remember 195 Hudson, the apartment I sold for you in Tribeca and I opened, you could see everything was marked. The diapers, this and that, everything was so organized, and I'm definitely not like that. I'm all about the outside, before you open and look what's inside. It has to be shiny.
Bethenny: That's a great answer. It's true. I'm very about how the apartment functions. Because I know we live so small in Manhattan, it's all about utilizing every space.
What skills are each of you bringing to this partnership?
Bethenny: Fredrik really knows real estate. He really understands the temperature of this business and he understands buildings and new construction versus older. He understands the landscape. I'm very good at having a vision with something that's already dilapidated, or how to get value out of something by using an economic approach and managing a budget.
Fredrik: She's very good with numbers and thank god I have her. I call her the Budget Queen. As StreetEasy would know, I'm used to spending developers' money and not my own money. This is different. This was very important to keep certain milestones and budgets and timing.
How did you handle the budget and how did you compromise on budget issues?
Bethenny: You find out what you really, really want and then you figure out how to get it in the most inexpensive way. It's like having a wife who really wants to buy the most expensive thing and then I have to figure out how to get it, work to get it, and to compromise.
Fredrik: You also had the balls to go in and not pay retail. That's news to me. I've bought bulk for developers, but not come in — it makes total sense. Of course, she's like, "We need the biggest discount for anything that we buy."
Bethenny: We also bring value. We're going to get people press. The closet woman, I've given three other jobs. You have to wheel and deal. In this case we had to.
What kind of return were you looking for?
Fredrik: It depends on how you look at it because there's two of us.
Bethenny: Before you answer that, I want to say for the time that we've put into this, even whatever profit we make, it would be a loss. We've spent six months of our lives doing this to prove ourselves and to see how we could get this done. But we've talked about, if you take the hours and the major discounts we've gotten, whoever buys this is getting an amazing deal. Because that closet would have been $35,000, [but] we got it for $15,000, because of our relationship with them. So we did a lot of that, we used a lot of our relationships on this one project for the greater good of our partnership.
Fredrik: I think what I love about Bethenny, too, and I am sometimes a little loftier with my dreams and goals, but she called that the market wasn't going to be maybe the best, or there's going to be more inventory this winter, which obviously was the case. She called it before me. I feel like we've been realistic with the pricing.
Bethenny: Sometimes you [Fredrik] know so much, he's so in it and he's in it in every area in the city. But I'm only focusing on downtown, what we're doing. So I'm obsessive in a different way. So we do bring two sides to the real estate market differently. I'm a customer. Like, if you're in a restaurant and you're in the kitchen its hard for you to really see what the customer's experiencing. So he's in the kitchen. I'm the customer. I'm always looking, I always want to see apartments, I'm constantly looking through StreetEasy to look at listings. I do know a bit about what we're talking about. He has to be actually working and selling real estate.
Fredrik: Let's say we would make $500,000.
Bethenny: I think we're looking for about 10 percent.
You both have young children. How has that changed what you might prioritize in a building?
Bethenny: When we were looking and doing our show, Fredrik hadn't had his kids yet. So when we went to that fourth-floor walkup I said, "Do you understand what this would be like with a stroller?"
Fredrik: I didn't even think about it.
Bethenny: I said to him, even the little areas in the front, where are you putting your stroller? Now he gets that more than I do.
Fredrik: And in my building, where I live in Tribeca, we don't have a pool. We have a gym but it's not big. I can really start appreciating, with kids, especially with twins.
Bethenny: Oh, kids' rooms! A place to throw your kid. My daughter would love a swimming pool in the building. Kids love that stuff.
What have you learned from this experience that would shape your decisions in future projects?
Bethenny: I like to not do new construction, it's harder to make money. And I feel like all of these new construction buildings are cancelling each other out because there's so many. So I'd rather find really unique properties. You can't compare a unique place that has 22-foot ceilings, that's 40-feet wide. Basically, like the apartment I bought. I bought an apartment that looks like a hockey rink. It has no structural walls so all the square footage is there. There's nothing that can compare with that. We don't want to be competing with every new construction building that has a gym and a dry cleaner. We want to go find something unique. Maybe it was a nightclub or a theater or something cool.
—
Hey, why not like StreetEasy on Facebook and follow @streeteasy on Instagram?