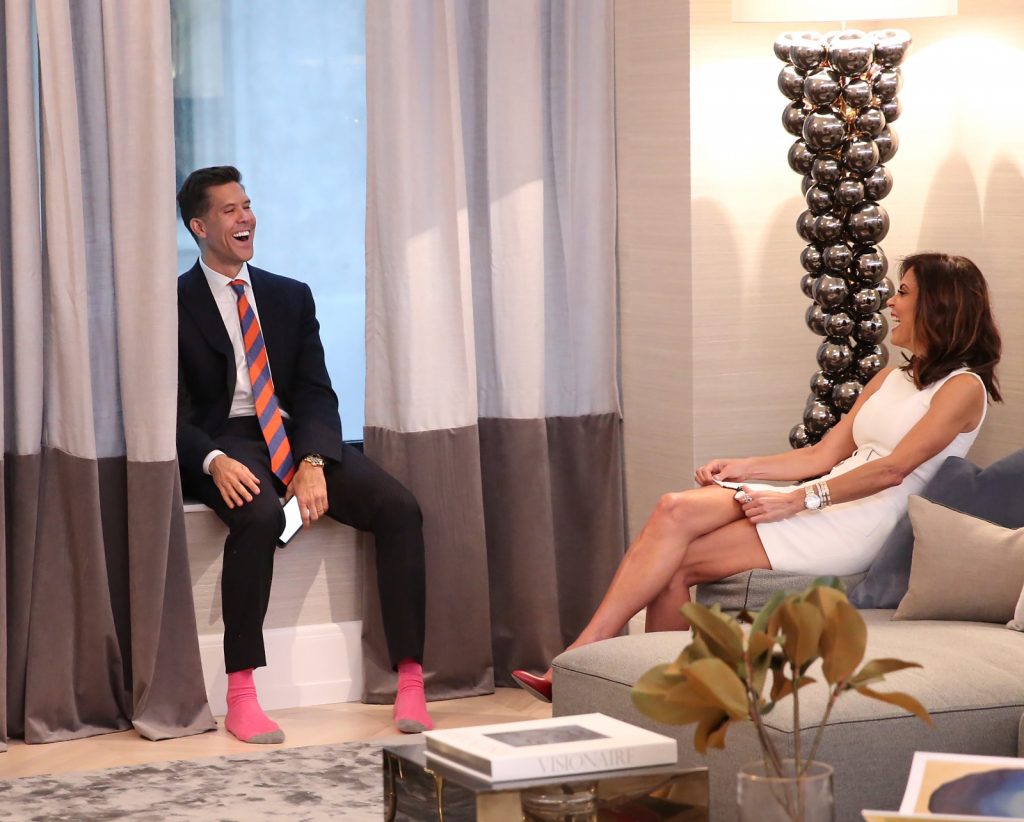 The real estate bona fides of Bravo stars Fredrik Eklund, of "Million Dollar Listing New York," and Bethenny Frankel, a longtime cast member of "The Real Housewives of New York City," are by now well established. In 2016, he got her the full asking price of $6.95 million on a Tribeca loft after just one day on the market, her work on the place yielding $2 million more than she paid for it five years earlier. Since Bravo executives are not ones to snooze on the marketable skills of their franchise stars, they've given us "Bethenny and Fredrik," a new series documenting a business partnership between the two that has them renovating and listing a Manhattan condo.
"What could really go wrong here?" Fredrik asks early in the first of the two episodes that kicked off the season Feb. 6. Oh, so much: Screaming, profanity, and insults, oh my. The dynamic is clear from the get-go: He loves marble no matter what the price, and she's an unyielding budgeter. Let the games begin.
First Project: A Flatiron Condo
As we're introduced to the property — a 2-bedroom, 2.5-bath converted condo at 10 Madison Square West that Fredrik purchased in 2016 — the most praise Fredrik's assistant Jordan can muster is that "it's an apartment." While it's currently something of an unfinished, brown-carpeted monstrosity, Fredrik promises it will soon have that trademark Eklund shine. "This is not the 1970s in Sweden," he assures Jordan.
Fredrik meets with his contracting and design team, and we learn that he opted out of the apartment building's standard fixtures in order to provide the kind of custom kitchen, bathroom and flooring that he believes will attract high prices. Enter Bethenny, who seems skeptical about Fredrik's claims that 10 Madison Square West is "the hottest building" in "the hottest neighborhood" and is worried that he's "blowing flowers" up her skirt. It's not until she catches sight of the bedroom-sized closet, which Fredrik plans to outfit with a center island and custom lighting, that her heart truly soars.
The sticking point? An initial renovation price estimate of $400,000, which leaves Bethenny nearly catatonic. She redid a significantly larger and older apartment, and that only ran her $350,000. And then we learn that the work for the dream closet wasn't even included in the $400K figure. Oh, the misery!
Settling on Costs and Splits
Later on, at his Connecticut home, Fredrik's husband Derek questions whether he'd be better off flipping 10 Madison on his own and getting the full profit. Ultimately, Fredrik knows he's going to need Bethenny to rein in his tendency to overspend, and sees this project as a steppingstone to bigger ventures. He outlines all the relevant numbers in an email to Bethenny and then … nothing. Fredrik confronts her about her radio silence over a meal and sake, and is humiliated to realize that he somehow missed the reply in which she agreed to sign on.
At a meeting with Fredrik's accountants, Bethenny and Fredrik get down to brass tacks (or, at least the brassiest tacks reality TV will allow). He paid $2.975 million for the apartment in 2013, and it's now appraising at $3.75 million. Bethenny's offer is $1.4875 million and an even split on the profits. Fredrik believes he should be collecting the bulk of the profit, as the place has accrued so much value since he purchased it. Bethenny then offers $1.7 million, on the condition that Fredrik, who "spends like a drunken sailor," agrees to cap expenses at $300,000. A deal is struck. Now we're cooking with gas.
Episode 2 Recap
Episode 2 finds Bethenny debating the merits of her new venture over matcha tea with fellow "Real Housewives" star Carole Radziwill. Meanwhile, Fredrik shops for clothes for the twin babies he and Derek are expecting along with Jordan, the assistant, who expresses concerns about Bethenny's intensity. Later, Bethenny and Fredrik bond over sidewalk-vendor sunglasses before a meeting at the apartment with Fredrik's design and contracting team. Anguished looks abound after Bethenny issues the new budget directives. But the salt in the wound comes when Bethenny's personal contracting and design team wanders into the room, igniting a turf war that Fredrik classifies as "the rudest, weirdest fiasco."
The ensuing summit leads to some positive ideas on substitute materials to keep the costs down. That plan is put into action when the pair make a visit to a Brooklyn stone import warehouse, where Fredrik is able to indulge his infatuation with marble. ("This is like going to a strip club for me," he announces.) They're looking to pick something for the kitchen counter that won't run up the numbers. In love with a $120-per-foot Calacatta marble, Fredrik blanches when Bethenny suggests a porcelain option. "You're not living here," she reminds him. The cost differential? Roughly $30,000 to $40,000 versus $15,000 to $20,000. It's enough to get Fredrik to consider stepping over to the other side.
Once off duty, Bethenny heads to a bar for a date set up by Fredrik. The gentlemen in question is an Australian named Kane Manera, who starred on the soap opera "Guiding Light" before becoming a Corcoran broker. Kane impresses Bethenny by ordering a Skinnygirl margarita, but she's kept her expectations low. "If my date doesn't like to bang men, that's a plus," she explains. Quick-witted repartee ensues, as Kane, who's apparently never laid eyes on the New York Post, feigns ignorance about her extremely well-documented romantic history.
We barely have time to ponder the future of Kanenny before we're back at apartment 2D, where the construction team has begun work. Fredrik attempts to motivate the five-man crew to make his tight, two-month deadline by offering them a picnic lunch — wicker basket and all. "I don't think Serbian construction workers like a picnic," Bethenny tells him, though Fredrik assures her that he has "been to the former Yugoslavia and picnicked there." Touché.
A moment later, the champagne has barely been popped and the party hats just donned when contractor James calls about a problem with the guest bathroom shower. Fredrik's vision is big and open and luxurious, but doing that, James reveals, would call for a change in the shower configuration that would require drilling through the floor. The change will mean a months-long delay. "This is a huge disaster," Fredrik mutters through gritted teeth, before the screen cuts to credits. And with that, our introduction to the Bethenny & Fredrik universe is complete. Until next time, hold your marble close and your checkbook closer.
—
Hey, why not like StreetEasy on Facebook and follow @streeteasy on Instagram?