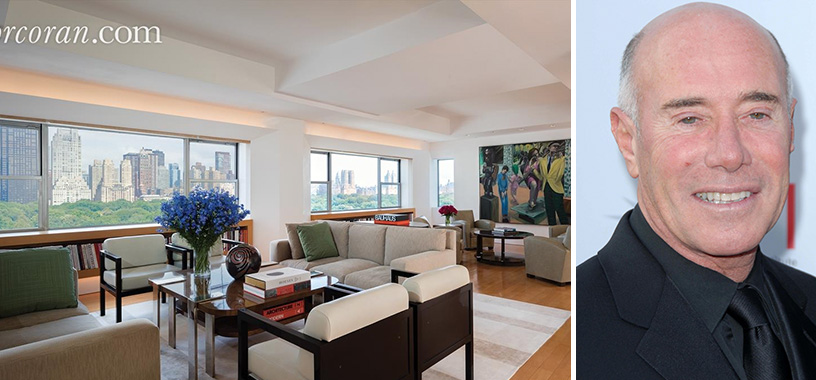 Billionaire movie and music mogul David Geffen has sold his Fifth Avenue co-op to Eugene Shvidler, a Russian oil magnate, in a $24.5 million deal. Despite the high profiles of both seller and buyer, the sale went down quietly in an off-market deal, according to the Observer. Both men have net worths in the billions and a thing for boats. Geffen's yacht, the Rising Sun, is reportedly worth $590 million. The value of Shvidler's has not been not disclosed, but it apparently has a 65-man crew. This 2-bedroom, 5,000-square-foot co-op all of a sudden seems rather modest.
The sale of 785 Fifth Ave. #17AB marks the third major real estate sale for Geffen in recent years. In 2017, Geffen sold his Malibu compound for $85 million in another off-market deal. The year before, he cashed in his East Hamptons estate for $63.7 million, then acquired another nearby Hamptons property.
Geffen first listed the co-op in 2016 for $27.5 million, but took it off the market three months later. As of May 3, however, property records obtained from the Department of Buildings show that the property sold for three million dollars below the original asking price.
With  80 feet of Fifth Avenue frontage and direct views of Central Park, the apartment certainly qualifies as a trophy. Scroll through the image gallery above and you'll note no shortage of space or views. When Geffen purchased it back in 2010, for $14.7 million, the unit was laid out as a 3-bedroom. But after renovations, it is now configured as a 2-bedroom. The former third bedroom is now a generously sized media room — in other words, a bedroom for Geffen's little golden boy, Oscar.
Even after selling this 17th floor unit, it's unlikely Geffen will stray far. He purchased the 12,000-square-foot penthouse of the same building in 2012, and it still remains under construction. Where will Geffen go in the interim? He could join the mass exodus of celebs heading to Brooklyn — after all, he was born and bred in Borough Park. But more likely, he'll chart off on the Rising Sun, or head out east. Memorial Day Weekend is just around the corner, after all.
—
Hey, why not like StreetEasy on Facebook and follow @streeteasy on Instagram?