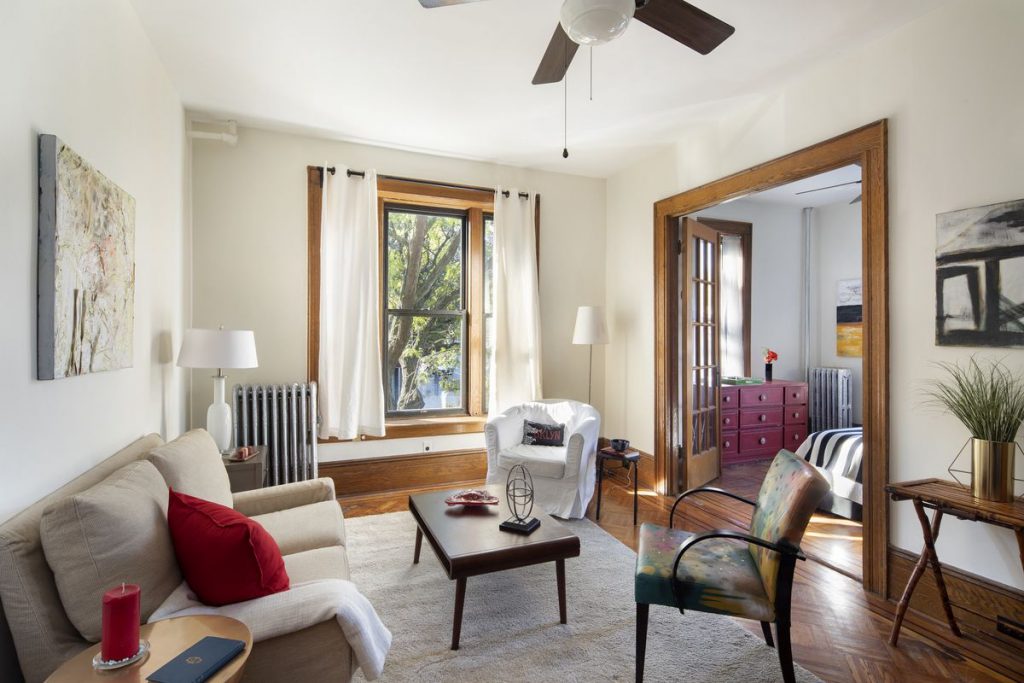 Neighborhoods around Prospect Park and Grand Army Plaza are some of Brooklyn's most desirable areas, providing easy access to outdoor space, great restaurants, and cultural events and venues. That's why these neighborhoods, including Prospect Heights, Park Slope and Crown Heights are becoming increasingly expensive. But buying in the area is still possible, as evidenced by today's Deal of the Week. Located in Prospect Heights at the northern end of Prospect Park is 233 Prospect Place #2A, a 2-bedroom co-op with plenty of light, character and convenience for a fraction of the average asking prices.
The Price: $669,000
According to the latest StreetEasy Market Reports, the median asking price for an apartment in Prospect Heights is $1.395 million, which is a 32.63 percent increase from last year. That figure puts our Deal of the Week at just under half of the median price, in a steadily increasing market.
Buyers who pay the minimum 20 percent down payment of $133,800 can expect to see monthly payments of around $3,741, which consists of a mortgage payment of $2,805 and a monthly maintenance fee of $936.
Why You'll Love It…
This corner apartment has plenty of natural light, with windows in every room. Prewar, charming details are found throughout, including the wood molding and parquet flooring. Built-ins in the living room offer plenty of storage, and classic double doors open into the first bedroom.
The kitchen is separated from the living area and has a new oven range, in addition to a washer/dryer. But there is potential to open the wall into the living area to create an open-floor plan. As it stands, there's enough space for a dining set in the living room.
The bathroom has also been updated, with tiled floors and a deep soaking tub. There's also a closet right outside the bathroom for convenient storage.
The building is pet-friendly, allows co-purchasing and guarantors, and has a great location. Just three blocks from Grand Army Plaza, this apartment is close to the Brooklyn Museum, Brooklyn Library, Prospect Park, and several subway lines.
… And Why You Might Not
This apartment isn't a true 2-bedroom since the bedroom through the double doors was probably originally a den and therefore, does not have a closet. However, there is a walk-in closet through the living room that could be used in its place. That would still leave another closet in the living room as well.
There is currently no sublet or pied-à-terre policy, and there is no elevator, but this apartment is only on the second floor. So for those looking for a long-term home, look no further.
See the listing: 233 Prospect Place #2a in Prospect Heights, represented by Jeffrey Zoldan of Brown Harris Stevens.
—
Hey, why not like StreetEasy on Facebook and follow @streeteasy on Instagram?