Manhattanites who accidentally stumble upon this neighborhood may feel like they've been teleported to a small town with charming vibes. That's thanks to its fanciful Victorian-era houses complete with lush grass lawns — take that, Central Park! — and homey front porches. But Ditmas Park, on the Southern flank of Brooklyn's 526-acre Prospect Park, is as much an integral part of New York City as anywhere else. Here, the need-to-know deets on Ditmas.
Why Is Ditmas Park a Great Place To Live?
Maybe you can thank Topeka, Kansas! "The first thing you'll notice here is the architecture," says Broker Rami Avadi of Skyline Group Real Estate in Brooklyn and Manhattan. Indeed, the landmarked neighborhood is renowned for its historic storybook facades. The whole place was planned by Lewis Pounds, a Topeka, Kansas ex-pat, in 1902. "Ditmas Park is known for their Victorians," says Abigail Palanca, a licensed real estate salesperson for Compass. "The homes are so spectacular; one is prettier than the next." Plus, Palanca says, "it's one of those neighborhoods where you can still find a porch swing. It's breathtaking. There are grassy knolls between all the major streets where you'll see locals setting up picnics on Saturday mornings. It's so picturesque." How did Ditmas Park get its name? The land it sits on was once a parcel of the Van Ditmarsen farm.
Ditmas Park Rentals Under $3000 on StreetEasy Article continues below
How Much Does It Cost To Rent or Buy in Ditmas Park?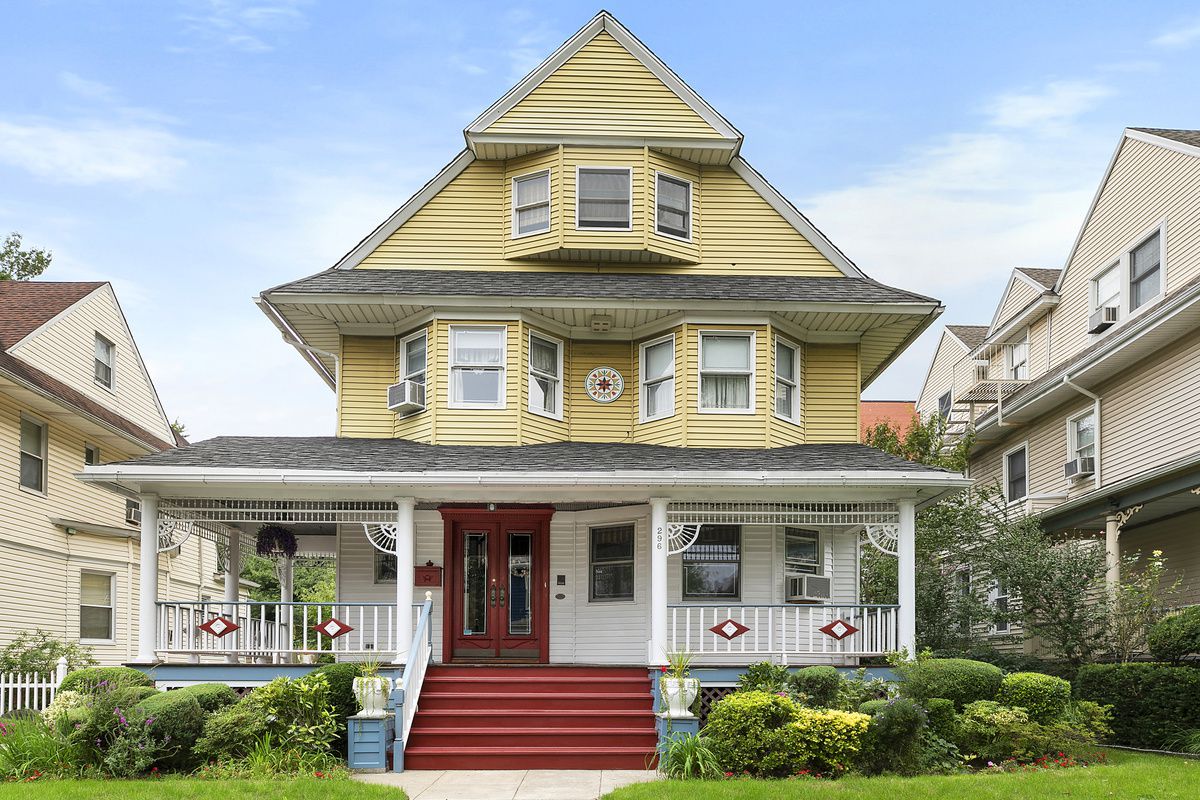 It may be smaller than ten square blocks, but the neighborhood is nothing less than an architectural wonderland. It's complete with plenty of Colonial Revival, latter-day Tudors, and even Swiss chalet-style homes (if you feel like yodeling when wandering past them, feel free). Proof the nabe is coveted: Ditmas Park had an $899K median asking sales price as of May 2021. That's still less than Brooklyn's median asking sales price of $949K for the same period.
But maybe you prefer to rent an apartment in one of the six-story pre-war or post-war buildings. Or, if you're lucky, one of the broken-up Victorians with multiple units tucked inside. You may pay around $2,000 a month, the median asking rent as of May 2021. Plus, you're bound to get a lot of amenities in Ditmas Park right now, especially if you're a renter, Avadi says. "Many buildings are upgrading. They're investing in their roof decks, their bike storage, and more. You're getting more for your dollar." If you're looking for more rental deals, here are some of the most affordable Brooklyn neighborhoods for renters.
Ditmas Park Homes Under $900K on StreetEasy Article continues below
Are There Parks and Other Outdoor Amenities in the Area?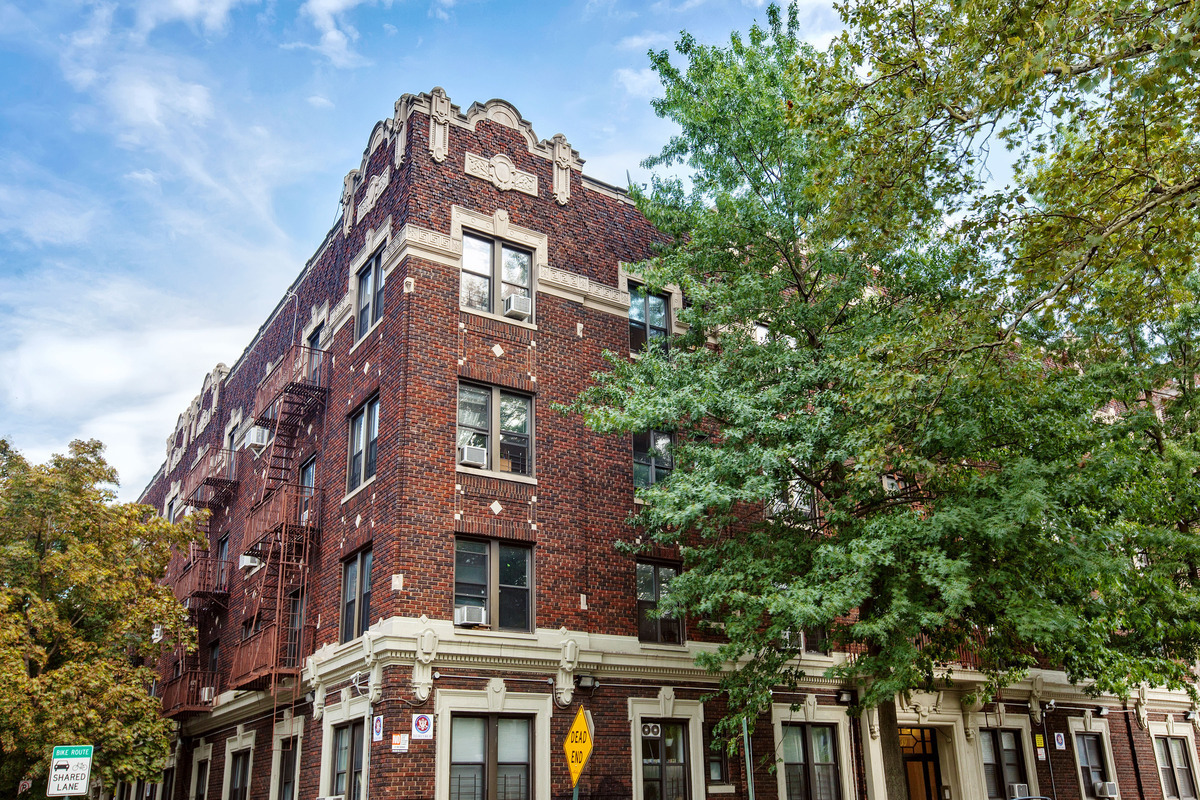 Locals can't help but brag about their proximity to the less-visited southern wing of Prospect Park, which has gems galore. The Greek-inspired Peristyle is an idyllic spot for a picnic, built-in 1905 and designed by Stanford White. (He was the man behind the Washington Square Arch and the Italian Renaissance-style townhomes that would become what's now Lotte New York Palace hotel.) Climb to the top of Lookout Hill for a postcard-worthy panorama from the perch 177 feet above sea level, where you can see as far as Coney Island. Feel like a game of pickup volleyball or want to join an extracurricular softball league? Proceed directly to the 40-acre Parade Ground, where sporty thrills abound. Discover five more Prospect Park neighborhoods.
How Far Is Ditmas Park from Midtown Manhattan?
Sure, you feel like you're in the heartland here. But the buzzing restaurants and boutiques of Park Slope are just a walk away. And a trip to Midtown takes about 42 minutes from here on the B or Q train. That convenience is one of the key selling points of the neighborhood for Palanca. "The great thing about Ditmas Park is the B and the Q run throughout the neighborhood," she says. Wherever you are in Ditmas Park, "you're only two blocks from a subway, which is super convenient."
What To Eat, Drink, and Buy in Ditmas Park
If the Park Slope Food Co-Op feels like too much of a schlep, we've got good news. Founded in 1976, the Flatbush Food Coop sells entirely organic produce from more than 225 local farmers and producers. And — wait for it — you don't have to take hourly shifts there to buy stuff. Look for everything from Brooklyn's own Ample Hills Creamery ice cream to Jake's Gouda, which is turned on pine planks daily on a 200-acre farm in Deansboro, New York.
Foodies also flock to Ditmas Park for its beloved restaurants. The farm-to-table fare would make the Midwestern founder of the neighborhood proud. Grab a table in the leafy courtyard at The Farm on Adderley to nosh on homemade ricotta-topped sourdough focaccia and crispy squash blossoms in cinnamon basil broth. (Cocktails on offer there include the cheekily-named Gowanus Swamp Water).
Want to travel the world…one dish at a time? Werkstatt has perfected Austrian classics like bratwurst burgers. Meanwhile, Mimi's Hummus is the spot for dishes from the homeowner's ancestral lands, including Iraq, Israel, and Morocco; the shawarma bowl with sheep's yogurt is legendary. Stop by What's the Scooooop ice cream shop for flavors ranging from sea salt caramel to vegan peach cobbler, a fitting touch in a sweet neighborhood.