Skyscrapers and bright lights make New York City iconic, but the parks make it livable. And while the crown jewel of Manhattan is Central Park, Prospect Park in Brooklyn is the borough's green escape. Designed by 19th-century landscape architects Frederick Law Olmsted and Calvert Vaux, it features open lawns and deep forests. Not surprisingly, the bucolic vibe is alluring. So, those on the hunt for an apartment might consider the area. But what neighborhoods are closest? Here we'll explore five Brooklyn neighborhoods that border Prospect Park. We also included each area's median asking prices for rentals and sales as of March 2021. Heads up, renters! Compared to last year, rents in these areas are way more affordable!
What Neighborhoods Are Closest to Prospect Park, Brooklyn?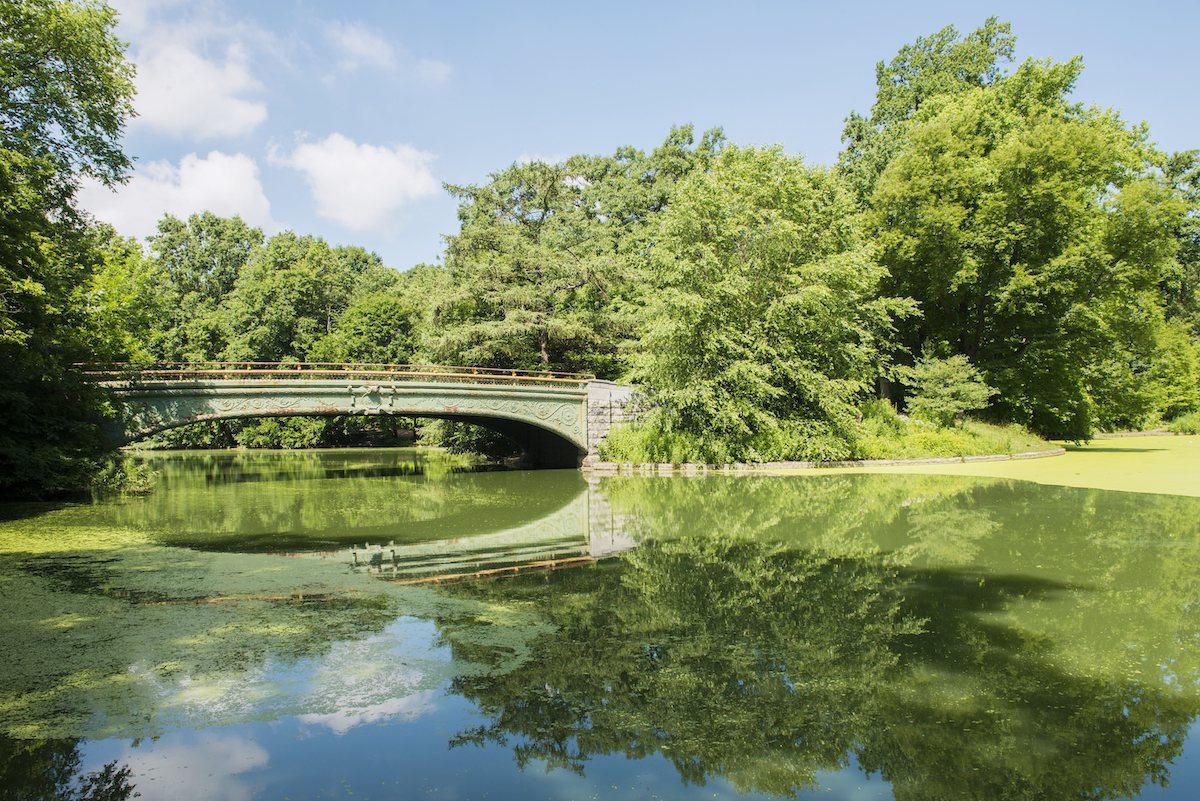 Five neighborhoods directly border Prospect Park in Brooklyn. Starting from the north and moving counterclockwise, they are Park Slope, Windsor Terrace, Prospect Park South, Prospect Lefferts Gardens, and Prospect Heights.
On two of its five sides, Prospect Park Brooklyn is bordered by separate park space. Along its southern border runs a set of public ballfields called the Parade Ground. Teeing off from the southwest corner of the Parade Ground is the neighborhood of Kensington. Due east of the park runs the Brooklyn Botanic Garden. Just beyond that lies Crown Heights.
Technically, Crown Heights and Kensington are Prospect Park-adjacent neighborhoods. But they don't truly border the park. Depending on where you are in these neighborhoods, it can be quite a hike to get to green space.
But let's look in detail at the five neighborhoods that do border Prospect Park in Brooklyn.
1. Park Slope: Charming Prospect Park, Brooklyn Neighborhood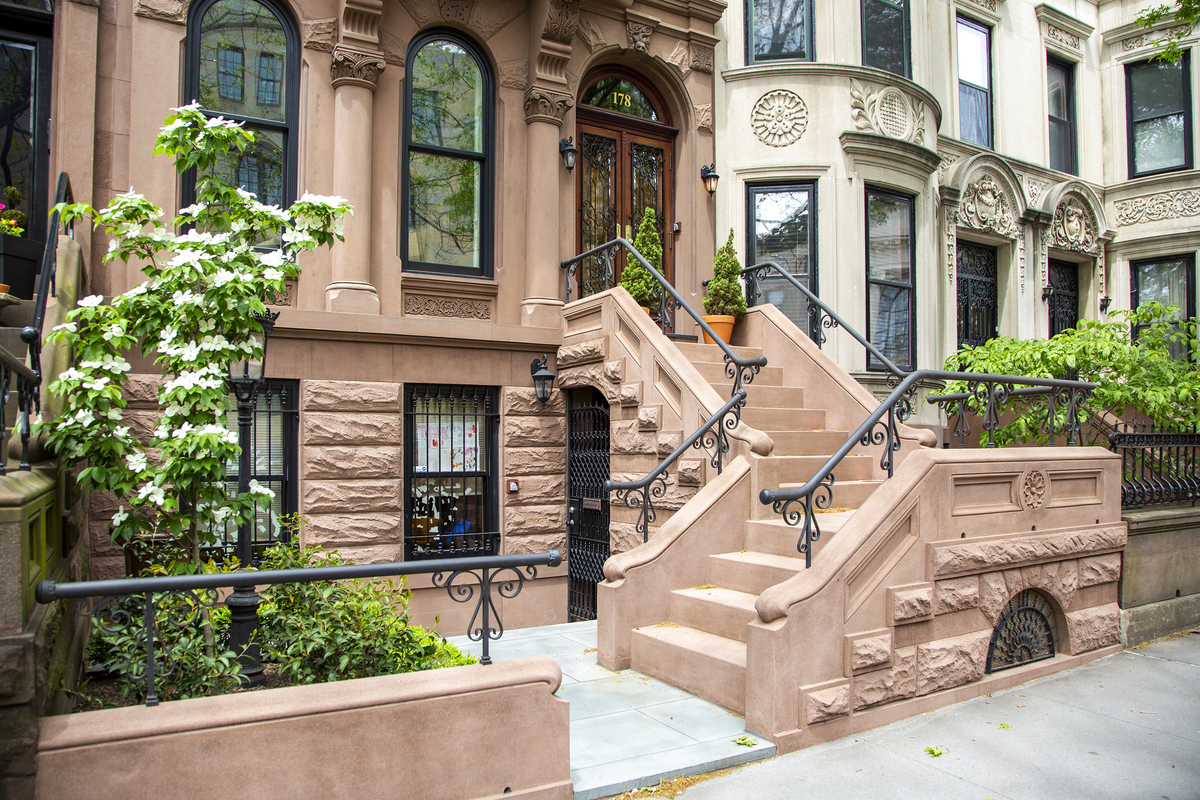 Median Rent: $2,600
Median Sale Price: $1.6 million
Subway Info: While the commute to Midtown Manhattan can be as long as 45 minutes, several subway lines run to the neighborhood. The N, R, Q, B, D, F, G, and 2, 3, 4, 5 trains are all in Park Slope.
Notable Attractions & Amenities: The neighborhood's main commercial areas are 7th and 5th Avenue. Here the offerings are a mix of locally-owned shops and restaurants. These include the beloved home goods emporium Tarzian West, the Park Slope Food Co-op, and Bogota Latin Bistro. You'll also find chains like Blue Bottle Coffee and Paper Source. On Saturdays, the Grand Army Plaza farmer's market on the northwest corner of Prospect Park, Brooklyn is packed with families, dogs, and buskers.
Overall, Park Slope is one of the borough's best bets for access to green space. Along its eastern edge runs Prospect Park West, a nearly mile-long residential stretch facing the park. Extending downhill from Prospect Park West are rows of shady streets with some of the city's finest brownstones with ornate woodwork. And the diverse community is home to A-list celebs. Maggie Gyllenhaal and Emily Blunt both have owned Park Slope brownstones.
2. Windsor Terrace: Intimate Enclave With Lots of Character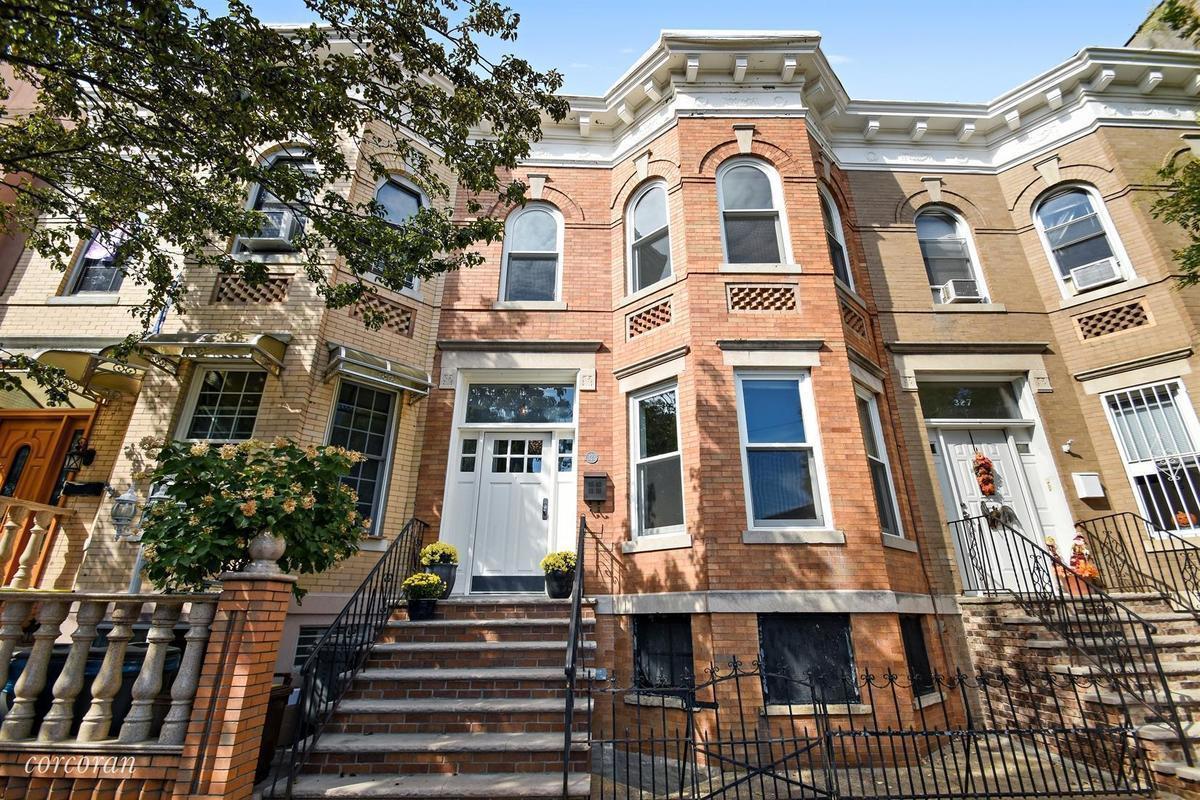 Median Rent: $2,700
Median Sale Price: $810K
Subway Info: The smaller neighborhood is serviced by the F and G trains.
Notable Attractions & Amenities: One of the neighborhood's biggest landmarks is Bartel-Pritchard Square. It serves as an entrance to the park, a traffic circle, and the site of a farmers market on Sundays. Then, you'll find old neighborhood standbys like Farrell's Bar & Grill and Giovanni's Brooklyn Eats along Prospect Avenue and Prospect Park West. Brooklyn-based bakery chain Connecticut Muffin is a local destination for cyclists. And interspersed throughout the neighborhood are newer places like the popular bar, the Double Windsor, and Krupa Grocery, a lively gastropub. The Quaker Cemetery, a little-known historic landmark, is tucked in the woods behind the ballfields and easily accessible from Windsor Terrace.
Tucked between the southwestern edge of Prospect Park Brooklyn and Green-Wood Cemetery lies Windsor Terrace. It's smaller than Park Slope and bisected by the Prospect Expressway. Surrounding Windsor Terrace's commercial pockets are heavily residential blocks, which contain a mix of single-family homes and postwar apartment buildings. Ultimately, the smaller size created a tight-knit community with a ton of character.
3. Prospect Park South: Affordable Rentals & Historic Homes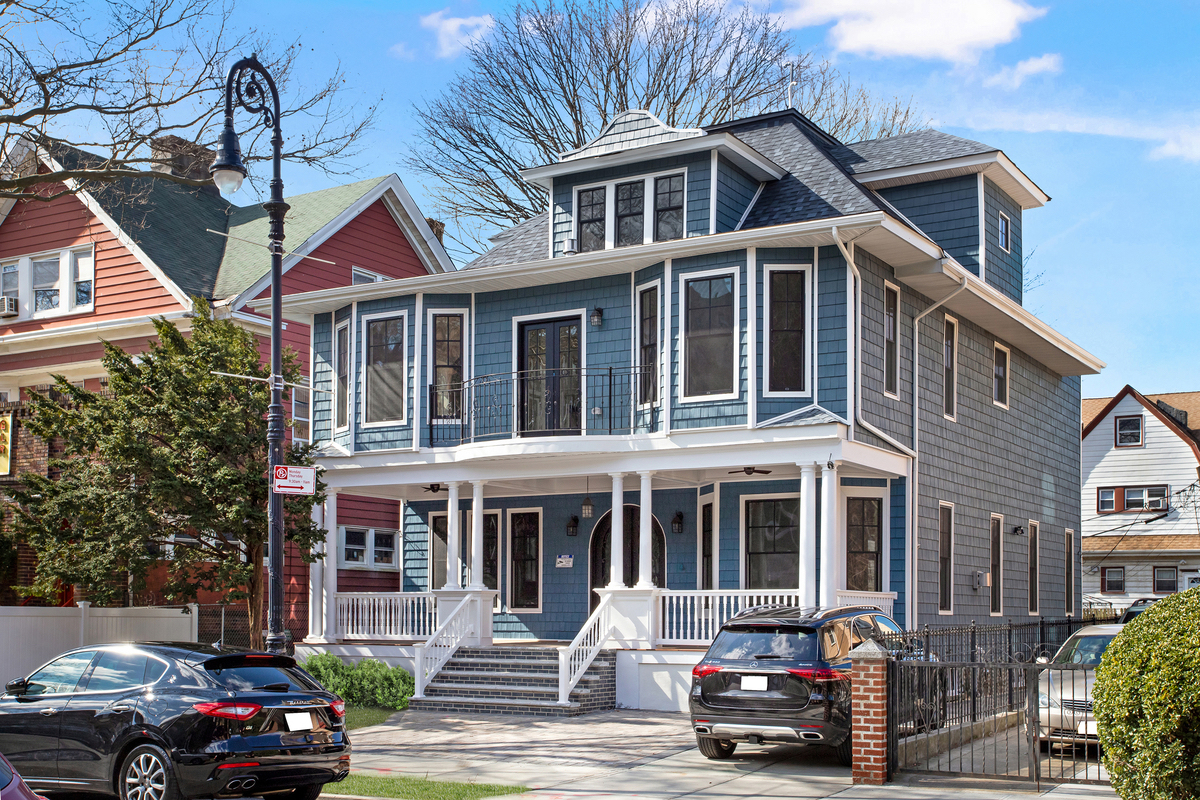 Median Rent: $1,900
Median Sale Price: $640K
Subway Info: It's about a 30-minute ride on the Q and the B trains to downtown Manhattan.
Notable Attractions & Amenities: Prospect Park South wraps around the southern corner of the park and the Parade Ground. Technically a separate park from Prospect Park in Brooklyn, the Parade Ground offers some 40 acres of public ballfields, including tennis courts, astroturf soccer fields, and baseball diamonds. The busy commercial stretch is along Church Avenue. There you'll find discount stores, hair salons, and food chains, as well as several newer additions. Cafe and community space Lark is a local go-to along with Austrian-inspired beer house Werkstatt and upscale pizzeria and whiskey bar Wheated.
Beyond Prospect Park in Brooklyn lies the residential blocks of Prospect Park South. Closer to the Parade Ground, the housing stock is primarily large prewar apartment buildings, a common housing type in NYC. Beyond Church Avenue, apartment buildings give way to expansive Victorian single-family homes. The homes, complete with wraparound porches, well-maintained lawns, and garages, are unlike anything you'll find elsewhere in Brooklyn. Another reason to love this area is the affordable rents. There are more affordable Brooklyn neighborhoods for renters.
4. Prospect Lefferts Gardens: Residential Neighborhood With Great Eats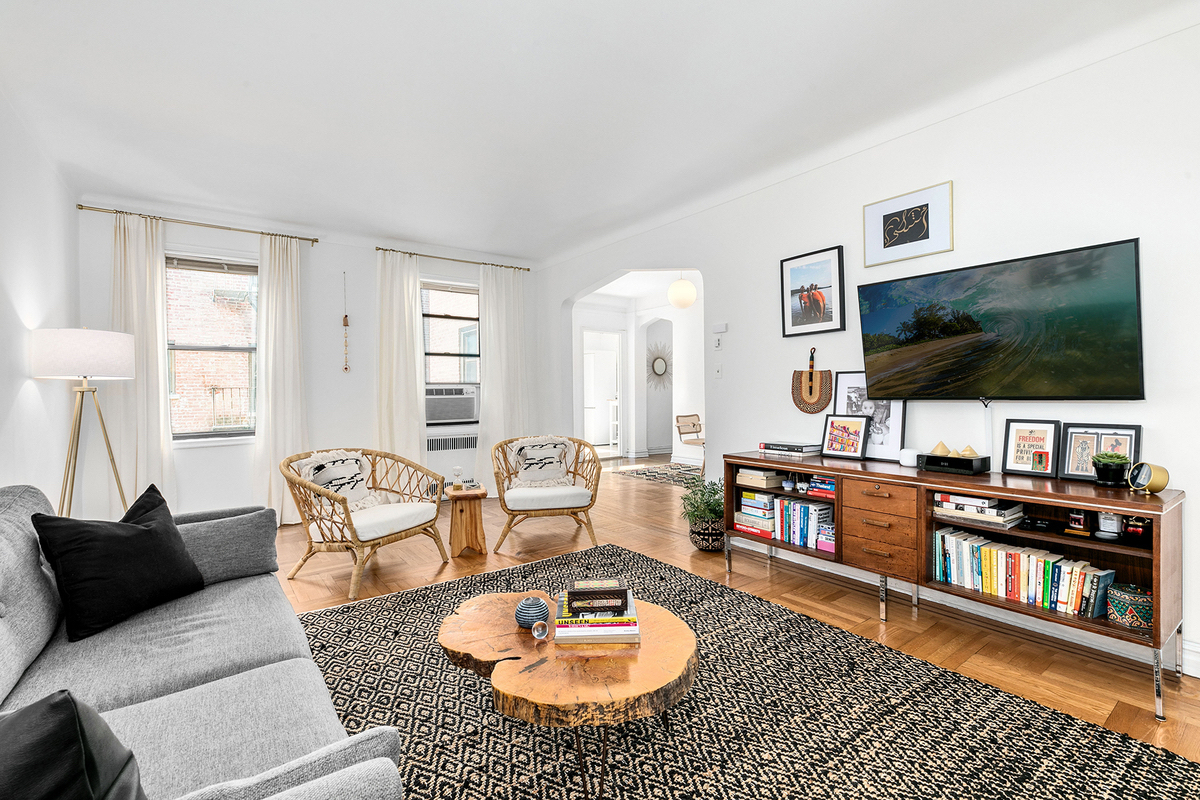 Median Rent: $2,000
Median Sale Price: $750K
Subway Info: The 2, 5, B, and Q trains will take you to Midtown Manhattan in about 40 minutes. There is also access to the S, which quickly connects to the A, C trains.
Notable Attractions & Amenities: Although Prospect Lefferts Gardens is primarily a residential neighborhood, Flatbush Avenue is dense with shops and restaurants. ZuriLee is a Caribbean pizza joint famous for its jerk chicken pizza. Up the street, there's an outpost of Greenlight Bookstore — one of the borough's best bookshops. And just steps from the entrance to the park at Parkside Avenue is Risbo. This fast-casual restaurant serves up craft cocktails and delicious rotisserie chicken.
Extending east from Prospect Park, Brooklyn's southern corner is Prospect Lefferts Gardens, or "PLG" colloquially. The section of the park adjacent to the neighborhood contains the LeFrak Center at Lakeside. The stunning complex designed by Tod Williams and Billy Tsien opened in 2013. It includes a skating rink, cafe, and boathouse. On the residential streets surrounding the park, Prospect Lefferts Gardens lives up to its name. It's home to many prewar and modern midrises as well as single-family houses fronted by well-tended gardens. As a result, the neighborhood has often won the Greenest Block in Brooklyn competition.
5. Prospect Heights: Vibrant Area With Quick Access to Manhattan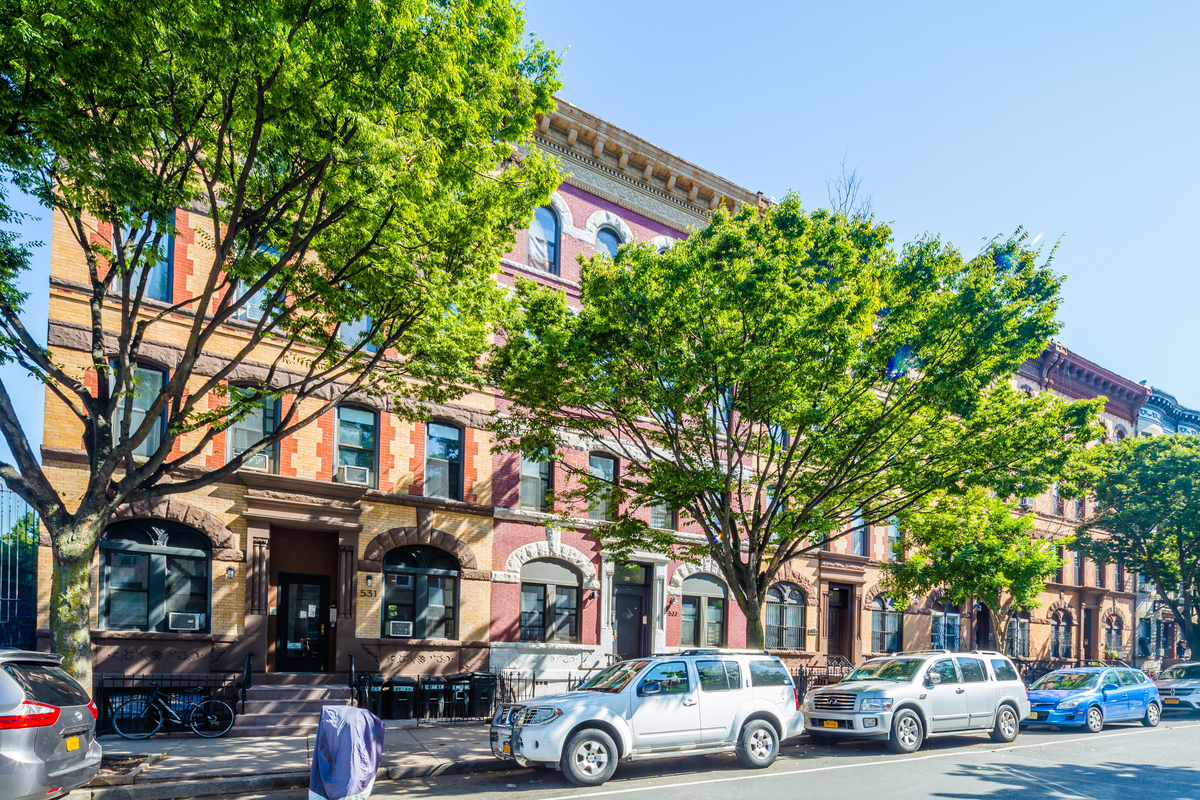 Median Rent: $2,600
Median Sale Price: $1.1M
Subway Info: It will only take about 30 minutes on the 2 and 3 trains to reach Midtown Manhattan. And just outside the neighborhood is the central hub Atlantic Avenue, Barclays Center Station. You have access to 4, 5, B, D, N, Q, R, and W trains.
Notable Attractions & Amenities: Vanderbilt Avenue is Prospect Heights' main commercial corridor offering many restaurants and shops. Here you'll find the flagship Ample Hills ice cream shop, popular restaurants like Olmsted, and the famous Tom's Restaurant, a local diner. Meanwhile, the neighborhood's southern border runs along with two borough highlights: the Brooklyn Botanic Garden and Brooklyn Museum. Plus, Prospect Heights has easy access to some of Prospect Park, Brooklyn's best attractions for families and kids. These include the Prospect Park Zoo, the Prospect Park Carousel, and the Zucker Natural Exploration Area. This innovative playground uses trees and other recycled objects to encourage unstructured play.
Prospect Heights is sandwiched between Park Slope and Crown Heights. There you will find a mix of single-family townhomes, multi-family townhomes, and prewar apartment buildings. Additionally, many new developments are popping up too, including the 22-acre complex Pacific Park. That project brought 15 new buildings to Prospect Heights. Happy home hunting!