Another day, another affordable housing lottery opportunity, this time in Harlem. The Dorie Miller Apartments is going to award 40 units to qualified applicants lucky enough to win the NYC Housing Connect lottery.
Applications can be made now through March 31, 2017 for wage earners making 50 percent (4 units available) and 60 percent (36 units) of the area median income. That breaks down to applicants who earn between $30,817 for a single person up to $58,740 for a 5-person household for 2-bedroom units.
At 60 percent AMI, applicants must earn between $30,069 for a single person all the way up to $76,104 for a 9-person household.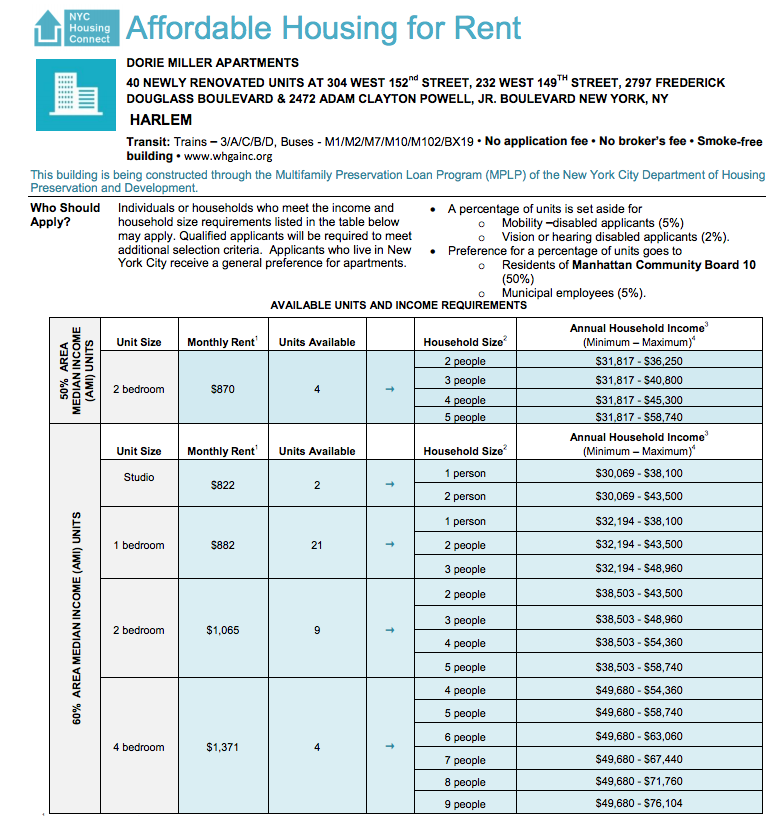 Rents for these apartments will run between $822 per month for a studio up to $1,371 for a 4-bedroom unit. The buildings associated with the Dorie Miller development are located at 304 W. 152nd St; 232 W. 149th St; 2797 Frederick Douglass Blvd and 2472 Adam Clayton Powell Jr. Blvd.
The buildings were renovated through the West Harlem Group Assistance, Inc. (WHGA). Altogether, the breakdown of units includes two studios, 21 one-bedrooms, 13 two-bedrooms and four-bedrooms available.
Applications can be made through the NYC Housing Connect site or by sending a self-addressed envelope to Dorie Miller Apartments, 87-14 116th Street Richmond Hill, NY 11418.
Related: