Apartment hunting is stressful enough as a couple, but it's all the more so when you've been charged with the responsibility of finding a home for you and your boo – ALL ALONE. But, hey, being in a relationship is all about picking up the slack when your No. 1 is down for the count or unable to help.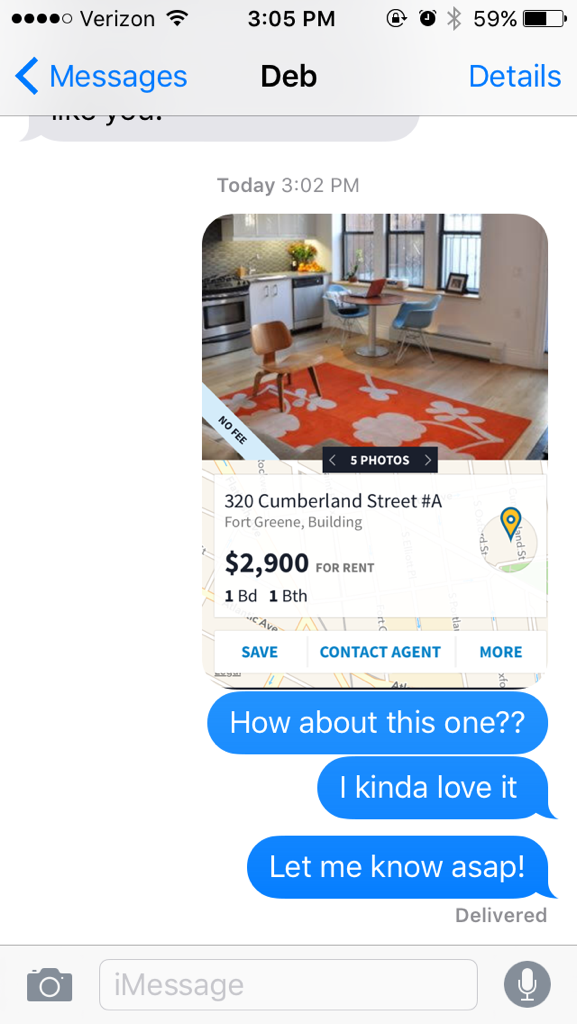 It's not fun to go it alone, but with some forward thinking and lots of communication, it is possible to find a place on your own that you both will love. I know because with my fiancée out of commission due to a consuming work project this past summer, I made our move happen all by myself. Here's how.
Talk Before You Look
You may be the primary apartment hunter, but your partner is going to be living and paying rent, too. It's important to make sure you're on the same page before you look for apartments so when all is said and done both of you are happy. For my fiancée and I, that meant outlining the following:
Maximum commute times
Apartment deal makers
Apartment deal breakers
You might assume you two are on the same page (this is BAE we're talking about, after all), but where you live is a big deal, so it's better to err on the side of caution. For example, I had no idea taking the bus to work would have been a deal-breaker for my fiancée until much later in my hunt than I would have liked!
Communicate Throughout the Process
Keep your partner in the loop as things develop. Even if they aren't there to help, they might be able to provide some valuable outsider input.
When I traveled to our new city alone to look at apartments, I took lots of photos at each viewing and noted the pros and cons of each place. At the end of the day, I'd shoot off an email to my partner with all the photos and then jump on the phone to talk her through each place. She was able to point out things that I overlooked in person, whether because I was being swayed by an overly friendly broker or was too star struck by some gorgeous crown molding to notice the location wasn't ideal.
Be Ready to Act
Finding an apartment in the city can be a cutthroat, fast-moving process. Agree early on that if the person doing the legwork finds "the one," he or she has permission to jump for it immediately. Having the license to commit on the spot is what secured us the place of our dreams. There had been several interested people who viewed the apartment before me, but because I had gotten the OK to act fast from my partner, I could make an offer immediately.
Be Prepared
Being ready to jump on a new place means being prepared to fill out the application then and there. While apartment hunting, I went to each viewing with a folder containing all documentation required to complete applications for the both of us, including the following:
Both of our recent bank statements
Letters of recommendation from past landlords
Employment verification letters for both my partner and me
I also kept a copy of our domestic partnership certificate with me in case there was any question about our commitment and my authority to apply on my fiancée's behalf. This preparedness meant I was able to jump when I found the right place.
Use the Power of the Internet
We all use StreetEasy, Naked Apartments, and even Craiglist (in moments of desperation) when we're looking for apartments. But the internet can also help you after you find the perfect place – especially when one of you can't sign your lease in person. Our new landlord was sensitive to the fact that my partner needed to sign from afar and therefore facilitated our lease signing process through DocuSign, a web application that allows multi-person parties to access documents remotely and execute contracts online. If you're in a similar boat, don't be shy about asking your new landlord if this is a possibility.
If a program like DocuSign isn't an option, use the public library. For a small fee (definitely cheaper than Kinko's or the UPS store), most libraries will let you scan and email your documents. It'll take a few steps to get all the signatures in place, but it's doable when you're in a bind and just trying to #getitdone.
Related: