Of course, there are plenty of public parks. Walking the High Line should be on your to-do list. But the many gardens in NYC are just so beautiful and therapeutic. These outdoor gems provide residents with a much-needed oasis. Below are 15 of our favorites, in no particular order. You'll also find the median asking prices for renting and buying near each garden as of March 2021 (because you may want to live near one of these beautiful spaces).
Please note: Due to COVID-19, some gardens in NYC may require a reservation for entry, so check their websites.
1. East Harlem: Central Park, Conservatory Garden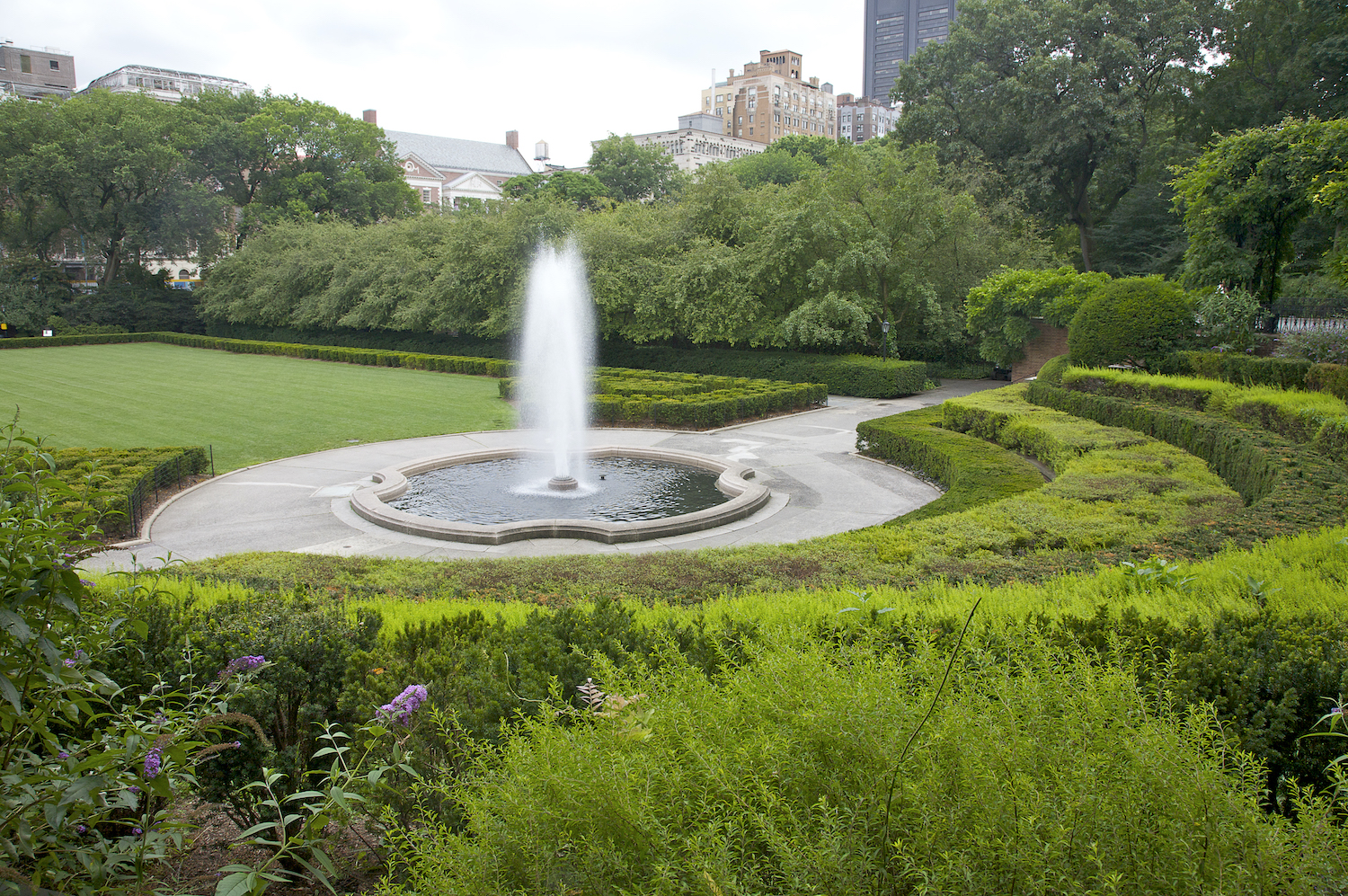 Located near the northeastern corner of Central Park in Upper Manhattan, the Conservatory Garden is the only formal one in Central Park. What exactly is a formal garden? It's a structured garden with geometric shapes and, in many instances, a classic symmetrical layout.
The six-acre Conservatory Garden opened in 1937. It features tulips, lilacs, crabapple trees, and summer perennials in a beautiful trio of European-inspired plots. Not surprisingly, this specular place is a popular destination for small weddings. Heads up, literary buffs! Be sure to stop by the statue dedicated to The Secret Garden author Frances Hodgson Burnett.
Where: East Harlem near Fifth Avenue and 104th Street
Subway Info: East Siders take the 6 train, and West Siders grab the 2 or 3 trains
Median Asking Rent: $2,000
Median Asking Price: $800K — that's a deal compared to Manhattan's median, $1.4M
2. Flushing: Queens Botanical Garden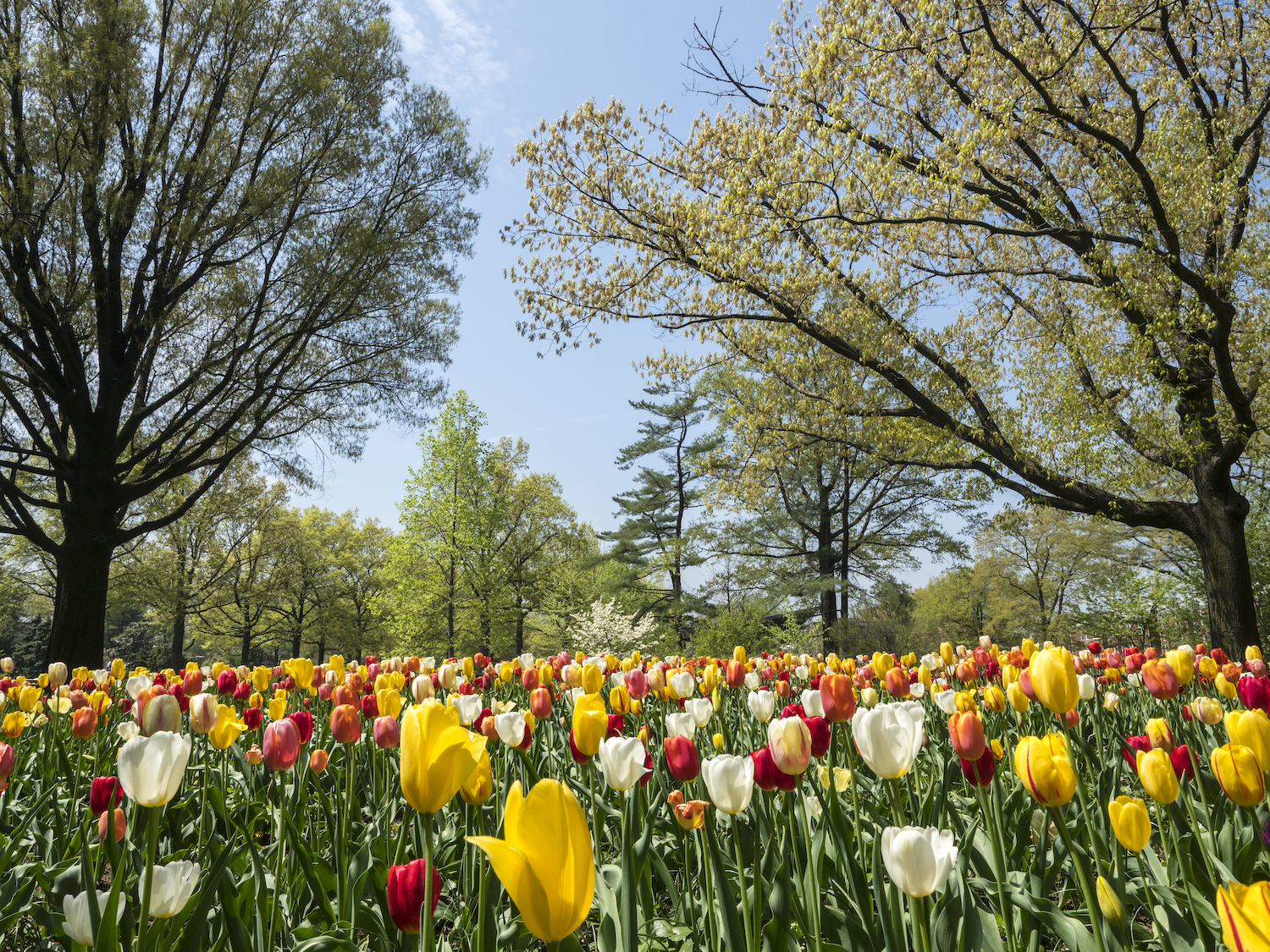 This 39-acre serene retreat is smack in the middle of Queens. It began as an exhibit for the 1939-1940 World's Fair. As a matter of fact, the two blue atlas cedars at the garden's Main Street entrance were taken from the original exhibit.
It is one of the most diverse gardens in NYC and has everything from an arboretum to an art gallery. So, in addition to the amazing horticultural, check out the Fragrance Walk and Woodland Garden.
Where: 43-50 Main Street in Flushing, Queens
Subway Info: Take the 7 from Manhattan to Main Street— afterward, hop on a bus or walk for 13 minutes
Median Asking Rent: $1,950
Median Asking Price: $764.4K
3. Brooklyn: Brooklyn Botanic Garden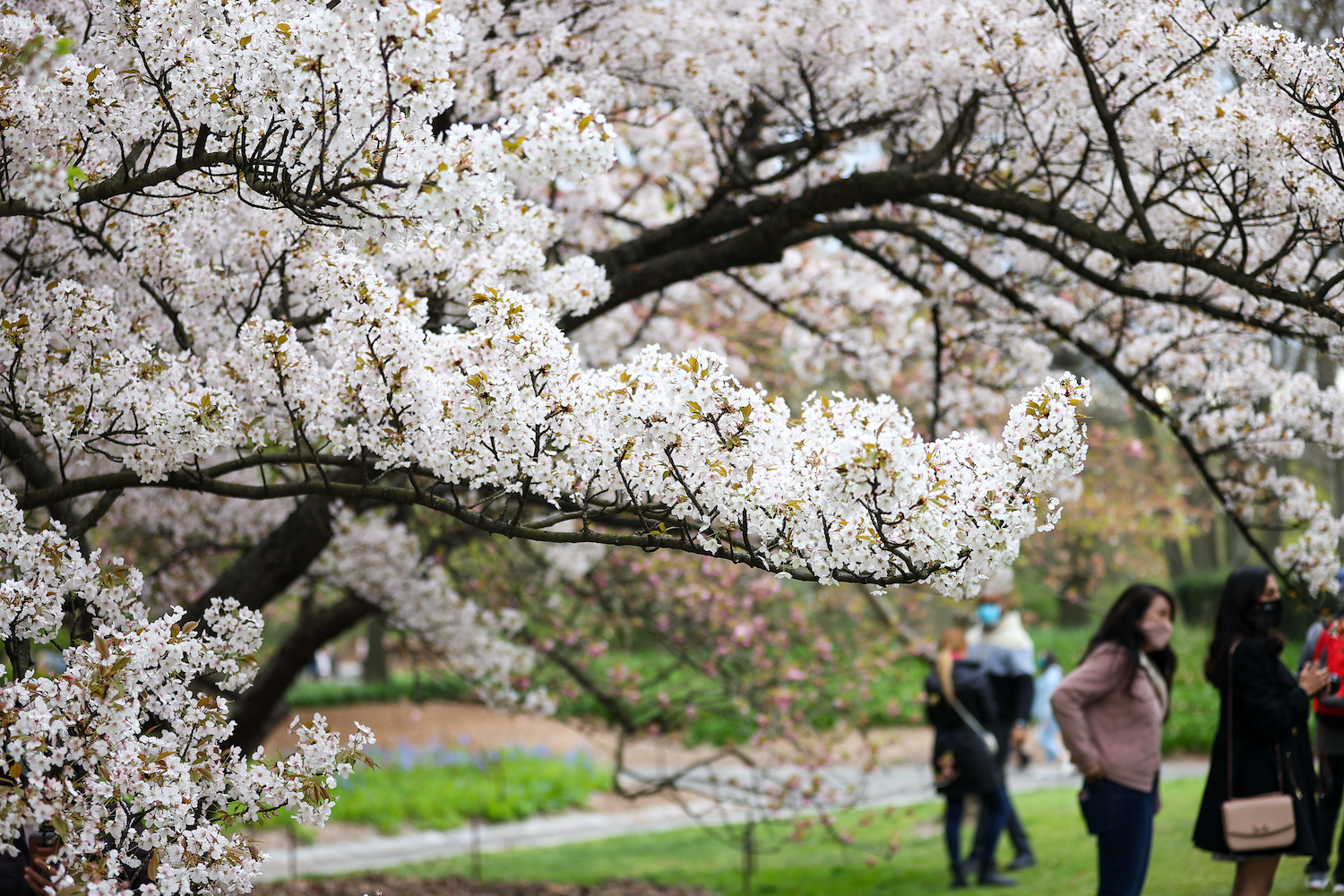 This 52-acre garden is home to the climate-controlled Steinhardt Conservatory. It houses plant life from three different temperate zones. Moreover, there are 15 other micro gardens, including one devoted to the fragrances and plants mentioned in Shakespeare's plays. The biggest draw here in one of the top gardens in NYC is the Japanese Hill-and-Pond. Here visitors stroll through the cherry blossoms each spring. Looking to rent in the borough? Behold these affordable Brooklyn neighborhoods.
Where: 990 Washington Ave, Brooklyn
Subway Info: Take the 2 or 3 trains and get off at Franklin Avenue/Botanic Garden
Median Asking Rent: For the borough, it is $2,399
Median Asking Price: For the borough, it is $915K
4. Battery Park City: The Battery Gardens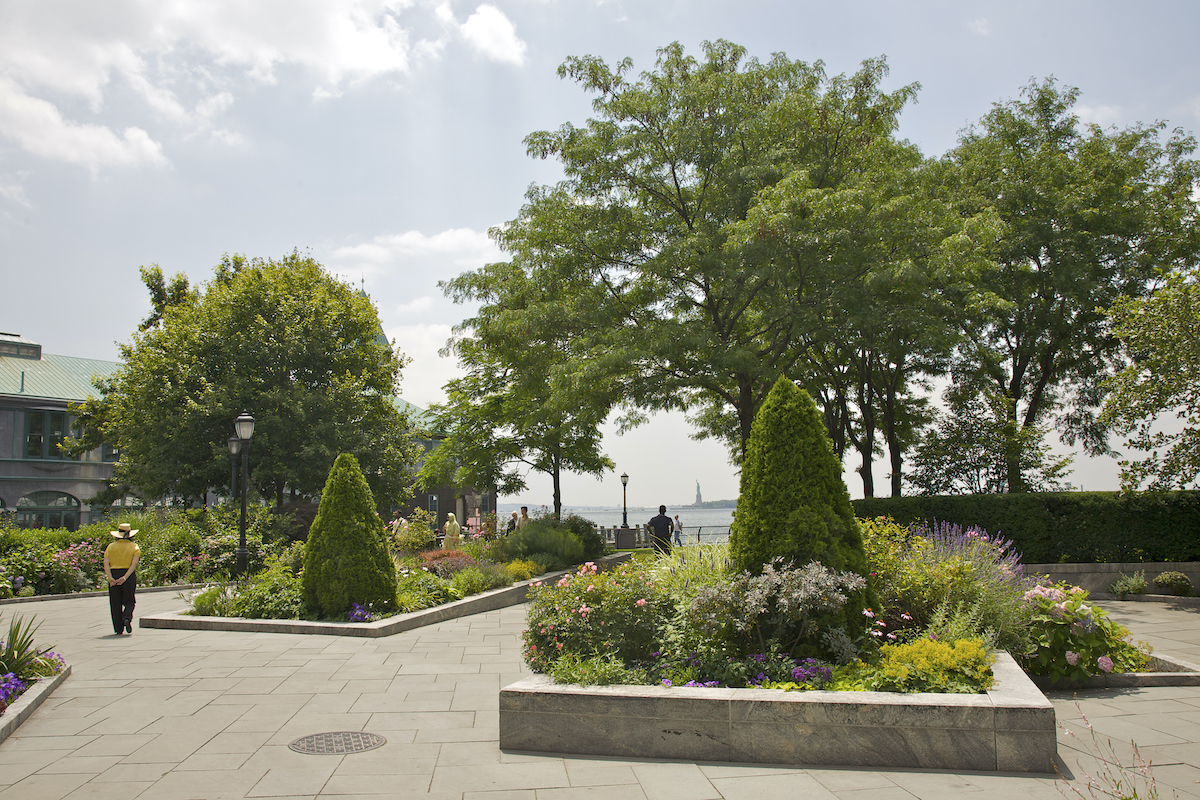 With 195,000 square feet of gardens, it is the largest perennial garden in North America. Located at Manhattan's southernmost tip, the gardens have no fences or admission fees.
Be sure to check out The Bosque, which covers four acres and features more than 100 London plane trees. And, of course, you should also visit the Gardens of Remembrance, dedicated to 9/11 survivors. There you'll see more than 100 different types of perennials. It's like no other gardens in NYC.
Plus, the kids will love the SeaGlass Carousel.
Where: State Street and Battery Place, NYC
Subway Info: The 1, 4, and 5 trains will get you there
Median Rent: $3,995
Median Sales Asking Price: $970K
5. Hudson Heights: Fort Tryon Park's Heather Garden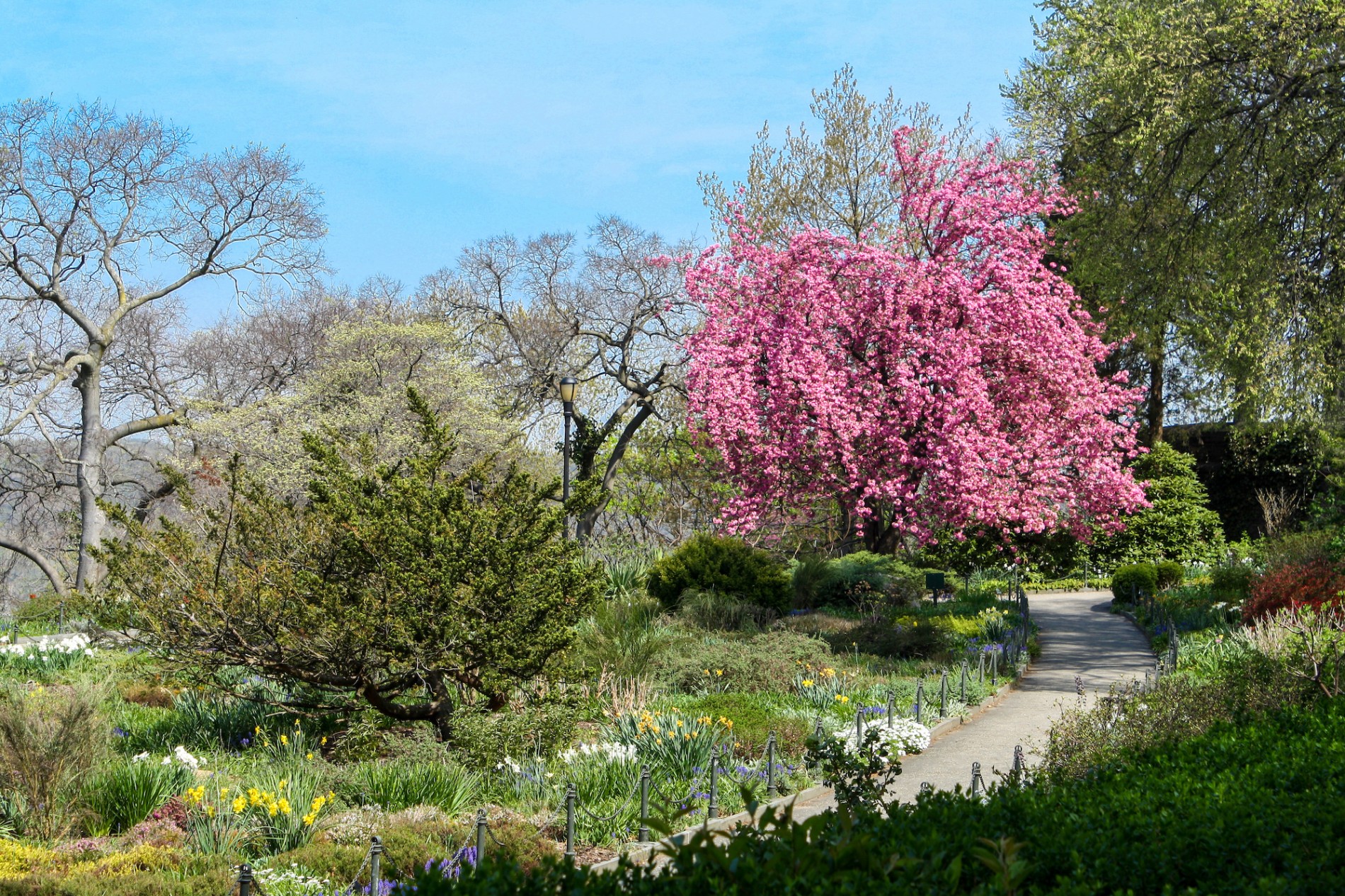 Voted as one of the best gardens in NYC, Heather Garden also is one of the most elevated gardens in the city.
Located more than 200 feet above the Hudson River, the garden transports you back to an English country estate. With three acres of sloping lawns and drooping elms, it is one of the most diverse gardens in NYC too. For instance, there are more than three dozen varieties of heaths and heathers, making it one of the largest collections on the East Coast. There's more to love in Hudson Heights.
Where: 741 Fort Washington Ave, New York
Median Asking Rent: $2,000, way below Manhattan's median asking, $2,750
Median Asking Price: $549K
Subway Info: Take the A train to 190th Street
6. Greenwich Village: Jefferson Market Garden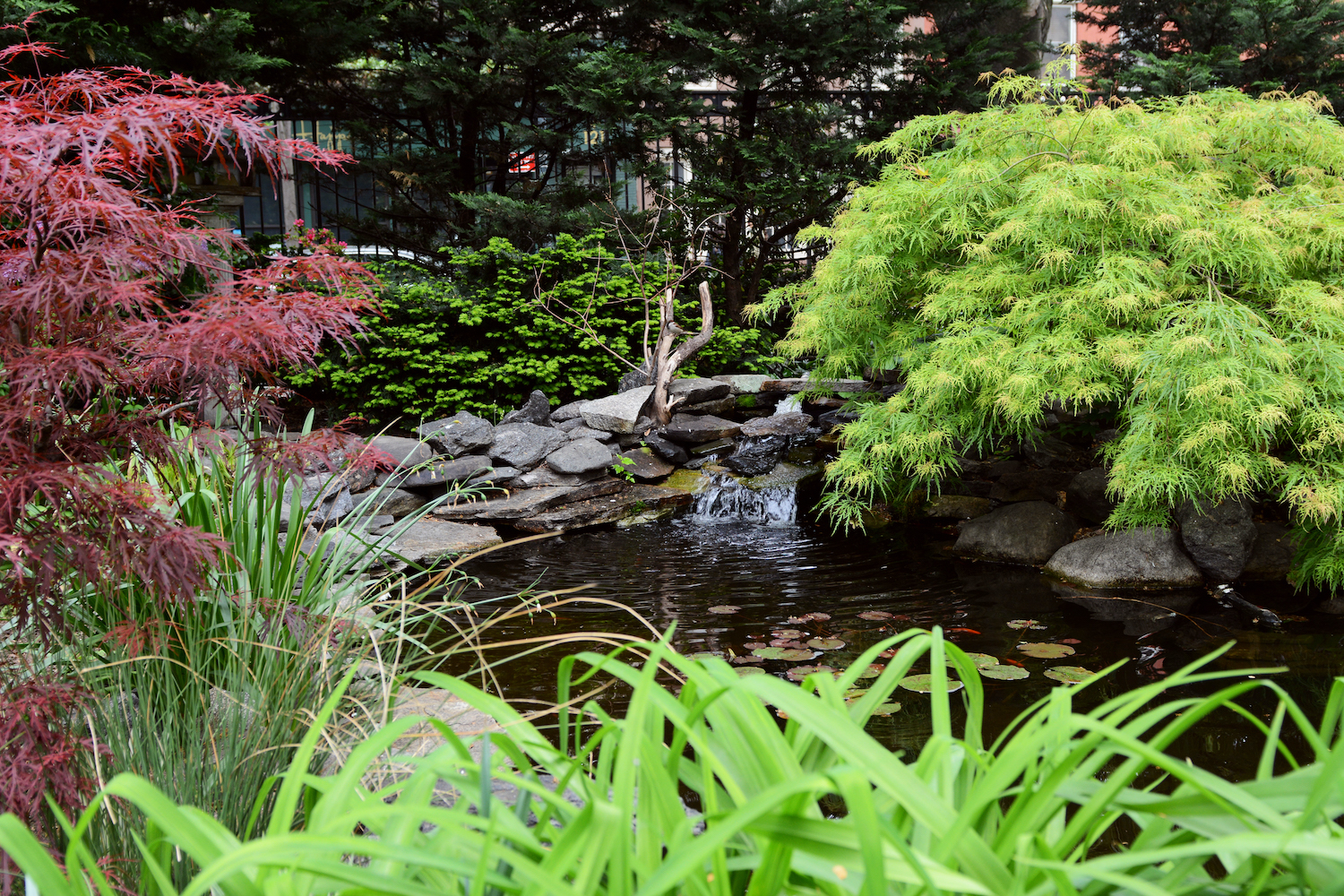 Greenwich Village's Jefferson Market was created back in the 1960s, after the demolition of a woman's detention center. Today it's a bright, cozy garden filled with witch hazel, snowdrops, and magnolias. Walk the circular garden and enjoy flowers blooming alongside a tranquil stone fountain.
Bonus points for pop culture fans: "Sex and the City" aficionados might recognize the garden as the location of Miranda and Steve's wedding.
Where: Greenwich Avenue between Sixth Avenue and West 10th Street, Manhattan
Subway Info: The A, B, C, D, E, and F trains to West 4th Street will get you close.
Median Asking Rent: $3,100 vs. $4,000 this time last year
Median Asking Price: $1.5M
7. Pelham Bay: Bartow-Pell Mansion Museum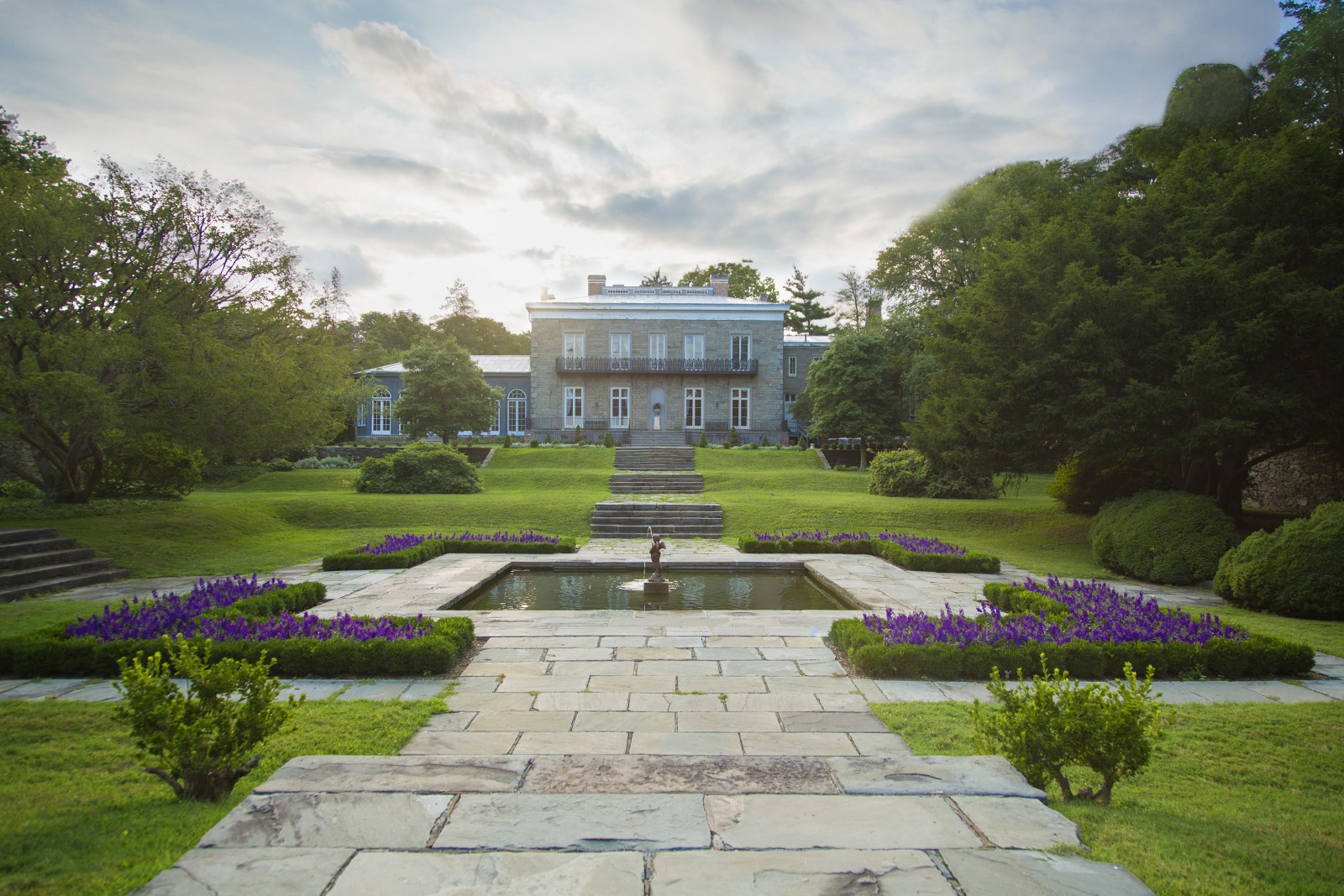 The garden surrounding Bartow-Pell Mansion Museum is considered one of the best gardens in NYC. And since it's somewhat a "secret," it doesn't get too crowded.
Set in Pelham Bay Park, the largest public park in New York City, this space features a serene, terraced garden and a carriage house built in 1840. You can also participate in a bunch of activities, from historical lectures to theater performances.
Where: 895 Shore Road, Bronx
Subway Info: Take the 6 train to Pelham Bay Park Station
Median Asking Rent: $1,638 (the cheapest on this list!)
Median Asking Price: $300,000 (the cheapest on this list!)
8. Riverdale: Wave Hill Public Gardens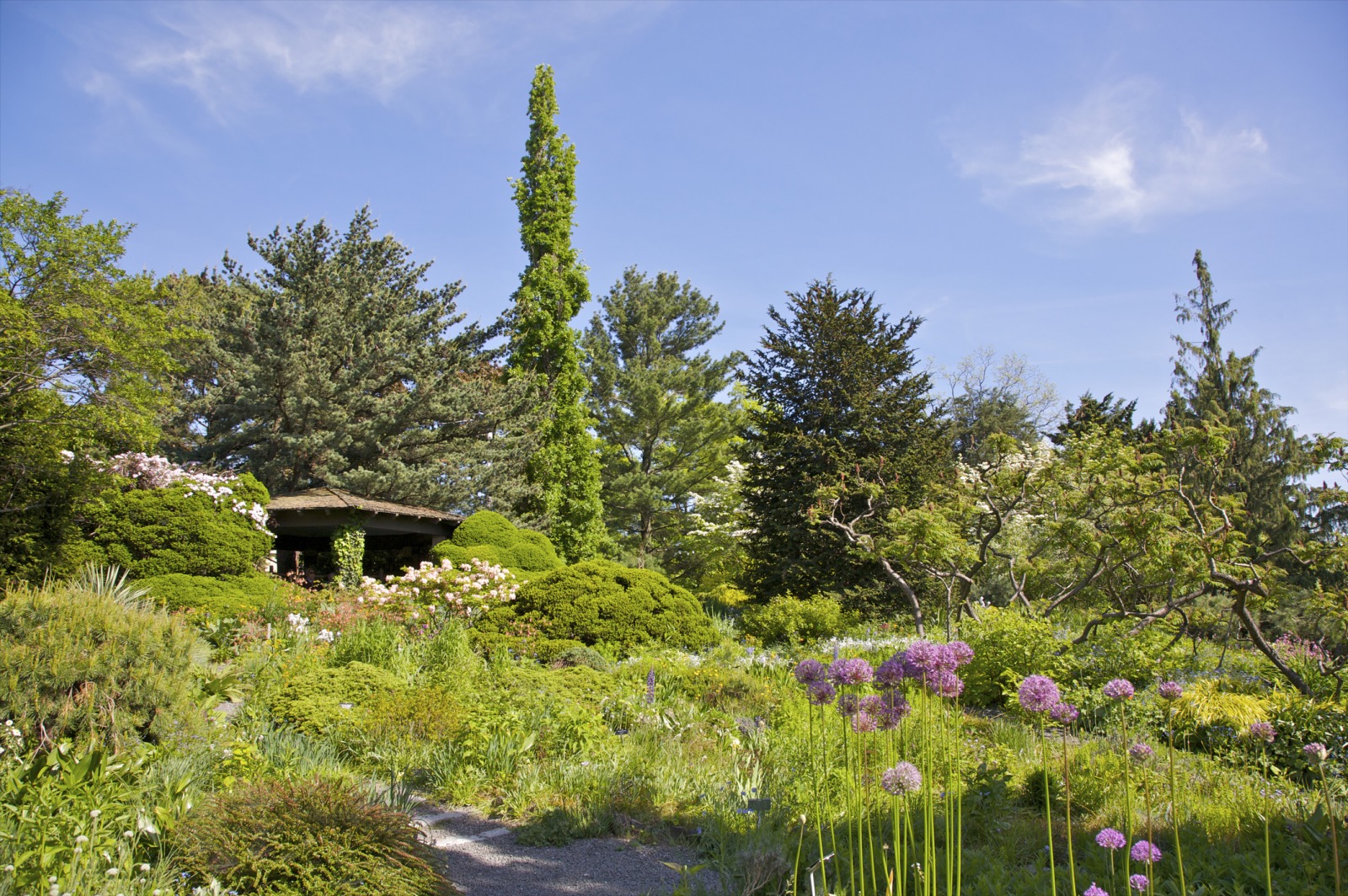 Head up north to Wave Hill, a tranquil escape in the Riverdale section of the Bronx. Set along the Hudson River, you'll surprisingly find 28 acres of greenery. Managed by a gardener with a degree in fine arts, the Garden's color palette makes it one of the best gardens in NYC.
The flower garden has everything from clematis hybrid and Tuscan kale to miscanthus cultivar. The herb and dry gardens have lots of bay laurel, rose-scented geranium, and shining sumac. So be sure to take some photos of one of the most spectacular gardens in NYC,
Where: 4900 Independence Avenue, the Bronx
Metro-North: Go to one of its two Manhattan stations, Grand Central and 125th Street, and get off at Riverdale — from there, it's a short walk
Median Asking Rent: $2,233 in March 2021 vs. $2,400 same time last year
Median Asking Price: $399,000 vs. $380,000 a year ago
9. Inwood: Gardens of the Met Cloisters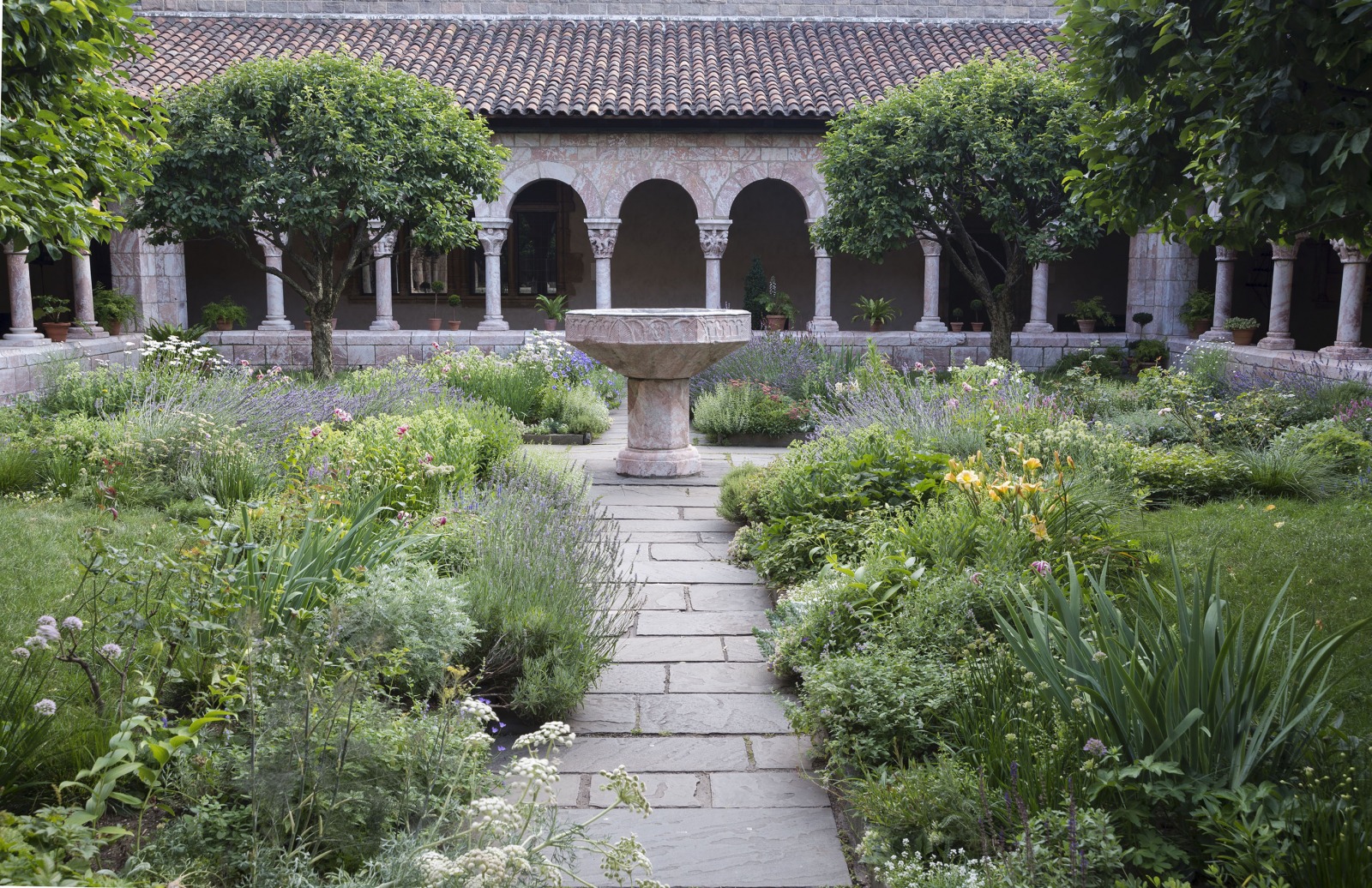 Set along the Hudson River, the Met Cloisters pays tribute to the architecture of medieval Europe.
The four-acre site displays about 300 species of flowers, from those grown during the middle ages to today's modern plants. Head there in the winter, and you'll find an indoor conservatory filled with spring flowers. Seriously, this is one of the best secret gardens in NYC — after your visit, have a picnic in Fort Tryon Park.
Where: 99 Margaret Corbin Drive, Fort Tryon Park, Manhattan
Subway Info: Take the A train to the top of Manhattan and get off at Dyckman Street — then walk up Riverside Drive and enter Fort Tryon Park.
Median Rent: $1,950
Median Asking Price: $434K
10. Midtown East: Greenacre Park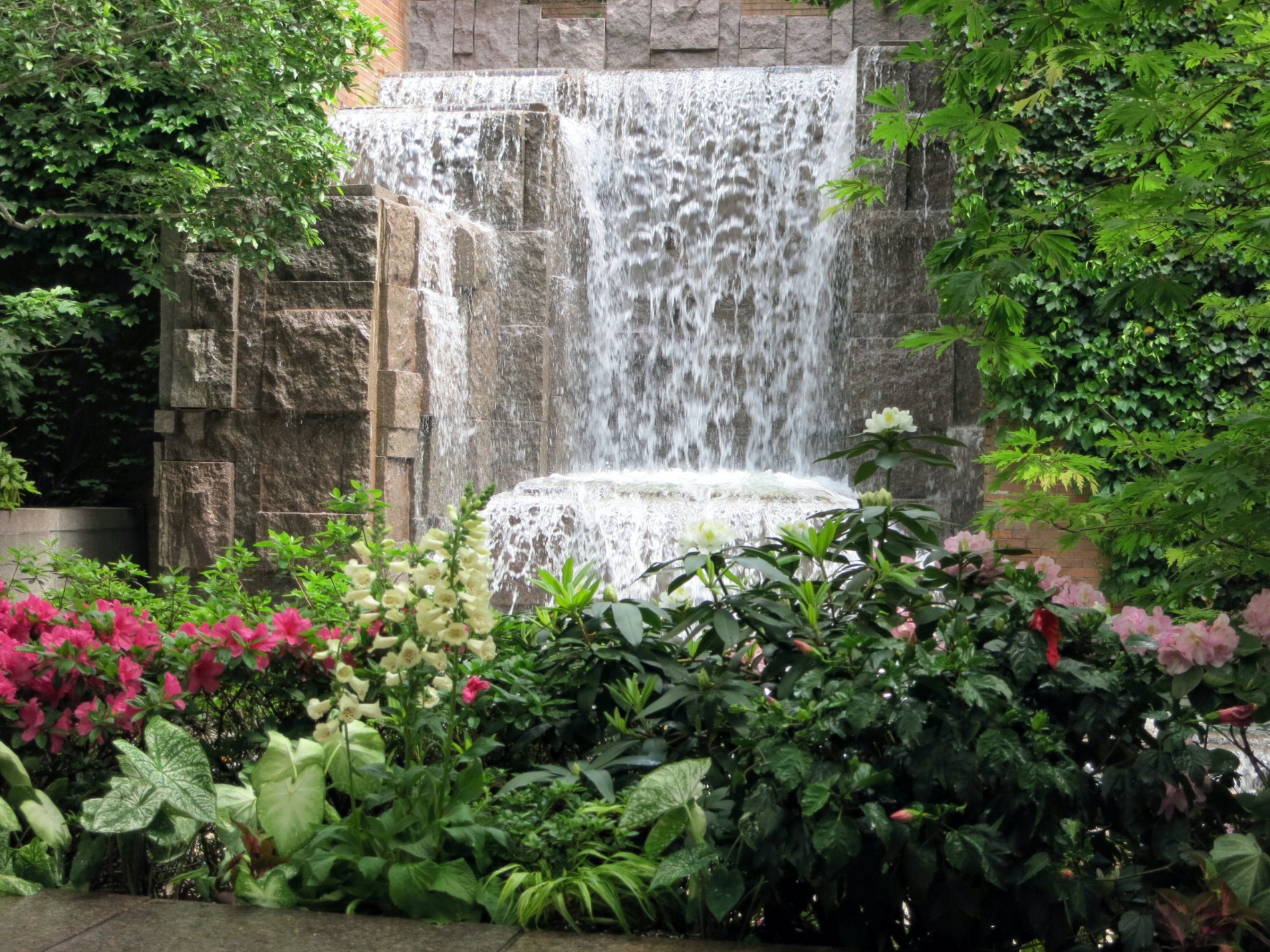 It's not every day that you get to see a 25-foot waterfall in midtown Manhattan. Greenacre Park truly is an oasis in that proverbial concrete jungle. So if you find yourself rushing around Midtown, grab a moment of relaxation at Greenacre Park and enjoy the honey locust trees, ivy hangings, and bright flowers.
There's also plenty of outdoor seating (another NYC rarity) and a cafe.
Where: 217 East 51st Street, Manhattan
Subway Info: The E train will get you close, but you'll need to walk a few blocks
Median Asking Rent: $2,800
Median Asking Price: $825K
11. Staten Island: Snug Harbor Botanical Garden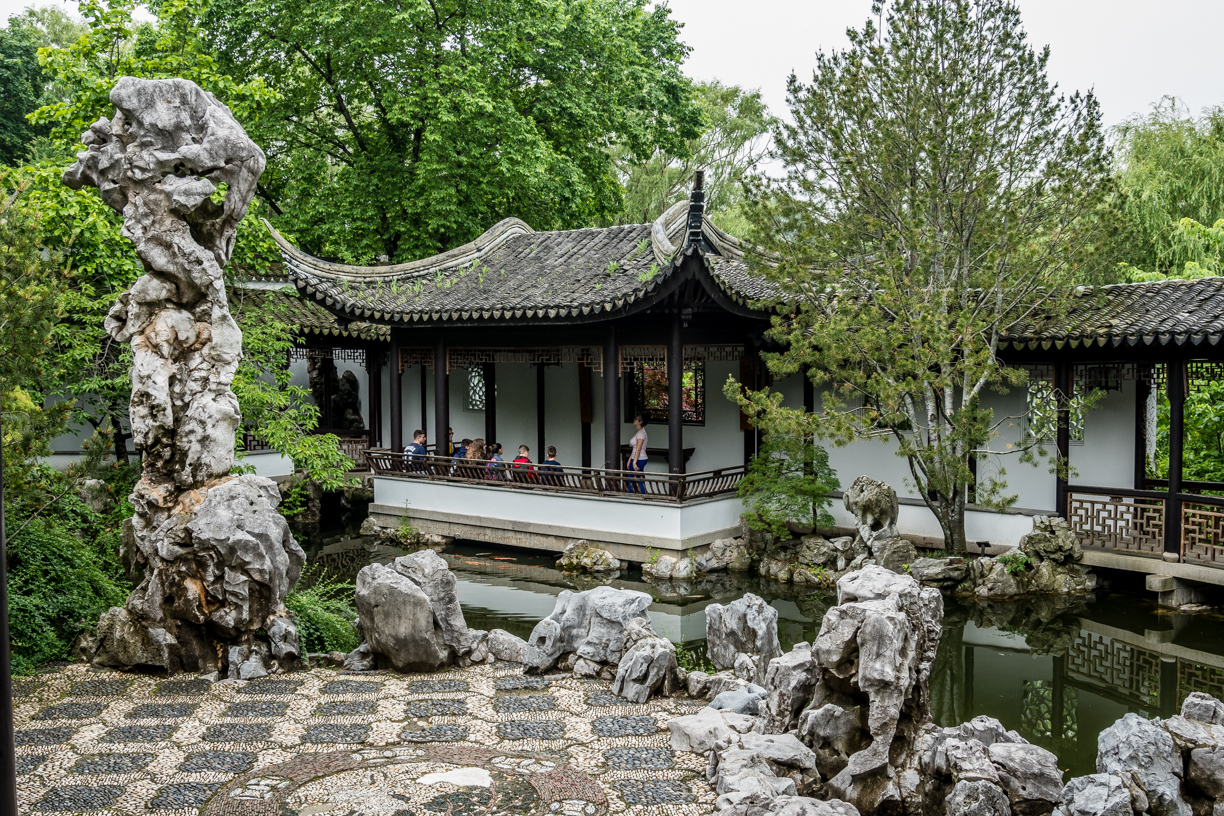 When it comes to the best gardens in NYC, the 83-acre Snug Harbor ranks right up there. It's actually comprised of eight different gardens.
There's an English-inspired white garden featuring snowdrops, lilies, and irises. There is a rose garden, with all the roses you could ask for, plus a serene reflecting pool. There even is a healing garden with expansive views of the wetlands. Plus, be sure to stop by the stunning Chinese Scholar Garden, inspired by the Ming Dynasty gardens. If you wind up falling in love with the area, here's what to know about buying a house in Staten Island.
Where: 1000 Richmond Terrace, Staten Island
Ferry Service: The best to go is the Staten Island Ferry from Whitehall Terminal on the southern tip of Manhattan — afterward, grab a bus to Snug Harbor
Median Rent: $1,848
Median Asking Price: $658K
12. Brooklyn, Green-Wood Cemetery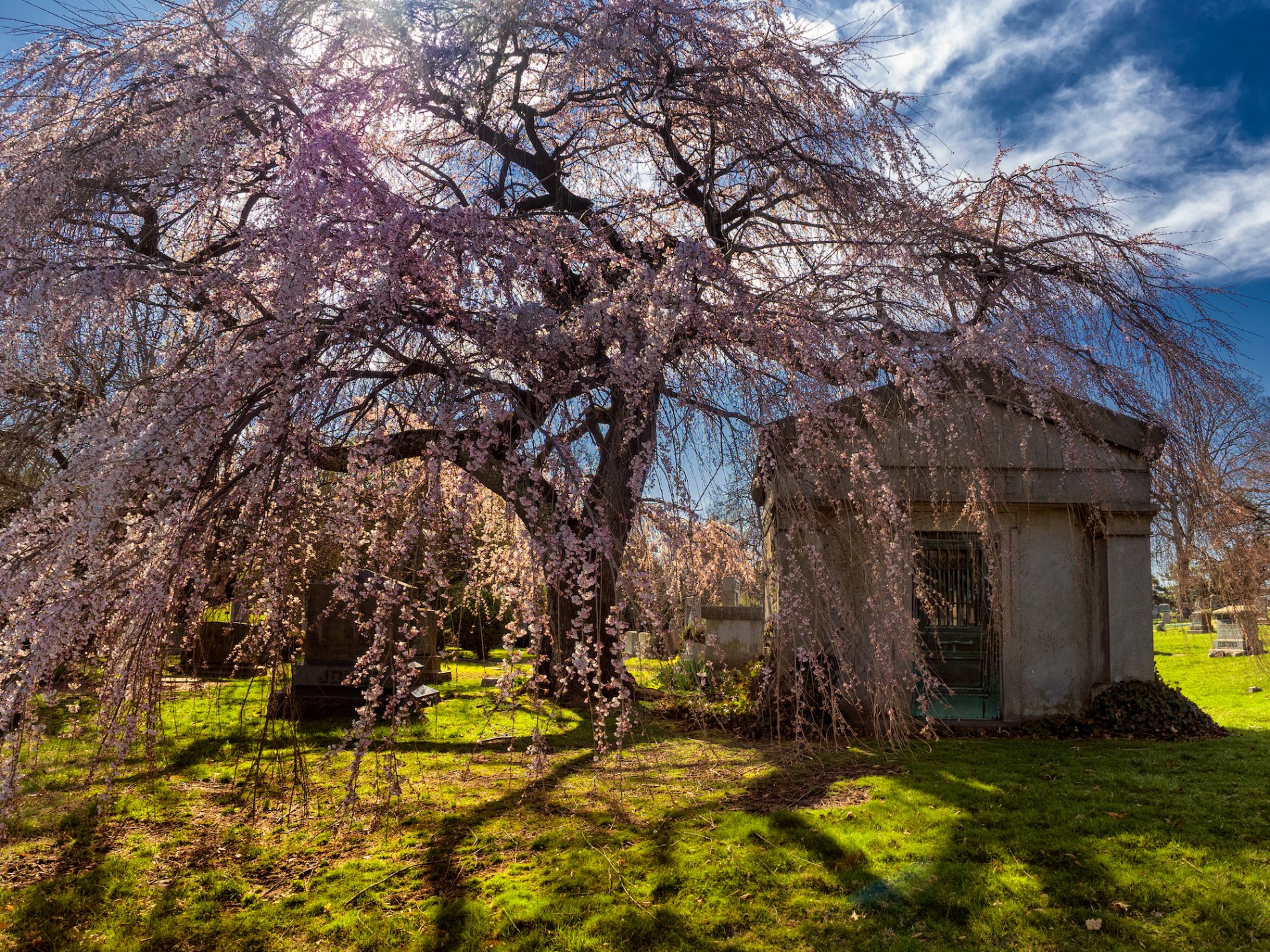 One of New York City's most historic cemeteries has 478 acres of tranquil nature, complete with cherry trees, bamboo, flowering dogwood, and fruit flowers. It is considered a "living cemetery" because while it memorializes the dead, its purpose is to bring life to the art and history of New York City.
It's the resting place for several famous figures, including Leonard Bernstein, Charles Ebbets, and Horace Greeley.
Where: 5th Avenue & 25th Street, Brooklyn
Subway Info: The R train is your best bet
Median Asking Rent: For the borough, it is $2,399
Median Asking Price: For the borough, it is $915K
13. Astoria: The Noguchi Museum Garden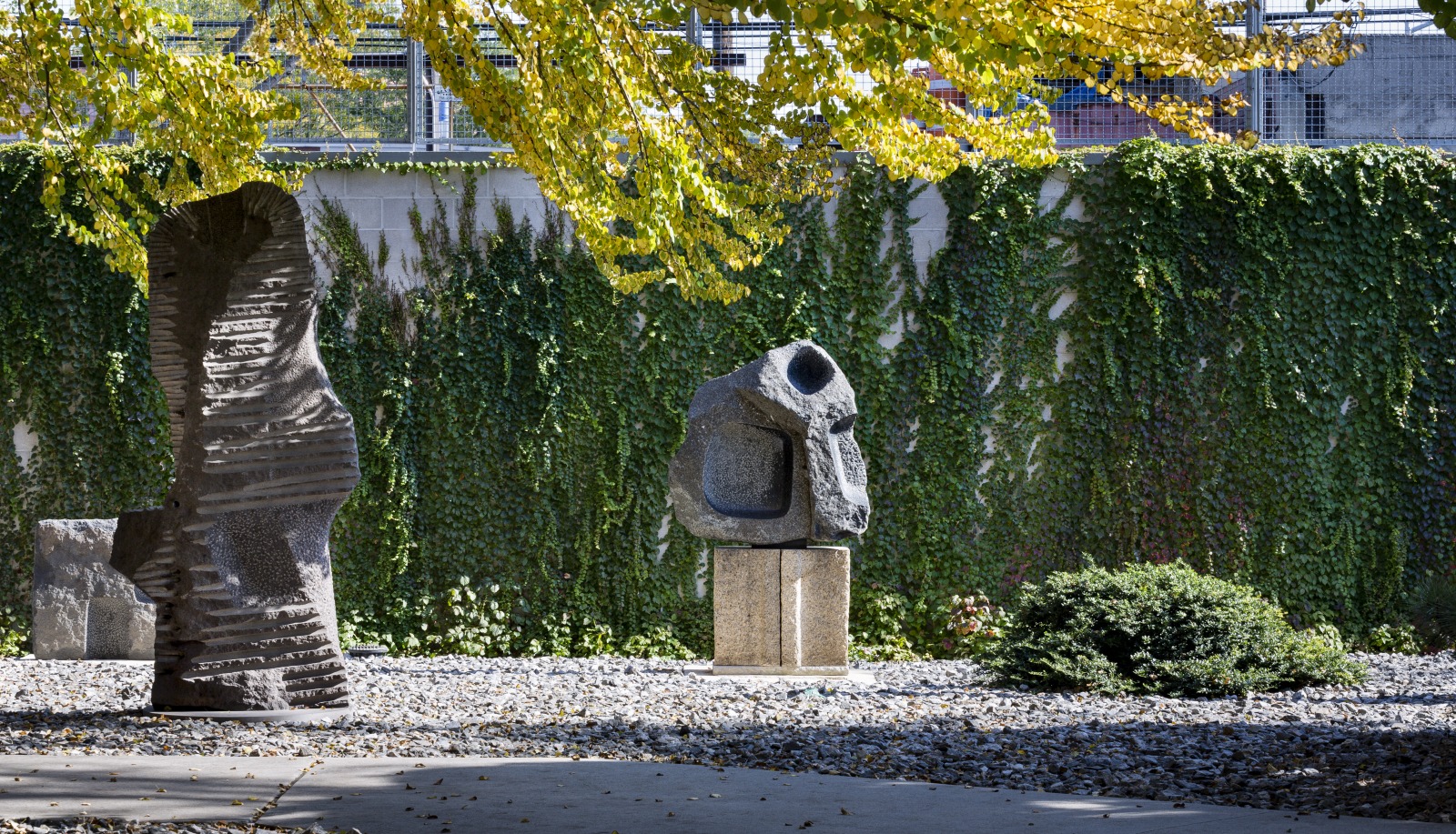 An inconspicuous brick building in Long Island City houses a tranquil garden designed by acclaimed sculptor Isamu Noguchi. The serene space pays tribute to Japanese gardens. Many of the manicured trees and shrubs are sourced from Japan.
While you are there, check out the 27,000-square-foot museum, as well. It showcases more of Noguchi's artistry, including his marble and granite works. There's more to discover in Astoria, Queens.
Where: 9-01 33rd Road, Queens
Subway Info: Take the N, W trains to Queensboro Station, then hop on a bus to Vernon Blvd/36th Ave
Median Asking Rent: $1,900 (that's $100 less than the borough median, $2,000)
Median Asking Price: $749.5K
14. Belmont: New York Botanical Garden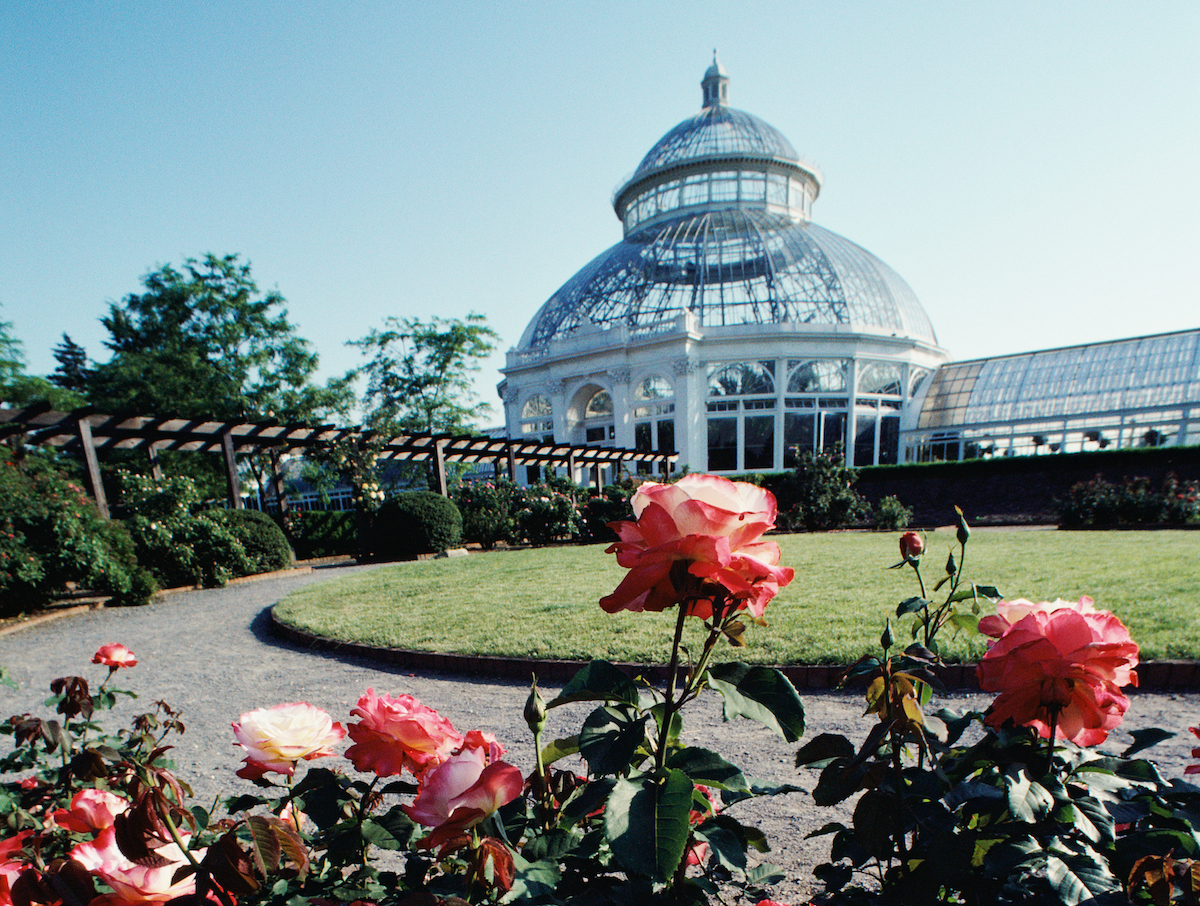 There are 250 acres of stunning nature – smack in the middle of the Bronx. The New York Botanical Garden is a year-round arboretum that always has different events and curated displays.
Check out the collection of birch, dogwood, and holly, and bursts of color in the conservatory's orchid collection. Or head to the forest and take part in a weekly bird watch. Better yet, enjoy a relaxing canoe ride down the Bronx River.
Where: 2900 Southern Boulevard, Bronx
Metro-North: Grab a commuter train at Grand Central or 125th Street and get off at Botanical Garden Station
Median Asking Rent: $2,100 — expect a lot of square footage for your rental dollars!
Median Asking Price: For the borough, it's $475K
15. Long Island City: Brooklyn Grange Farm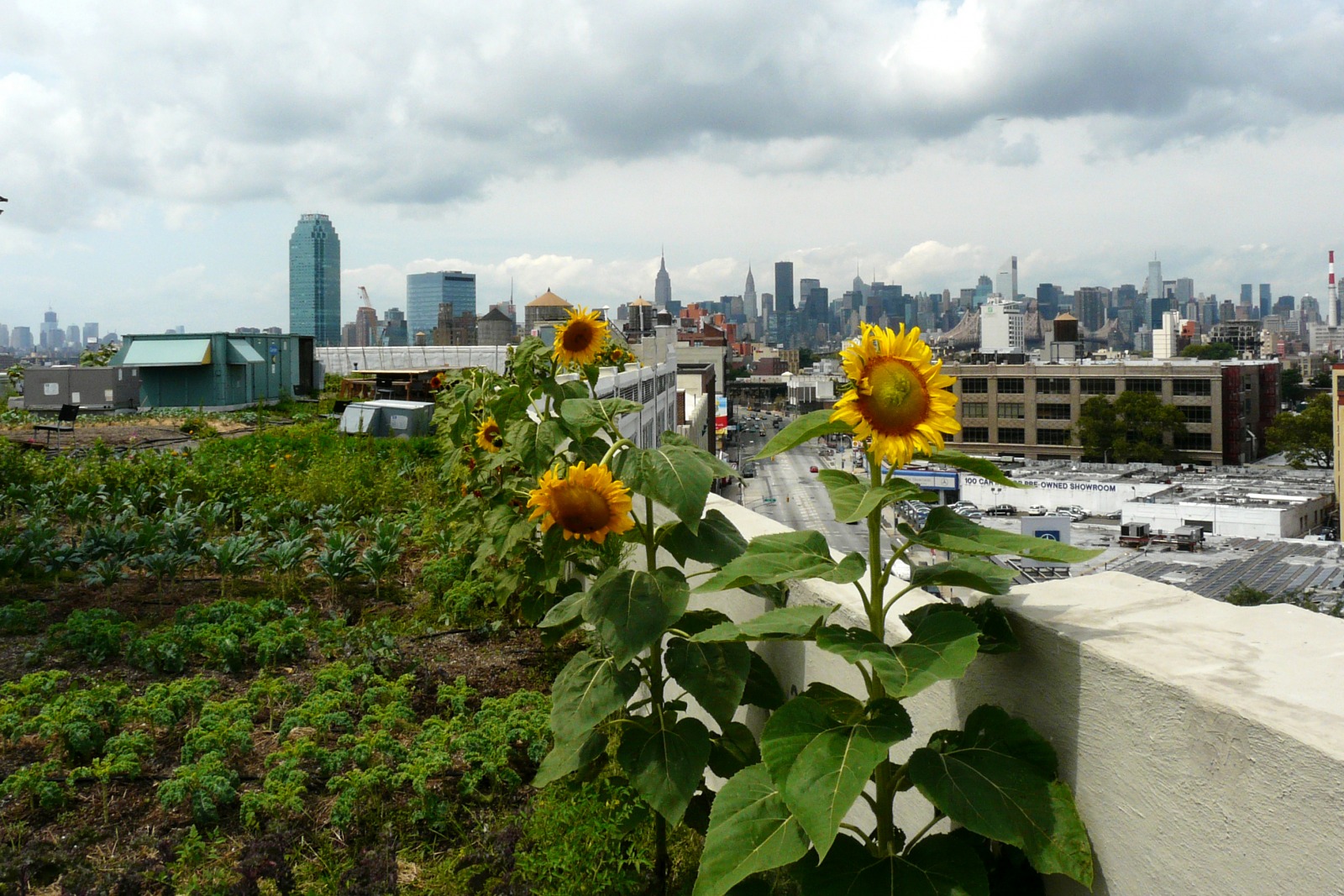 On top of Long Island City's Standard Motors Building is a rooftop soil farm. It is one of three sister farms throughout the city. Collectively, Brooklyn Grange produces over 80,000 pounds of organic produce per year which you can find at these locations or purchase right on-site.
With farm tours, workshops, even yoga on the roof, the Grange Farm promotes sustainable living and local ecology. Be sure to check out the friendly chickens and take an urban agriculture workshop.
Where: 37-18 Northern Blvd., roof
Subway Info: Take the B to the M or the 3 to the N
Median Rent: $2,900
Median Asking Price: $1.1M