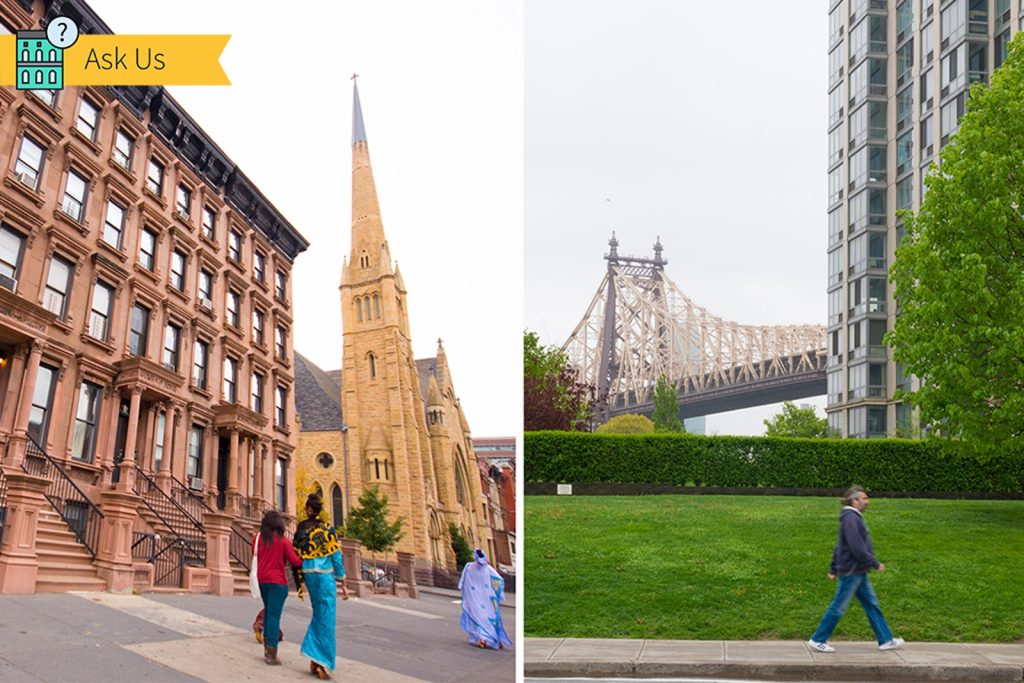 Question: We're looking to buy a 3-bedroom, 2-bathroom condo. We've narrowed it down to Harlem and Roosevelt Island. My husband wants Harlem. The biggest plus is that it would be a bit easier to get around. I just really don't like the area and don't think it's the best place for a young family. I want Roosevelt Island. It's only one stop away from the Upper East Side on the subway, plus it is completely family-friendly and safer than Harlem. So which is it: Harlem or Roosevelt Island?
— Neither Here Nor There, New York
Dear Neither:
That's like asking which is better: Orange or lemon sorbet. It's really a matter of personal taste.
First, some impressions: Although Roosevelt Island is in the Borough of Manhattan, it's an anti-Manhattan kind of place. It has none of the vigor, vitality or chaos of the city. Indeed, when I'm walking Main Street there, I feel like I've been transported to a mid-century, postwar European suburb, some remarkably pleasant, boldly modern, vaguely socialist cityscape a short streetcar ride from central Amsterdam or Munich.
So much of Harlem, on the other hand, is prewar New York, with an abundance of brownstones and mid-rise apartments. There are so few high rises that whenever I'm walking Adam Clayton Powell or Malcom X boulevards, I take note and enjoy the sunshine. And Harlem certainly has the variety of the rest of Manhattan — from the daily street life of Upper Broadway or 125th Street to the quiet, village-like area around City College.
So let's look at some comparisons:
Crime
As you can see here, Roosevelt Island is virtually crime-free. It may be the safest neighborhood in the safest big city in the country. Central Harlem's 28th Precinct reported four murders, seven rapes and 198 robberies in 2017; overall crime is down 74 percent from where it was in 1990.
Schools
Of Harlem's 25 elementary schools (in District 5), four get a Great Schools rating of 8 or higher; 11 rate a 3 or lower. Roosevelt Island is part of the huge District 2, which covers the Upper East Side, Midtown and much of Downtown. The only public elementary school on the island, PS 217, rates a 7.
Prices
I found 20 3-bedroom, 2-bath condos in Harlem, ranging in price from $939,000 up to $4.5 million. I found no 3/2 condos at all on Roosevelt Island, but I did find three co-ops ranging from $1.2 million up to $1.35 million.
Commute Times
Finally, I looked at some commute times using Google Maps. I chose the addresses of the two least expensive properties currently on the market: 555 Main St. on Roosevelt Island and 440 E. 117th St. in Harlem. Here are the results.
To the New York Stock Exchange: Roosevelt Island = 36 minutes; Harlem = 46 minutes.
To Rockefeller Center: R = 17; H = 34
To Yankee Stadium: R =33; H = 26
To New York Presbyterian Hospital/Columbia: R = 43; H = 50
So there. You tell me which you prefer, orange or lemon?
David Crook is a veteran journalist and author of The Complete Wall Street Journal Real-Estate Investing and Homeowner's Guidebooks. Do you have a question about anything real estate-related in NYC? Write him at askus@streeteasy.com. For verification purposes, please include your name and a phone number; neither will be published. Note: Nothing in this column should be considered professional legal advice. If you have a legal issue, consult an attorney.
>>Join us for StreetEasy's First-Time Home Buyers Seminar on March 3. Register here.
—
Hey, why not like StreetEasy on Facebook and follow @streeteasy on Instagram?