In the fashionable world of New York City design, one of the first signs of spring is the Architectural Digest Design Show. The show is huge and takes over the special events venue at Pier 92 and 94 on Manhattan's west side. Open to the public through the weekend, the show is worth a visit, particularly if you're thinking about a renovation and want to see the latest in kitchens design. All the major players in high-end fixtures and finishes will be there in addition to over 400 other exhibitors ranging from independent makers to the established brands you know. Given the scope of the event, you can cover a lot of territory and check a lot off your list in just a few hours – just be sure to wear comfy shoes and a bottle of water. It's a marathon not a race.
As always, I walked away this year with a heavy stack of product cards and catalogues. Here are some of the items I'm excited to use in upcoming projects, and a few I'd love to mix into my own home.
kinder MODERN
The wares from kinder MODERN reminded me once again that design for kids just keeps getting better. And while there were plenty of items suitable for the littlest set (how about a Chicken Desk?), there were others that appeal to the kid in all of us. My favorites were the two-toned Ice Cream Mirror and the Plop Mini Inox.
Starry Quilts and Wallpaper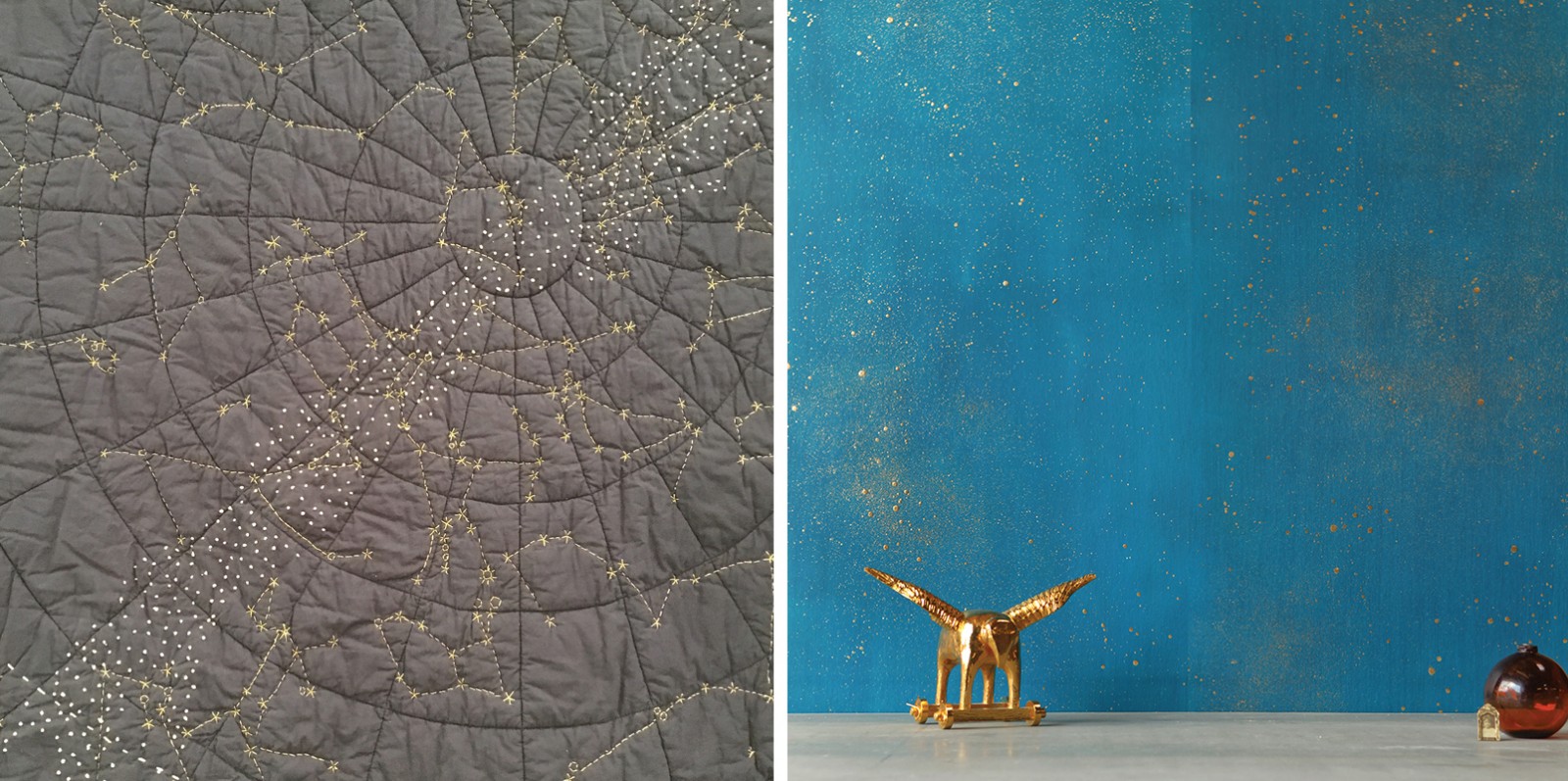 Want something timeless? Look to the stars. I was drawn to the Constellation Quilts from Haptic Lab — again, perfect for a little one, but sophisticated enough to take them into later years — and Cosmos, the vibrant hand-gilt metal leaf wallpaper from newcomer Sarkos (photo above).
Creative Lighting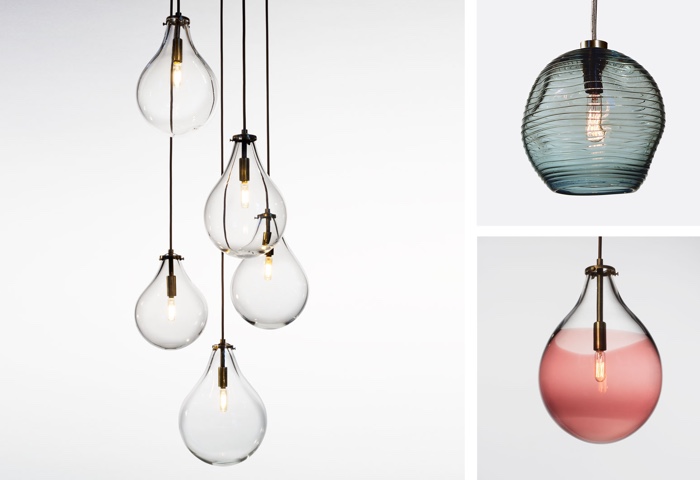 When it came to lighting, the selection was vast, from traditional to contemporary. Tracy Glover, a Rhode Island-based designer with a collection of hand-blown glass lighting, is among the best designer whose creative products blend function and art. The Teardrop Chandelier tops my list, but those craving more color and texture can get their share, too.
All About Fiber Art
While on the subject of art, let's talk about the fiber arts for a minute. If you're a fan of this trend, you need to check out two amazing fiber artists I met this year at the design show.  First there was Pittsburgh-based Terry Boyd, who showed me how he translates digital designs into machine-and-hand-embroidered linens to create a contemporary, edgy spin on needlepoint. Nearby, I met Jessica Green, who was spinning wool from the sheep she raises on a farm in North Carolina. These are the yarns she dyes by hand with natural pigments and uses to weave a variety of textiles.
Flemish Design on the Rise
Many years ago, I wrote about several designers putting Belgium on the design map. I was happy to learn about Ernest, a just-launched collective of Belgian-European architecture and design brands including Bulo, Domani and Wildspirit. I was a fan of the Lava pots from Domani, which come in a range of sizes. Moving on to Scandinavian design, another booth that caught my attention was L.S.M.D., which is bringing Sweden's Mats Theselius collection for Källemo, including the graceful-yet-substantial BRUNO side chair pictured here, stateside.
Local Designers I Love
I also met a several architects with furniture lines. Susan Doban of Think Fabricate in Brooklyn has a line of customizable TV Quilts for housing your flatscreen, minibar, and so much more. Spacio Terreno is a design workshop founded by husband-and-wife team Patricio Andrade and Isabel Becerra based out of Sunset Park. The pair intends to sell a new modular shelving system on view at the show as easy-to-assemble kits. And you can't miss the array of materials and textures in the "unapologetically modern" furniture created by Chelsea design powerhouse KGBL, including the luxe green velvet Mayweather Sofa.
Independent Designers You Need to Know About
Want to see fastidious attention to detail and thoughtful features? Definitely take a walk through the booths of independent designers in the MADE section of the show and look out for the incredible wood furnishings. Libby Schrum's Siblings Bench has a wave-like surface that invites two to share the seat.
CBM Woodworks from LA uses a centuries old Japanese technique called Sho Sugi Ban to make wood stronger and give it a unique charred aesthetic. One of my go-to favorites is Jerry Nance whose San Simeon Coffee Table is elegant from every angle. Another favorite table of mine is the Tambour Credenza from Poritz & Studio. Look closely and you'll see intricate slats that glide open to reveal a customizable set of drawers and shelves.
The list could really go on and on! If you can't make it to the show yourself, be sure to check out my virtual idea book at houzz where I've catalogued everything I saw. Next up on the spring trade show circuit is ICFF at the Javits Center in May. I will also be there adding to my virtual idea book. Spring is already looking promising for all you home renovators – happy shopping!
Related