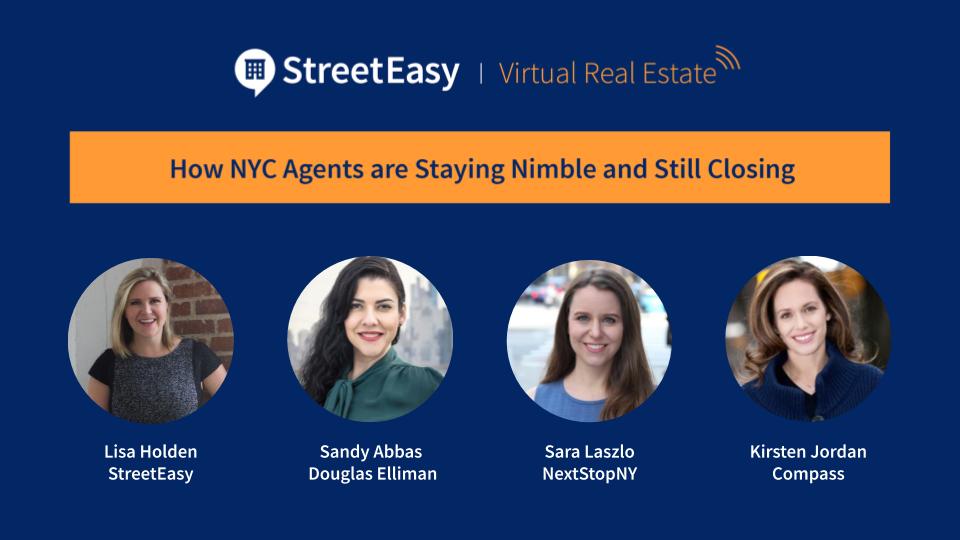 Real estate is a personal, tangible business built on trust — trust that's often won through in-person interaction. So what do you do when the norm gets turned on its head? Get creative. StreetEasy recently hosted a virtual chat with three NYC agents working to navigate today's obstacles and keep their businesses moving in new, innovative ways. Watch the recording below for tips on staying nimble and safe during the coronavirus outbreak, and read on for a few wise words from our speakers.
"Use technology if you can't visit a property in person," says Douglas Elliman agent Sandy Abbas. Abbas was able to post a 3D tour of a unit without ever visiting it by empowering her client to download the Zillow 3D Home tour app, take the photos on their iPhone, and text the link to Sandy the next day. She posted the listing seamlessly, and it's getting plenty of attention. "My Zillow rankings show that the listing is number one," Abbas says. 
"Find a way to connect with the community digitally," says Sara Laszlo at Next Stop NY, who teamed up with fellow agents to host a very special virtual open house. Laszlo thought to share the spotlight with agents who had similar listings, and each took a turn offering virtual tours of their properties. They also invited vendors they often work with, like a designer and architect, a real estate attorney, a mortgage banker, and so forth. This team of experts was able to share tips with prospective buyers looking for an apartment, and everyone did so from the comfort and safety of their homes.
"Relationships you have with other agents not only help you with best practices in the industry, but keep you informed about deals across the city," says Kirsten Jordan at Compass, who runs a team of 13. Jordan's advice centered around forming relationships with other agents by figuring out mutually beneficial ways to work together. The audience agreed. When polled, 71% of the 250+ agent audience agreed that networking with other agents is vital to survival in NYC real estate.
StreetEasy's next webinar is Wednesday, June 10, at 2 p.m. ET., and is a virtual version of our Decoding the Market series,  highlighting economic research and more tips from agents. Register today, and we'll see you there!