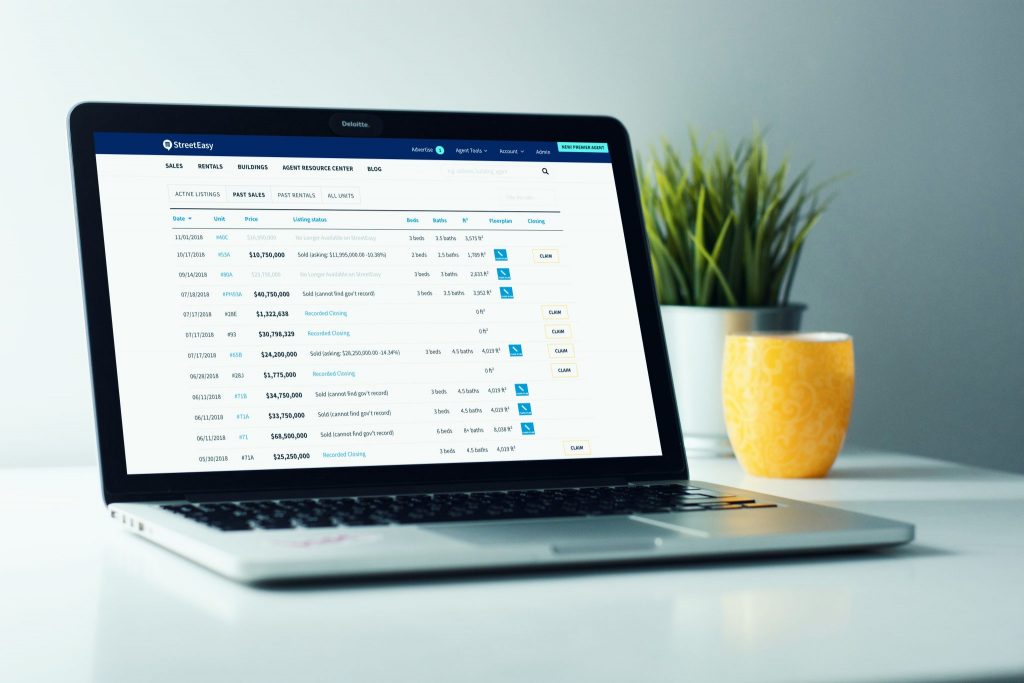 StreetEasy is often the first site a buyer turns to when they're looking for a new home in NYC. That means painting a complete picture as an agent on StreetEasy is important. One big piece of that picture is making sure your profile shows all the deals you've closed. That's where claiming deals on StreetEasy comes in.
Why is this so important?
Showing your full record as an agent gives consumers confidence. If you've done the work and closed an apartment, then you should wear that sale as a badge of honor. But there is a real, tangible benefit, too. If a new buyer or seller sees your name on a listing and sees that you've closed several listings in that building/neighborhood, it will give that person all the more reason to trust you as their agent, and potentially qualify you for the StreetEasy Experts program.
We reached out to a successful agent on StreetEasy to hear her take on claimed deals. "Only if I claim my deal will I get credit on StreetEasy building pages," says Dolly Hertz of Engel & Völkers Real Estate. "I do a lot of deals along Central Park South, and a seller in a nearby building recently found me by searching Central Park South on StreetEasy." If Hertz hadn't claimed her deals on that specific street, that new client wouldn't have even found her, let alone had the confidence to enlist her as the agent.
Watch this video on how to claim deals or check out the steps below.
1. Log in to your StreetEasy agent account
If you log in to your account and don't see an Agent Tools menu at the top of the page, it means your account isn't fully set up as an agent. Please contact the StreetEasy Support Team, and we'll get you set up.
2. Locate the building page of the listing in question
Every listing on StreetEasy ladders up to a building page (like this one). Your past deals will appear on that page.
3. Navigate to the Past Sales tab
You'll find this section under the "Building Facts" section. Once you select the Past Sales tab, you'll see a list of list of closing records of sale. You'll know which is which by the unit number, date, and closing price.
4. Select "Claim" to access the closing page
Please note that if you don't see "Claim" or "Recorded Closing" it means that we haven't yet received the closing record from ACRIS (NY Department of Finance). No worries — it can take anywhere from 4 to 12 weeks for the sale to be recorded in their system.
5. Select "Claim This Deal" on the closing page
Once you've reached the closing page, you'll see the option to claim the sale in question. It's important to remember that each closing, by default, only accommodates one seller's agent and one buyer's agent. You can also only claim deals for sale listings, not rentals. If your role, or both, have already been claimed and you'd like to be added, please reach out to the StreetEasy Support Team.