Extending from Canal Street to West Houston and from Avenue of the Americas to West Street, Hudson Square was once known as New York City's printing district. These days, its industrial buildings and warehouse spaces mainly function as offices for media and production companies, advertising agencies, fashion designers, architects, and entrepreneurs – but that's all about to change. In 2013, a rezoning five years in the making was finally approved, allowing residential development in Hudson Square for the first time ever.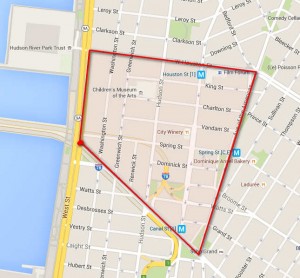 Bordered by Tribeca, SoHo, and Greenwich Village, Hudson Square is smack-dab in the middle of one of the most desirable residential sections of New York City. The old zoning barred residential development, although not development of hotels and condos: a quirk that led to the oft-reviled Trump SoHo.
Trinity Real Estate, the property arm of the Episcopal Church, owns about 40 percent of the neighborhood and initiated the rezoning, making it the largest privately initiated rezoning in the city. The rezoning plan enjoyed unusually widespread popularity. Some of the lone dissenting voices were advocates for the South Village historic district, who worry that their sedate streets (think Sullivan, Thompson and MacDougal) will be affected by spillover from new developments.
Rezoning Ushers in Wave of New Development in Hudson Square
Hudson Square has always been a rather peculiar section of the city, so close to some of the trendiest neighborhoods and yet decidedly removed. Office workers flood in during the day and neighborhood businesses play to their needs: restaurant options are severely limited to cheap, on-the-go chains, and streets empty out at night. It's also plagued by severe traffic; trucks cut crosstown to the West Side Highway throughout the day and commuters block up Varick Street to the Holland Tunnel every night. One can imagine that the influx of new residents will not help with traffic patterns, although it will certainly usher in a new wave of restaurants, bars, and retail.
And what an influx it will be! Since rezoning was approved, developers have been rushing in. According to a 2013 economic study, the rezoning is expected to bring over 3,000 new residential units, 140,000 square feet of retail space, 140,000 square feet of office space, 75,000 square feet of community facilities and a new elementary school for 450 students. The first major new development, at 70 Charlton Street, is expected to open for residents in fall 2016.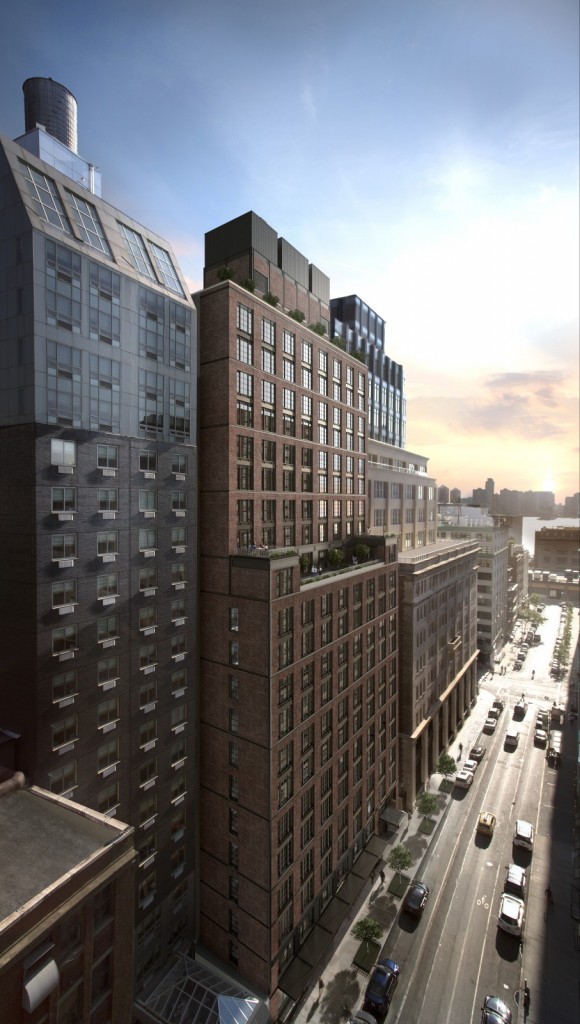 70 Charlton Leads the Way in Hudson Square Luxury Development
70 Charlton was the first residential project to break ground after rezoning was approved. Designed by the architecture firm Beyer Blinder Belle for the Extell Development Company, 70 Charlton seeks to blend into the surrounding industrial architecture, with large-scale windows and steel frame entries.
Made up of two 22-story towers connected by a passageway overlooking a landscaped courtyard, 70 Charlton residents have access to an array of lifestyle amenities including a birch tree arbor, a staggered boxwood garden, an outdoor sports court, a fully equipped private fitness center, a 60-foot indoor saltwater swimming pool, a steam room, men and women's locker rooms and a 24-hour doorman/concierge. The building is also "Zone Green" and targeted for LEED certification and will have 2,800 square feet of ground floor retail.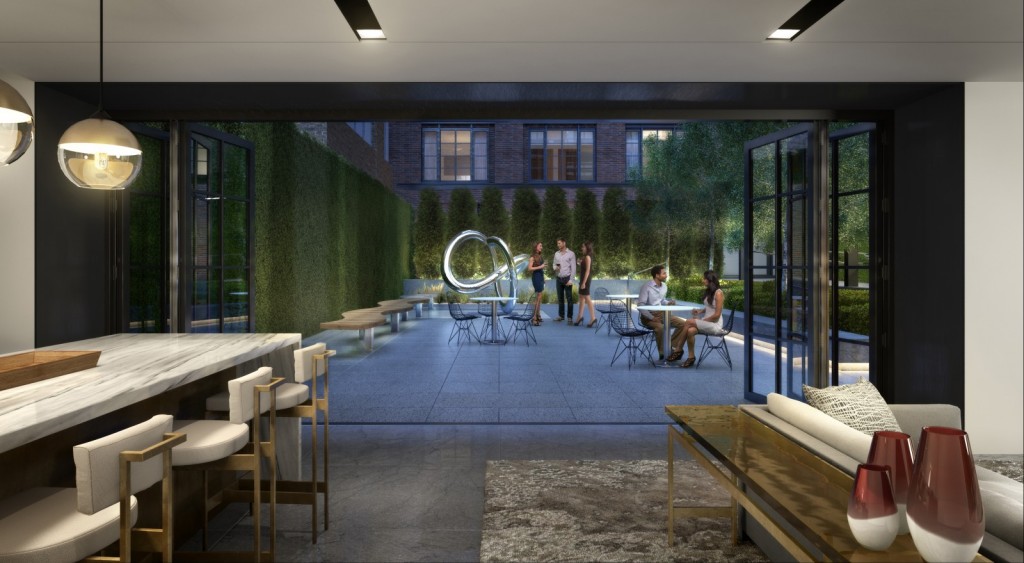 Asking prices for the 92 one-, two-, three-, and four-bedroom units range from $1.47M to $11.9M, and many are already in contract. Not surprisingly, the more moderately priced — read under $2M — were the first to enter contract last summer when the first units were listed. According to an agent with Extell Development Company, there was even a lower floor one-bedroom listed for $995K that went into contract in under a week. What remains available are primarily larger, more expensive units including a $3.5M three-bedroom on the ninth floor as well as a $4.95M three-bedroom penthouse. Still there are some one-bedrooms listed for under $2M, including a south-facing one-bedroom on the seventh floor listed for $1.6M.
Apartment interiors are designed by Workshop APD and feature grey-stained oak flooring, custom trim details, premium Miele appliances and a washer and dryer in every unit. Residents are able to choose from two kitchen finish options: a polished high-gloss white lacquer cabinetry or a natural rift-cut black-stained oak cabinetry. Twenty percent of the development's units will be deemed "affordable," which means that the development is eligible for a 20-year tax abatement. Residents will therefore have low tax rates for the first 12 years or so and will increase over time.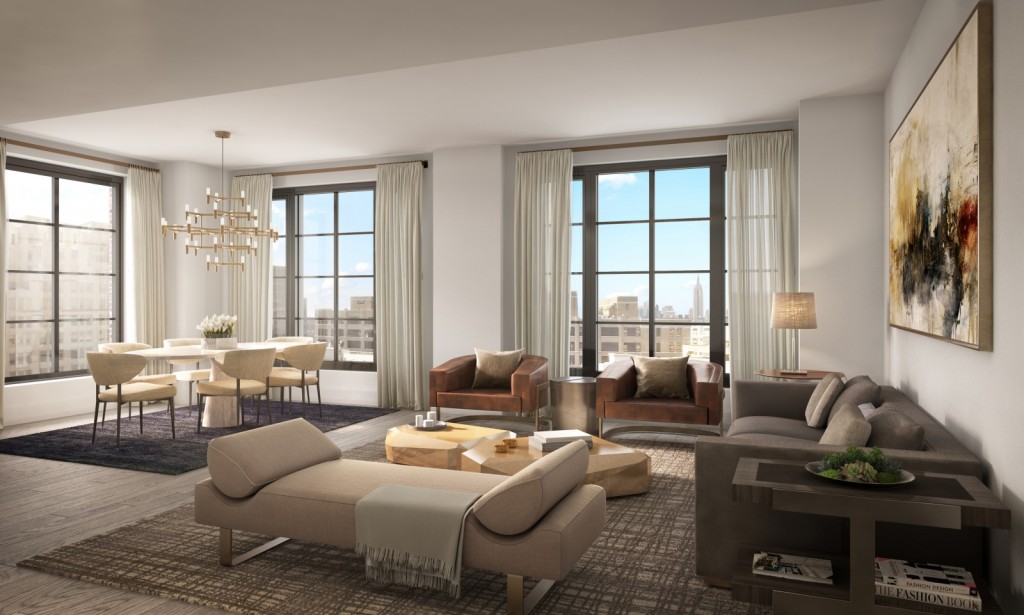 Clearly, with several thousand new residential units opening soon, Hudson Square is on the cusp of a large and swift change. Many more people will soon call this neighborhood home, offsetting the corporate vibe and making the neighborhood more similar in feel to Tribeca. A neighborhood formerly focused on adult professionals will see an influx of families and children. It's only a matter of time before the formerly quiet, isolated stretch of Greenwich Street is overtaken by residential development, before Varick and Hudson Street become prime real estate for chic restaurants and expensive boutiques. The transformation has already begun.
Related: