Without a doubt, New York City is an expensive place to live — but the possibility of owning a home in the city may be more in-reach than many New Yorkers think. While the overall median asking price in NYC hit $1.05M as of August 2023 — 2.6x the national average, according to our colleagues at Zillow — it's completely possible to find a home you love at a price point significantly below the citywide median. In fact, nearly two dozen neighborhoods require a down payment of under six figures, and monthly carrying costs lower than the citywide median asking rent of $3,775 as of August 2023. Here are the neighborhoods that offer an accessible entry point to becoming an NYC homeowner.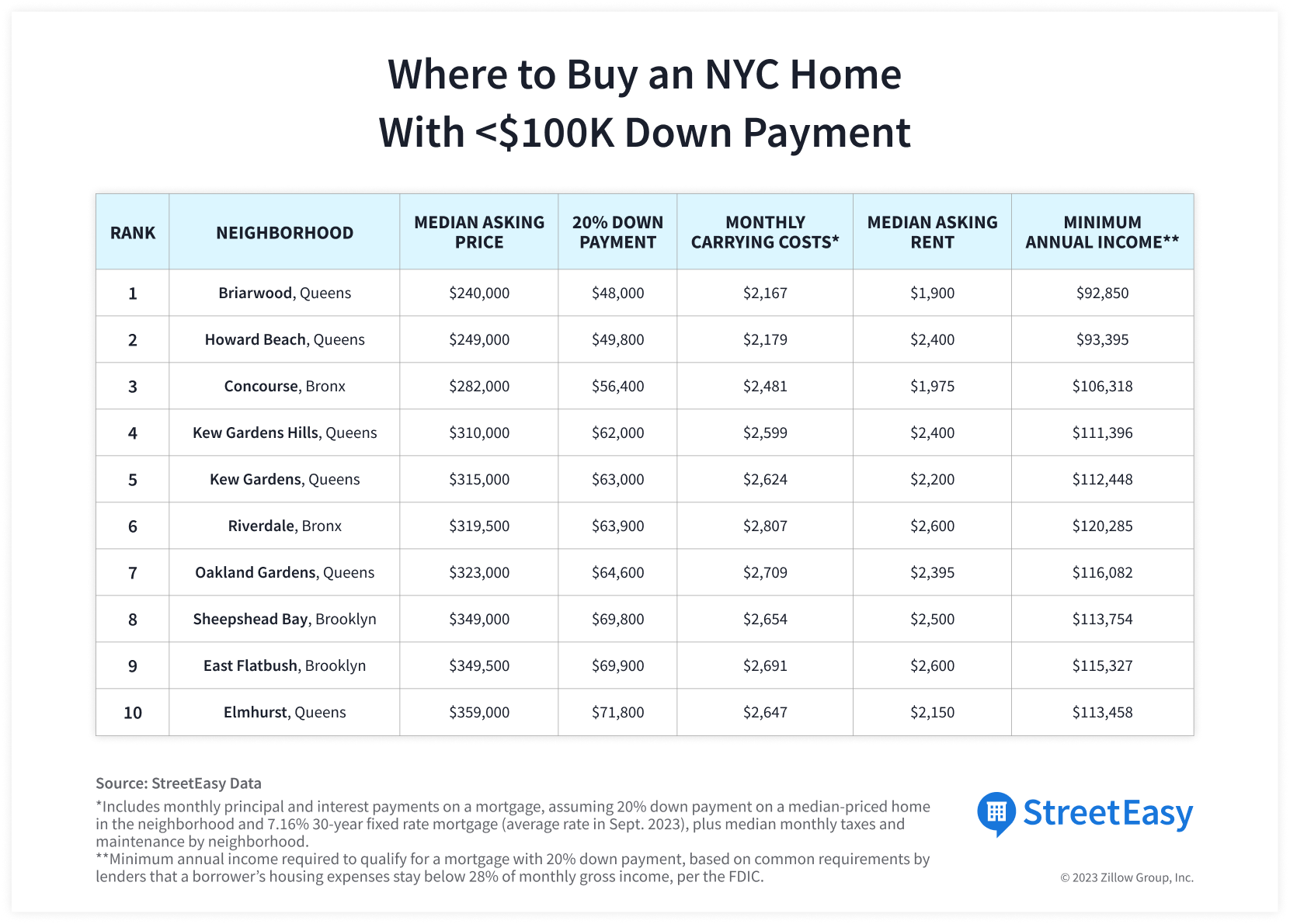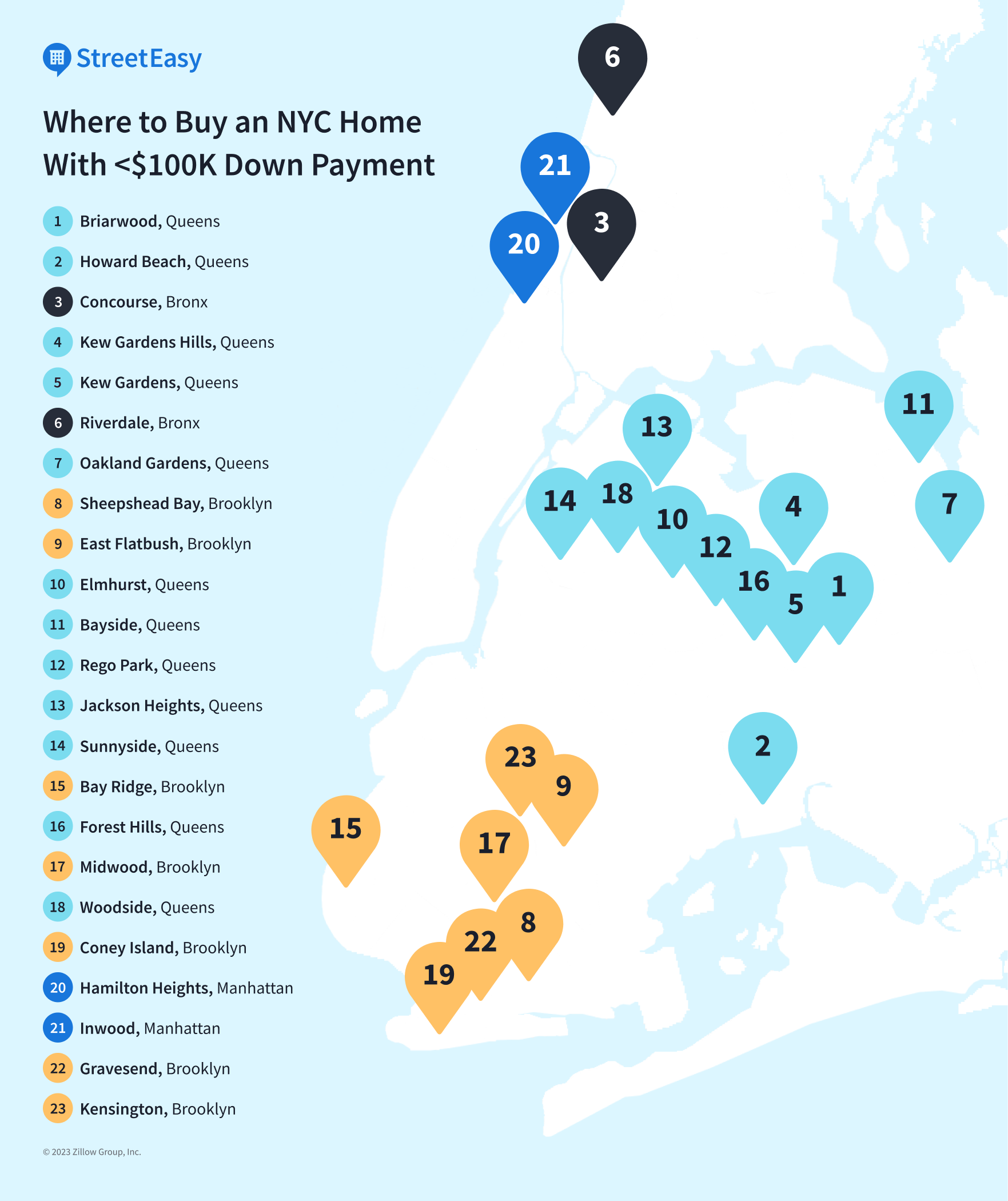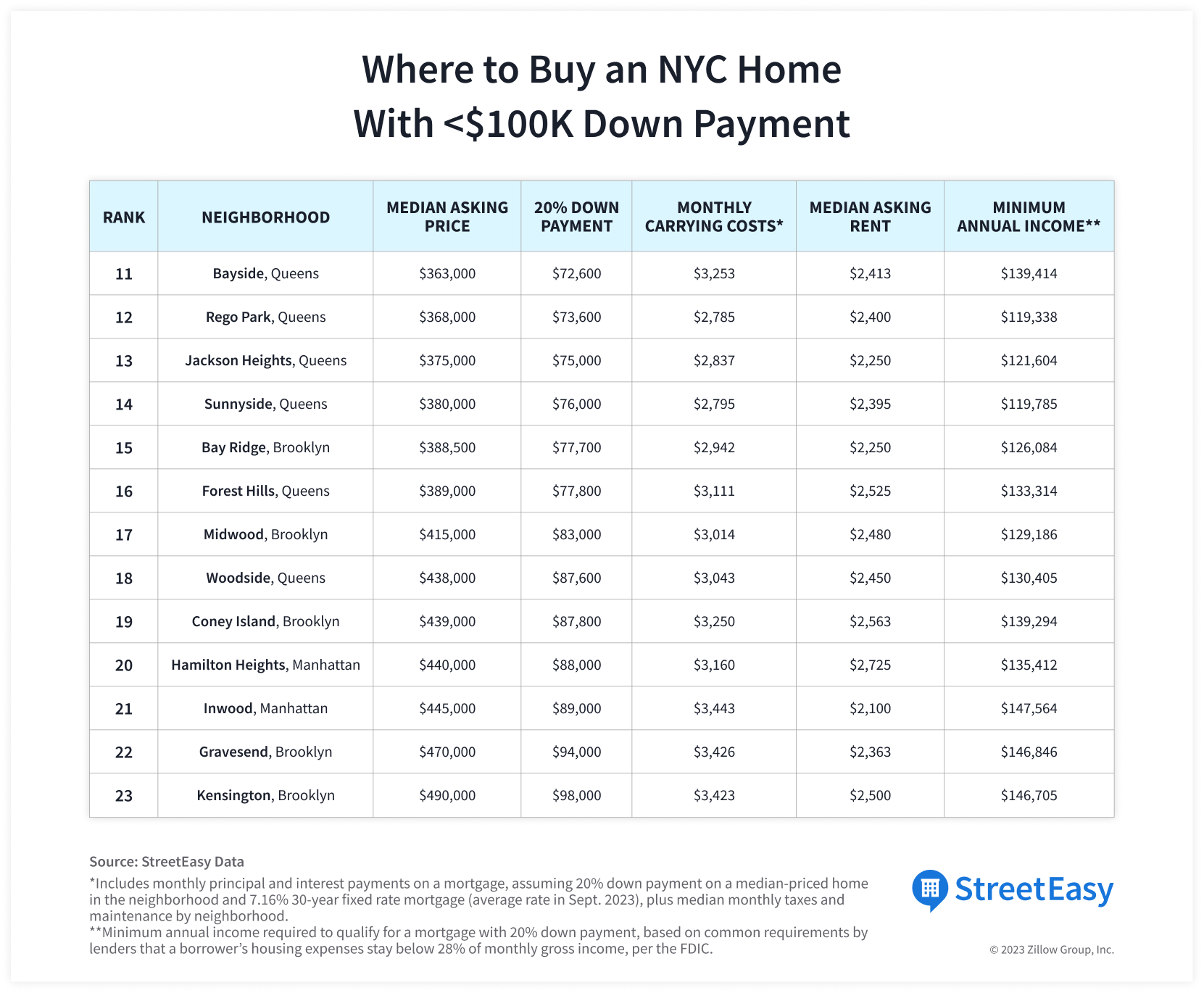 What a $150,000 Salary Can Buy You
Whether you're looking in Queens, the Bronx, Brooklyn, or Manhattan, it's possible to afford a home on an annual household income of under $150,000. At this price point, for-sale homes offer monthly carrying costs under $3,500 — less than the current citywide median asking rent of $3,775. Monthly carrying costs include median maintenance fees, taxes, and monthly principal and interest payments, assuming an average 7.16% 30-year fixed mortgage rate. Most mortgage lenders require that housing expenses not go above 28% of a borrower's annual income.
NYC Homes for <$100K Down Payment Article continues below
In New York City as well as nationwide, a 20% down payment is recommended and is the minimum amount some NYC homes will accept. The neighborhoods on our list present the lowest barrier to entry on the path to homeownership, with median 20% down payments of under $100,000. Of course, a 20% down payment is still a sizable sum to save — especially in a city where residents spend a large share of their income on rent — and it remains one of the biggest obstacles to owning a home in NYC. There are numerous mortgage assistance programs available that allow New Yorkers to put down less than 20% without extra costs, helping to make homeownership more attainable. Additionally, some condo buildings may require only 10-15% down.
In Howard Beach, a Queens neighborhood by Jamaica Bay and conveniently located near JFK Airport, buying is actually less expensive than renting. With average monthly carrying costs at only $2,179, being a homeowner rather than a renter in this neighborhood offers a potential annual savings of $2,650 after your down payment.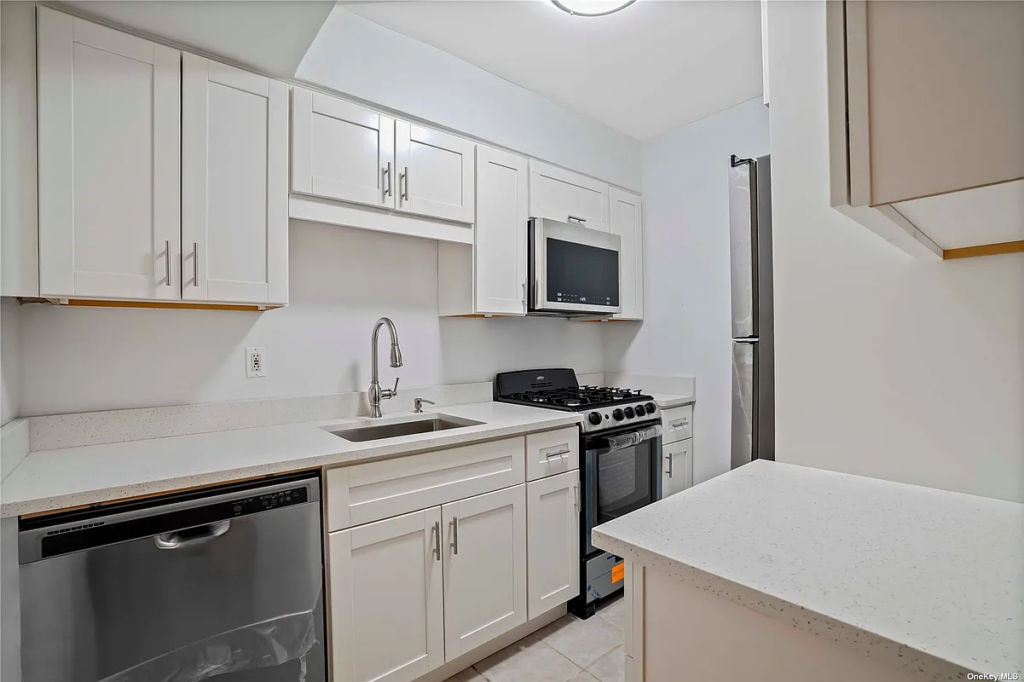 While Inwood in Upper Manhattan has seen fierce competition among renters this year, its well priced homes for sale are the neighborhood's hidden gem. With a neighborhood median asking price under $500,000, Inwood's homes are far more affordable than the borough median of $1.6M.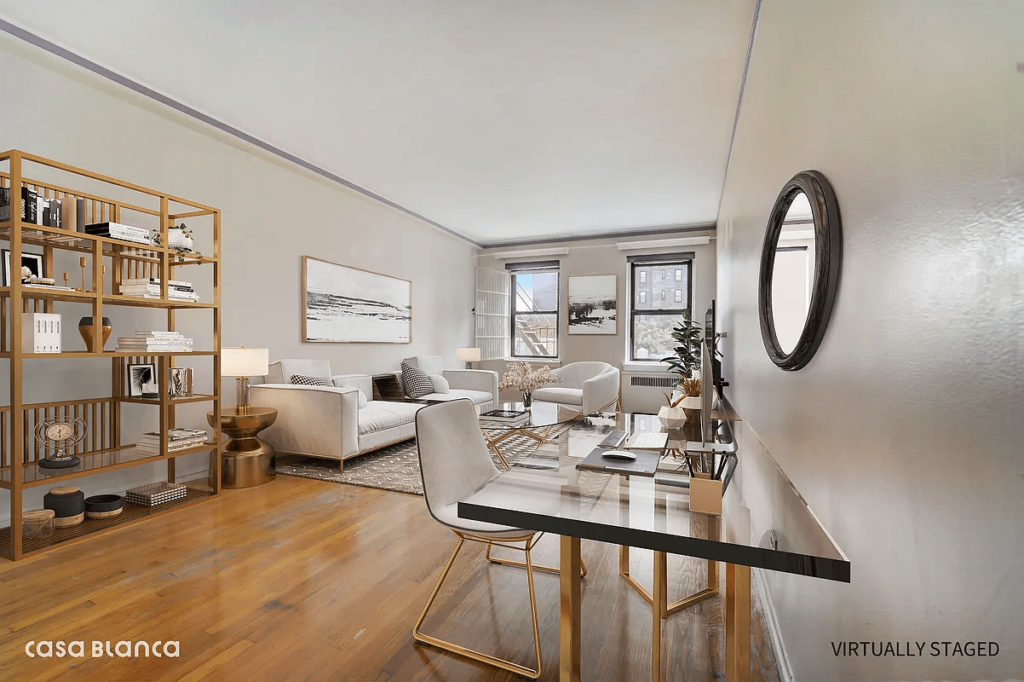 Also one of our 2023 neighborhoods where buyers have the upper hand, Riverdale in the Bronx offers a lower median asking price than the borough median. In addition to being known for its large co-op buildings, Riverdale is home to NYC's third-largest park, Van Cortlandt Park, which gives neighborhood homeowners plenty of green space to enjoy.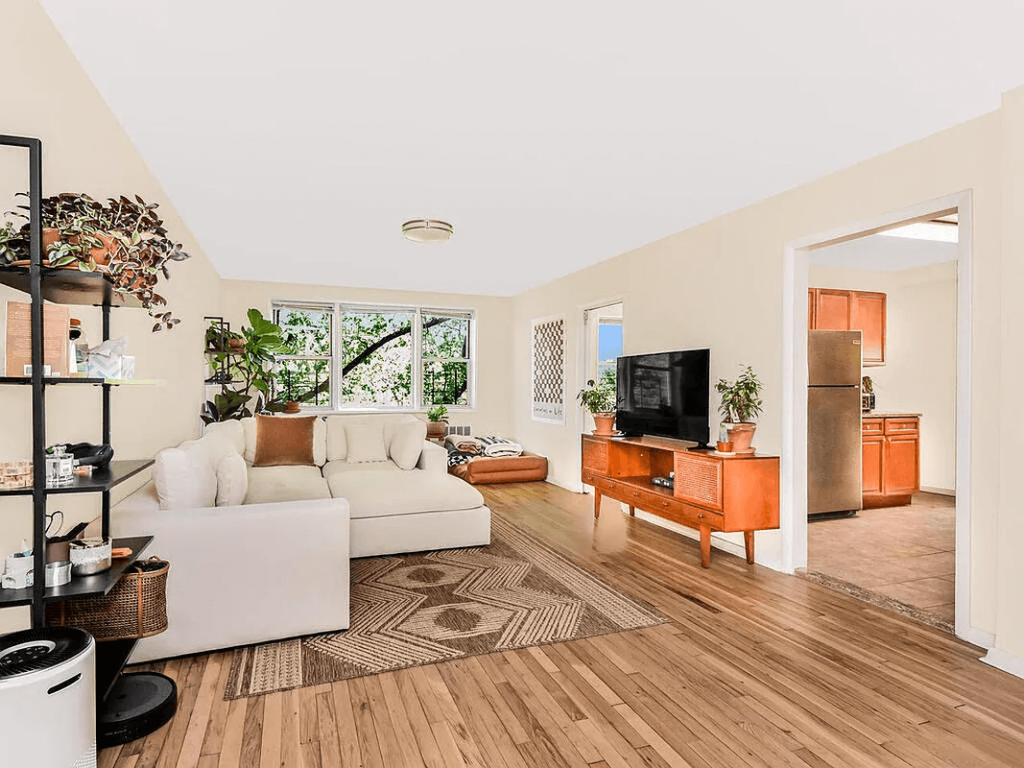 Thinking of Buying?
Buying a home is a huge investment regardless of price, and 71% of NYC buyers end up having at least one regret about the process. A skilled buyer's agent, like those in StreetEasy's Experts Network, can provide you with the knowledge, expertise, and guidance you need to avoid buyer's remorse. These agents have verified experience and track records helping other buyers with similar needs to yours. Just contact the StreetEasy Concierge to be matched with an outside agent who's the best fit for your particular journey.
Financial Resources to Put Homeownership Within Reach
Saving for a 20% down payment may seem daunting for many New Yorkers, but there are numerous mortgage assistance programs that allow buyers to put down less than 20% without extra costs. For example, the State of New York Mortgage Agency (SONYMA) offers a Low Interest Rate Program for low- and moderate-income first-time home buyers, with a down payment requirement of 3%. SONYMA's Homes for Veterans Program offers discounted rates and waives the first-time homebuyer requirement for veterans. Lastly, the city's HomeFirst Down Payment Assistance Program offers qualified first-time buyers up to $100,000 toward a down payment or closing costs, with just a 3% minimum down payment required.
Methodology
We calculated down payments as 20% of the median asking price for each neighborhood based on StreetEasy for-sale apartment listings. Monthly carrying costs include median taxes, maintenance fees, and monthly principal and interest payments. These costs do not include home insurance fees and closing costs such as additional taxes and legal fees that buyers may have to pay when closing on a home. Monthly principal and interest payments were calculated based on median asking prices and the September 2023 30-year fixed mortgage rate average of 7.16%. Minimum required income was calculated based on the common requirement by mortgage lenders that a borrower's housing expenses remain below 28% of gross monthly income, according to the FDIC. For the sake of comparison, we excluded any neighborhoods with fewer than 50 for-sale apartment listings on StreetEasy as of September 2023.
StreetEasy is an assumed name of Zillow, Inc. which has a real estate brokerage license in all 50 states and D.C. See real estate licenses. StreetEasy Concierge team members are real estate licensees, however they are not your agents or providing real estate brokerage services on your behalf. StreetEasy does not intend to interfere with any agency agreement you may have with a real estate professional or solicit your business if you are already under contract to purchase or sell property. StreetEasy Experts are third-party agents that advertise with StreetEasy but are not licensed with Zillow. StreetEasy earns a referral fee on their transactions.