Move over, Rockefeller Center. With the historic private development taking place at Hudson Yards, a newly unveiled centerpiece for the 28-acre site's public square will mean it's Christmas every day.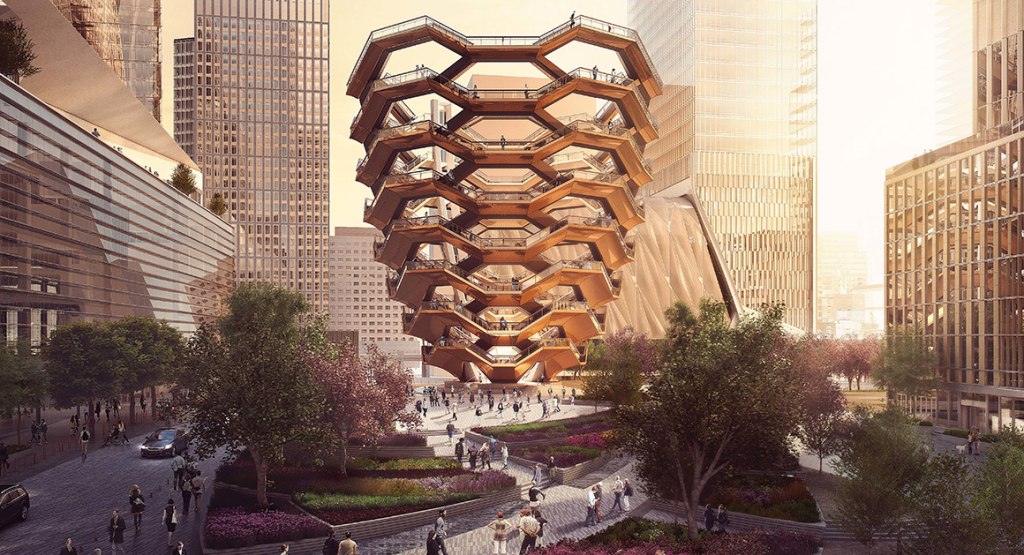 Called "Vessel," the new "Christmas tree" is the imaginative work of genius designer Thomas Heatherwick. It is a 150-foot tall interlocking series of steel stairs that mimics in grand, permanent scale the famous tree that gets lit each winter in Rockefeller Center. The piece is expected to be completed in 2018.
Related CEO Stephen Ross, the prime developer behind the $20 billion Hudson Yards mega-project, said he wanted to create "a 365-day Christmas tree." It's a sure signal that in the years and decades to come, New York City's epicenter will likely shift to the Midtown West location where Hudson Yards is redefining the city. The Vessel, which is said will cost $200 million, will contain 2,500 steps across 80 landings. 
The centerpiece interactive sculpture was unveiled at a public ceremony Wednesday, Sept. 14, hosted by Anderson Cooper with Mayor Bill de Blasio presiding. Time Warner will be one of the many heavy-hitter commercial tenants in the massive development project, which will draw tens of thousands of New Yorkers to Hudson Yards every day for its residential, commercial, retail, dining and entertainment offerings. Related, which is developing the 88-story residential tower 15 Hudson Yards, announced that sales for condo units will begin this week. Prices for the luxury units range from $2 million to $30 million.
Related: