The New York City Mayor's Public Engagement Unit (PEU) and StreetEasy today announced a first-of-its-kind, public-private partnership to educate NYC property owners, brokers, and real estate agents on the benefits of leasing to voucher holders.
As the need for affordable housing continues to rise, PEU is looking for new ways to bolster awareness and combat misconceptions around renting to voucher holders within the real estate community. This new partnership with StreetEasy will help PEU reach, inform, and educate property owners, agents, and brokers across the city.
A key element of the partnership is the launch of PEU's educational campaign "I Vouch for Vouchers," which features success stories from local property owners and brokers who have rented to voucher holders and helped New Yorkers move from homelessness to secure housing. The campaign highlights the many benefits that property owners receive when renting to voucher holders, in addition to addressing misinformation and stigma around vouchers.
The campaign launches the week of Dec. 13 and will appear on a variety of websites, social media, and local newspapers across the city. In addition to offering data to inform its targeting and creative support to develop the campaign, StreetEasy and Zillow are also donating advertising space valued at $20,000 to the City to expand the reach of the campaign, and ensure this information is seen by the property owners, brokers, and agents who visit the leading real estate platforms in the city and country. In early 2022, the campaign will expand to include ads on LinkNYC kiosks, bus shelters, and posters in neighborhoods identified as having high rates of units affordable to voucher holders, according to StreetEasy data.
Leveraging the City's expertise, StreetEasy created educational resources for property owners, brokers, and agents and hosted a fireside chat for property owners and brokerage leaders to educate them on Section 8 and the Emergency Housing Voucher program. Earlier this year, StreetEasy also launched a tool on rental listings to inform renters of their rights and how to report source of income discrimination.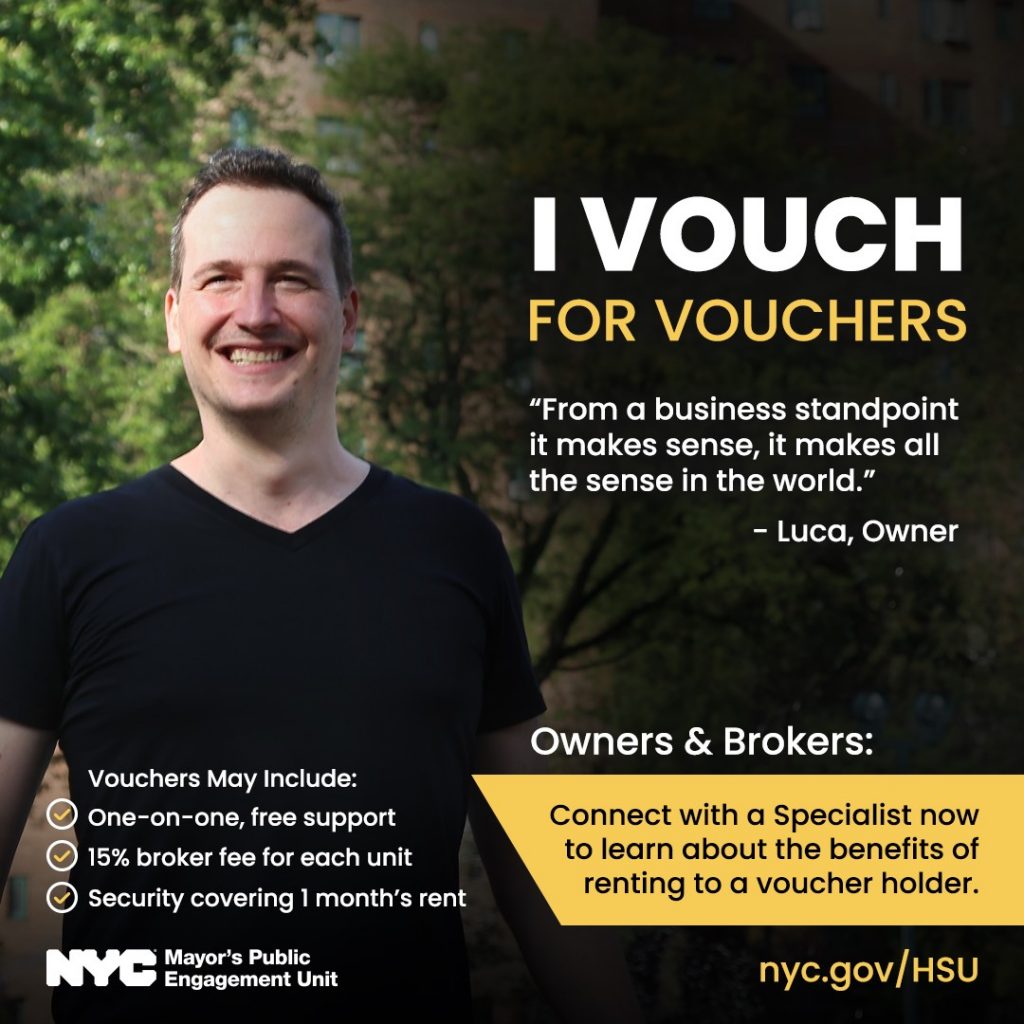 In 2022, digital banners will run on StreetEasy's Agent Tools and Property Manager Tool pages to help build awareness for the voucher program benefits and the city's resources, reaching the thousands of property owners, brokers, and real estate agents who choose to advertise their listings on the platform.
Since 2015, PEU has worked directly with rental property owners, brokers, and CBO partners to house tens of thousands of New Yorkers with housing subsidies. Amid an affordable housing crisis exacerbated by the pandemic, the federal, state, and City governments have increased the quantity and value of housing subsidies, such as vouchers. Additionally, the number of rental units in NYC affordable to "Section 8" Housing Choice Voucher and CityFHEPS participants as of November is 66,334, up more than 300 percent from the same period in 2019, when the number was 15,160, according to StreetEasy data.
"PEU was designed to re-envision how the City conducts outreach, and this first-of-its-kind partnership with StreetEasy is one more way that we are fulfilling that mission" said the Mayor's Public Engagement Unit Executive Director Adrienne Lever. "Engaging rental owners and brokers is key to ensuring voucher holders have a home this holiday season, and this educational campaign is an exciting complement to the calls, texts, and on-ground outreach our team does every day to support this critical work."
"Helping New Yorkers find a place to call home is at the center of our mission at StreetEasy. For many, that can't happen without the support of the city's housing subsidy programs," said Caroline Burton, VP and General Manager of StreetEasy. "We are proud to lend our support and platform in this important effort to educate the real estate community and help more people find a safe, secure and affordable home."
"During this Administration, HPD has leveraged every resource, such as our Housing Choice voucher program, to ensure everyone has the right to a safe and affordable place to live," said HPD Commissioner Louise Carroll. "But having the voucher is just the first step to securing a new home, which is why I'm excited about this opportunity to enlist more owners as our partners in making their apartments available to voucher holders. Building on our Where We Live NYC plan and its roadmap for addressing generations of housing disparities and safeguarding accessibility and mobility, this initiative is what we need to open the door for New Yorkers across our City. It is more critical than ever that New Yorkers be made aware of these available resources and I applaud our city partners and StreetEasy for this new campaign."
"From day one, the Department of Social Services set about rebuilding rental assistance programs because we know that homelessness cannot be addressed or prevented without strong subsidy programs that help households bridge the gap between rents and incomes," said Department of Social Services Commissioner Steven Banks. "Through the rehousing initiatives we reinstated and the voucher programs we recreated, more than 175,000 New Yorkers have been connected to permanent housing. Building on our recent increase in voucher rent levels, the City's important and innovative partnership with StreetEasy will strengthen our collective efforts to help more neighbors in need find housing they can afford, including by helping get the word out about available resources, empowering New Yorkers to fight housing discrimination, and further levelling the playing field in NYC."
"NYCHA works with more than 24,000 landlords to ensure that Section 8 families have access to safe and stable apartments," said NYCHA Chair & CEO Greg Russ. "We are incredibly proud of the Authority's role in combating housing insecurity through our voucher programs, and fully support this campaign's efforts to educate the real estate community and wider public on the benefits of utilizing this vital resource."