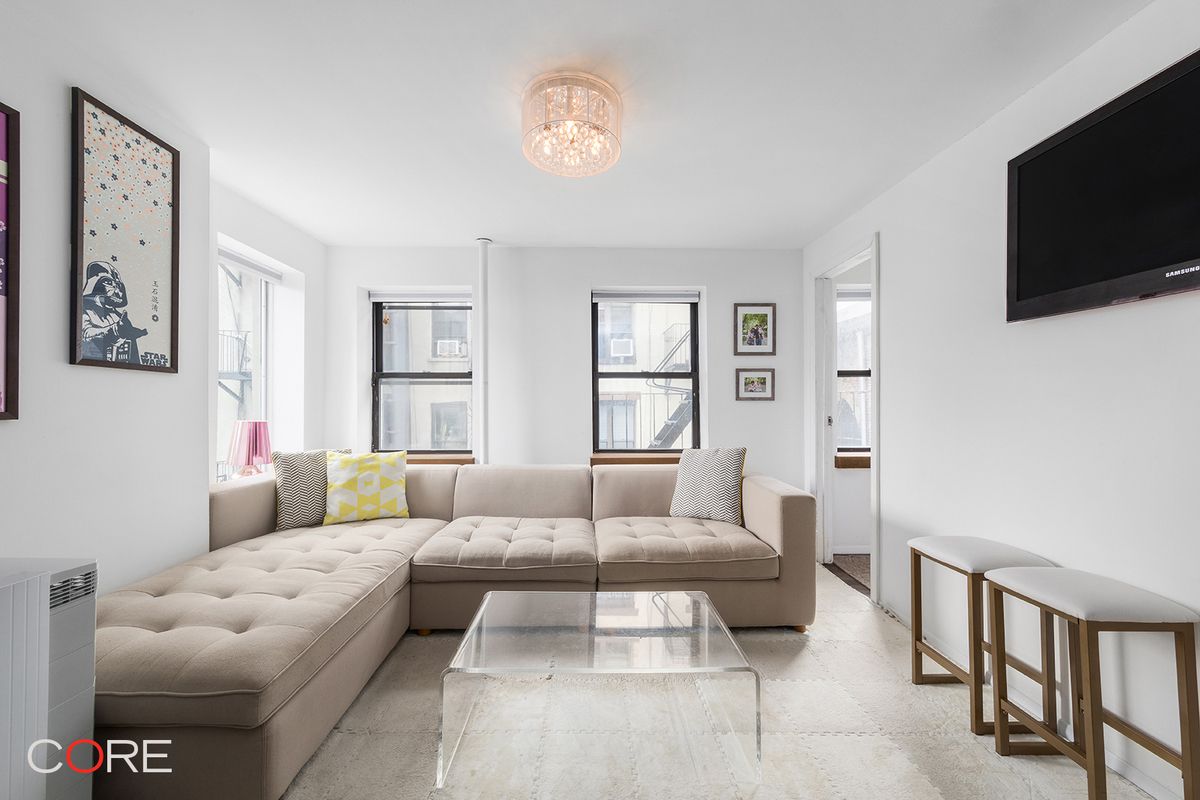 The elusive 2-bedroom apartment for under $1 million in Manhattan: Does it exist? Of course! Our Deal of the Week makes it possible to own a piece of the Lower East Side for well under $750,000. This unit at 170 Norfolk St. #17 is a newly renovated, classy apartment with lots of potential and a prime location. Let's check it out.
The Price: $650,000
According to the latest StreetEasy Market Reports, the median asking price for an apartment on the Lower East Side is $1,739,500. That means our Deal of the Week is more than $1 million below the neighborhood average. Buyers paying the minimum 20 percent down payment of $130,000 can expect to see monthly payments of about $3,815. That includes a monthly mortgage payment of $2,656 and the maintenance fee of $1,159.
Why You'll Love It …
This full-floor apartment isn't large, judging from its floor plan, but what it lacks in space, it makes up for with light. There's a total of eight windows across its three exposures. The unit is also a true 2-bedroom, meaning both bedrooms have a window and a closet.
The kitchen has been renovated with new, stainless-steel appliances, including a dishwasher. There are also gorgeous dark hardwood floors throughout the apartment, although they are covered in most of the photos.
The building is located near Essex, Delancey and Houston Streets, right near entertainment, restaurants, parks, markets and more. And when it's time to leave the Lower East Side, it'll be easy, with the J, M, Z and F trains all running through the Delancey Street-Essex Street stop two blocks away.
Co-purchasing, guarantors, pied-à-terres and pets are all allowed here. And to top it off, there's a common laundry room in the building.
… And Why You Might Not
As we mentioned, this apartment isn't huge. Both bedrooms appear to be on the smaller side, meaning there probably won't be room for much additional furniture beyond beds. The kitchen and living room area also don't seem to have room for a dining set, at least judging by the pictures. But with some space-saving creativity (perhaps a smaller couch), it could work.
Another thing to consider: This unit is a fourth-floor walkup. That's what you get with older buildings on the Lower East Side. But you'd get the entire floor to yourself, and some solid daily exercise without ever having to set foot in a gym.
Check out the listing at 170 Norfolk St. #17, listed by Matthew Cohen and Melissa Galvez of Core. There's an open house tonight, July 31, from 5:30 to 7:30 p.m.
—
Hey, why not like StreetEasy on Facebook and follow @streeteasy on Instagram?