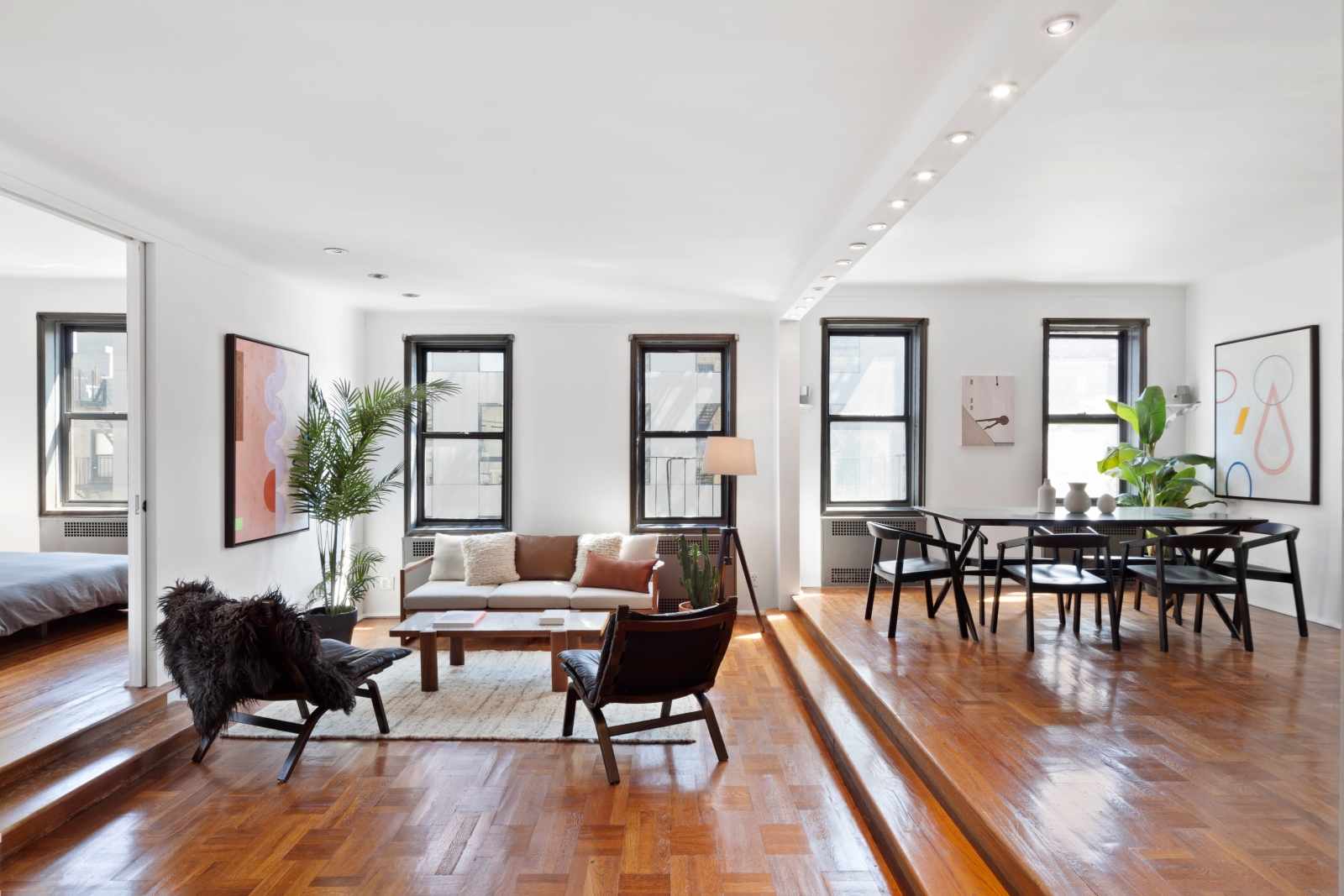 Even with more than 1,600 square feet of room, a chef's kitchen, and an enviable amount of closet space, this prewar artist's loft on the Lower East Side presented a challenge to Halstead agent William Kerr and his co-agents, Eugene Kopman and Grigor Licul. Despite the apartment's many assets, they were concerned the dated interior would be a distraction to potential buyers.
So before listing the home, the trio worked with Porter and Hollister Hovey of Hovey Design to bring the loft's appearance up to date and get it ready to sell. Below, the designer-sister duo share their tips for transforming this apartment — or any home — into market-worthy condition.
Living Room Before:

Living Room After: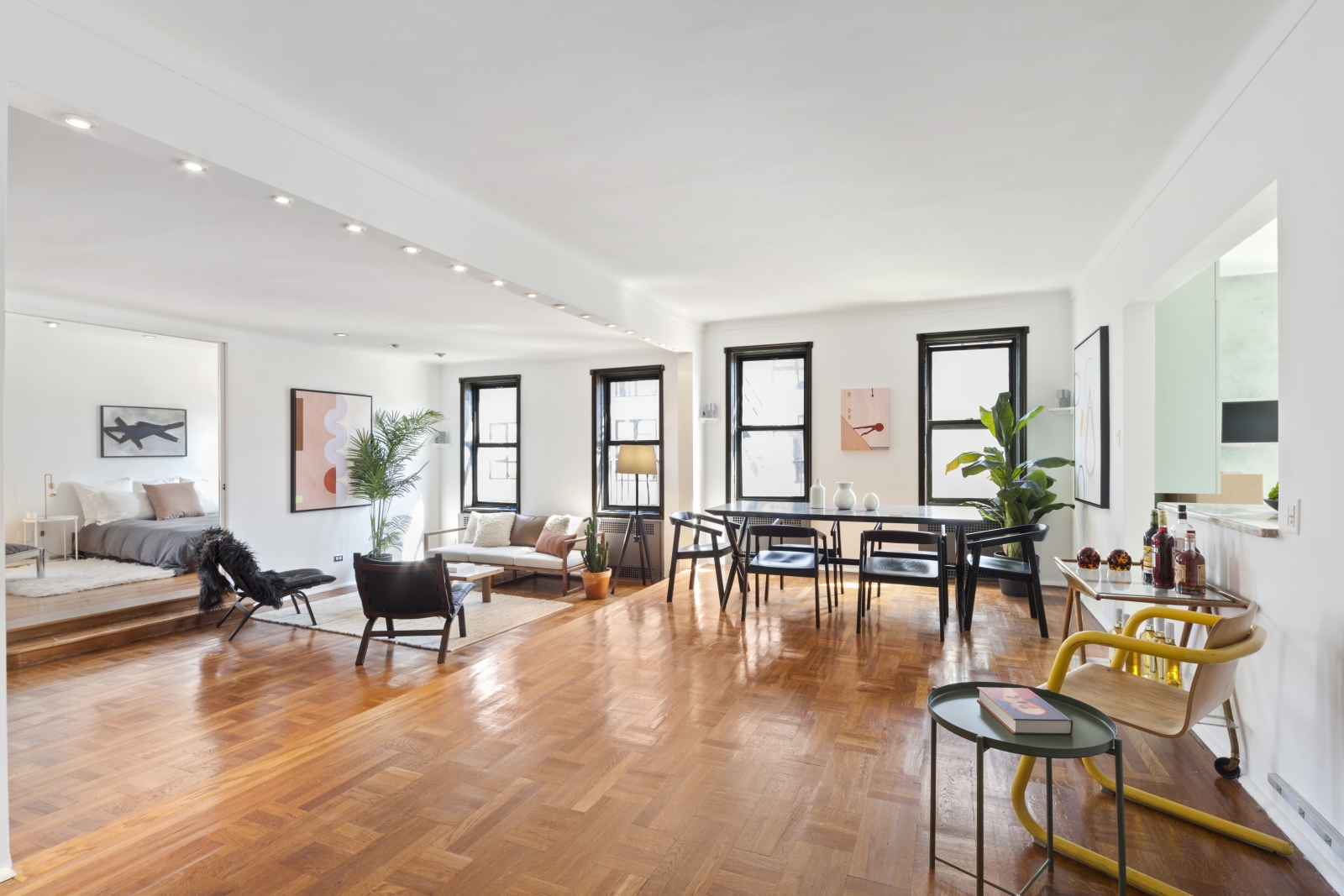 THE DETAILS MAKE THE HOME
"When we first walked into the apartment, we were awed by the space and layout," says Kerr. But the home, owned by an artist, reflected her particular tastes, with a kitchen that includes a pebble wall mosaic and seafoam green cabinets. "Toning down the strong polarizing elements was crucial," says Porter Hovey.
To maximize the budget and get the apartment on the market as quickly as possible, the Hoveys focused their attention on the large common spaces and bedrooms, seeking the smallest changes that would have the biggest impact. Mismatched door handles and brushed chrome hardware were replaced with black matte versions, while the entire apartment, including the unpainted oak doors, received a fresh coat of their tried-and-true favorite paint: Benjamin Moore Decorator's White.
These changes, while small, "helped make the apartment more cohesive, were immediately transformative, and really brought the space into 2017," Porter Hovey says. Only $840 later, they had a totally transformed space.
Bedroom Before:

Bedroom After:

BRING ON THE LIGHT
Even with a new paint job and an enviable number of windows (14 over three exposures!), the apartment still felt dark. To help lighten up the space even more, ceiling fans in the kitchen and bedrooms were swapped out for new table and floor lamps. "We always recommend simple light fixtures: white milk globes or mid-century classic finishes," says Hollister Hovey.
The Hoveys also insisted on another small but impactful change before the apartment was ready for market: Removing the steel window guards. The change was dramatic. During the apartment's first open house, Kerr noted that "the amount of natural light was the top feedback."
Bedroom Before:
Bedroom After:

FINISHING TOUCHES
"Selling an empty apartment is generally more difficult, because people tend to have a difficult time visualizing space," says Kerr. "It's much easier to envision your own furniture or possibilities when there is already appropriate, proportional furniture in the space."
Hollister Hovey agrees. "As it was, the space wasn't going to look brand new, and that's fine" she says. "We wanted buyers to feel like they were getting a great piece of old-school, downtown Manhattan in a hip, youthful neighborhood."
To help achieve that look, the designers brought in artwork that was "bright and bold, to add playfulness," and mid-century furniture that added "great lines and some pop elements," along with muted-colored furniture and plants throughout. The result? "Completely rejuvenated!" says Kerr. "It was truly a difference of night and day. The Hoveys were really able to bring out the best of what the apartment has to offer."
Want to see more? Check out the listing on StreetEasy: 20 Clinton St. #5FG
Represented by William Kerr, Eugene Kopeman, and Grigor Licul
—
Hey, why not like StreetEasy on Facebook and follow @streeteasy on Instagram?
Related: