What: Lottery for affordable rentals: $596 to $979 per month
Who qualifies: Annual household earners from $21,772 to $45,300
Deadline: Oct. 18, 2016
>> Learn how to apply
How about the prospect of snagging brand-new affordable housing that overlooks a city park that has single-handedly raised the values of real estate in the West Chelsea section of Manhattan? That is exactly what's up for grabs at the Maestro West Chelsea.
Located at 507 West 28th Street, the new development is offering 75 of its 379 total units for qualified renters via housing lottery. Administered by NYC Housing Connect, the lottery for the Maestro includes two classifying ranges. The first is for 12 applicants whose incomes run between $21,772 for an individual and up to $36,240 for households that include four people. Rents would start at $596 for a single and max out at $775 for two-bedroom units.
The remaining 63 of the affordable units includes 17 studios at $754 a month for individuals making $27,189 to $31,750 annually. Another 31 one-bedroom units will be available at $810 to individuals making $29,143 to $31,750 or two people making $29,143 to $36,250 annually. Fifteen two-bedroom apartments will be leased for $979 to two-person households making $34,972 to $36,250, or three-person household making $34,972 to $40,800 or four-person household making $34,972 to $45,300 annually. Deadline to apply is Oct. 18. See chart below: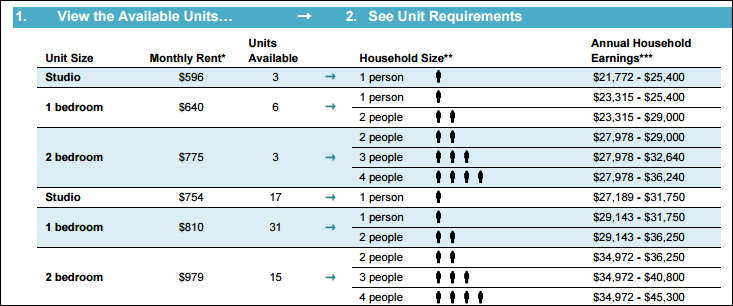 The new 35-story building sits right in the heart of West Chelsea overlooking the High Line. The Maestro features an attended lobby, roof deck, fitness center, laundry room and bike storage. It was designed by Alvaninash K. Malhotra Architects and developed by Lalezarian Properties.
There is another special note of consideration. Fifty percent of the 75 units will be leased to people already living in the area in the West Side of Manhattan that runs from 14th Street to 59th Street. 
The High Line urban park has been shown as a major catalyst for raising real estate values, according to a recent StreetEasy analysis.
Related: