Mindy Weiss is known as the A-list's go-to party planner: She has designed many Kardashian parties and just finished planning Justin Bieber and Hailey Baldwin's wedding. And while the event maven is comfortable throwing grand and lavish affairs, she also knows a thing or two about pulling together a small, NYC-apartment-sized soirée. Here are Weiss's top five tips for throwing a big bash in a small space, just in time for the holidays. 
Mindy Weiss Tip 1: Put Your Tree on the Wall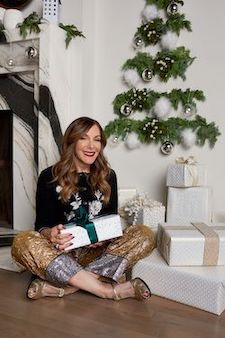 Everyone loves a festive Christmas tree, but they take up a lot of room. Who can spare that kind of square footage in a New York City apartment? Luckily, there's a way to have the traditional shrubbery without losing any precious floor space, Weiss tells StreetEasy: "Put the Christmas tree on the wall."
"Take some pine branches, ornaments and a few other pieces of winter decor and attach them to the wall in the shape of a tree," Weiss says. To create your wall tree, she suggests using Command Adjustables hooks or clips so you can reposition lightweight decor items, like string lights and banners, up to three times in the first 20 minutes to get the placement just right. 
Even if it's not the holidays, this idea is great for any kind of party: Make a flower wall for a baby shower, a fall-leaf wall for Thanksgiving or a wall of glitzy mylar fringe for New Year's Eve. "It basically becomes an Instagrammable wall that guests will love," Weiss says. "Always use your walls." 
Mindy Weiss Tip 2: Turn Your Kitchen Into a Bar
Wouldn't it be great if you had room for a bar nook in your apartment? Unfortunately, in most people's reality, any extra nooks are taken up by necessities like a bike, a stroller or storage. So where can you serve up drinks at a party? "Utilize your kitchen sink," Weiss says. "People gather in the kitchen anyway, so fill the sink with ice, add in some craft beers and make the rest of the counter space into the bar area." Another option? Get a rolling bar cart and station it anywhere it will fit. 
Manhattan 1BRs Under $850K Article continues below
Mindy Weiss Tip 3: Decorate the Bathroom
With limited square footage in small apartments, the bathroom becomes important space. Plus, all guests will use it at some point during the night, right? "You have one bathroom, so make it look good," says Weiss. "Bring in some of your decorations, like twinkle lights, and place them around the mirror. Take pieces of the theme from the main space and bring them in. It helps make the space feel bigger and is a nice little surprise for guests."
Mindy Weiss Tip 4: Use Holiday Cards as Decor
Holiday cards are often quick to end up in the garbage. But think of them as free decorations! "I love the idea of displaying holiday cards," says Weiss. Run a length of twine or colorful ribbon in the room and clip all the cards you receive on it with clothespins or paperclips. "It really fills the wall and creates an easy, festive atmosphere." 
Brooklyn 1BRs Under $850K Article continues below
Mindy Weiss Tip 5: Embrace Mismatched Dishware
Since many New Yorkers don't have a ton of kitchen space — much less a china cabinet — utensils, dishes and serving pieces can often be a random collection. Guess what? That's totally in right now. "Don't be embarrassed if your dishes don't all match!" says Weiss. "You can mix and match anything, and it adds a homey vibe to a party."
—
Inspired to find your next place in New York? Whether you're looking to rent or to buy, search NYC apartments on StreetEasy.