Every week, we share the most popular sale listing of the week in NYC, as selected by you, our StreetEasy users. The most popular sale for March 13 is a Brooklyn Heights 2-bedroom with an office and spectacular views.
Renovated Brooklyn Heights 2-Bedroom Asks $1.35 Million
Location: 136 State Street #4, Brooklyn Heights
Saves: As of this writing, the most popular sale for March 13 has been saved by 238 users.
Price: $1.35 million. Assuming a 30-year mortgage and a minimum down payment of 20% ($270,000), StreetEasy estimates total monthly payments at $8,288. The total includes an estimated mortgage payment ($7,120) and maintenance fees ($1,168).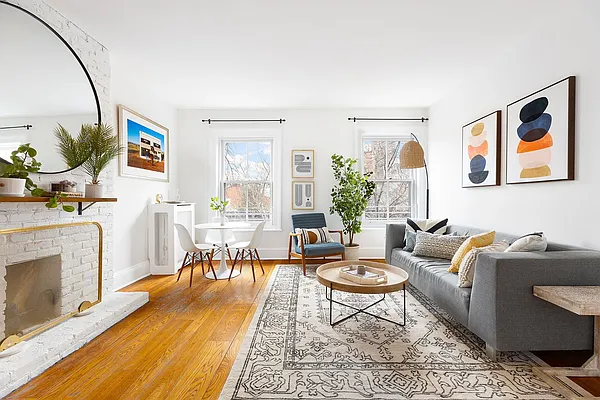 Why It's So Popular

This exquisite, recently renovated penthouse apartment in the heart of Brooklyn Heights is a true gem. The property boasts two bedrooms, a home office, and a beautiful view of the Freedom Tower from its huge north-facing windows. As you enter the apartment, the bright and airy atmosphere welcomes you with 10-foot high ceilings and original brick detailing. The living room features a wood-burning fireplace and plenty of natural light, making it an ideal spot for relaxing and entertaining.
The renovated kitchen has stainless steel appliances, custom double-height cabinetry, and a breakfast bar with new quartz countertops. The newly renovated bathroom is stunning, with designer finishes that add a touch of luxury to this beautiful Brooklyn Heights 2-bedroom. The bedrooms are on either end of the apartment, offering ample privacy and seclusion. The primary bedroom is particularly spacious and serene, with southern exposure that floods the room with natural light.
Brooklyn Heights Homes for Sale Under $1.5M Article continues below
This well-maintained co-op building at 136 State Street is managed efficiently, and its strong financials ensure stability and security for its residents. The building's prime location offers easy access to major subway lines, Brooklyn Bridge Park, and some of the city's best schools. The property's character and charm are preserved with wide plank flooring and exposed brick walls. In contrast, modern amenities such as central air conditioning and an in-unit washer and dryer provide ultimate comfort and convenience.
To top it all off, a sizable private storage unit in the cellar and a semi-private roof terrace provide additional space for storage and relaxation.