What are the amenities New Yorkers will pay extra dollars for? StreetEasy's listing data indicated an in-unit washer and dryer was associated with the highest premium in NYC, which we calculated as the closing price in excess of the neighborhood median. For units that were sold above $2.5M, which represent the top 10% of NYC condo and co-op sales by closing price since the pandemic, a private patio or terrace was associated with the highest premium.
Everyday Conveniences Demand the Highest Premiums in NYC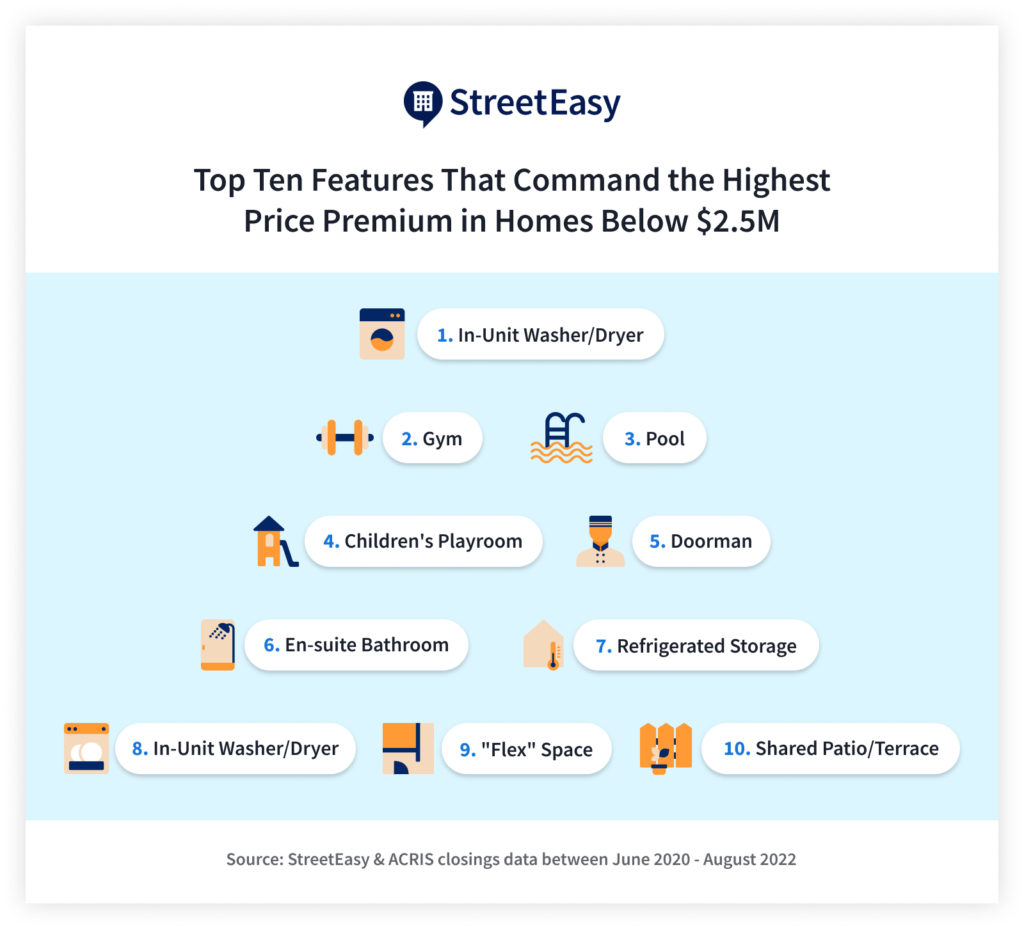 For most New Yorkers, amenities that make everyday tasks easier took priority during home shopping. Among condo and co-op units sold below $2.5M (representing nearly 90% of post-pandemic NYC condo and co-op sales by closing price), an in-unit washer and dryer was associated with a 14.1% premium, the highest on our list. Further down in fifth place was having a doorman in the building, associated with a 10.9% premium. Units with a dishwasher, eighth on our list, commanded a 9% premium over comparable units without one.
Since the pandemic, buyers have ranked in-unit laundry, doormen, and dishwashers highly, our buyer search data indicates. An increasing number of listings have featured these amenities recently. For example, post-pandemic, 34% of condo and co-op units sold below $2.5M have offered in-unit laundry, up slightly from 31% in 2019. 63% have offered dishwashers, up noticeably from 54% in 2019.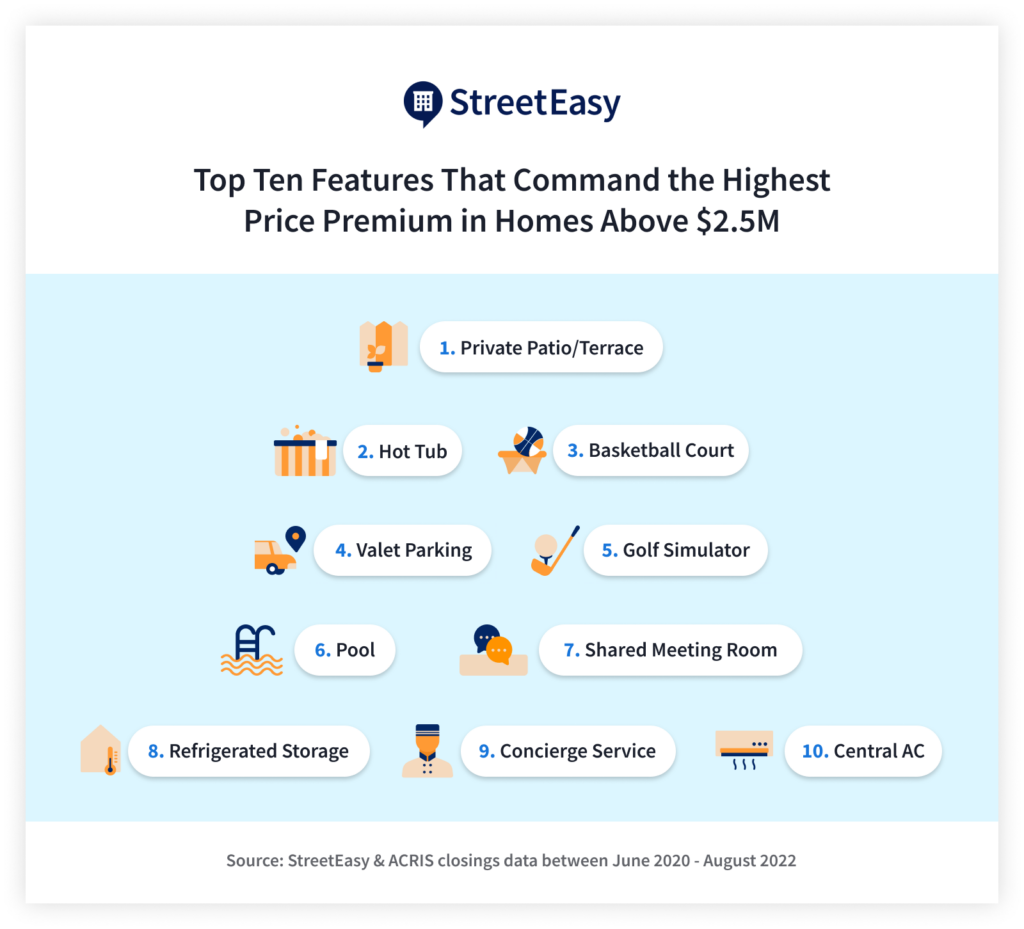 Those with bigger budgets have differing priorities. Buyers in the market for listings above $2.5M tended to pay a premium for more high-end amenities such as valet parking (8.9%) and concierge service (6.8%). Refrigerated storage spaces in common areas to receive fresh grocery deliveries demanded a relatively high premium: 6.9%. Amenities such as in-unit laundry and dishwashers are common features in these higher priced listings and did not have a meaningful impact on premiums.
Building concierges can offer more comprehensive assistance with NYC living than doormen typically do, ranging from picking up dry cleaning to getting reservations at popular restaurants. Valet parking gained more popularity as car ownership became more popular in NYC after the pandemic. However, this sought-after perk is rare – in the first half of 2022, only 4.7% of the closed sales above $2.5M offered valet parking.
Outdoor or Indoor "Flex" Space Is Highly Coveted
Since the pandemic, outdoor space and in-unit "flex" space that can be reconfigured for different purposes fetched a high premium. With more people working remotely, having "flex" space that can be converted to a home office, exercise room, or baby's room was associated with an 8.9% premium for the majority of closed sales in NYC (below $2.5M). Since 2021, 18% of condo or co-op listings sold below $2.5M have indicated having flex space, compared to 11% between 2018 and 2019.
NYC Homes Under $2.5M with Outdoor Space Article continues below
Most New Yorkers continue to value access to outdoor space. A shared patio or terrace in the building was associated with a 7.5% premium relative to comparable sales. Although it didn't make it to our list, a shared roof deck also summoned a high premium: 6.2%. Buyers eyeing a unit above $2.5M tended to pay a higher premium of 10.7% for a private patio or terrace, scoring the top spot for this segment.
Buyers Also Wanted to Have Fun
Amenities for recreation were associated with higher premiums for all listings. For instance, having a pool in the building was associated with an 11.8% premium for the majority of sales in NYC. This amenity would likely set your listing apart, as only 14% of all sales that closed in the first half of 2022 advertised having a pool.
Manhattan Homes with Swimming Pool in Building Article continues below
Most buyers tended to pay a high premium for a children's playroom in common areas, which can offer opportunities to socialize for children as well as parents. Buyers on average paid an 11.1% premium for a condo or co-op with a children's playroom in the building than comparable units without one.
Buyers with larger budgets appeared to value more unique amenities. Hot tubs, for instance, were associated with a significant 10.2% premium. Athletic facilities such as basketball courts and golf simulators were associated with 10.1% and 8.8% premiums, respectively.
How You Can Use This Data
Note that indicating certain amenities a home offers in the listing does not guarantee or cause the final closing price to be above other comparable homes. Home shoppers likely considered other aspects of the listing and evaluated it holistically, in ways that are difficult to be quantified.
Our analysis does reveal that well-performing listings often included the amenities discussed in this piece, and some of these amenities were associated with higher premiums than others. Other aspects such as staging and finishing may have also impacted premiums to some degree. In addition, our estimates of the premiums associated with amenities cannot be added together to determine a cumulative impact, although they can be compared across different amenities.
This information can help sellers decide how to position their listing to get the best offer. When pricing a listing, it's important to look at what other comparable units on the market are offering in terms of amenities. An amenity can give a for-sale unit a boost if that amenity is rarer relative to the comparables in the area. From a buyer's perspective, the presence of these amenities can be a sign that there may be more bidders on the same property.
StreetEasy offers NYC-centric resources to give current and future sellers confidence and support throughout their selling journey. Our StreetEasy Concierge can match sellers with an Expert agent to identify comparable sales and strategically build their listing, highlighting the home's most in-demand features. We also offer a free tool to check your home's valuation at any time.
How We Did It
We analyzed more than 55,000 New York City condo and co-op sales listings on StreetEasy that closed between June 2020 and early Aug 2022, confirmed by ACRIS records. We divided the listings into two groups – units with closing prices below $2.5M and above $2.5M – to account for the difference in buyer preferences across these price points. We excluded any sales recorded during the period between March and May 2020 when the NYC housing market was severely disrupted by the COVID-19 pandemic. We chose $2.5M as a cut-off as it is the 90th percentile of closing prices of all condos and co-ops sales in NYC since June 2020.
We estimated the average impact of an amenity on a unit's closing price above the neighborhood's median closing price – in other words, a premium relative to comparative sales – using a set of OLS regressions with a binary variable indicating the availability of a given amenity.
In our regressions, we controlled for the unit's number of bedrooms and bathrooms, when the building was completed, types of units (i.e. condos vs. co-ops), and the unit's neighborhood by introducing additional variables to the regression. Only the results for amenities with a statistically significant coefficient and which appeared in at least 2% of the listings in our sample are represented here.
---
Disclaimers: StreetEasy is an assumed name of Zillow, Inc. which has a real estate brokerage license in all 50 states and D.C. See real estate licenses. StreetEasy Concierge team members are real estate licensees, however they are not your agents or providing real estate brokerage services on your behalf. StreetEasy does not intend to interfere with any agency agreement you may have with a real estate professional or solicit your business if you are already under contract to purchase or sell property.
For FSBO postings, the StreetEasy Concierge is meant to provide insight to improve your posting performance on StreetEasy and may refer you to a real estate professional based on your specific needs.
StreetEasy Valuation is our estimate for a home's market value and is not an appraisal. Use it as a starting point to determine your home value and monthly rental price.
StreetEasy earns a referral fee from successful Experts' transactions, at no cost to the buyer or seller. Experts must meet StreetEasy's standards of service and market expertise. Agents in our Experts Network have closed deals on homes similar to the seller's or similar to homes the buyer is searching for. We measure their performance to make sure buyers and sellers get top-notch service.