Most of us come to New York City in fear of how to stick to a housing budget that won't require maxing out our credit cards for basic daily food requirements. And then there are those for whom money is no object. For them, there are floor-through penthouses atop the Waldorf or The Pierre — high-class buildings in the highest of high-rent districts.
This year-end look at NYC's most expensive rentals may cater to pocketbooks of the 1 percent crowd, but that doesn't mean the rest of us schlubs can't ogle the pricey property we can only dream of inhabiting. Just don't drool on the bespoke furnishings.
5.)  $100K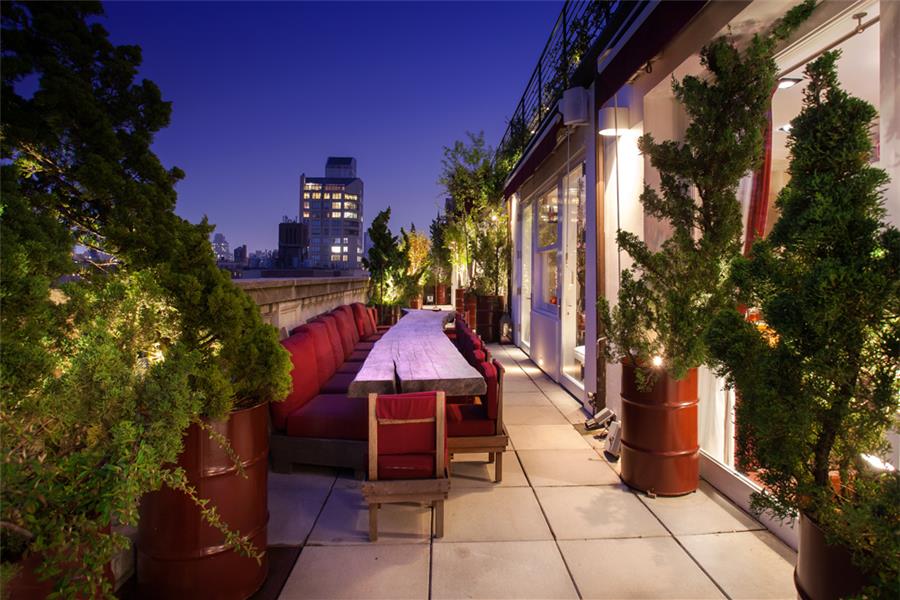 This duplex condominium rental is veritable bargain when you take into account that it spans a whopping 6,339 square feet — and that does NOT include an additional 2,760 square feet in wrap-around terrace space, complete with three outdoor showers. Yes, this place made our 2016 Most Popular Apartments list, too.
In addition to 10,000 square feet of indoor/outdoor space in a prime penthouse location overlooking Fifth Avenue's Museum Mile, this 3-bedroom residence comes completely furnished. And who can resist features like cashmere padded doors with leather handles, mahogany cabinetry, curated lighting, unique elegant furnishings, electric and wind-sensitive terrace awnings? Of course you can't. Now where's your checkbook?
4.)  $125,000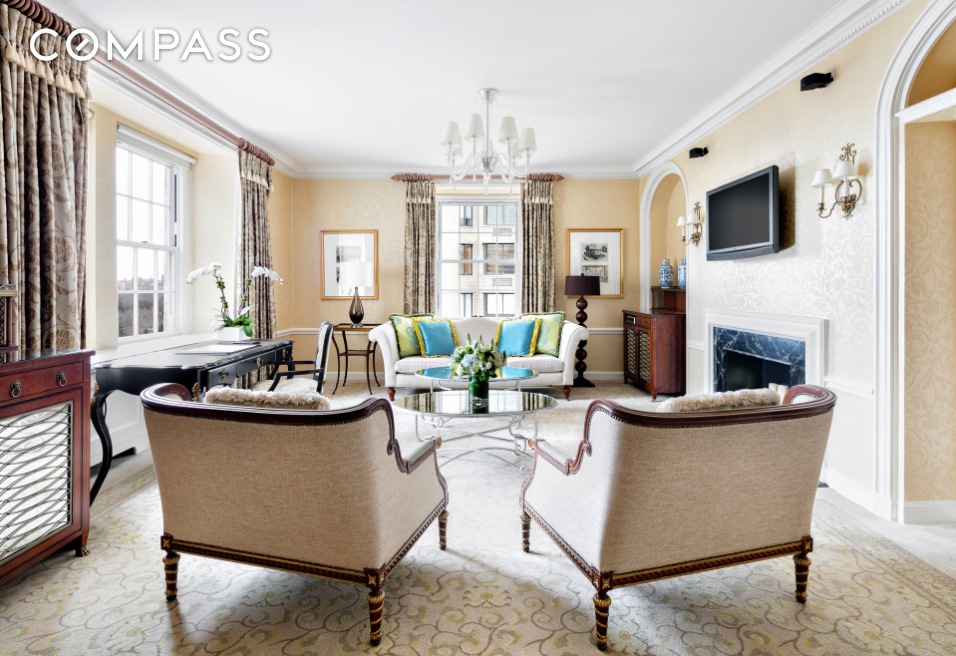 This 3-bedroom residence is one of the two Pierre apartments included in our Top 5 most expensive rentals. In addition to Central Park views, this 2,134-square-foot unit boasts an oval-shaped marble foyer, grand living room and features like "Murano glass chandeliers, bespoke furnishings, en-suite bathrooms clad in Turkish and Italian marble with a glass-enclosed rain showers and deep soaking tubs."
The price includes furnishings and access to the Pierre's white-glove concierge service, plus maid service, the fitness center, business center, and an occasional twirl around town in a chauffeur-driven Jaguar XJL.
3.)  $135,000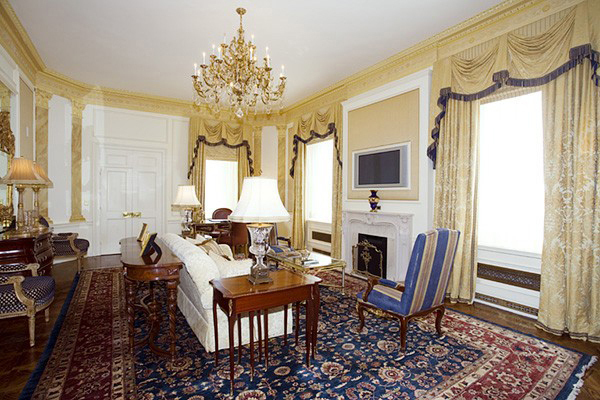 It's not just a penthouse. It is the Waldorf Towers penthouse, which means grand proportions inside this 3,200-square-foot, 3-bedroom residence with views of the Chrysler Building and East River.
The good news is that the 20-person dining room can be serviced in a chef's kitchen, which means the renter of this unit can whip up a little something on his or her own. Or, better yet, call in the hotel chef to do the cooking for you. There is also a maid's room, if you need someone to pick up after you.
Waldorf Towers residents also have access to all hotel amenities and services, including the Guerlain Spa and the 19th-floor fitness center.
2.)  $300,000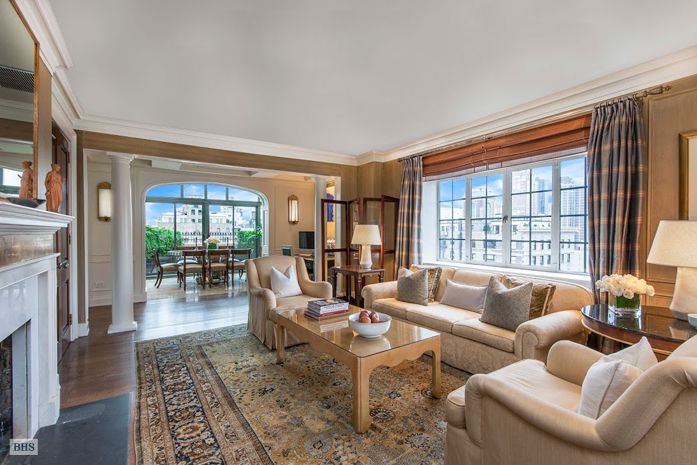 It's not just a penthouse. This is "The Lowell Penthouse," the entire top floor of an exclusive, boutique hotel in Lenox Hill just off Madison Avenue.
This residence is 2,900 square feet and boasts 4 private terraces, 3 bedrooms, 3 bathrooms and a gourmet kitchen. There's a wood-burning fireplace, hardwood floors and a dining conservatory. And if that doesn't seal the deal on this $300K-a-month beauty, just remember: The walls are adorned with hand-painted de Gournay wallpaper.
And if you don't want to do anything for yourself, you don't have to. The Lowell is loaded with guest services, including twice-daily maid service, in-suite massages, valet service and a dedicated chauffeur, personalized trainer service and in-home dining menus available 24/7.
1.)  $500,000
795 Fifth Avenue — The 39th Floor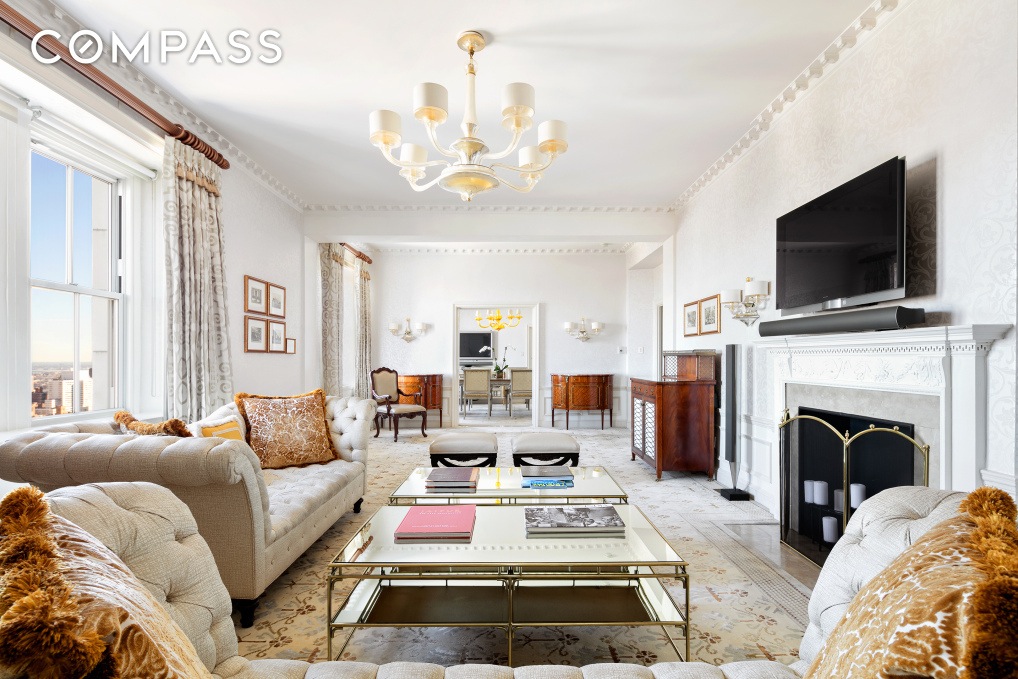 Topping the list of NYC's priciest rentals is this floor-through penthouse at the top of The Pierre, complete with private elevator, 360-degree views and all the services of a five-star hotel.
At 4,786 square feet, this residence features pretty sweet and stunning views of Central Park and Manhattan from its 6 bedrooms and living areas. Like any grand prewar building, The Pierre interiors are marked by soaring ceilings and decorative molding. And what $500K rental would be complete without reference to a "majestic living room outfitted with rich silk and brocade fabrics, Murano glass chandeliers and integrated technology, perfect for entertaining?"
But don't worry about whether or not this Pierre pièce de résistance fits your budget. It was rented right out from under you last January.
Related: