Think you earn too much to qualify for affordable housing? Think again. A new, affordable housing lottery has launched at 310 Clarkson Ave. in Brooklyn's Prospect Lefferts Gardens, and is geared towards moderate-and middle-income renters. The 51 units offered range from $1,525 for studios to $2,635 for 3-bedrooms. Units are available to households earning up to 130 percent of the area median income (AMI), or between $55,286 and $168,220. Please note, income qualifications are dependent on household size.
The deadline to apply is December 12, 2018.
Located on the corner of Clarkson and Nostrand Avenues, the residences at 310 Clarkson pull out all the stops. This 8-story, 170-unit building offers open floor plans with sleek new appliances and fixtures, in-unit laundry, and a host of high-end amenities. This development is also an excellent choice for dog owners as the building includes an onsite dog run and washing station.
Interested renters should apply via NYC Housing Connect and check the income requirements below.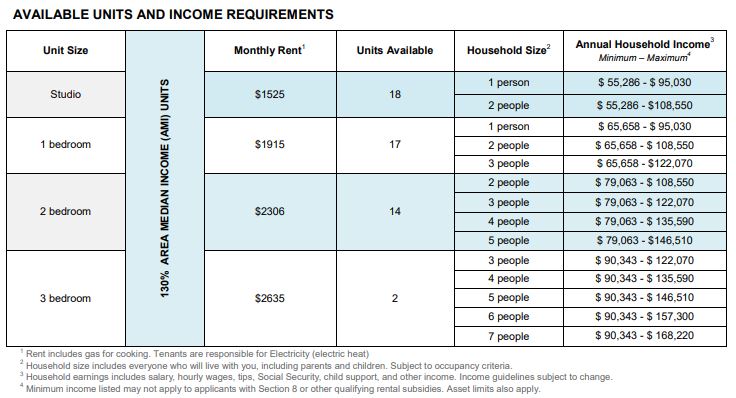 For more information on how to apply to NYC's affordable housing lotteries, check this guide.
Higher Incomes Qualify for Affordable Housing Too
The affordable housing shortage in New York City not only impacts low-income New Yorkers, but increasingly moderate- and middle-income New Yorkers as well. Recent changes to the city's 421-a tax exemption program spearheaded by NYC's Department of Housing Preservation and Development, however, are now aimed at addressing the growing challenge middle-income New Yorkers face.
In 2017, the 421-a (16) guidelines were amended to extend the tax credit program to developers who construct housing affordable to households earning up to 130 percent of AMI. Previously, the cut off for applicants to qualify was set at 80 percent AMI.
How Changes to 421-a Impact Higher-Income Renters
In order to appeal to renters with higher incomes, The Hudson Companies has coined the RentSmart program at The Clark. The program is specific to the Clark and offers middle and moderate-income renters the opportunity to secure rent-stabilized units via the housing lottery. Renters accepted into this program will be able to save between $6,000 and $12,000 annually.
Instead of being subject to market rate increases at the end of their lease, these rent-regulated apartments will follow increases set by the Rent Guidelines Board. These increases tend to be significantly lower than what one would pay in a market rate apartment. Currently, rent increases for stabilized apartments are capped at 1.5 percent for one year leases and 2.5 percent for two year leases.
Another perk of  The Clark's RentSmart program is that winners of the lottery apartments will never be required to certify their income eligibility after initial move-in to maintain residence in the program,  a process common in similar buildings.
While you may think that you make too much to qualify for affordable housing, you can land a below-market rate unit by applying for the lotteries with high AMIs like The Clark. It never hurts to try. You never know — you might just get lucky and win.