Buying a home in New York City is unlike buying one anywhere else, and the homebuying process can be overwhelming. From starting your search to closing on a property, there are so many things to consider. Which borough do you want to live in? Which neighborhood would best suit your lifestyle and needs in a home? Should you purchase a condo, co-op, or townhouse? What does it take to be approved by the co-op board?
Rather than going it alone, many NYC buyers use a buyer's agent, a licensed real estate agent who represents the buyer throughout the home purchasing process. Working with a buyer's agent is extremely beneficial, but home shoppers can reap even more benefits by hiring an agent who is also a StreetEasy Expert – an agent with verified experience helping buyers like you purchase a home.
In this article we'll recap the advantages of working with a buyer's agent, plus provide 10 reasons you should work with a StreetEasy Expert buyer's agent in particular.
First Things First: Why Work With a Buyer's Agent?
According to the 2022 Home Buyers and Sellers Generational Trends Report by the National Association of REALTORS®, 87% of all buyers purchased their home with the help of a buyer's agent. We've previously written about the many reasons you should hire a buyer's agent when purchasing a new home. In summary, a buyer's agent serves the important role of representing you and looking out for your best interests throughout the buying process.
A buyer's agent can assist you with:
Getting answers to any questions you have
Managing expectations
Narrowing down your search
Evaluating and assessing properties
Coming up with a bid
Negotiating on your behalf for the best possible deal
Maximizing your chances of being approved by the co-op board
Recommending a mortgage lender, real estate attorney, property inspector, etc.
Best of all, they're compensated by the seller at closing, so there's no cost to you as the buyer.
Why Work With a StreetEasy Expert Buyer's Agent?
There are many reasons to work with not just any buyer's agent, but a buyer's agent who is also a StreetEasy Expert. Here's why a StreetEasy Expert is a great choice.
1. They have verified, relevant deal history and experience
In order to become and remain a member of the StreetEasy Experts program, agents must meet certain requirements regarding their completed deals. An Expert buyer's agent will have a vetted history of successful transactions in which they represented the buyer. Furthermore, they'll have verified experience helping buyers purchase a home in the very building, neighborhood, or type of home (co-op, condo, townhouse, etc.) you've shown interest in.
Want to see an Expert's deal history? Go to their agent profile, like this Expert's, and click on the PAST DEALS tab. Or, under the ABOUT tab scroll down to the Recent deals section, where you can filter their deals by neighborhood and home type.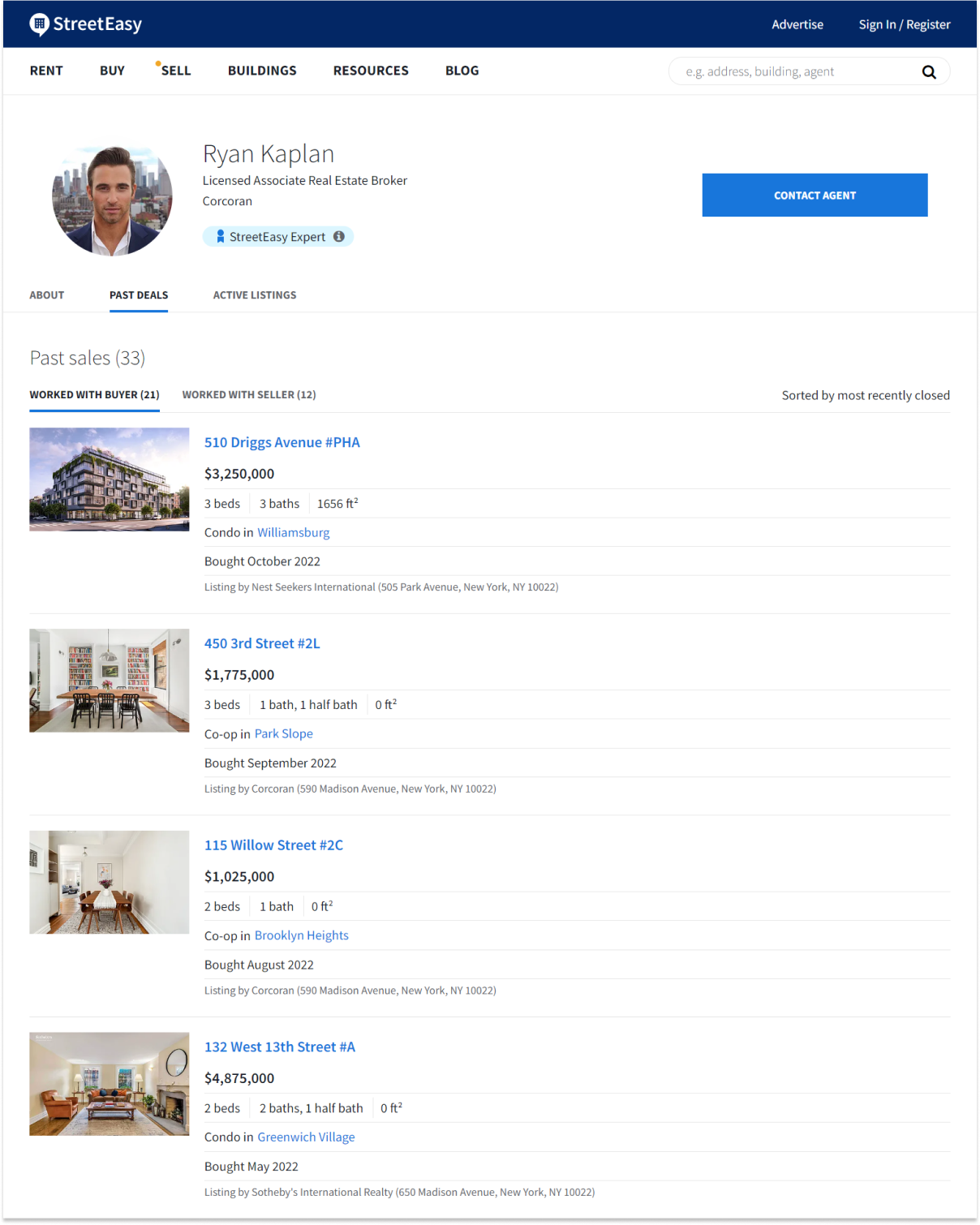 2. They have hyper-local knowledge of the NYC market – down to the neighborhood
The New York City real estate market is multifaceted, and it's unlike any other market. The city has more than 250 neighborhoods, and each neighborhood is like its own sub-market. In a buyer's agent, you want someone who doesn't just know NYC, but knows it down to the neighborhood level. When you work with an Expert, you'll be matched with someone who's done deals in your neighborhood of interest and is familiar with it, inside and out.

The next time you're browsing listings on the StreetEasy site, keep an eye out for the above banner to connect with an Expert who knows the neighborhood you're searching. Or, contact our StreetEasy Concierge for buyers.
3. They may have done deals in the building you're interested in
Experts may have relevant experience in not only the neighborhood you're interested in, but the building as well. That's right – you can be matched with an Expert who has helped other buyers purchase a home in the exact building you're eyeing. The Expert can provide you insider knowledge on getting approved by the co-op board (more on this next!), coming up with a winning bid, other buyers' experiences purchasing and living in the building, and more.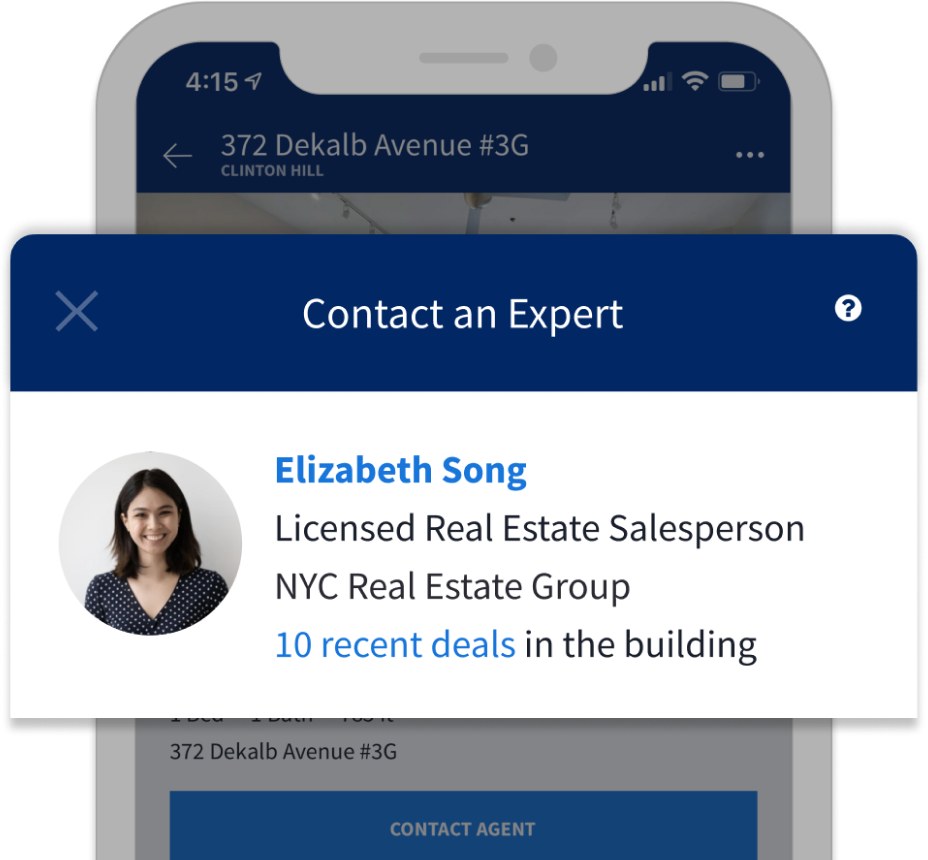 On a StreetEasy listing page, look out for a contact form for an Expert with deal history in the building, or reach out to the StreetEasy Concierge for buyers.
Connect with the StreetEasy Concierge for buyers
CONTACT NOW
4. They can help you with the co-op board
In the case of a co-op building, knowing the building also means knowing the co-op board, and Experts certainly do. Pulling from their experience helping other buyers get approved by the board, they'll guide you through getting your financials in order, preparing for the interview, gathering references, etc. Co-op boards can be highly idiosyncratic, so it's a huge advantage as a buyer to have an agent who's dealt with the board before. (Condo buildings can have boards, too, and an Expert can help you with those as well!)
5. They may specialize in your desired type of home – co-op, condo, townhouse, etc.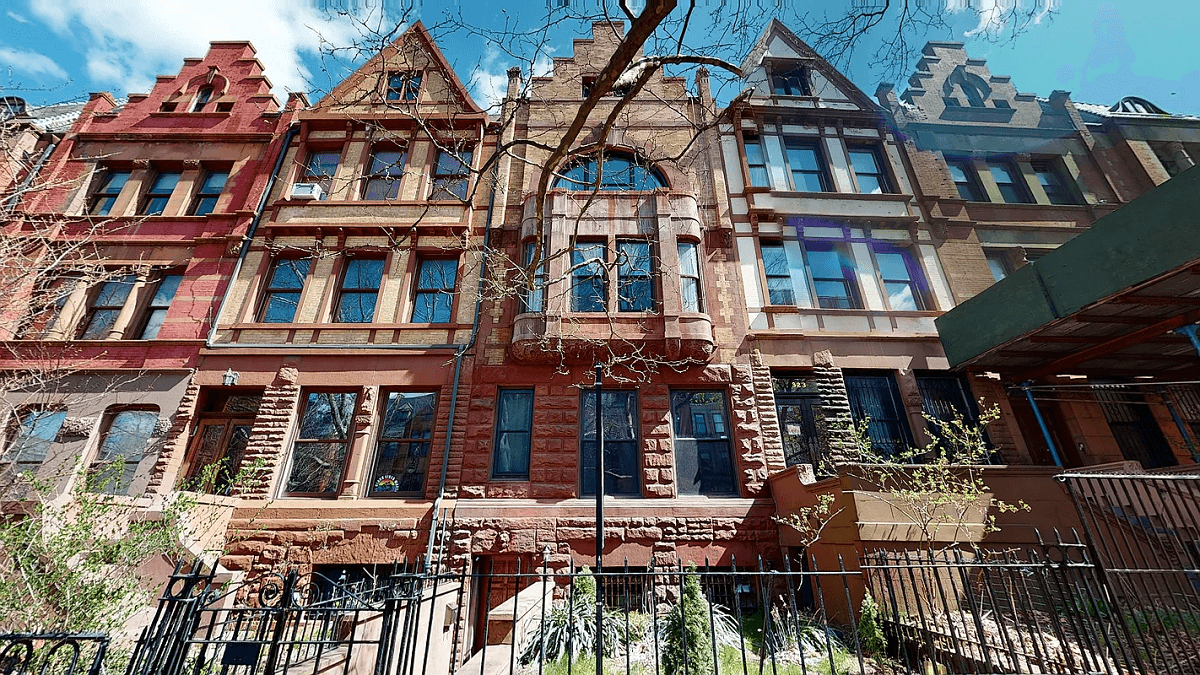 No two properties in NYC are the same, but they fall into a few different categories. Some Experts have specialized experience in one or more of these categories, such as co-ops, condos, townhouses, luxury homes, or lower price point homes, and you can connect with an Expert who specializes in the one you're seeking. For instance, if you're looking to buy a townhouse, you can be matched with an Expert who's helped several buyers purchase townhouses. Because the buying process for each of these home types is unique – steps for buying, approvals, closing costs, etc. – it helps to have an agent with specialized knowledge and experience.
6. They have best-in-class tools and resources at their disposal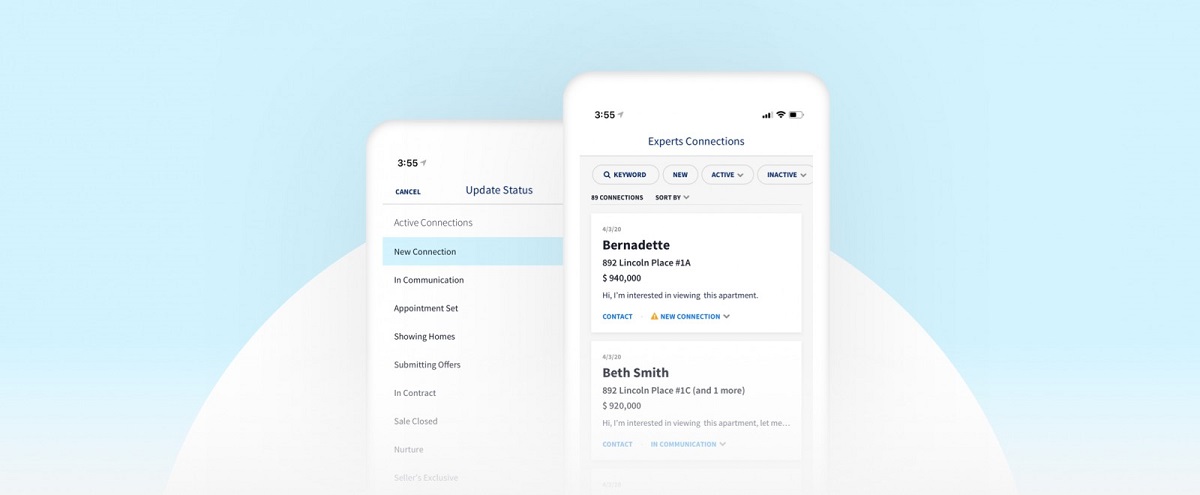 Experts enjoy access to StreetEasy's ever-expanding suite of tools, features, and resources that keep them on top of their game and ensure they're providing you the best possible service. Each Expert is assigned a Business Advisor who provides coaching, guidance, and accountability for their performance. Other resources include the Agent Tools app, which allows Experts to swiftly respond to your messages on the go, and the Data Dashboard, powered by StreetEasy's extensive dataset, which Experts (and you!) can use to assess the market and inform your bidding strategy.
The usage of these tools and resources translates to better service, knowledge, and expertise to the benefit of you, the buyer.
7. They're held to a high standard
Experts aren't just any agents – as mentioned, they must meet and adhere to rigorous standards in order to join and maintain their standing in the program. The more buyers they successfully assist with purchasing a home, the more they're rewarded with opportunities to connect with additional buyers. And again, all Experts report to a Business Advisor who provides them with ongoing training, so you know you're always working with the best.
8. You'll be matched with the best Expert for your needs
StreetEasy puts careful thought and action into matching you with not just any Expert, but one whose deal history and expertise most matches your wants and needs in a home. If for any reason you're unsatisfied with the Expert you've been matched with, there is no obligation to work with them, and StreetEasy will re-match you with another Expert who's a better fit. Just send an email to experts@streeteasy.com, or submit a new inquiry with the StreetEasy Concierge. Experts cannot pay to be shown to you on the StreetEasy website, so you know you're being presented with the best option based on compatibility alone.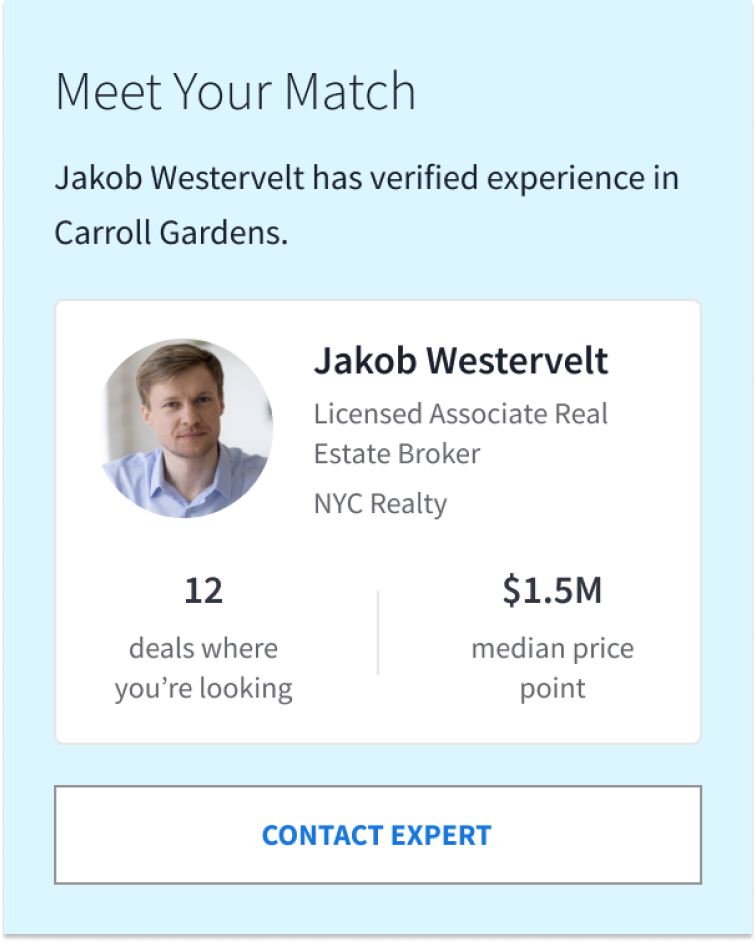 9. You may even save money
The cost to you as a buyer for engaging a StreetEasy Expert: nothing! As with all buyer's agents, Experts are almost always compensated by the seller at closing. In fact, working with an Expert can often save you money, as they'll negotiate on your behalf to get you the best possible price, and can find you hidden savings you may not have found otherwise. For instance, Expert Serene Powers of Serene Powers Real Estate LLC leverages her hyper-local knowledge of the Long Island City condo market to help her clients save on down payments, property taxes, and closing costs.
10. They can help you sell a home, too
Many buyers also need to sell their current home while purchasing their new one. Fortunately, many Experts also have specialized experience helping clients sell a home, and can act as both your buyer's and seller's agent. Or, StreetEasy can match you with another Expert who better meets your needs for selling your home. Even if you don't need to sell in the immediate term, your Expert can assist you months or years down the line when you need a listing agent. Expert Mike Biryla of The Agency, for example, has worked with numerous buyers who later become sellers. For more information on selling with StreetEasy, visit the Sell Your Home page or contact the StreetEasy Concierge for sellers.
Disclaimers: StreetEasy is an assumed name of Zillow, Inc. which has a real estate brokerage license in all 50 states and D.C. See real estate licenses. StreetEasy Concierge team members are real estate licensees, however they are not your agents or providing real estate brokerage services on your behalf. StreetEasy does not intend to interfere with any agency agreement you may have with a real estate professional or solicit your business if you are already under contract to purchase or sell property.
For FSBO postings, the StreetEasy Concierge is meant to provide insight to improve your posting performance on StreetEasy and may refer you to a real estate professional based on your specific needs.
StreetEasy earns a referral fee from successful Experts' transactions, at no cost to the buyer or seller. Experts must meet StreetEasy's standards of service and market expertise. Agents in our Experts Network have closed deals on homes similar to the seller's or similar to homes the buyer is searching for. We measure their performance to make sure buyers and sellers get top-notch service.