Buying and selling a home in New York City can be complicated. Whichever side of the deal you're on, there's tons to know — about the neighborhood, the building history, even the quirks of the co-op board. We created the StreetEasy Experts program to make things easier. Experts is a network of agents who have a verified deal history in particular buildings, listing types, and neighborhoods, and who are committed to the highest level of customer service. Experts are both deeply knowledgeable and great to work with. That's why we recommend using them when it's time to buy or sell.
Manhattan Homes Under $1M on StreetEasy Article continues below
You'll see Experts listed on a growing number of sales listings on StreetEasy. These are agents with proven experience working in that building, or with very similar homes in that area — real estate pros we think would make an ideal buyer's agent for you, based on the listings you're considering.
Are you a homeowner thinking about selling? We can also match you with an Expert listing agent who has closed deals on homes just like yours. Visit our Sell page to get matched with an Expert listing agent and get access to other helpful tools, like the StreetEasy Valuation — a data-driven, NYC-specific estimate of your home's current market value, available only to homeowners.
Why StreetEasy Experts Make Great Partner Agents
You don't strictly need a buyer's agent, or partner agent, in New York City, but we strongly recommend you work with one. A good partner agent will:
Provide information you may not get otherwise
Shepherd you through the deal, and connect you with other pros, like real estate attorneys
Negotiate on your — and only your — behalf
If you don't work with a dedicated partner agent, and instead negotiate with the listing agent on a property, you enter what's known as "dual agency." This is not unusual in NYC, but it can get complicated.
StreetEasy designed Experts based on years of research, to make it easy to find the ideal partner agent for the property types and neighborhoods you're considering. And connecting with an Expert is simple.
How Do You Connect With a StreetEasy Expert?
When you look at a listing on StreetEasy, you'll see options to "Schedule a Showing" or "Ask a Question."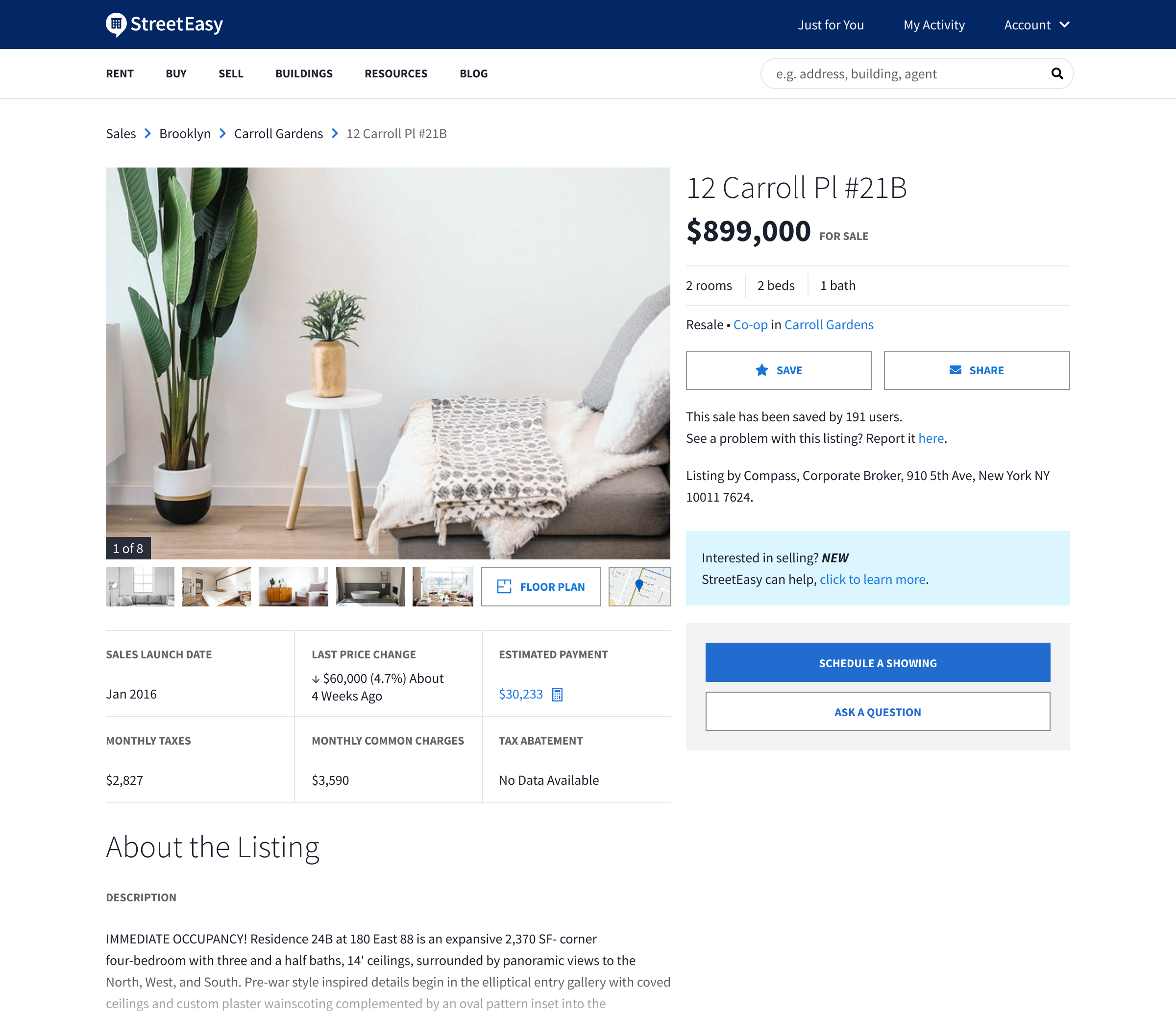 Clicking either of these buttons opens a panel showing the StreetEasy Expert on the listing, including their name, photo, brokerage, and deal history (both in this building and citywide). From there, you can schedule a showing with the Expert agent or send them a question.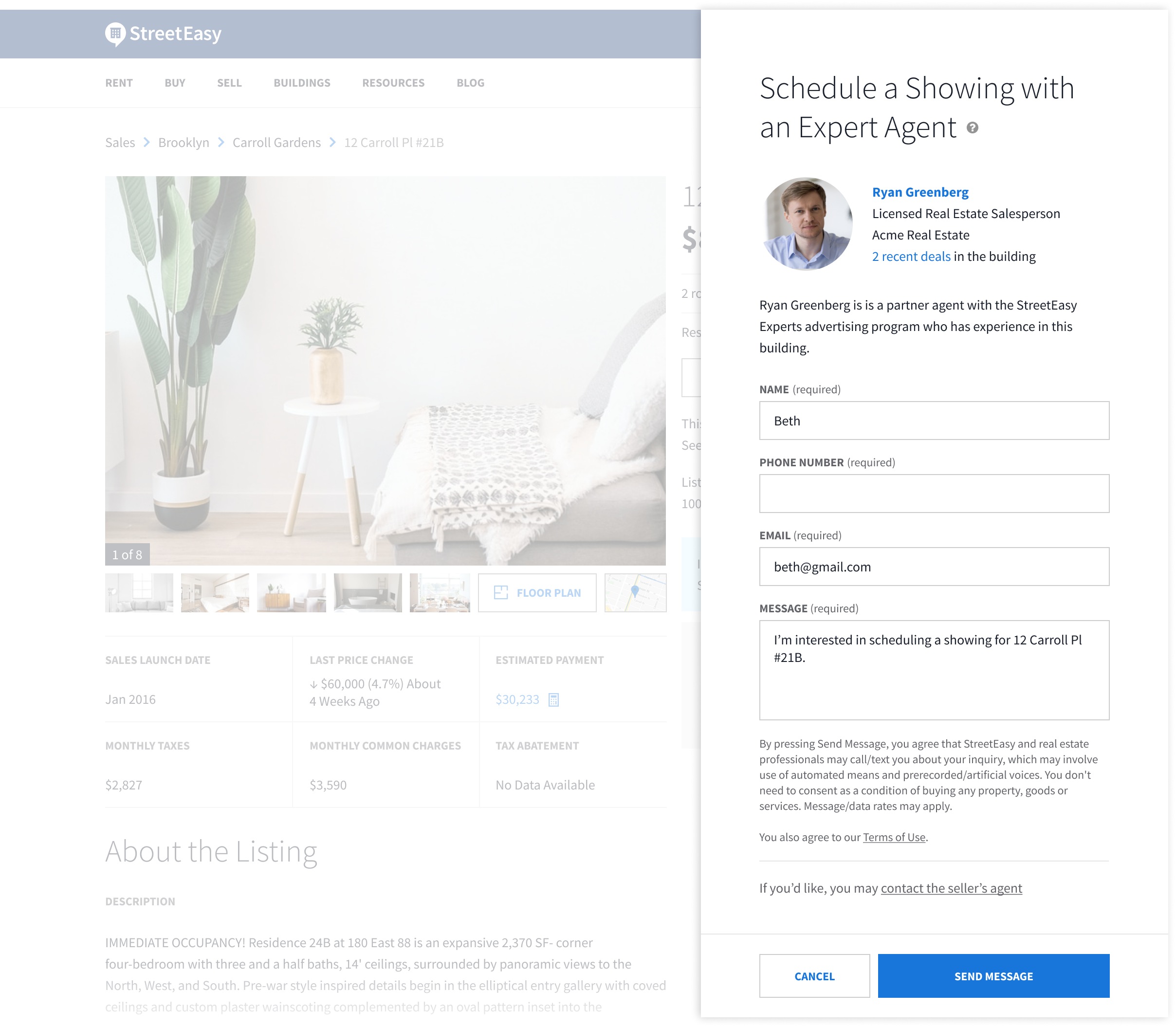 You can also connect with a StreetEasy Expert right from your search page. If you have one or more neighborhood filters selected, simply scroll to the bottom of your search page. You'll see a panel there that will connect you with an Expert agent who has verified deal history in these areas and unit types. (If we don't have an Expert agent who meets our standards for a given search, you may not see one. Remember, Experts cannot pay to be recommended to you.)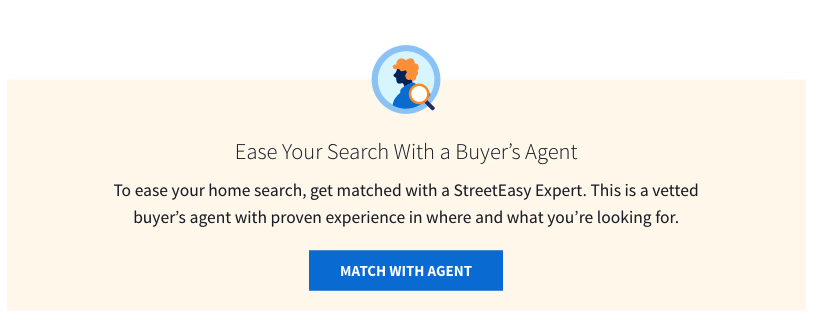 Experts will respond to your inquiries within 24 hours — and likely much sooner. In addition to knowing about that listing and neighborhood, any Expert you see on a listing will have a verified record of providing high-level service to clients.
Are You Obligated to Work With a StreetEasy Expert?
No. Contacting a StreetEasy Expert does not obligate you to work with them. Expert agents welcome your business, but in the NYC home-shopping process, you're free to work with any agent you like — or no partner agent at all.
Brooklyn Homes Under $800K on StreetEasy Article continues below
Why StreetEasy Experts Make Great Listing Agents
Selling your home yourself is an option. But most sellers prefer to use an experienced, licensed professional who understands the market and knows how to price, market, and stage a particular home.
As a seller, this will cost you something — often around 6% of the sale price, though that figure is negotiable. But in return, you'll know there's a seasoned pro dedicated to finding a buyer for your home at the best price possible.
Finding a great listing agent isn't always straightforward, but StreetEasy makes it simple with the Experts program. Simply get in touch and tell us a bit about your property, and we'll match you with a top local agent who has verified experience closing deals on homes just like yours.
Our recommendations are personalized, objective, and backed by NYC's most trusted real estate platform. And you don't need to know whether you want to sell in order to get matched with an Expert.
If you're simply wondering about the state of the market for homes like yours, or are looking for more details on what your home might be worth, we can connect you with a StreetEasy Expert listing agent who'll be an ideal source of advice. Just reach out.
Queens Homes Under $800K on StreetEasy Article continues below
How Do Agents Qualify to Join StreetEasy Experts?
StreetEasy qualifies agents to join the Experts program based on their deal history. While program requirements vary by building type and location, all Experts have a verified record of closing deals in a given building or neighborhood. When you see Experts agents on a listing, or get matched with one as a homeowner, these are the real estate professionals now available whom StreetEasy knows to be best qualified to help you buy or sell.
Are you an agent looking to join Experts? Read more about the program.
---
Disclaimers: StreetEasy Valuation is our estimate for a home's market value and is not an appraisal. Use it as a starting point to determine your home value and monthly rental price.
StreetEasy earns a referral fee from successful Experts' transactions, at no cost to the buyer or seller. Experts must meet StreetEasy's standards of service and market expertise. Agents in our Experts Network have closed deals on homes similar to the seller's or similar to homes the buyer is searching for. We measure their performance to make sure buyers and sellers get top-notch service.