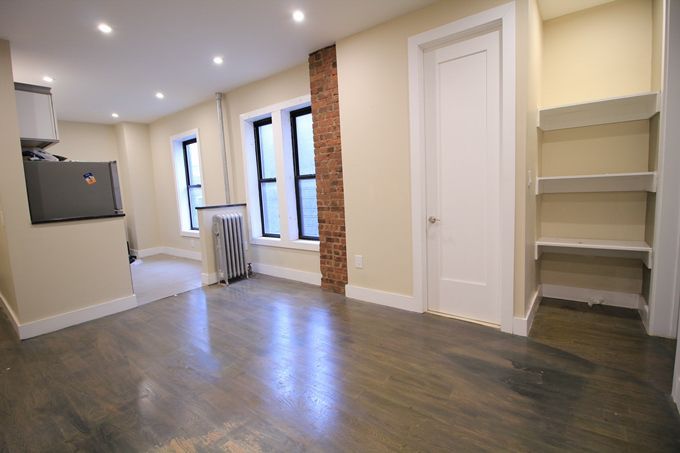 Tired of sacrificing your preferred neighborhood for the sake of your budget? This renovated Williamsburg 1-bedroom could be your answer. It's in a prime location and has a budget-friendly price tag. But, you'll want to move fast on this one.
Address: 340 Roebling St. #2D
Price: $2,295
Size: 1-bedroom
Neighborhood: Williamsburg
Best feature: It's all about location for this Williamsburg rental. Located at Roebling and South 9th streets, the building is right in the thick of the neighborhood's best entertainment. Trendy restaurants and bars? Check. Live music venues? You bet. Easy subway access? It's covered. The J, M, and Z lines are just a few blocks away at Marcy Avenue. The apartment is also a short walk to the waterfront, so you can take in a scenic stroll whenever the mood suits you.
The unit's interiors are appealing, too. It has good sunlight, hardwood floors and exposed brick. The kitchen is compact, but has new stainless-steel appliances with a small dining nook. There's also built-in shelving in the living room for extra storage. It's freshly gut-renovated, so it may even have that new apartment smell.
Why it's a deal: At $2,295, this apartment is priced about $600 below the Williamsburg median for 1-bedrooms ($2,898). It's an incredible value for the location. Plus it's a no-fee listing, which means more of your cash stays in your pocket and not blown on move-in costs. With all the cash you'll be saving, you could splurge on dinner at nearby Peter Luger Steak House. Now there's an idea!
See More Williamsburg Rentals Under $2,600 a Month Article continues below
Biggest drawback: Hardly anything. For the price and location, what more could you want? In-unit laundry?
Fuggedaboutit. Seriously. Those needing a building with a laundry list of amenities should look elsewhere.
See the listing: 340 Roebling St. #2D, listed by Eli Braginsky of Elite NY Holdings.
—
Send your NYC real estate stories and tips to StreetEasy editors at tips@streeteasy.com. You will remain anonymous. And hey, why not like StreetEasy on Facebook and follow @streeteasy on Instagram?