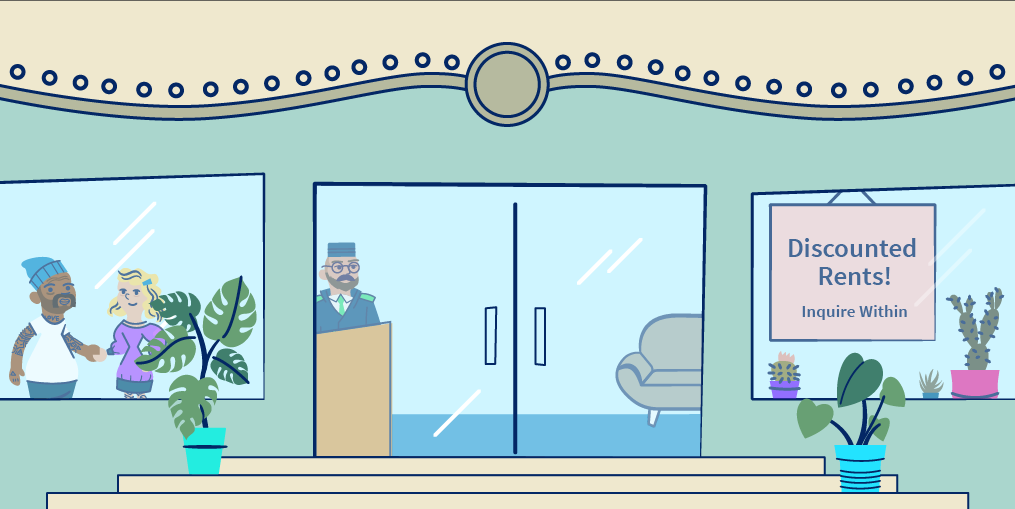 Rents in North Brooklyn were held down by the long-dreaded L train shutdown. So when the full shutdown instead became a "slowdown" earlier this year, many observers — including us — expected rents in Williamsburg, Greenpoint and Bushwick to quickly rebound.
They didn't.
As the L train slowdown officially begins — and as rents continue to rise across New York City — more than half of the apartments in areas served by the L are reappearing on the market at lower rents, as landlords try to fill a large number of vacant units.
In these and many other popular neighborhoods around New York, renters may find surprising negotiating power and good deals, according to a StreetEasy analysis of the rental market in time for peak rental season.
Make no mistake: New York City rents are at record highs overall, having risen more than 2% in Manhattan, Brooklyn, and Queens compared to last year.
But that headline number may disguise the fact that while rents on the majority of units are going up, rents on a substantial portion are actually going down.
Our analysis looked at apartments listed for rent in the first quarter of 2019 that had previously been on the market in the same period of 2018 or 2017. Of these roughly 4,200 units, some 44% —  2,067 in all — appeared at a lower price this year than in past years. The median reduction in rent for these apartments was $196, or 5.9% of their median asking rent.
Whether renters will find deals or not largely depends on where they're looking — and a good place to start would be the neighborhoods where many units are returning to market at lower prices. Below are the 10 NYC neighborhoods with the highest share of apartments listed at a lower price in 2019 than in 2017 and 2018.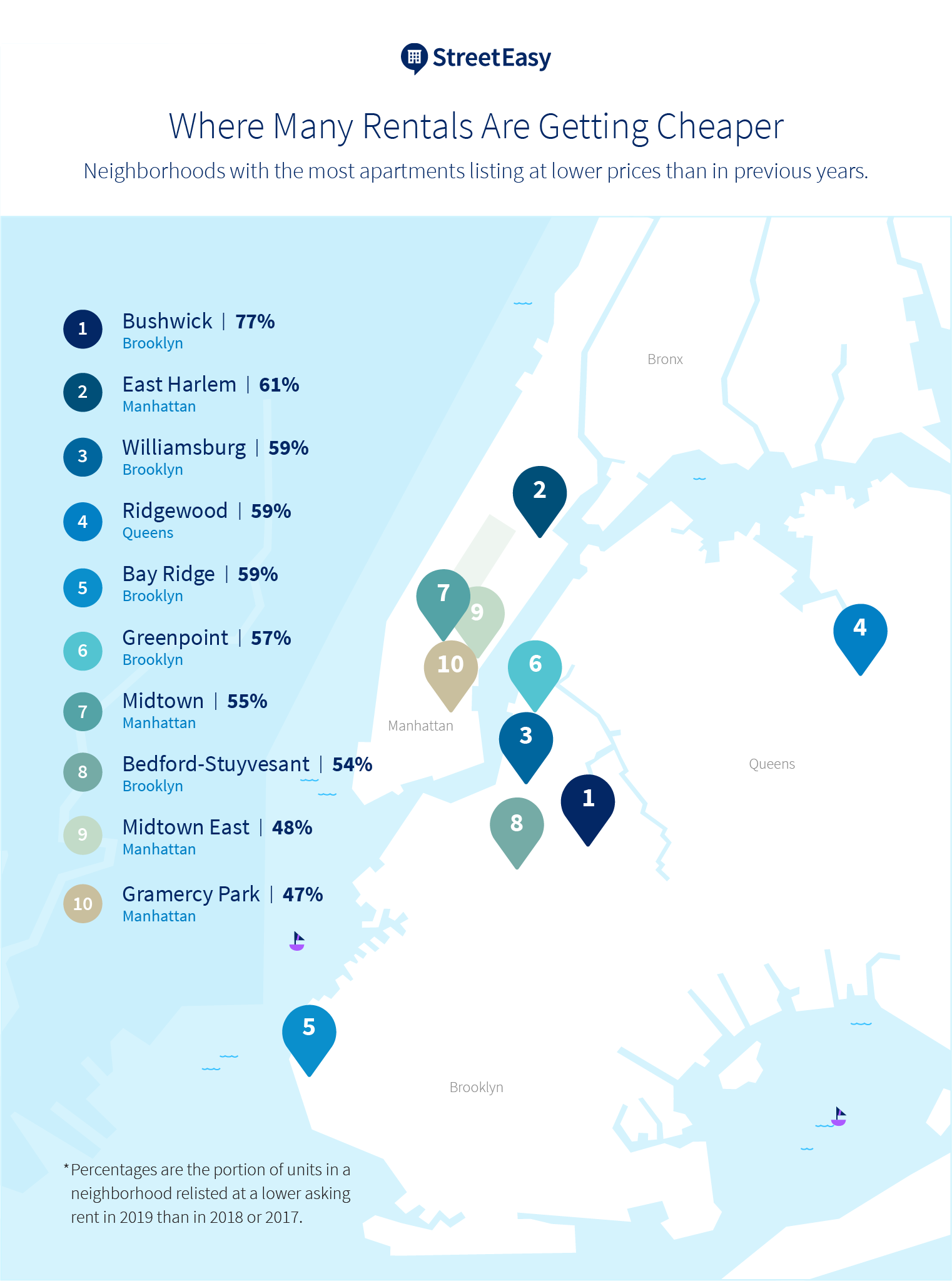 Rental Deals Still Abound in L Train Neighborhoods
 Three months after the cancelation of the full L train shutdown, Williamsburg, Bushwick, and Greenpoint are among the NYC neighborhoods with the highest share of declining rents, with more than half of their apartments relisting at lower prices in 2019.
StreetEasy had predicted that rents in these areas would rise quickly. Landlords lost an estimated $26.5 million offering deals and concessions between the announcement of the L train shutdown in April 2016 and its cancellation in January 2019.
But residual inventory built up from the anticipation of the shutdown has led to a prolonged slump in the area. North Brooklyn, the submarket encompassing Williamsburg and Greenpoint, was the only area in the city where rents declined overall in the first quarter of 2019, falling 0.5% compared to last year.
These were also among the neighborhoods where the most units reappeared on the market this year at lower prices, with more than 600 doing so in Williamsburg, and 300 in Bushwick. Clearly, landlords in these neighborhoods face a lot of competition for tenants.
Deals may not last long, however. With peak renting season approaching — and an influx of new grads headed for NYC — we still expect higher demand to eventually push rents higher in these neighborhoods.
Seeing the Effects of Higher Inventory in Manhattan
One key difference between areas where rents are rising and areas where they are falling is an oversupply of inventory. More affordable areas, such as Ridgewood, Queens, and Bay Ridge, Brooklyn, have nearly double the units relisting on the market compared to neighborhoods like Cobble Hill and Prospect Heights, where rents are rising.
Commute time is likely a factor in why some neighborhoods have more inventory and slower-growing rents. New Yorkers have typically tolerated higher rents in exchange for living in areas convenient to job centers in Manhattan.
But we found substantial numbers of units reappearing at lower rents in central Manhattan neighborhoods such as Midtown, Midtown East, and Gramercy Park. In Midtown East, 48% of rental units relisted at lower prices in 2019 than in previous years; in Gramercy Park, the figure was 47% .
Again, inventory is key: There have been more than 800 units listed on the market in Midtown in 2019, and buildings need to differentiate themselves to attract renters. Prices in these areas may have also risen too high to attract many new tenants, forcing landlords to make an adjustment.
Renters Have Leverage in Certain Areas This Season
Heading into the peak summer rental season, prospective tenants are in a strong position to negotiate for lower rents and concessions in neighborhoods were inventory is high. However, good deals in the most popular neighborhoods will almost certainly attract greater interest from renters — so those hoping to snag an apartment at a reduced price should plan to move quickly.
—
Eager to find a deal on your next place in New York? Whether you're looking to rent or to buy, search NYC apartments on StreetEasy.