New York City has its share of summer perks. Beyond outdoor dining, incredible parks, and its many public pools, the city also offers world-class beaches for warm-weather getaways. But what's the real difference between Rockaway Beach vs. Coney Island, two of New York's best seaside destinations? They're both fantastic places to spend as little as a day or as long as a summer by the water! Since both beaches are accessible by public transportation (and free!), it's easy to take advantage of NYC's coastline. Here's everything you need to know about Rockaway Beach and Coney Island for sun-seekers near and far.
Coney Island Rentals Under $3000 on StreetEasy Article continues below
Day Trip to Coney Island From Manhattan
Found on Brooklyn's southern tip, Coney Island is not just a beach — it's a destination. The 2.7-mile Riegelmann Boardwalk is a lively strip filled with day-trippers during the warmer months. And its various rides, attractions, and sandy beaches have been entertaining visitors since the 19th century. "Coney Island is always going to have a strong nostalgic appeal," explains Warburg Realty's Gerard Splendore. Sure, the area might feel kitschy at times, but just buy into the fun, grab a hot dog (or several), and you'll undoubtedly have a blast.
How Do You Get to Coney Island?
All you need to access this beach is a MetroCard! The D, Q, F, and N subway lines all go to the Coney Island-Stillwell Avenue stop. Budget a bit over an hour if you're coming from Midtown. The drive will also clock in around one hour, but parking is limited, making public transit the easiest method. And coming later in 2021, there will also be ferry access connecting Coney Island to Lower Manhattan.
Coney Island Homes Under $650K on StreetEasy Article continues below
Best Things To Do in Coney Island
In the Rockaway Beach vs. Coney Island debate, it's crucial to know what each beachside destination offers. The minute you get to Coney Island, you're swept into the excitement of Riegelmann Boardwalk, home to many local traditions. Of course, grab a hot dog at Nathan's Famous, which started as a nickel hot dog stand and is now a bonafide frankfurter empire. "You haven't been to Coney Island if you haven't been to Nathan's," says Gerard Splendore with a laugh. They also host their infamous Nathan's Hot Dog Eating Contest every July 4th weekend, where contestants scarf down as many hot dogs as they can in 10 minutes. Try Gargiulos, a fancy Italian spot, with tuxedo-clad waitstaff if you're looking for something a bit more upscale.
Once you've snacked to your heart's content, it's time to put your stomach to the test at Luna Park. Home to the Cyclone — a New York City Landmark and one of the steepest wooden roller coasters in the world — this iconic amusement park is filled with rides, games, and shops. Deno's Wonder Wheel Amusement Park also houses a landmark ride, with its Ferris Wheel dating back to 1920.
Baseball fans can catch a game at MCU Park, home to the minor league team, the Brooklyn Cyclones. Coney Island also has volleyball, handball, and basketball courts for those looking for an active afternoon. Another popular activity is the New York Aquarium, where you can find sharks, jellyfish, octopuses, and other underwater creatures.
Creatives can get their fix at the Coney Island Art Walls, an outdoor exhibit featuring 68 gorgeous murals. Locals also love the annual Mermaid Parade, an art parade, and celebration, which they're hoping to host again later this summer.
And of course, if you just want to spend the day floating around in the water, you've come to the right place. On lovely, sunny days, it's best to get there early to stake out a spot near the ocean. No matter what you're looking to do, Coney Island offers up ocean views and iconic activities.
How Much Does It Cost To Live in Coney Island?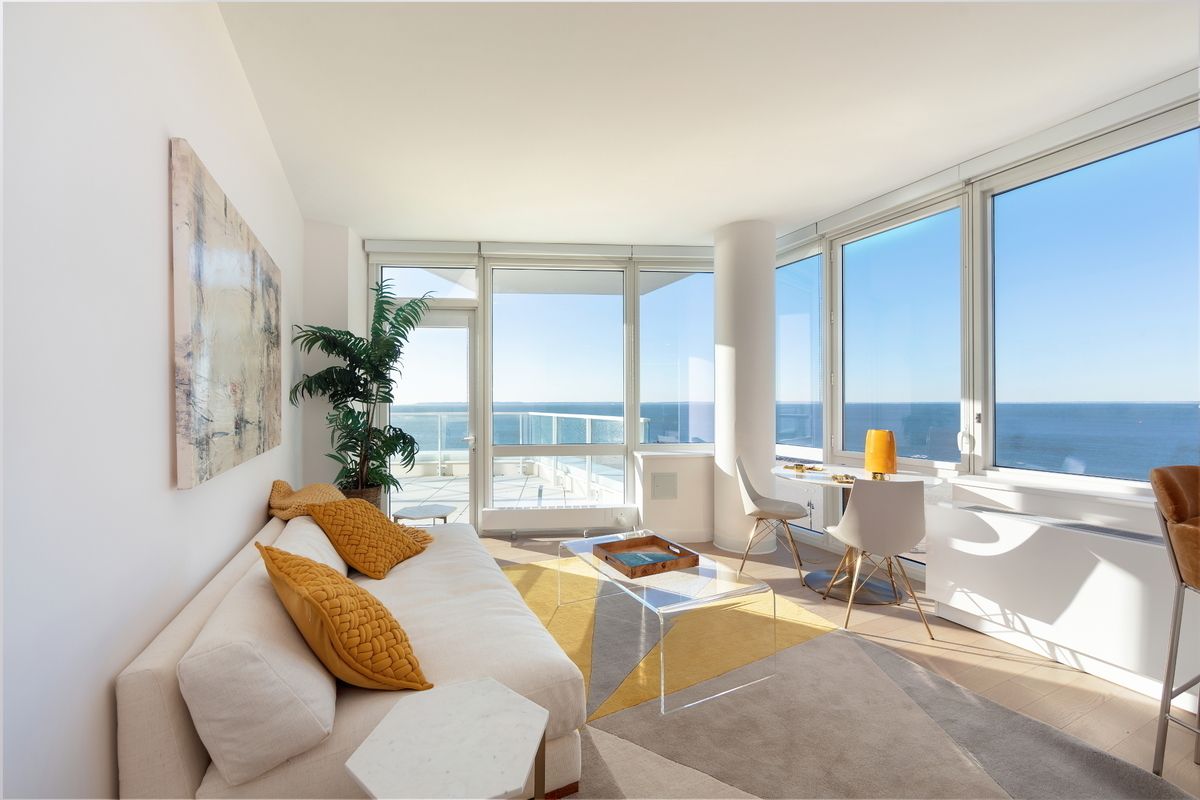 Coney Island isn't just for day-trippers. It also boasts a reasonably-priced housing market with a variety of options. The area's median sales price is $446,500, while the median asking rent is $2,129 (as of June 2021). This is much lower compared with Brooklyn's overall sales price, which recently hit $945,000. Take a look at StreetEasy's Coney Island homes for sale, as well as the rental options, to find your own seaside abode.
Rockaway Rentals Under $3000 on StreetEasy Article continues below
Rockaway Beach: Everything You Need To Know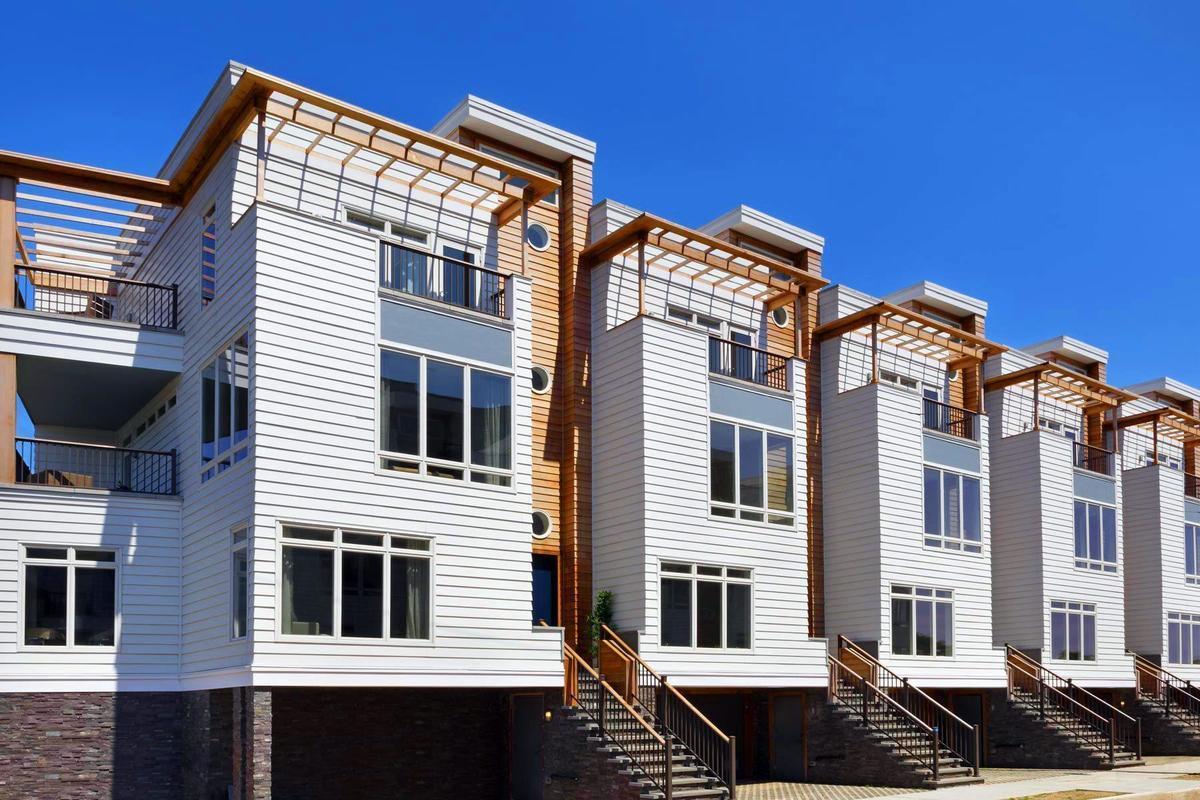 The issue remains: if you're looking for an NYC beach day, it's Rockaway Beach vs. Coney Island. While Coney Island is a bustling hub of activity and hot dogs on the boardwalk, Rockaway Beach is low-key. "It's paradise," says Douglas Elliman's Nicholas Compagnone, who grew up in Rockaway, still lives there, and is an outspoken advocate for the area. "It's very relaxed, casual, easy-going — it's the salt life mentality." So while Rockaway Beach is undoubtedly a great day trip, it's also a popular spot to put down roots.
How Do You Get to Rockaway Beach?
There are several ways to get to Rockaway. By car, it's a 45-minute drive from Manhattan, and you'll find more parking available than at Coney Island. (But be warned: several areas, like Belle Harbor, don't allow street parking in the summertime.)
By subway, take the A train — or head over by ferry for the same $2.75 price. "The ferry is really nice — you can get a glass of wine, hang out on the top, and get water and city skyline views," Nicholas Compagnone explains. It sounds like you'll already be in vacation mode before even hitting the beach.
Rockaway Homes Under $650K on StreetEasy Article continues below
Best Things To Do in Rockaway
So what can you find at Rockaway Beach vs. Coney Island? If you're looking to catch some waves, Rockaway is actually known for its surfing. People come from all over and throughout the four seasons to take advantage of the beach's swell. You can also rent bikes and cruise along the area, taking in the serene atmosphere. And if you're just there to lounge, there's plenty of sand for you to flop and drop.
Compagnone also highly recommends spending the day at Rockaway Hotel, a gorgeous beachside property. "Get a cabana, go by the pool, and get some oysters. It's such a nice vibe — they treat you like family," he says. He also recommends The Meat Up Grill for burgers and Uma's for delicious Uzbek cuisine if you get hungry.
For some, being by the water goes hand in hand with fish tacos, which you can get during the summer months at Tacoway Beach. And if you're looking for a great spot to drink adult beverages by day or by night, check out the Bungalow Bar.
What Are the Housing Options in Rockaway?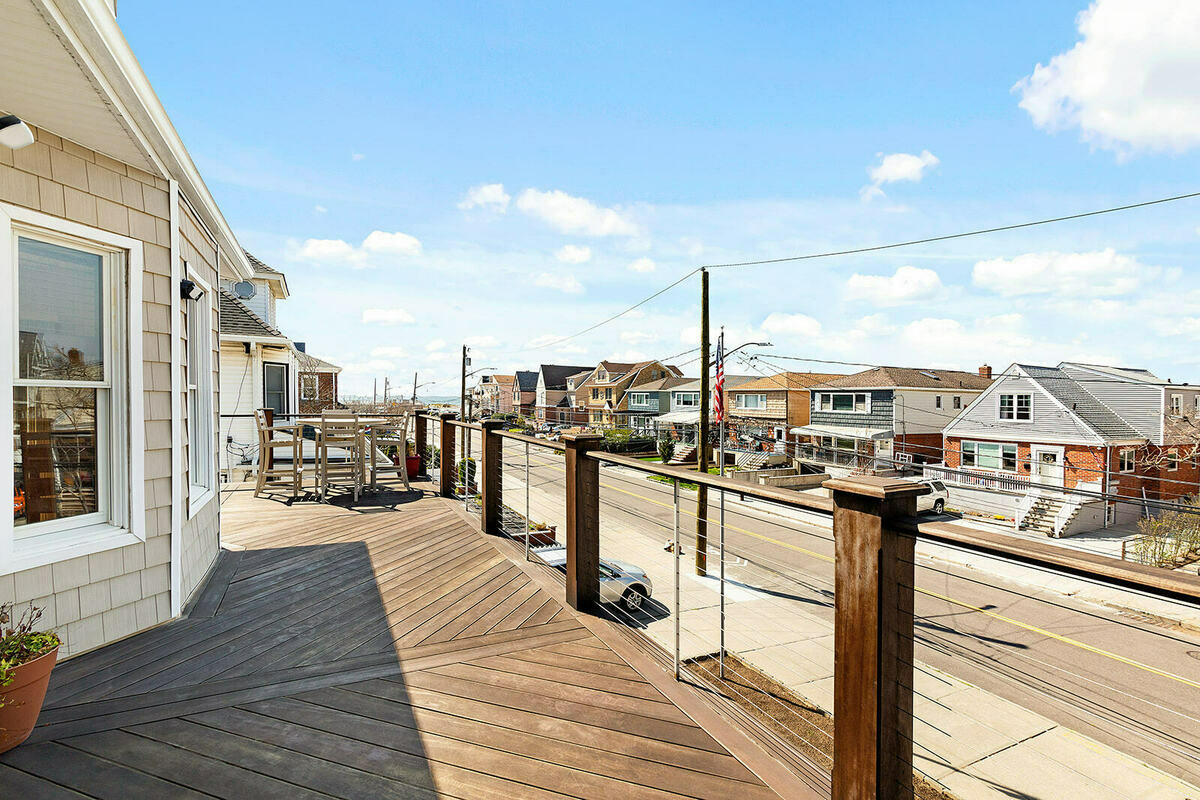 Apartment and house hunters are probably also wondering what Rockaway Beach vs. Coney Island offers. With a median sales price of $779,000 and median monthly asking rent of $2,050, Rockaway is another excellent place to find a home. Why spend a few hours there when you can always wake up to the sound of nearby waves? Explore StreetEasy's home sales and rental options in Rockaway to make your temporary beach dream a year-round reality. There are glitzy new condos like One Sixteen and single-family homes like this one, dating back to the early 20th century.
And remember: Although Rockaway Beach might get all the fame, the Rockaway Peninsula is quite a large area. Belle Harbor is filled with stunning beachside properties; Averne is a quiet spot that's seen new exciting new developments; Jacob Riis Beach is a haven of inclusivity with an art deco bathhouse. "Rockaway has all these different pockets and all these different vibes — it's hard to pinpoint just one," Douglas Elliman's Nicholas Compagnone says with a laugh.
You might have to go and find out for yourself. Psst, here are 5 NYC Beach Towns for Year-Round Living.