Ocean's 8 is shaping up to be this summer's top blockbuster. The movie had the best opening weekend of any "Ocean's" franchise installment to date. That should come as no surprise given the cast of fierce females featured in the movie. Not only are these women strong, savvy and stunning on the silver screen. They're ballers in real life too, owning some pretty spectacular real estate. Here we rounded up the fabulous homes of the fabulous female stars of Ocean's 8. 
Sandra Bullock
As one of the highest-paid actresses in Hollywood, Sandra Bullock has a real estate portfolio that's practically bursting at the seams. She owns property everywhere from New Orleans to Austin to LA to New York. 
One of her fancier haunts is this Hollywood Hills home, in which she paid $1.485 million in 2001. With over 3,000 square feet of space and bamboo gardens in the backyard, it's pretty close to paradise. Better yet, you can actually rent this house for the steep price of $15,000 a month. 
Cate Blanchett
Australian actress Cate Blanchett bought a beautiful, historic home in East Sussex, England known as the "Highwell House" in 2016. It sits on 13 acres of land in the countryside, has seven bedrooms and seven bathrooms, and cost the equivalent of $4.2 million USD. It's certainly historic; it was once occupied by Sherlock Holmes author Sir Arthur Conan Doyle. You can see more photos on the listing. 
Rihanna
Fan-favorite Ri Ri came onto the acting scene in this movie, and while she didn't have as big of a role as Bullock or Blanchett, it's safe to say that she dragged a lot of people out to the theaters. Although she rented a bananas loft in Chinatown last year for $50,000 a month, she's a California property owner. Among Rihanna's property is this stunner of an LA home, complete with a pool, gym, home theater, and a billiards room her character Nine Ball would love. She paid $6.8 million for it last August.
Anne Hathaway
Award-studded Anne Hathaway also has a pretty impressive New York pad: a penthouse on the Upper West Side, which she bought with her husband Adam Shulman for $2.55 million in February of 2016. Their pied-à-terre features a beautiful terrace, plenty of light, and a surprisingly ornate bathroom. Check out photos below.
Sarah Paulson
American Horror Story star Sarah Paulson didn't purchase her first home until last year, when she bought co-star Emma Roberts's old house in Hollywood Hills. She did her own renovation on it, so the photos below probably aren't accurate to what the house looks like now, but you can use your imagination. According to Architectural Digest, Paulson actually found a pool buried in the backyard, which Roberts never knew about.
Mindy Kaling
Another star with a hip New York pied-à-terre, Mindy Kaling calls Nolita her sometimes-home. The building cuts a striking figure with its stunning chrome, wavy exterior. Kaling designed her home with the help of luxury home decor business One Kings Lane. You can see photos of the interior here.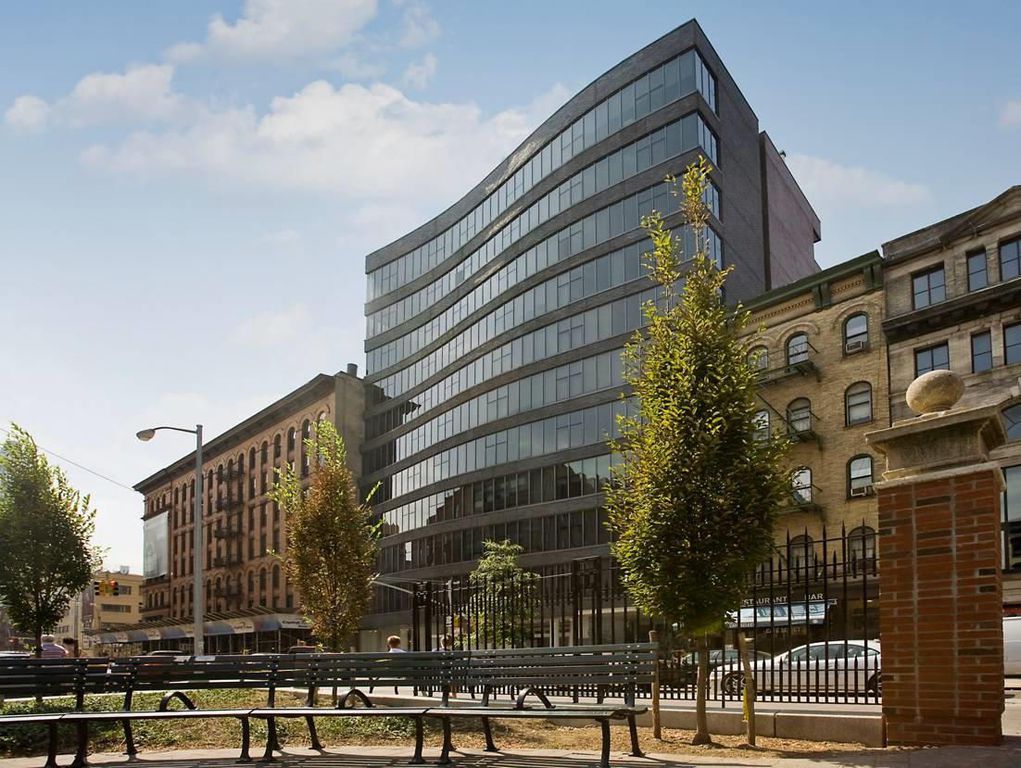 Helena Bonham Carter
It's been unclear where our favorite oddball English actress lives since she broke up with longtime lover Tim Burton in 2014. But we're sure wherever she's residing, it matches her signature aesthetic. In an interview with Architectural Digest, she said her home is basically a collection of artist studios, built in 1880 in North London, which she's decorated so that they look like a "Wonderland." You get why she's our favorite oddball now, right?
Awkwafina
29-year-old Forest Hills native Awkwafina (Nora Lum) had her first big break in Ocean's 8. Before this movie, she made a name for herself with her comedic raps, which have accumulated millions of views online. Awkwafina currently lives in Brooklyn, but with everything going on for her right now (a new album drop, "Crazy Rich Asians," a Comedy Central scripted series about her life, and "Paradise Hills") she's probably not home much anyway.
—
Hey, why not like StreetEasy on Facebook and follow @streeteasy on Instagram?