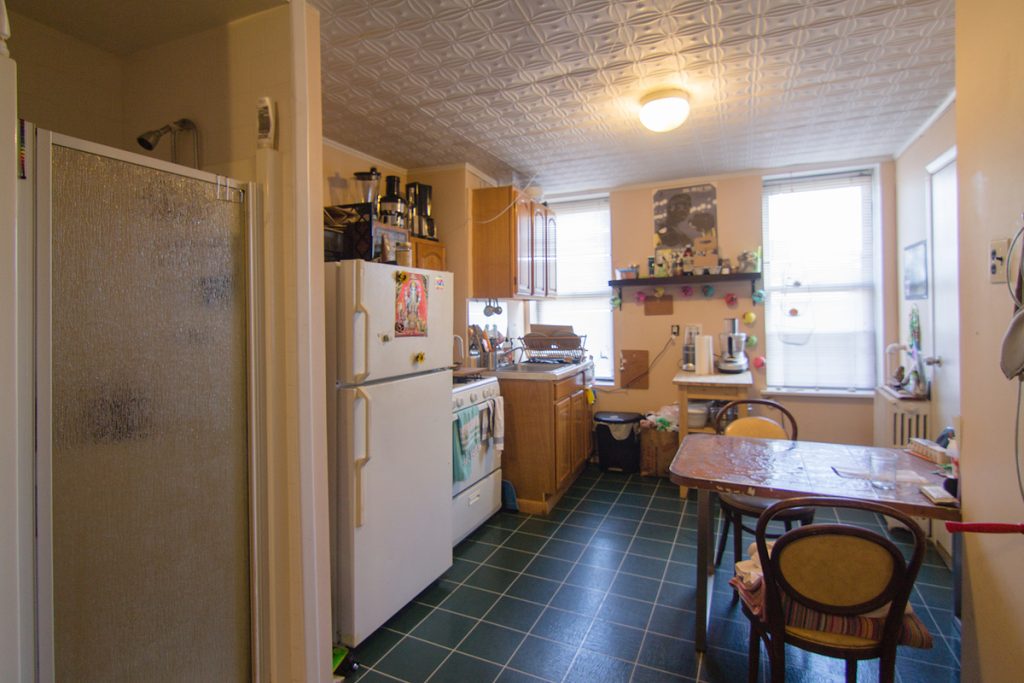 Who knew a shower in the kitchen could create such an uproar? We certainly didn't expect a fuss when a bare bones one-bedroom apartment in Chinatown came on the market a while back. But the listing's somewhat implausible design struck a chord with budget-conscious renters and lovers of NYC idiosyncrasies alike. Whether the shower in the kitchen apartment's allure was cemented in its low price, flagrant disregard for livability or its weird, perhaps counter-intuitive appeal to practicality (centralized plumbing, right?), the apartment was widely loved and speculated upon.
For those who let the Chinatown bargain shower in the kitchen pass them by and are pining for their very own claim to a piece of New York City curio, you're in luck. Just yesterday yet another shower in the kitchen rental hit the market. This time it's a one-bedroom at 18 Skillman Street in Williamsburg. Like the Chinatown apartment before it, this rental offers a pretty serious deal – $1,574/month or $1,604.90/month upon signing a two year lease.
The real cherry on top is not the fabulous plastic door-enclosed shower just next to the refrigerator (perfect for, you guessed it, shower beers) but that this apartment is rent-stabilized. The combination of rent-stabilization and the shower-in-the-kitchen layout makes this apartment the stuff of budget renters' dreams – well a certain, off-color subset of renters perhaps. If the shower, the rent-stabilized status and the prestige of renting a truly singular place doesn't do it for you, the listing description promises "great charm!" and "Beautiful hardwood floors in the bedroom" (tiles seem necessary in the kitchen for flooding and shower water absorption purposes).
If you were concerned about the structural integrity of the shower-in-the-kitchen apartment's design or related plumbing issues, rest assured. An asterisk notes "Mark on ceiling in bedroom will be fixed, roof leak already has been."
Related