With mortgage rates on the rise, many home shoppers have taken a pause from their search. However, for those with the financial means to buy a home, waiting indefinitely until interest rates decline would mean missing out on the best opportunity to enter the market since early 2020.
Despite the recent jump in home sale contracts falling through in NYC, the city as a whole is still a seller's market, with listings spending a relatively low number of days on the market and the share of price cuts tracking with seasonal trends before the pandemic. However, in some areas, buyers have more negotiating power than in other parts of the city.
Using StreetEasy data, we identified 10 NYC neighborhoods where buyers are most likely to get an upper hand in negotiation, as long as they have the budget to manage elevated monthly payments due to higher mortgage rates. After the busy home shopping season this spring, typical listings in these areas took longer to sell and higher shares of listings cut asking prices in Q3 2022, compared to Q3 2021. In addition, rising price cuts in these areas suggest seller confidence is abating.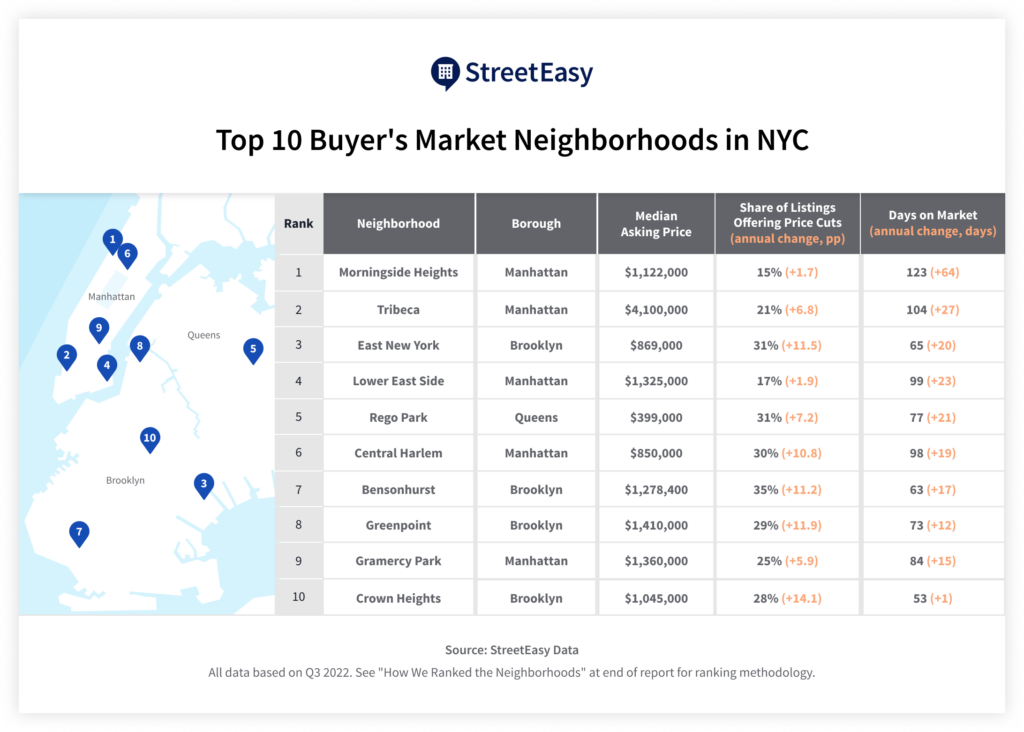 The recent increases in the number of days listings are spending on the market and share of listings cutting prices suggests improving negotiation power for buyers. This can help buyers take the time to find a home that better fits their wants, needs, and budget, rather than making compromises and rushing into a deal.
5 of the Top 10 Neighborhoods Were in Manhattan
Listings in pricey Manhattan neighborhoods are staying on the market for longer
Morningside Heights, Tribeca, the Lower East Side, Central Harlem, and Gramercy Park are the top five neighborhoods in Manhattan where buyers may enjoy the upper hand. Median days on market in these areas rose by an average of 29 days in Q3 2022 from one year ago. In Morningside Heights, a typical listing lingered on the market for about nine additional weeks (64 days) compared to one year ago. In Tribeca, a typical listing spent about four more weeks on the market (27 days) than one year ago.
Manhattan Buyer's Market Homes on StreetEasy Article continues below
Moreover, price cuts are becoming more common in these areas. The Manhattan neighborhood where the share of listings cutting asking prices rose the most is Central Harlem, just east of Morningside Heights. 15% of Central Harlem listings cut asking prices in Q3, an increase of 10.8 percentage points (pp) from one year ago. Another area with a notable jump in price cuts is Tribeca, where 21% of listings cut prices, an increase of 6.8pp from one year ago.
The balance of power is tilting more clearly in favor of buyers in these neighborhoods, suggesting buyers can expect increased willingness to negotiate from sellers. Sellers who were used to bidding wars with multiple above-ask offers in the spring can no longer expect the same power dynamic during negotiation.
Brooklyn Buyers Have Power in Areas With More Single-Family Homes
More opportunities are emerging in Brooklyn neighborhoods with higher concentrations of single or multi-family homes
Several Brooklyn neighborhoods on our top 10 list had higher concentrations of single or multi-family homes. East New York topped our list for Brooklyn and came in third on the citywide list. 31% of listings in East New York cut asking prices in Q3, 11.5pp higher than a year ago. A typical listing spent 65 days on the market – about three more weeks (20 days) compared to a year ago. Next up in Brooklyn and coming in seventh on the citywide list is Bensonhurst, where a typical listing had four bedrooms – two more than a typical home in NYC. 35% of the neighborhood's listings cut prices in Q3, an increase of 11.2pp from a year ago. At 63 days, a typical listing spent about two additional weeks (17 days) on the market.
Brooklyn Buyer's Market Homes on StreetEasy Article continues below
Greenpoint is becoming an attractive alternative to Williamsburg
Ranked eighth on the citywide list, Greenpoint is next on the list for Brooklyn. In Greenpoint, just north of Williamsburg, 29% of listings cut prices in Q3, 11.9pp higher than a year ago. At 73 days, a typical listing spent 12 more days on the market than a year ago. These measures suggest that with less competition from other home shoppers, a buyer hoping to score a home in Williamsburg – the most-searched neighborhood in Brooklyn on StreetEasy – may have a better chance in Greenpoint. That said, a would-be buyer in Greenpoint must be prepared for a hefty price tag: at $1.4M, the neighborhood's median asking price was 43% above the borough median of $985K in Q3 2022.
Greenpoint Homes Under $1.4M on StreetEasy Article continues below
The median asking prices in all Brooklyn neighborhoods in the top 10, besides East New York, were higher than the borough median of $985K. This suggests the competition for homes has cooled more in areas with less affordability. For example, the median asking price in Bensonhurst was $1.3M in Q3, 29% above the borough median.
The Sales Market in Queens Remains More Competitive
Rego Park offers diverse options for buyers looking for affordability
Coming in fifth, Rego Park is the only neighborhood in Queens that made it to the citywide list. 31% of listings in Rego Park cut prices in Q3, 7.2pp higher than a year ago. A typical listing spent 77 days on the market, an increase of exactly three weeks from a year ago. The increase in days on market was related to co-ops and single/multi-family home listings staying on the market for longer in the area.
The overall Queens sales market remains competitive, as the borough offers relatively affordable listings to would-be buyers compared to Manhattan and Brooklyn. The borough median asking price was $639K, 35% below the citywide median of $980K.
Queens Buyers Market Homes on StreetEasy Article continues below
While the borough's market remains competitive, those looking to put down roots in the city can still find more cost-effective options in Queens. The median price per square foot in Queens was $606 in Q3, lower than Manhattan ($941) and Brooklyn ($652). Rising price cuts and median days on market for a typical listing also suggest Queens buyers can expect to be in a better spot compared to the previous shopping season.
Should Buyers Join the Market Now or Wait?
Many buyers may be wondering whether they should wait until home prices and mortgage rates fall more significantly. However, compared to 2021, fewer homeowners have been listing their homes for sale, as sellers locked into lower interest rates acquired before and during the pandemic are unwilling to trade them for today's higher rates. Slower inventory growth also means a precipitous drop in home prices due to oversupply is unlikely.
Moreover, there is still pent-up demand for homes. Buyers are currently sitting on the sidelines due to affordability challenges rather than changes in their preferences. Any meaningful decline in mortgage rates or asking prices may lead to a resurgence in buyer interest and, as a result, more competition. In addition, waiting things out comes at a cost. Market rents have grown rapidly, making it more costly for hopeful buyers to keep waiting.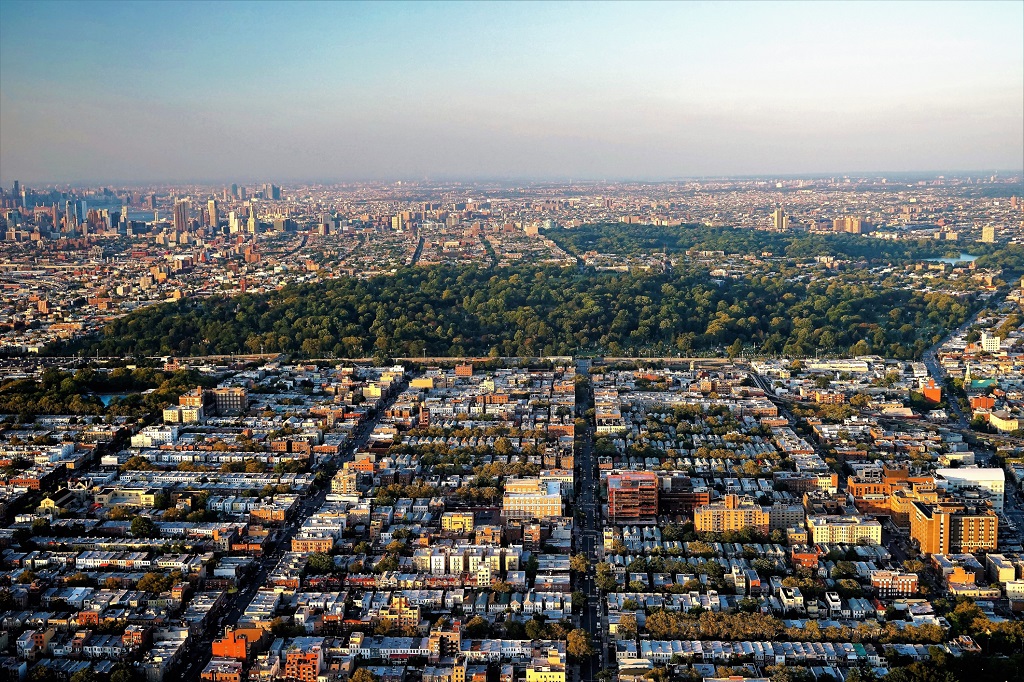 As our research shows, for those financially prepared for homeownership, the current environment opens a unique opportunity to enter the market, particularly in certain neighborhoods. In the top 10 identified in this report, sellers are resetting their expectations amid moderating demand after the fierce home shopping season this year. In addition, buyers will have the option to refinance when mortgage rates eventually come down.
To get the best deal in your preferred area, it's important to work with agents with deep local expertise. Through StreetEasy search and listing pages, buyers can connect with a verified Expert agent whose local knowledge and experience can help them negotiate the best deal amid the changing market.
Homes for Sale in NYC Under $750K Article continues below
How We Ranked the Neighborhoods
We ranked the NYC neighborhoods in this report by the growth in the share of listings that cut asking prices and the growth in median days on market, from Q3 2021 to Q3 2022. To score the neighborhoods in our analysis by these two measures, we measured the Euclidean distance of each neighborhood in the vector space of the two metrics from the origin (also known as the L2 norm). The higher this distance is, the more likely it is for a buyer to have the upper hand.
We considered neighborhoods that had at least 100 listings in at least 30 unique buildings in Q3 2022. As a result, only 10% of more than 300 neighborhoods in NYC were selected for this analysis. During this period, many neighborhoods in the Bronx and all in Staten Island did not have enough listings across unique buildings to meet these criteria. While this restriction may appear stringent, it ensures the analysis we present is timely, robust, and representative of the market dynamics in each area.
Buy, sell, or rent your next home on StreetEasy
Disclaimers: StreetEasy is an assumed name of Zillow, Inc. which has a real estate brokerage license in all 50 states and D.C. See real estate licenses. StreetEasy Concierge team members are real estate licensees, however they are not your agents or providing real estate brokerage services on your behalf. StreetEasy does not intend to interfere with any agency agreement you may have with a real estate professional or solicit your business if you are already under contract to purchase or sell property.
For FSBO postings, the StreetEasy Concierge is meant to provide insight to improve your posting performance on StreetEasy and may refer you to a real estate professional based on your specific needs.
StreetEasy earns a referral fee from successful Experts' transactions, at no cost to the buyer or seller. Experts must meet StreetEasy's standards of service and market expertise. Agents in our Experts Network have closed deals on homes similar to the seller's or similar to homes the buyer is searching for. We measure their performance to make sure buyers and sellers get top-notch service.