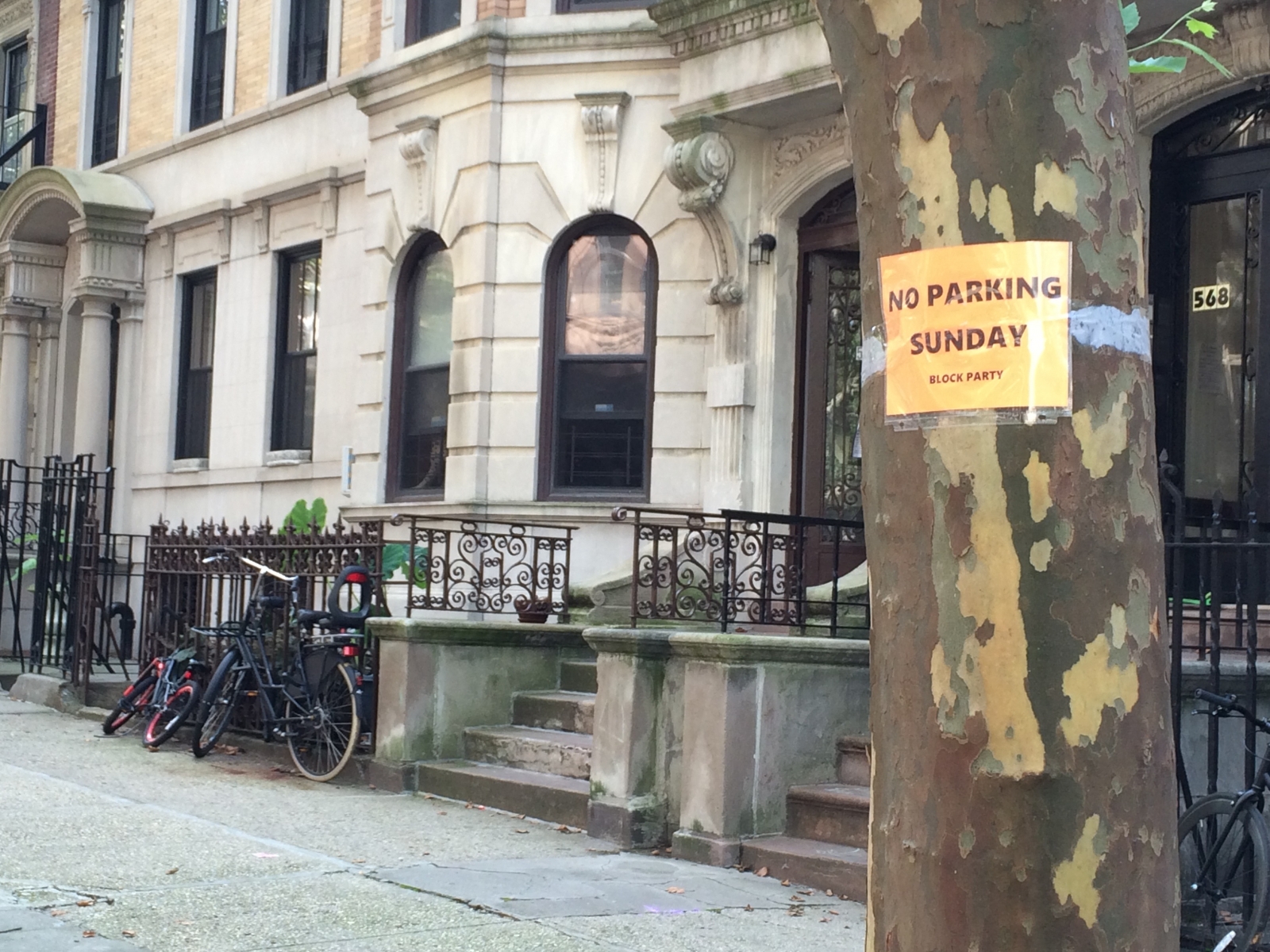 There is a big difference between what is a street fair and what is a block party. Take the San Gennaro festival and its endless sausage and pepper vendors and compare it to a NYC neighborhood block party. One feels like an impenetrable and soulless tourist attraction while the other is a more intimate grassroots affair, organized solely by and for a small community of neighbors.
In a city where backyards and front lawns are few and far between, a block party offers a rare opportunity for neighbors to gather and for parents to let their kids run loose. Block parties bring out the old-timers, too. They preside from their stoops, comparing years of residence, the neighbors who have come and gone, and give a nod to newcomers.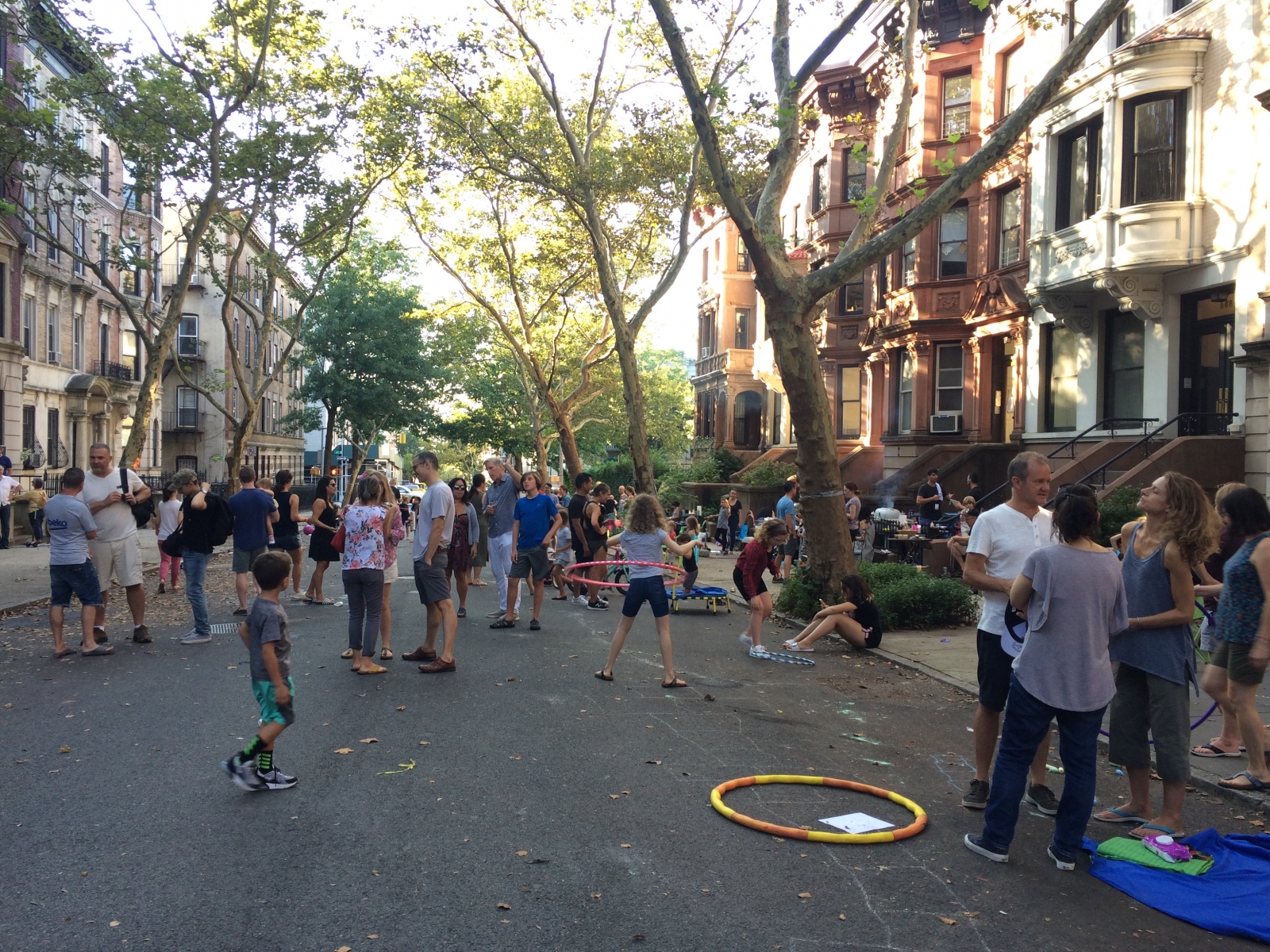 Nothing Says Summer In the City Like a Block Party in Brooklyn
The smell of barbecue, the low thump of bass and the inflatable bounce houses are telltale signs that it's summer in the city and block party season. For obvious reasons, block parties are more frequent in the warmer months of July and August, but September is no slouch. According to data from NYC.gov, August is the most popular month for block parties in New York City with 753 permits filed this year. July is next with 425 permits and then September had 367 permits filed.
According to the data, Brooklyn reigns as the borough with the most parties in all of NYC. Between 2016-2018, 55 percent, or 2,930, of all city permits for block parties took place in Brooklyn. Queens is next with 17 percent of all permits filed between 2016 and 2018. Within Brooklyn, Community Boards 3 and 6 are the most popular areas for block parties, which encompass Bed-Stuy and Park Slope, Cobble Hill and Carroll Gardens.
A Block Party Can Reveal Local Quirks, For Better or Worse
I walked through Park Slope on a recent Saturday and passed at least four block parties in a single 10-block stretch of 8th Avenue. From the outside looking in, these gatherings can have a homogeneous look. There's the inflatable bounce house, a BBQ, scooter brigade, and tag sale. But casual conversations with residents can quickly reveal the microcosm of culture, history and street politics that shape life on the block.
Some are totally casual, while others  have more of a civic agenda. On Second Street in Park Slope, kids squealed inside a bounce house, while parents looked on, playing corn hole and sipping from open containers. A couple blocks over on Montgomery Place, an open fire hydrant was the main attraction while Cory Bruce, the block party's organizer, spun records in a rainbow shirt. Nearby, his blue-haired wife Annie, owner of the Brooklyn Owl, a popular shop in the neighborhood that sells unicorn horns, was showing off magic tricks with a dog (also in a rainbow bandanna). "We thought about getting a bounce house," she explains, "but it can get expensive." One block resident did, however, anonymously front the cost for an ice cream truck from Blue Marble.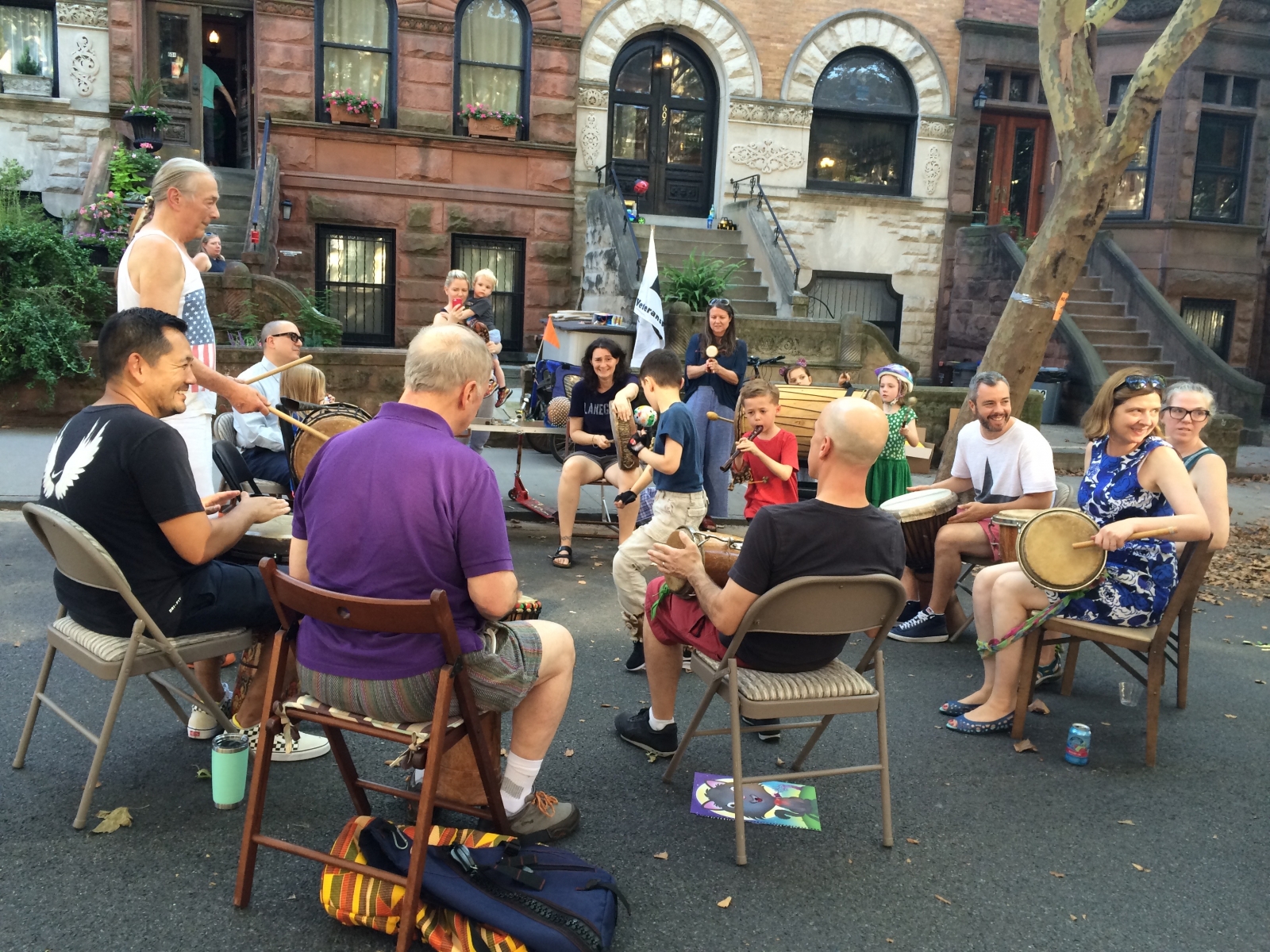 To communicate block party announcements, Annie prefers email and word of mouth rather than posting on Facebook. "I was afraid people would start complaining about block stuff and I didn't want to deal with that. I just wanted to have the party."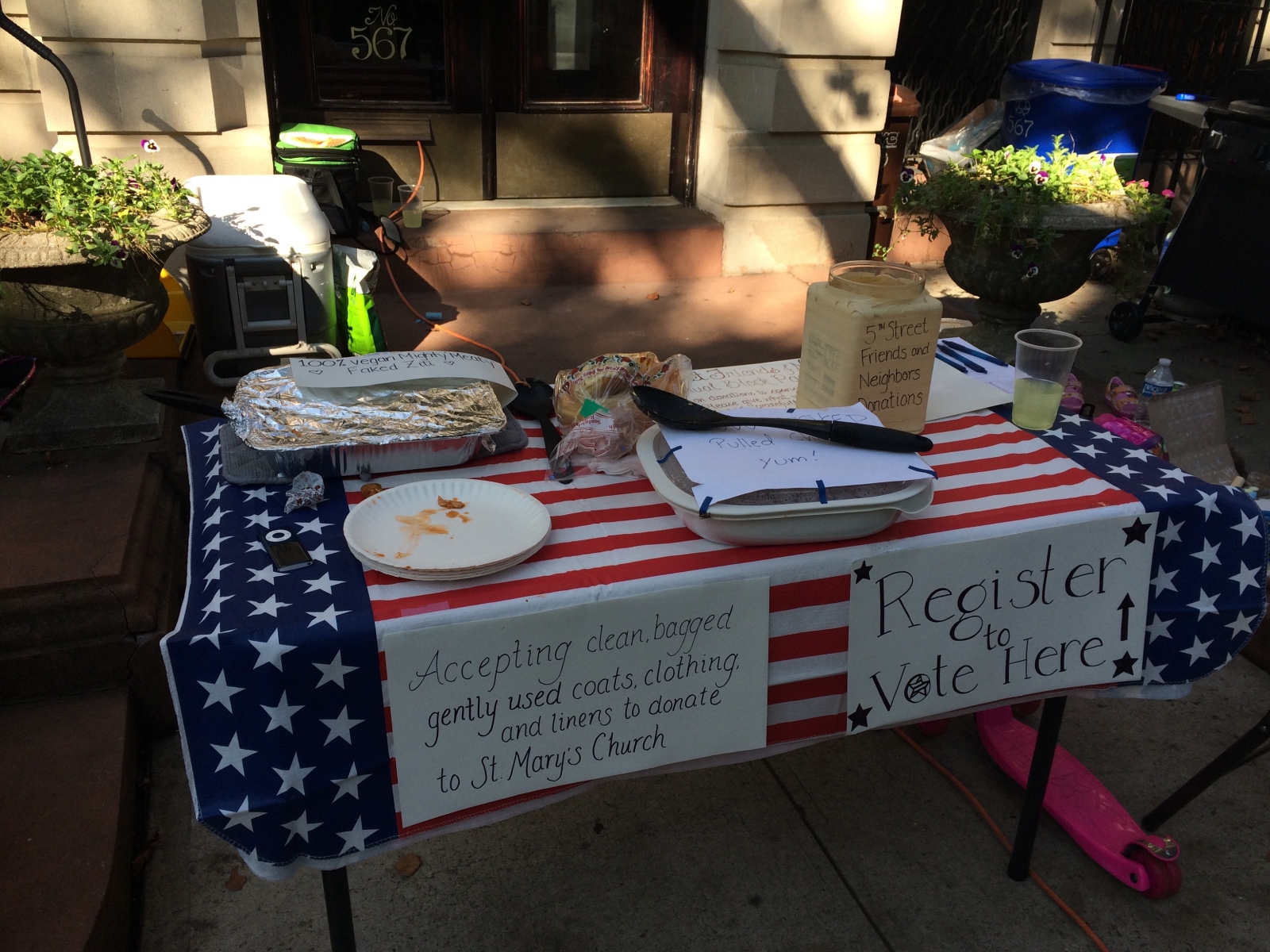 Over on 5th Street, signs were posted on trees announcing a schedule events (drum circle at 4 p.m., live music at 5 p.m., potluck 6 p.m.). Folding tables were set up with stations for face painting and making friendship bracelets. Up the block, residents handed out information about how to sign up to vote, pamphlets on proper trash disposal, personal safety tips and domestic violence procedures. One stoop even showcased photos of block parties from decades ago and family trees of property owners.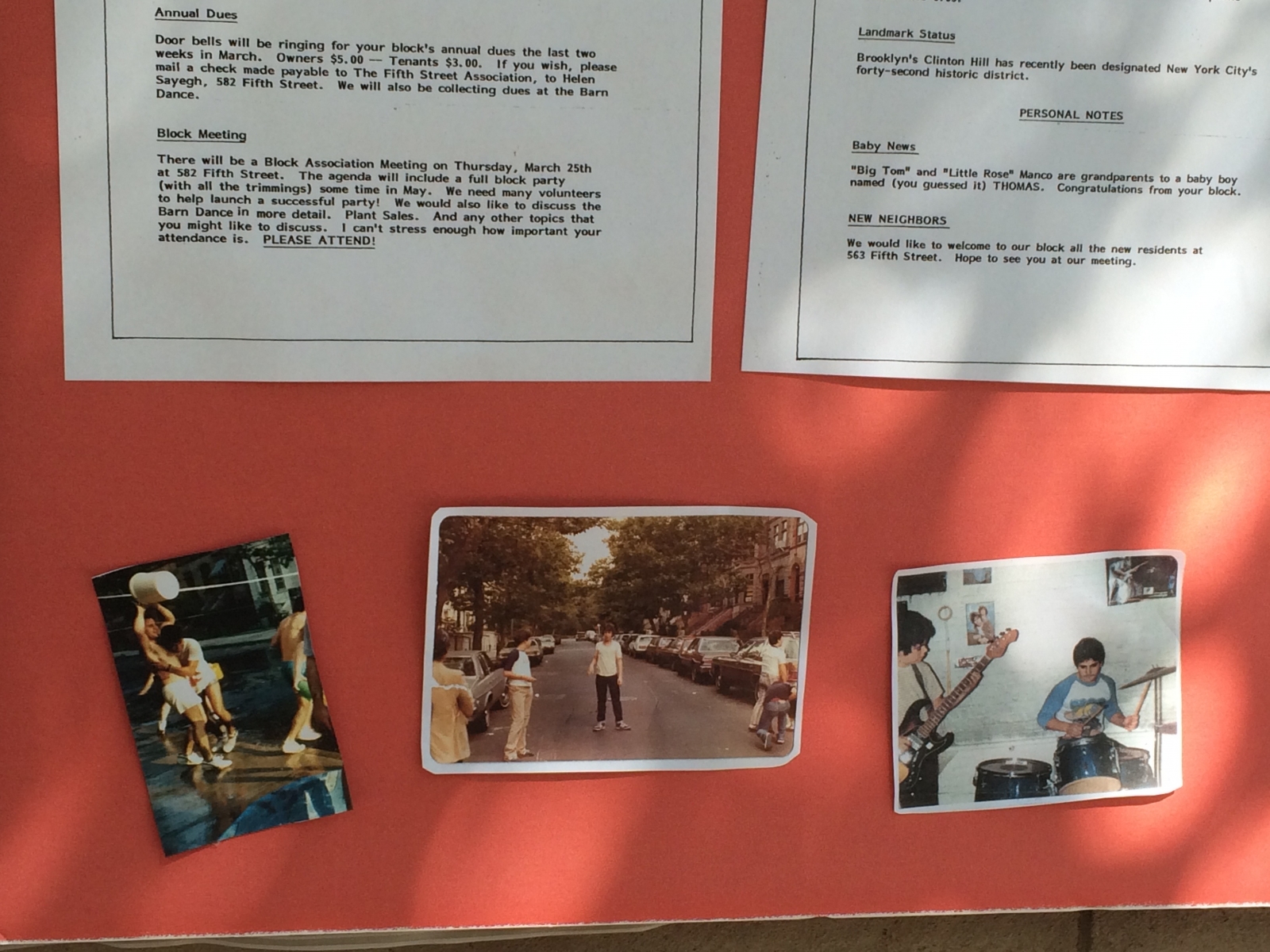 This block party was also a chance for neighbors to address some local issues, such as a new outpatient hospital rising around the corner, landmark zoning, and persistent rodent problems from a rent-controlled building up the block. Despite difference of opinions among some block residents, the spirit of the afternoon remained energetic and friendly, fueled by a live band grooving out impressive Cat Stevens' covers and that 4 p.m. drum circle.
What Is a Block Party? Here's Some History.
While each block party is as different as the residents who reside there, block parties in New York City share common origins. The tradition started at the beginning of the 20th century in New York City, born of the desire to reclaim public space from cars and excessive commercial enterprise.
To this day, a defining characteristic of the local block party remains the same — the street is closed to automobile traffic. After World War I, block parties served as a way for local communities to honor soldiers who lived on their blocks. In the 1960s as the city saw an influx of immigrants from Puerto Rico and the Caribbean, block parties became a way for recent emigres to both integrate into their new community and help preserve their local customs.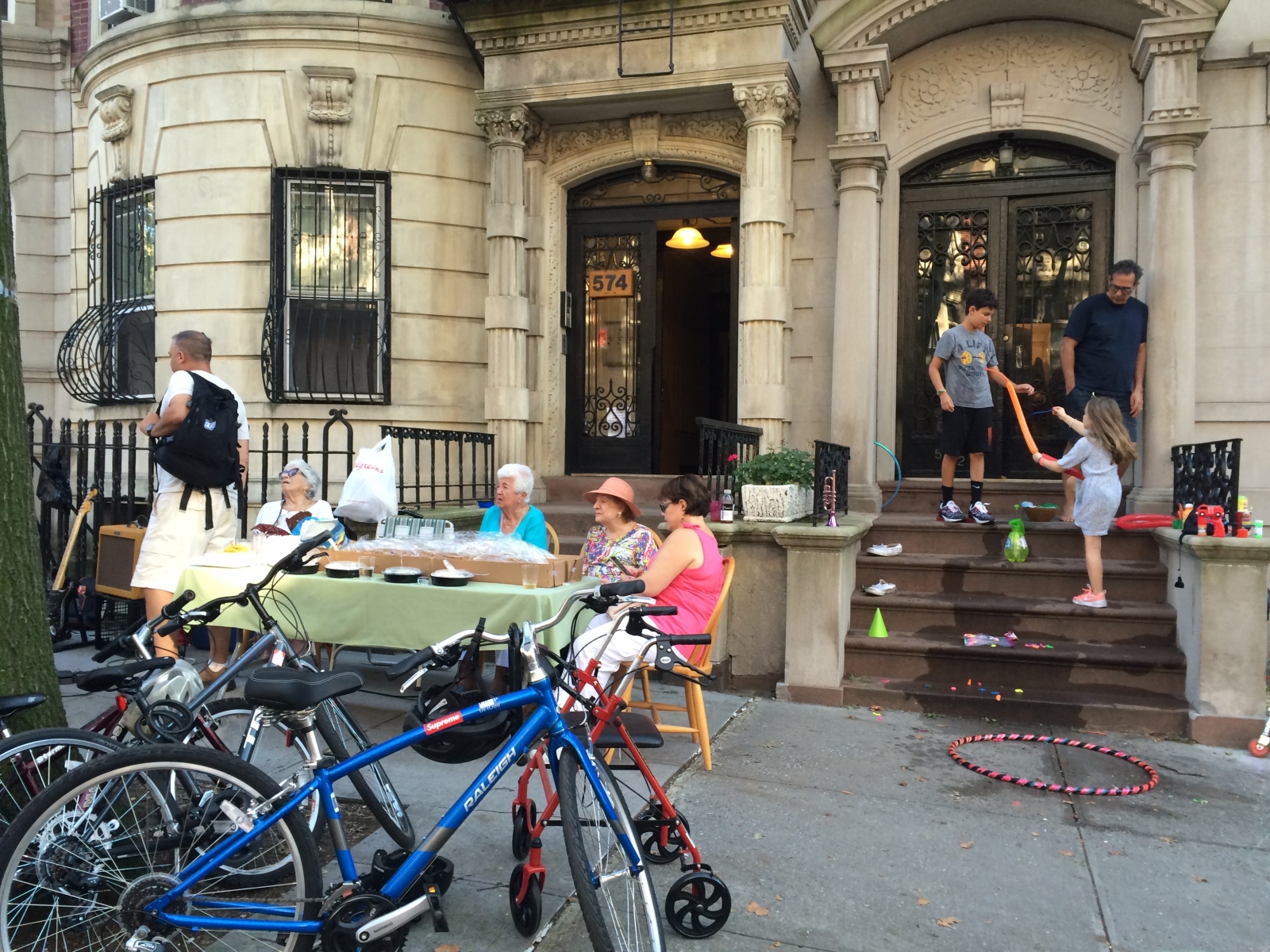 From these origins, the trajectories of block parties and hip hop in New York City became intertwined. This is especially so in the South Bronx where DJ Kool Herc got his start throwing parties for neighbors in the rec room of his apartment basement. As the parties grew in popularity, the venue shifted from indoors to outdoors. The prevalence of DJs spinning records outdoor rose, and although never sanctioned officially by the city, the combination of community celebration and live music became a signature characteristic of the local block party in NYC.
Nearly 50 years later, the process of hosting a block party has become more formal, but the spirit of the informal neighborhood get-together remains the same.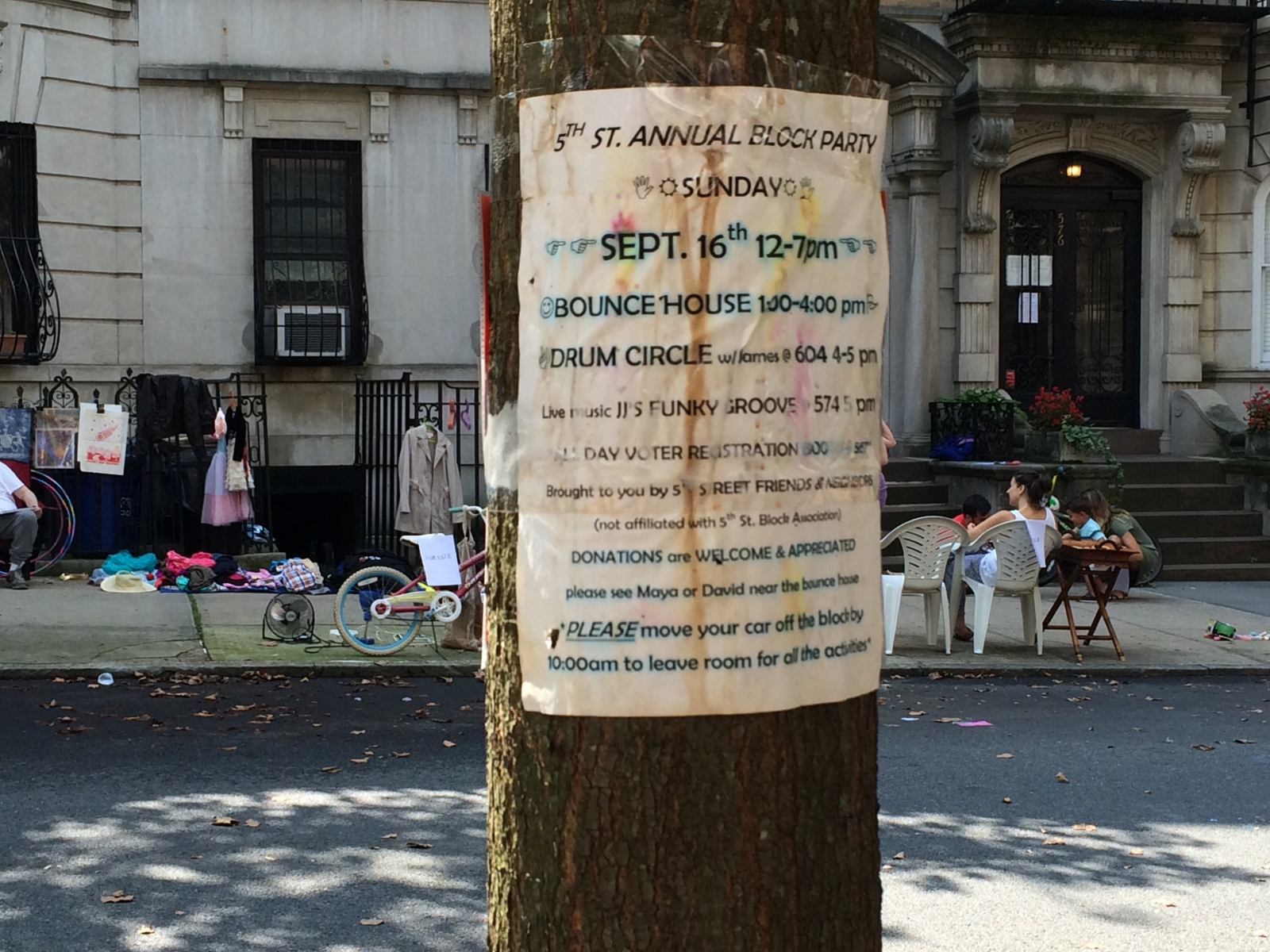 How to Host a Block Party
Throwing a block party entails more than just dragging a charcoal grill in front of your apartment building and setting out a plate of chocolate chip cookies. It requires organization of block residents as well as an official permit from the city. Usually a block association will take over responsibility of organizing and planning the event. While typically a block association's responsibilities extend beyond simply hosting an annual block party, it is usually charged with fostering civic engagement among residents and addressing local issues that may impact quality of life on the block.
The city provides a substantial amount of information on NYC.gov, but some key points are outlined below:
A member of the block association must fill out an application 60 days in advance of the desired event date and submit it online to the City Street Activity Permit office.
A letter of consent is required from the block association or a petition with the signatures of at least 20 residents
Permits cost $25.75; a secondary permit, costing $45, is required if there is live music
Once an application is approved, the block party is subject to the following rules:
There can only be one block party per year on any given block
There are limits to how many block parties can occur in a given area
The party can last up to nine hours
There are no rain dates
A certificate of liability insurance is required for all rides, including a bounce house
A separate permit is required if the block wishes to feature a petting zoo
No alcohol or fireworks are allowed
Sale of food or drink is not allowed
Corporate sponsorship or commercial branding is not allowed