We spend our morning commutes packed together like cattle, nestled in the armpits of strangers while "being held momentarily by the train's dispatcher." We literally live on top of one another and are at the mercy of our upstairs neighbors' tap dancing practice. We're New Yorkers, and we cherish our private space, which is why it's a no-brainer that outdoor space is one of the most coveted listing amenities in NYC real estate.
In NYC, outdoor space can mean a patio, terrace, balcony, loggia, roof deck or yard. A patio is an outdoor area adjoining the ground floor of an apartment. The surface is usually not grassy but instead paved or made from stone, tiles or bricks, making its upkeep relatively easy. Patios are a common amenity in garden apartments.
Because outdoor space is in such high demand, a listing with private outdoor space is more expensive than a comparable unit without it. However, the increase in price depends on the neighborhood, location of the apartment within the building and the level of privacy that the space affords.
For example, the West Village is a desirable neighborhood, and inventory for listings with outdoor space in this area is very low. As a result, a West Village listing with private outdoor space is likely to be priced significantly higher than a comparable listing in a less desirable neighborhood, or in a neighborhood where outdoor space is common.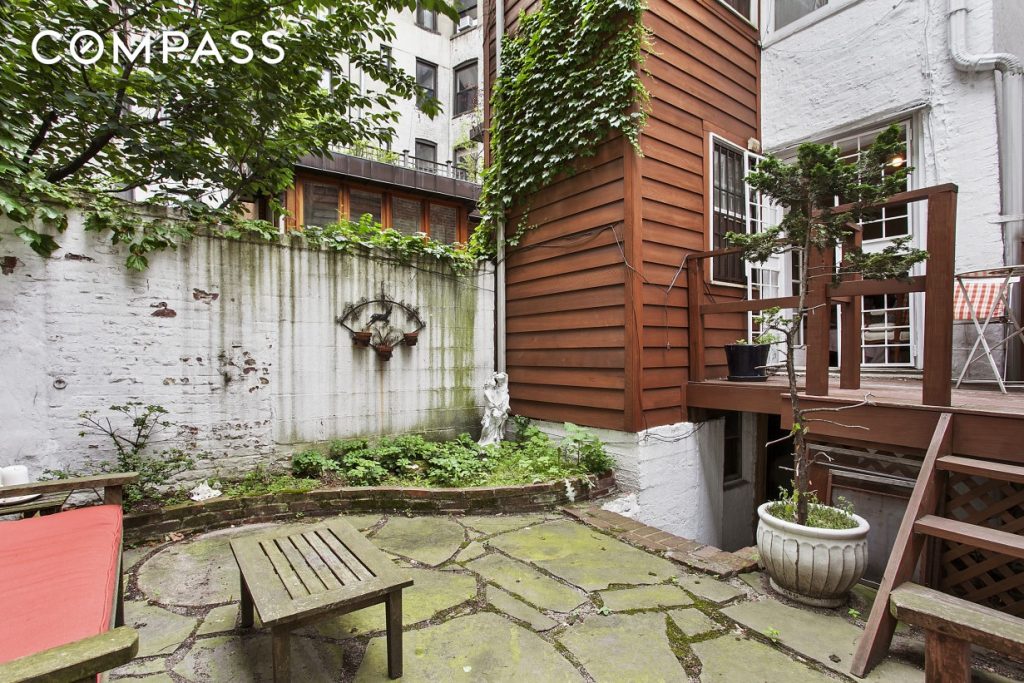 This West Village unit, pictured above, is going for $5.975M. It is a three-bedroom, three-bath townhouse totaling 2,700 square feet, including its own private patio.
Meanwhile, this three-bedroom, two-and-a-half bath Park Slope multi-family home comprises three floors (not including the basement) and is listed for $2.55M. It has two patios and a garden, pictured above.
Because patios are adjoined to ground-floor apartments, they tend to be the cheapest option for outdoor space. If you're a budget-conscious renter with your heart set on private outdoor space, try searching for a patio. Looking in neighborhoods where outdoor space is common (like Park Slope or Fort Greene) is your best bet.
Related: