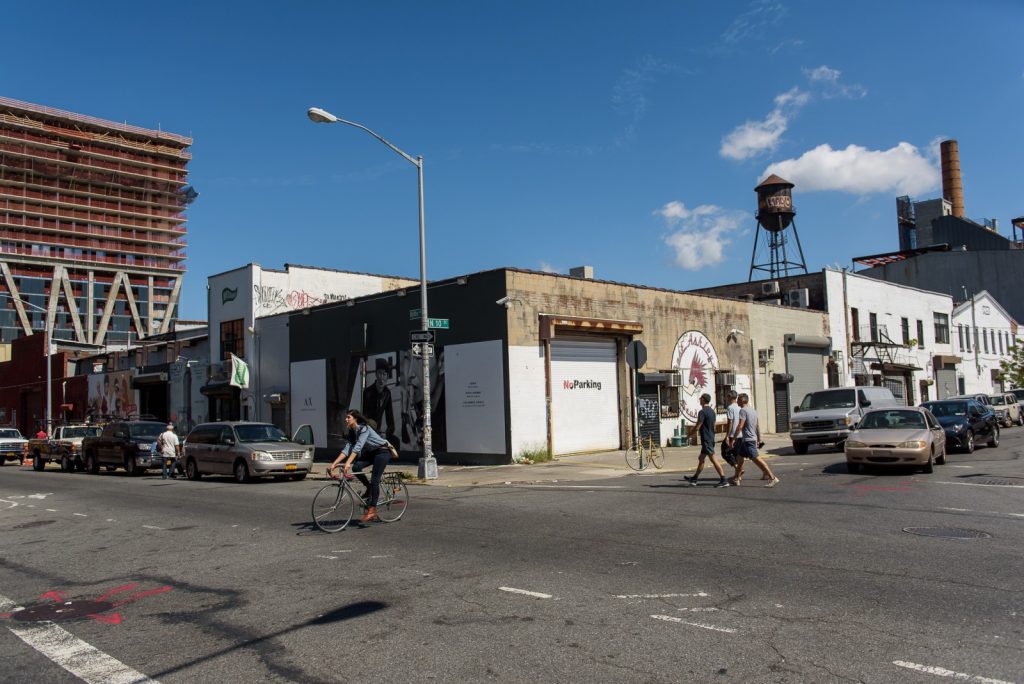 It's happening, people. The MTA has just announced that it will completely shut down the L train between Manhattan and Brooklyn for 18 months 15 months in 2019 to repair tunnel damage caused by Hurricane Sandy.
Come April 2019, the L train as we know it – in all its overcrowded, unreliable glory – will suspend service between Bedford Avenue in Brooklyn and Eighth Avenue in Manhattan. Ouch. There's no beating around the bush with this one. Things don't sound good for current residents of Williamsburg.
Williamsburg residents fall into various camps about what the actual impact of the train shutdown will be and their appropriate response.  Many shrug a disaffected shoulder (they probably never leave Brooklyn anyways) some claim they will bike, others say they will resort to Uber (hopefully on the company card) and yet others are cutting their losses and moving on.
Where Will Williamsburg Residents Go?
There are many factors that make Williamsburg a great place to live – factors that are not easily quantifiable or replicated. It's a place where you're never at a loss for a new restaurant, an excellent oyster, or a concert on any given night. The views of the city, that special slant of light as the sun sets, the throngs of young people. These all set Williamsburg apart from many other neighborhoods in NYC, but sometimes there comes at time when you must say goodbye to all that and look for something new.
To help those in search of alternatives to Williamsburg, StreetEasy has done what StreetEasy does best: Distilling the data. We reviewed the quantifiable data that sets Williamsburg apart – namely median asking rent, share of residents between the ages of 20-29 and commute time to Midtown. According to StreetEasy's findings, the current median asking rent in Williamsburg is $3,160 a month, 22.4 percent of the population falls between 20-29 and the commute time to Midtown is 17 minutes (a little optimistic in our book, but it's based on the MTA's commute calculator). See the map below for your options.
[tableau server="public.tableau.com" workbook="williamsburghSubstitue_v2″ view="L_pocalyse" tabs="no" toolbar="no" revert="" refresh="yes" linktarget="" width="600px" height="870px"][/tableau]
Willing to Move to Manhattan?
Many a Williamsburg resident would be loathe to relocate to Manhattan (BK for life, am I right?!) while others may be former Manhattanites and willing to make the return. A whole other subset might embrace the counterculture appeal of Manhattan and revive Kips Bay and Manhattan Valley as under-the-radar bastions of cool. Maybe. Regardless of your motivation, Manhattan offers many comparable options for Williamsburg renters in terms of median asking price and commute time to Midtown.
East Village is a Great Alternative
According to our findings, the East Village is a great fit for current Williamsburg renters. The median asking rent is $3,200/month, it's just a nine-minute commute to Midtown (again, optimistic in our book) and the share of 20-29 year olds is nearly 30 percent. Even without the data, the East Village would be a clear choice. It's just one stop from Williamsburg on the L, it's got that same 24/7 scene and a similar gritty-meets-glorious New York City authenticity. If you're considering the East Village, check out these two great East Village finds.
$3,025/Month One-Bedroom on Avenue B
$3,000/Month Two-Bedroom on East 7th Street
Can't Beat Little Italy
Little Italy is another neighborhood that made our list of top 10 alternatives to Williamsburg. There, the median asking rent is $3,125/month — so pretty much right on par with Williamsburg — the commute is 13 minutes to Midtown (if the trains are cooperating, you can just jump on the 6 and jet up Lex) and the share of people ages 20 to 29 is 26.25 percent.
Like Williamsburg, Little Italy has tons of effortlessly cool cafes and restaurants, that local downtown vibe and a mix of attractive people and lots of tourists. The only downside of Little Italy is there isn't a whole lot of inventory since the neighborhood is so small and often the apartments themselves are in old walk-up buildings. If you're considering Little Italy, here's a great find:
$4,000/Month No-Fee Two-Bedroom on Mulberry Street
North of Downtown Manhattan, the vibe changes. You'll find fewer of the freelancers-spend-the-day-at-the-cafe set and more of your standard nine-to-fivers in places, but many Midtown and Uptown neighborhoods made StreetEasy's list of alternatives to Williamsburg. Kips Bay is a good choice if you really want to cut down on commute time — it's practically in Midtown after all. Like Williamsburg, there's a large population of young people in Kips Bay with nearly 30 percent of the neighborhood between the ages of 20 and 29. And at $3,300/month, the median asking rents are more or less comparable with those in Williamsburg.
$3,150/Month One-Bedroom on East 30th Street
Consider Central Harlem
For those Williamsburg residents who don't mind completely reorienting themselves north, Central Harlem is an alternative worth exploring. Sure, it's about a million miles on the subway from the Bedford L, but with a median asking rent of $2,100/month and just a 14-minute commute to Midtown, Central Harlem offers a more affordable and slightly faster commute to Midtown. Although the neighborhood's share of the sub-30 set is smaller than Williamsburg (accounting for just 19 percent of all residents), Harlem's rich cultural and artistic history make it an incredibly lively and authentic place to live. If that was what you loved most about Williamsburg, Central Harlem would be a great bet.
$1,980/Month One-Bedroom on 149th Street
Love the Outer-Borough Lifestyle?
If you're one of those Williamsburg residents who relishes the Brooklyn-centric lifestyle and just really can't remember the last time you spent a Friday night in the city (it happens), we found a couple of outer-borough alternatives for you. In Crown Heights, you'll find median asking rents clocking in at $2,395, which is substantially lower than those in Williamsburg, an 18.5 percent share of the neighborhood population between the ages of 20-29 and a 25-minute commute to Midtown. In other words, you'll trade in lower rent for a longer commute time.
What you really get in Crown Heights though doesn't come across in the data – it's a neighborhood that's increasingly becoming popular with young people and in many ways feels like Williamsburg before it was sated with condos, strollers and French tourists. Like Williamsburg, there's tons of new stuff opening up all the time and on summer nights Franklin is abuzz with young people out and about. Could Crown Heights go the way of Williamsburg? There's certainly a whole lot of new construction in the neighborhood, so only time will tell. If you want to get in on the area before it peaks, consider these Crown Heights finds.
$2,650/Month Two-Bedroom on Franklin Avenue
$2,500/Month Two-Bedroom on President Street
Sure it's not Brooklyn, but Astoria is a good alternative for Williamsburg residents who are happy to take or leave Manhattan. The median asking rent there is $2,250 — well below what you'll get find in Williamsburg — the share of people ages 20-29 is 22 percent (pretty much equal to Williamsburg's age breakdown) and the commute time to Midtown is 23 minutes. The data indicates that Williamsburg and Astoria are comparable and that's what people have been saying for years, but for whatever reason Astoria has yet to have its hipster renaissance. Sure, it's got plenty of beer gardens, great food and young people, but the scene is distinctly different. Perhaps the shutdown of the L is just what Astoria needs to boost its appeal for the current Williamsburg demo. If you're willing to try out Queens, here are some affordable finds in Astoria.
$2,200/Month Two-Bedroom on 14th Street
$2,500/Month One-Bedroom on Crescent Street
Related: