Finding a relationship and finding your home in New York City are more similar than you would think. Trade-offs will have to be made, you'll probably encounter a lot of duds before you find the one, and let's face it, both searches are easier with the help of an app. This Valentine's Day, we partnered with our friends at Hinge, the relationship app, to discover which neighborhoods offer the best bet for finding a date.
Here's what we found: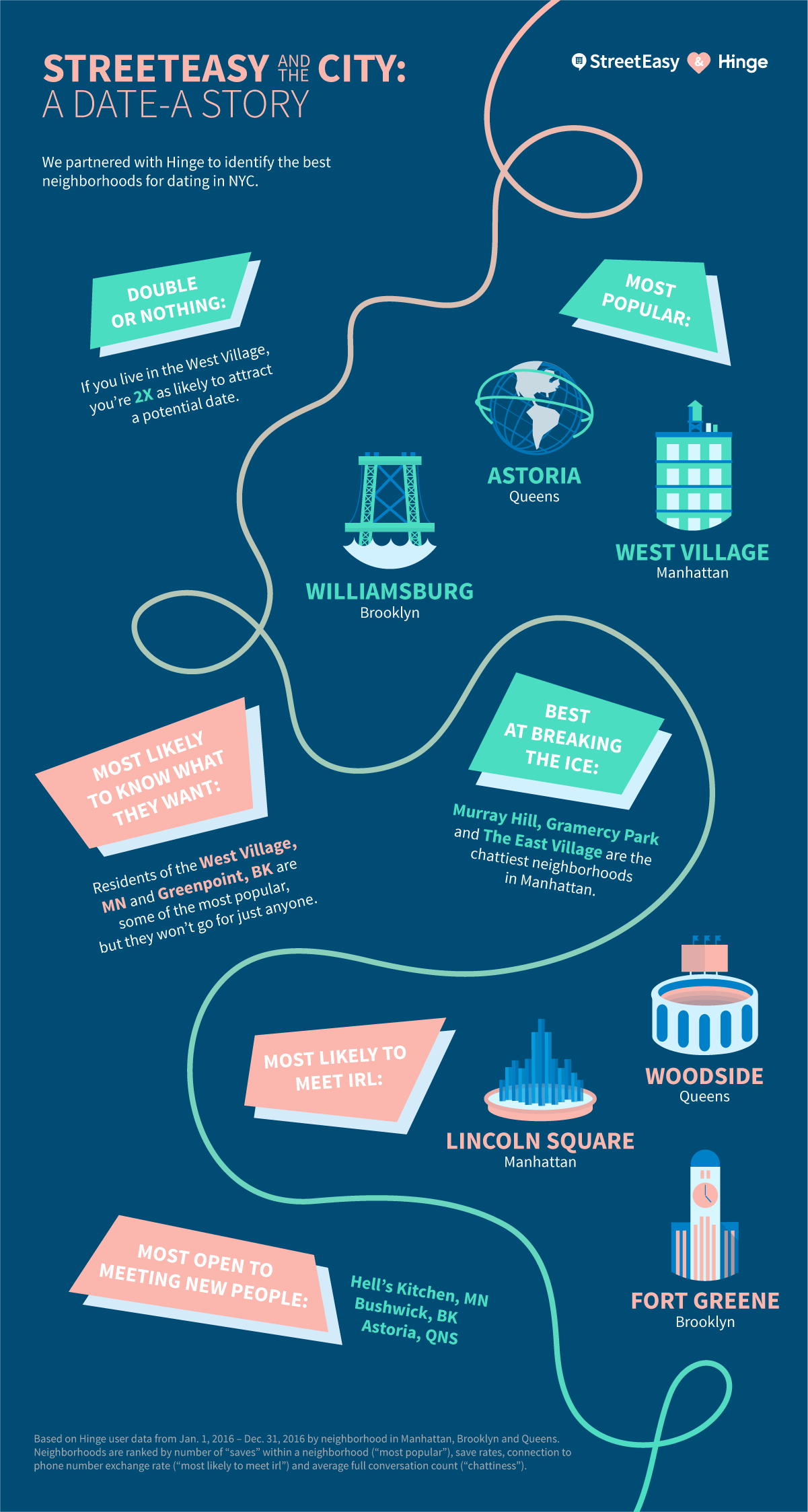 People in the West Village Are Popular, But Picky
The West Village is by far the most popular neighborhood for dating in the city and those who live in the neighborhood are twice as likely to attract a potential date[i]. This may not be surprising to anyone who has walked around the neighborhood as its tree-lined, cobblestone streets and brick townhouses are inherently romantic. Plus with neighborhood staples like The Comedy Cellar and Minetta Tavern, it's a no-brainer for the perfect date night.
One other thing we learned, however, is the feeling may not be mutual. While residents of the West Village were most likely to have other users express an interest in them, the sentiments were rarely reciprocated, making West Villagers highly sought-after but hard to get.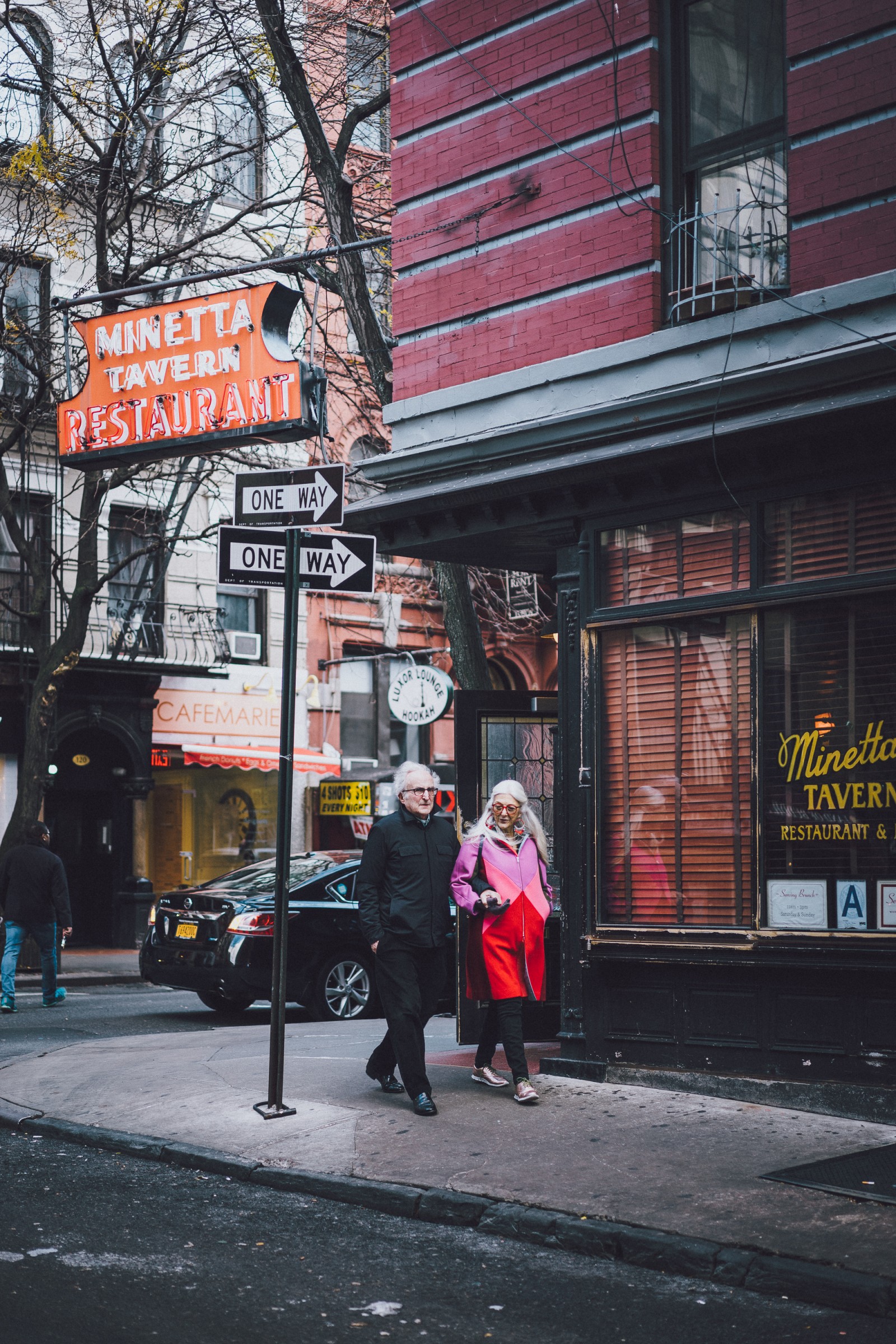 Photo: Paola Franqui
Williamsburg and Astoria Also Topped the List
Tops on the dating list in Brooklyn is Williamsburg. Not only is Williamsburg home to the most single 30-somethings, but residents of Williamsburg are 1.5 times more likely to have their profile saved by another user. It seems singles are not being deterred by the impending L-train shutdown. Or maybe residents are eager to meet others who live in the area to avoid the stress of getting into a "long-distance relationship" with someone who's not off the J/M/Z or within walking distance.
Williamsburg venues like Williamsburg Hall of Music and Brooklyn Bowl paired with a stroll along the waterfront make for great alternatives to dinner and a movie. Or if dinner and a movie are actually right up your alley, check out Nitehawk Cinema where you can have dinner with your movie.
In Queens, Astoria was the most-saved neighborhood, meaning people living there have the best chance of landing a date.  Plus, Astoria residents often reciprocated by saving other users, so your odds of finding a date in Astoria are pretty high. While there isn't much nightlife in the neighborhood, the Beer Garden at Bohemian Hall is a fun date spot.
Murray Hill is Chattiest; Odds of a Date Are Greatest in Lincoln Square
Residents of Murray Hill, Gramercy Park and the East Village in Manhattan are the most prone to conversation after connecting with someone on Hinge. However, it's difficult to say whether these conversations will lead anywhere. After all, the goal of dating on an app – much like the goal of apartment hunting – is to eventually meet in person. People who live in Lincoln Square in Manhattan are the most motivated to meet in real life, based on the phone number exchange rate. In Brooklyn, Fort Greene residents were the most likely to meet in person, while Woodside topped the list in Queens.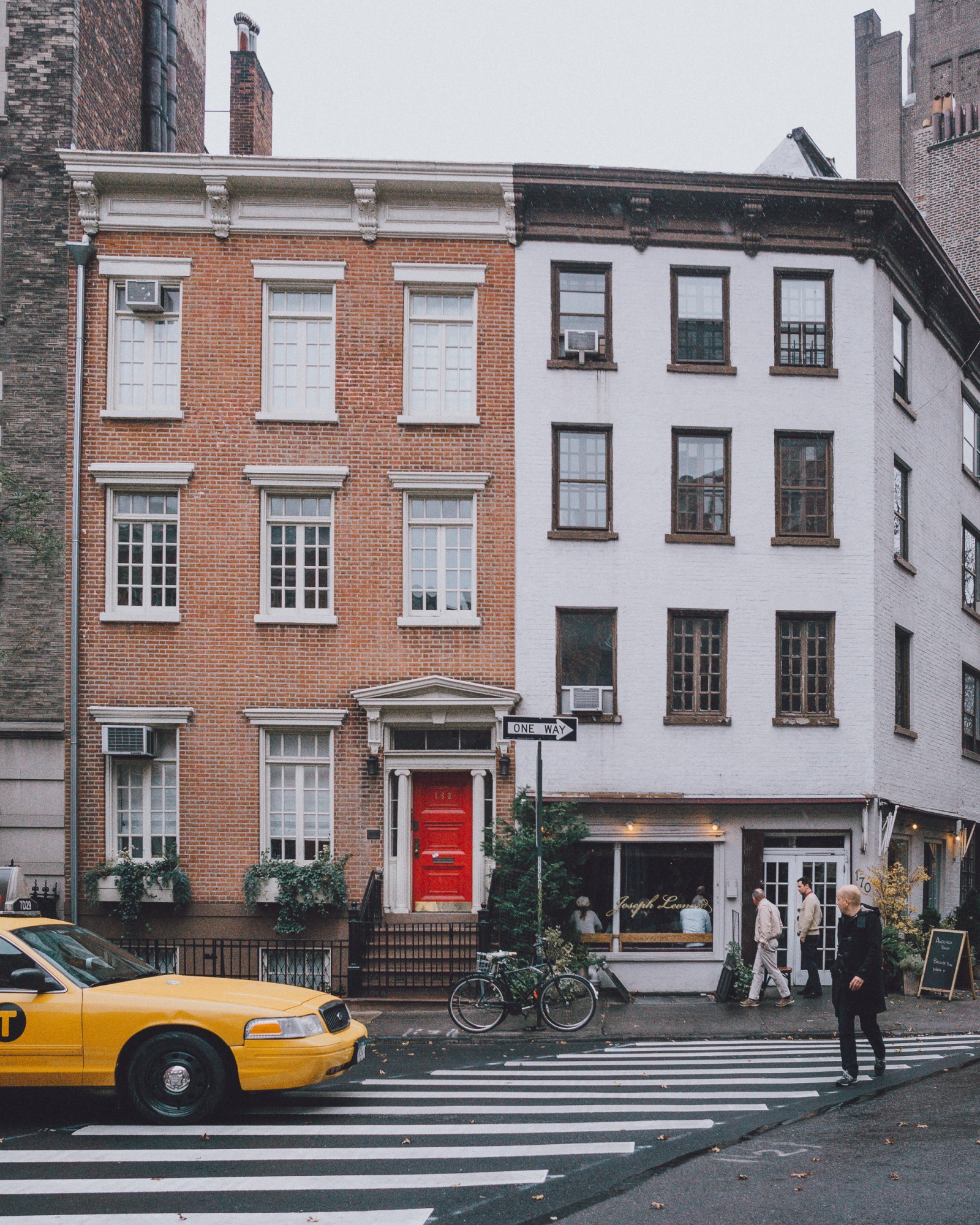 Photo: Paola Franqui
Greenpointers Are a Catch!
Like those in the West Village, residents of Greenpoint in Brooklyn are some of the most popular but they won't go for just anyone. People who live in this neighborhood know what they want (probably someone off the G-train, if we had to bet) and are willing to wait for it. They are some of the most discerning daters, with the lowest average save rate of any other neighborhood in the city.
If you're lucky enough to match with a Greenpointer, your likelihood of landing a relationship is high. That's because people in this neighborhood are more likely to exchange numbers and meet in person once they connect with someone.
But Does This Really Relate to Real Estate?
Interestingly, not only was the West Village the No. 1 most sought-after neighborhood among Hinge users, but it was the most-searched neighborhood for rentals on StreetEasy in 2016. Williamsburg came in third on the list of most-searched neighborhoods for rentals in Brooklyn and was No. 16 overall for most rental searches on StreetEasy. Astoria was the 29th most-searched neighborhood in NYC, but it was the top most-searched neighborhood for rentals in Queens. So, the most popular neighborhoods for dating are also the most popular neighborhoods for renting (or at least for rental window shopping).
We also looked into the rate at which StreetEasy users contact an agent within the neighborhoods where Hinge users are noted as the chattiest and most likely to exchange phone numbers. In all of these neighborhoods, the agent contact rate exceeded the citywide median. And in fact, in Gramercy Park and the East Village – two neighborhoods best at breaking the ice – the contact rate was actually more than double the median!
See below for the top 5 most popular neighborhoods for dating in Manhattan, Brooklyn and Queens:ii
MANHATTAN
West Village
Murray Hill
Flatiron
East Village
Chelsea
BROOKLYN
Williamsburg
Brooklyn Heights
Greenpoint
Fort Greene
East Williamsburg
QUEENS
Astoria
Hunter's Point
Long Island City
Forest Hills
Sunnyside
How We Did It:
We looked at Hinge data among all NYC-based users in 2016, examining save rates (if users are interested in a person's profile, they will "save" it, so a higher save rate indicates popularity or desirability; users who save more profiles are deemed "less picky" while users who save fewer profiles are deemed "pickier"), average full conversation count (or "chattiness"), and connection to phone number exchange rate (the rate at which users connect with each other versus the rate at which they exchange phone numbers, indicating a likelihood to meet outside the app).
For StreetEasy data, we analyzed all StreetEasy rental searches in 2016 to find the most-searched for neighborhoods in Manhattan, Brooklyn, and Queens, as well as the rate of agent contacts.
[i] Likelihood based on overall median save rate compared to the save rate of a given neighborhood.
[ii] Based on analysis of Hinge 2016 user save-rates of a particular neighborhood within Manhattan, Brooklyn and Queens.