Between airing out their relationship woes on wildly popular solo albums, jet-setting around the world on a joint tour, and Jay-Z celebrating his 50th birthday with his highly-acclaimed return to Spotify, Beyoncé and Jay-Z lead very public lives. It's almost impossible to imagine how the couple relax and where they call home when they're not in the public eye. Is NYC home? Or is it L.A.? And where have they lived before? What are their homes like? We've got the answers to all these questions and more, so let's take a tour through Beyoncé and Jay-Z's real estate empire.
Jay-Z's Humble Beginnings in Bed-Stuy
Brooklyn Rentals Under $3,000 on StreetEasy Article continues below
Before making a name for himself as one of NYC's most gifted lyricists, Shawn Carter grew up in Brooklyn's Marcy Houses, on the border of Bed-Stuy and the Broadway Triangle. Though the area was rough, it helped shaped Jay-Z, and he's consistently paid homage to his former neighborhood throughout his career.
Despite going on to such mega success, Jay definitely has not forgotten where he came from. In fact, during the COVID-19 epidemic, his charitable organization — the Shawn Carter Foundation — made a huge donation to residents of his former home, which was hard hit by the virus. As reported by Complex, thanks to a generous donation from SCF, every single household at Marcy Houses received a supermarket gift card to assist in buying groceries during these hard times. Two other NYC housing projects also got gift cards. The Start Small Foundation, founded by Twitter's Jack Dorsey, also donated to the cause.
Tween Bey's Sweet Suburban Digs
In stark contrast to hubby Hov, Beyoncé was raised in some sweet suburban digs. Her childhood home on picturesque Parkwood Drive is in Houston's historic Third Ward, and it looks like something out of a movie, with its curved driveway and stately columns. While the home is not a museum, the current owner allows fans to take a photo with a Beyoncé cardboard cutout in the living room. If they ask nicely.
Jay-Z's Brooklyn Stash Spot
The rapper name-dropped his "stash spot" at 560 State St. in his ode to the city, "Empire State of Mind." Located on the corner of State Street and Flatbush Avenue, the 39-unit apartment complex sits in Boerum Hill, just off the major intersection of Atlantic and Flatbush avenues. Why would Jay have chosen this Brooklyn nexus as his stash spot? Fair question.
According to Vulture, Jay moved into the place in 1996 or 1997, after the success of his first album, Reasonable Doubt. One resident told Vulture that at the time, the building was home to many working artists and performers, including Lord Jamar of the rap group Brand Nubian (and later of HBO's Oz). It's not clear when Jay-Z moved out, but the unit he likely lived in, #10C, was sold in 2014 for $930,000.
Jay-Z's Tribeca Bachelor Pad
In 2004, before pairing off with Beyoncé, Jay-Z purchased a seventh-floor penthouse at 195 Hudson St. for $6.85 million. The apartment spanned 8,000 square feet, with an additional 3,000 square feet of terrace space. This was where the couple held their private, 40-guest wedding in 2008.
Movin' On Up to a Penthouse at the Time Warner Center
Sutton Place Homes Under $2 Million Article continues below
In 2007, Jay rented a 3-bedroom, 76th-floor penthouse at the Time Warner Center for $40,000 per month. The property was then sold for $31 million in 2011, setting a record for the most expensive recorded sale recorded in the building. 
Miami's Isle of Billionaires
After getting hitched in 2008, the couple snapped up a sprawling 7-bedroom, 8-bathroom Miami Beach compound at 40 Indian Creek Rd. Now this is what you'd expect from Beyoncé and Jay-Z real estate! The compound is part of Indian Creek Village, an exclusive, insanely expensive island in Miami's Biscayne Bay. There are just 35 homes on the island, all them belonging to big-time jet setters. Beyoncé and Jay sold the home for $9.3 million in 2010. 
The Carters Pick Up a Splashy Mardi Gras Mansion in NOLA
Where you are music industry royalty, you kind of have to own in New Orleans. Jay and Bey bought this historic church in the Garden District section of New Orleans in 2015. It's a departure from their modern digs in Manhattan, but with a lovely mix of bold colors, patterns and texture. According to Zillow, a company with ties to Beyoncé purchased the home, which was listed for $2.6 million.
A Sleek Sutton Place Condo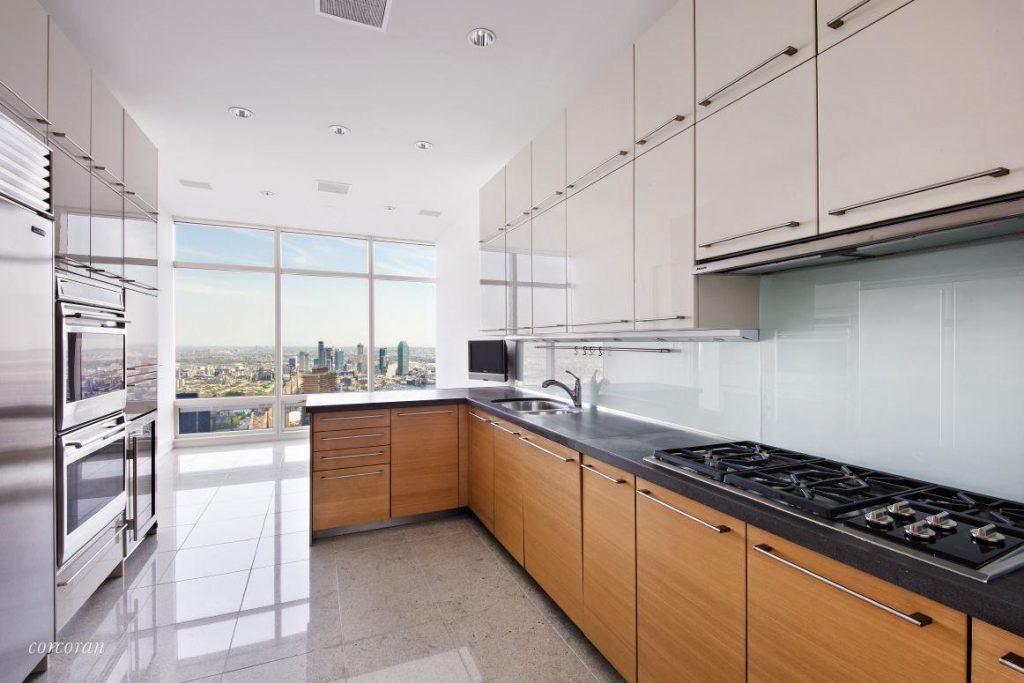 Beyoncé offloaded this 2,669 square-foot NYC condo in 2017 for the full asking price of $9,950,000. The spacious, 3-bedroom unit features 3 ensuite bathrooms and 11-foot ceilings, and the couple reportedly used it to house guests and visitors. As one should expect of any pad fit for Yoncé and Co., the 44th-floor corner unit has incredible views of the city, and interior finishes selected by Parisian designer Jacques Grange.
The Hamptons: They Came ….
Back in 2012, Jay and Bey headed out east, renting this Bridgehampton estate at 612 Halsey Lane for $400,000 for the month of August alone. Sound nuts? Maybe not. August is high season out there, after all. And the home is now for sale, asking $49.995 million.
… They Saw …
Later, they rented this equally baller estate at 30 Wainscott Highway in Wainscott. If $400,000 per month sounded too humble for Queen Bey, not to worry. She and Jay paid $500,000 a month for this 8-bedroom, 11.5-bathroom waterfront palace.
…. They Conquered
But the Carters have far too much cash to waste their time renting. They became bonafide Hamptons owners last fall fall, when they bought a palace know as the Pond House for nearly $26 million.  The property has plenty of space for Blue Ivy, Rumi, and Sir to run around without prying eyes, as it's next to a 17-acre nature preserve. Designed by famed architect Stanford White, contractor Jeffrey Colle decided to up the luxe factor by rotating the house 90 degrees, so its living room faces Georgica Pond.
A Malibu Rental for Bey's Maternity Leave
Some people go on babymoons and size up a bedroom or two when they have have a bun in the oven. Beyoncé? She performs at the Grammys and rents a $500,000 per month villa in Malibu. Six of one, half a dozen of the other, you know?
Check out the gallery below for a peek inside the 10-bedroom, 14-bathroom compound, which overlooks the Pacific Ocean.
A Bel-Air Mansion Fit for Royalty
Last August, the couple dropped a hefty $88 million on a new mansion in Los Angeles' famed Bel-Air neighborhood. The property is more like a mini-fiefdom than a house, encompassing six buildings, multiple pools, a basketball court, and separate quarters for the staff. The 8-bedroom home was the most expensive sale of 2017 in all of Los Angeles County, beating out even a new purchase by music mogul David Geffen. It's a true trophy home that reflects just how far this power couple has come.
[This post has been updated and republished.]
—
Whether you're looking to rent or to buy, find your next NYC apartment on StreetEasy.