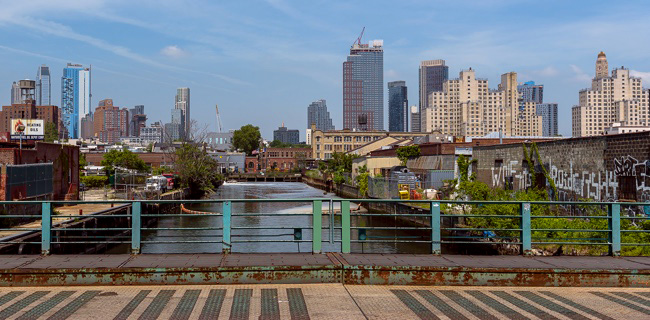 Here's a roundup of what we've been reading this week:
Read it and weep: Staten Island lays claim to city's highest density of native New Yorkers (DNAInfo) — Much to the chagrin of the other four boroughs, Staten Island is home to the highest percentage of residents born in New York State.
Better believe it: Everyone hates the BQE (The New York Times) — A photo essay pays tribute to one of the city's most maligned highways.
Say What? 10 Feet of 'black mayonnaise' to be removed from the Gowanus Canal (Curbed) — The Environmental Protection Agency announced plans to move forward with the next phase of canal dredging this week.
See it and smile: Classic album covers of the East Village and Greenwich Village, revisited (6sqft) — A photo essay compares iconic album covers from the 1960s and '70s to their modern day streetscapes
Lookee here: Your apartment building, revisited (Gothamist) — 80s.nyc, a mapping tool that uses historic photographs to recreate 1980s New York, allows you to explore what every street, avenue and building in the city looked like decades ago.
No surprise there: The top destination for NYC Airbnb users is NYC (Crain's) — Why leave, right? New Yorkers are most likely to book Airbnbs right here at home.
—
Hey, why not like StreetEasy on Facebook and follow @streeteasy on Instagram?
Related: