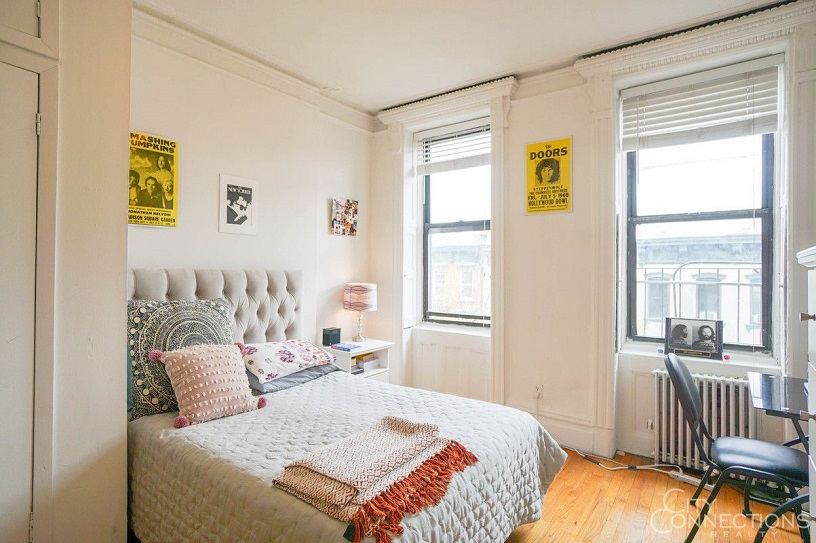 Why settle for a drab apartment that's simply "habitable" when you can have a bright and cheery place that feels like a home? This spacious and sunny East Village 1-bedroom gets you there at a price point below the neighborhood median. If you're ready to finally get your mattress off the floor, this one's for you.
Address: 338 E. 5th St. #17
Price: $2,475
Size: 1-bedroom
Neighborhood: East Village
Best feature: Kiss coffin-sized apartment living goodbye. This prewar East Village rental offers the airiness of a loft and spacious, clearly defined living areas. The bedroom's French doors are a nice touch and allow sunlight to filter through, while the separate, windowed kitchen is large enough to fit a small dining area. Speaking of the bedroom, it's huge by New York standards and offers closet space in addition to built-in nooks for additional storage. The molding details around the windows, walls and doorways add character and warmth to the space.
Located on East 5th Street between Second and First Avenues, this apartment is right in the thick of East Village nightlife and entertainment. It also doesn't hurt to be a short walk to the F train at the Second Avenue station, Whole Foods Market, and Tompkins Square Park.
Why it's a deal: At $2,475, the unit is $358 below the neighborhood median asking price of $2,833. Early birds who jump on this apartment can reap even more savings with a discounted $2,395 rate through August 1.
See East Village Rentals Under $2,500 a Month Article continues below
Biggest drawback: While there's much to love about this apartment, renters may be in for a bit of a workout as it's located in a five-story walk-up. We're not sure what floor it's on, but judging from the photos it looks to be on a higher floor. That said, you could ditch the gym membership and spend the cash on the neighborhood's endless restaurant options.
See the listing: 338 E. 5th St. #17, listed by Christine Carter and Alexander Mecum of City Connections Realty.
—
Send your NYC real estate stories and tips to StreetEasy editors at tips@streeteasy.com. You will remain anonymous. And hey, why not like StreetEasy on Facebook and follow @streeteasy on Instagram?