Five years after Hurricane Sandy made landfall in New York City, and at a time when recent natural disasters are gripping the nation's attention, a StreetEasy analysis shows that the areas hit hardest by Sandy-related flooding have seen an explosion in new development.
New Yorkers are heading to the most flood-prone areas of the city, fueling a boom in construction and higher housing prices, despite the dangers revealed by the storm only a half-decade ago.
"The demand for new housing has proven stronger than the memory of Sandy's destruction," says StreetEasy Senior Economist Grant Long. "The pace of waterfront development conflicts with the lessons of Sandy and this year's hurricane season, and calls the wisdom of development in some flood-prone areas of the city into question."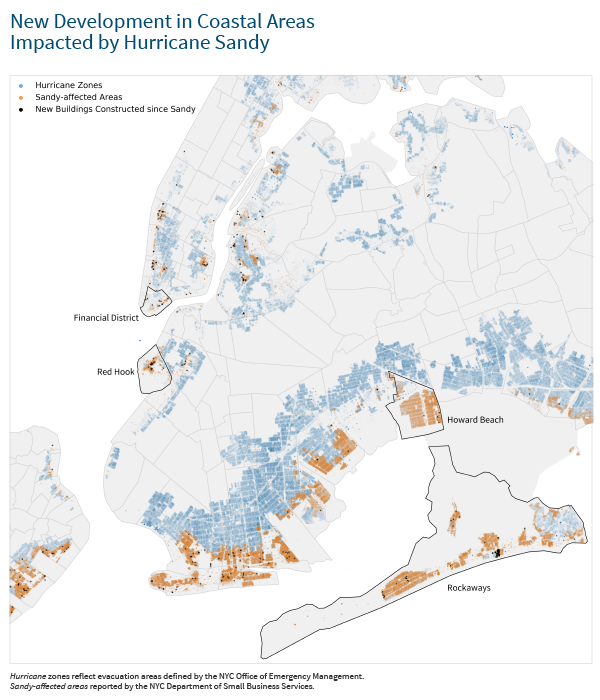 Sandy hit major parts of New York City on Oct. 29, 2012, and the recovery from its impact has varied widely across the city housing market. Long-desirable areas like Downtown Manhattan and Northwest Brooklyn have seen the most new construction and price growth of any affected neighborhoods.
Meanwhile, flooded parts of outer Queens and Staten Island have recovered without seeing rapid price growth. In these waterfront areas, home inventory and, in some cases, new development rose dramatically after the storm, but the number of recorded sales has remained stagnant — suggesting that the impact of Sandy did not change the calculus for many New Yorkers about which neighborhoods are most desirable.
"There were over 90,000 buildings in the flood zones when Sandy hit," Long says. "In the immediate aftermath of the storm, there were serious discussions over storm surge barriers and other methods to best protect the city from future storms. Five years later, few of those plans have materialized, and we are stockpiling those very same flood zones with even more homes."
Waterfront Development: What's Changed
In a city spread across multiple islands, waterfront development is unavoidable. After the storm in 2013, the city changed building codes to ensure that future waterfront development would better resist flooding. Developers are now required to locate a building's utilities on higher floors, not in basements. Toilets and faucets must be operable without power. New developments must encourage the use of renewable energy and ensure there's a backup source if the power grid fails.
Yet, according to a recent report from the magazine City and State, it's unclear how many new structures have been built to these specifications. While resilient designs and evidence of the new building codes are appearing in large developments, it's practically impossible to track compliancy across the city, especially for smaller multi-family and single-family home development.
Different Neighborhoods, Different Recoveries
In the aftermath of Sandy, 300,000 homes were flooded, almost two million New Yorkers were without power, and nearly $23 billion was spent on recovery efforts. Yet the years after the storm altered neighborhoods in different ways. As development thrives in some vulnerable waterfront areas, and with New Yorkers always searching for good deals in a competitive housing market, StreetEasy assessed how a few key New York neighborhoods have bounced back in the five years since Hurricane Sandy.
The chart below tracks asking price and sales inventory from 2011 to 2017 in the Financial District, Red Hook, the Rockaways and Howard Beach. These four areas were some of the hardest hit by Sandy, and showcase the city's divergent recovery stories. Below we consider each area in detail.
Recovery in NYC Flood Zones

Financial District: The Appeal Endures
According to StreetEasy data, Sandy did not have a lingering impact on home sales in the flood zone areas of the Financial District. Sales inventory dropped in the immediate aftermath of the storm, but returned to pre-storm levels by the first quarter of 2014. Even with diminished inventory, recorded sales volume and price grew steadily in the last five years. In the first quarter of 2017, the median sales price of homes in the parts of the Financial District most affected by Sandy passed $2 million for the first time, and it remains over $1.5 million as of the third quarter of 2017.
The performance of the Financial District after Sandy tracks with national patterns showing that coastal property maintains its appeal despite vulnerability to future storms and flood damage. In dense urban centers like Manhattan, this trend is even more apparent. The Financial District has a unique appeal for both New York City residents and developers. In the five years since brackish seawater inundated the lobbies of the area's luxury apartment towers, nine new developments have broken ground in the very same flood zone.
The new development at 1 Seaport, which topped out earlier this year, exemplifies the growth taking place in Lower Manhattan. The building broke ground in 2016, and when completed will rise 60 stories, shooting up amid the Downtown Manhattan skyline like a glassy blue pillar.
Although its location suggests minimal regard for future flood risk, the design of 1 Seaport meets the post-Sandy building code. The lobby rises two stories above ground level, and all mechanical systems are located out of the basement. The building's architects also performed wind tunnel studies to ensure that the tower could withstand gusts comparable to Sandy's strength.
Based on recorded sales for sponsor units in the buildings, weather does not seem to be a deterrent for buyers. Thus far, 36 units have sold, with prices averaging $4.180 million.
"One Seaport is a testament to the manifest destiny approach developers and investors are applying to the New York City housing market," Long says. "Nothing is too tall, too expensive or too close to the water."
The Rising Tide Continues in Red Hook
Red Hook has seen an extremely active real estate market since Sandy. The cobblestone streets and historic housing stock of the neighborhood were devastated by the storm — especially the NYCHA-owned Red Hook Houses along Lorraine Street — but lately the area has seen sizable growth in its sale and rental markets as well as spate of new development. Since the storm, 27 new residential buildings have been constructed in Red Hook, with all but two located in flood zones.
Sales inventory has accordingly risen from 20 listings in the third quarter of 2013 to 77 in the third quarter of 2017. The median sales price kept up with rising inventory, increasing from $790,000 in 2013 to $1.545 million in 2017. The rental market has also seen dramatic increases, shooting from 36 units in 2013 to 154 four years later.
Yet while Sandy preceded major changes in Red Hook, it did not precipitate them. The area already held promise for adventurous buyers, renters, and developers, and was undervalued compared to nearby neighborhoods like Dumbo and Brooklyn Heights.  Sandy simply did not deter growth. Some 25 residential and commercial projects have broken ground in the area since 2015, according to StreetEasy's database of building records.
"Building in Northwest Brooklyn has boomed since 2012," Long says. "The pace of development in areas including Downtown Brooklyn, Fort Greene and Dumbo is nearly unprecedented. Many who might not be able to afford units to the north and east of Red Hook view the area as an alternative with quiet streets, pleasant views, and more affordable prices, despite the legacy of Sandy."
Red Hoek Point, named after the old Dutch moniker for the area, is a new development deeply conscious of the risks posed by waterfront construction. Taking over the site of a former sugar factory on one of Red Hook's historic piers, the 645,000-square-foot building will feature a deployable flood wall to protect against future storm surges. Its innovative design has won overwhelmingly positive press, and may set a new standard for development in this flood-prone area.
The Rockaways Boom in the Wake of Sandy
In the Rockaways, Sandy did act as a catalyst for new development, precipitating a boom in resale inventory and new development. In the five years since the storm, sales inventory has increased from 20 units in the third quarter of 2013 to 147 units in the same period of 2017, partially due to the huge amount of new construction. According to StreetEasy, 86 new residential buildings have gone up in the last five years — the most in any NYC flood zone.
While increases in resale properties could be due to existing homeowners seeking to unload vulnerable property, the rise in new development likely reflects developers' belief in the enduring appeal of coastal property. Yet the recovery here has taken some time.
Median recorded sales price in the Rockaways dropped immediately after the storm, from $357,500 in the fourth quarter of 2012 to $207,870 in the second quarter of 2013.  And despite substantial private and public investment after the storm, it took until last year for prices to reach what they were in the years before Sandy.
"After an event like Sandy, it's much more difficult for a niche market like the Rockaways to recover than it is for a more centrally located area with high demand like Downtown Manhattan," Long says. "The core infrastructure of the Rockaways took a huge hit, and the recovery took longer as a result."
Recent infrastructure investment in the Rockaways includes a 5.5-mile storm-resilient boardwalk and a project led by the Army Corps of Engineers to build sand dunes and jetty-like structures to fortify the area against tides and storm surges. But it is yet to be seen what private developers may do to protect residential buildings.
A new condo at 147 Beach 116th Street, dubbed One Sixteen, is slated to bring 90 new units to the area. This is the Rockaways' first instance of large-scale development since Sandy. While the building's website touts numerous luxury amenities and nearby activities, there are no mentions of any resiliency measures.
Howard Beach Sees Prices Plateau
In Howard Beach, the lasting impact of the storm on inventory levels and recorded sales volume has been marginal. The neighborhood was decimated by Sandy, and in its aftermath saw a substantial increase in for-sale properties. Between 2013 and 2017, sales inventory increased from 13 to 77 units. As inventory in the area has grown, recorded sales prices have only risen modestly. In 2013, the median price in Howard Beach was $200,000; as of this year, it only reached $262,000.
Howard Beach has also not seen the same development boom as the Rockaways, with only three new buildings entering the market. The cause for this is likely twofold. First, Howard Beach is not truly beachfront — it's on Jamaica Bay  — and as a result does not carry the same appeal for buyers as the Rockaways. Second, Howard Beach is already much more dense. With 6,594 residential buildings compared to 459 in the Rockaways, there is simply less room to develop. Given the pre-existing market conditions in the area, Howard Beach's performance after Sandy is what we would expect of a more remote and less competitive market.
Risk Awareness Is Essential
Real estate values aside, what is most critical for vulnerable coastal areas is construction and infrastructure that is conscious of risk. While some new developments have implemented protective designs — especially in the Financial District and Red Hook — in order for New York be stronger and more resilient in the face of certain future storms like Sandy, these practices must be built into the fabric of the city.
—
Hey, why not like StreetEasy on Facebook and follow @streeteasy on Instagram?
Related: