There are plenty of reasons to love Queens, NYC's largest borough. One of its many gems is the neighborhood Jackson Heights, with its easy commute to Midtown Manhattan, charming residential streets, and lively main avenues. Formerly farmland, the area became home to the country's first "garden apartments" in the 1920s.
Visitors can expect to find a vibrant and diverse area with many historical buildings. Best of all, budget-minded renters and homebuyers won't be disappointed. As of November 2021, median asking prices for rentals ($2,100) and sales ($395,000) were much less than the borough's overall numbers — not to mention Brooklyn's and Manhattan's medians.
Jackson Heights Historic District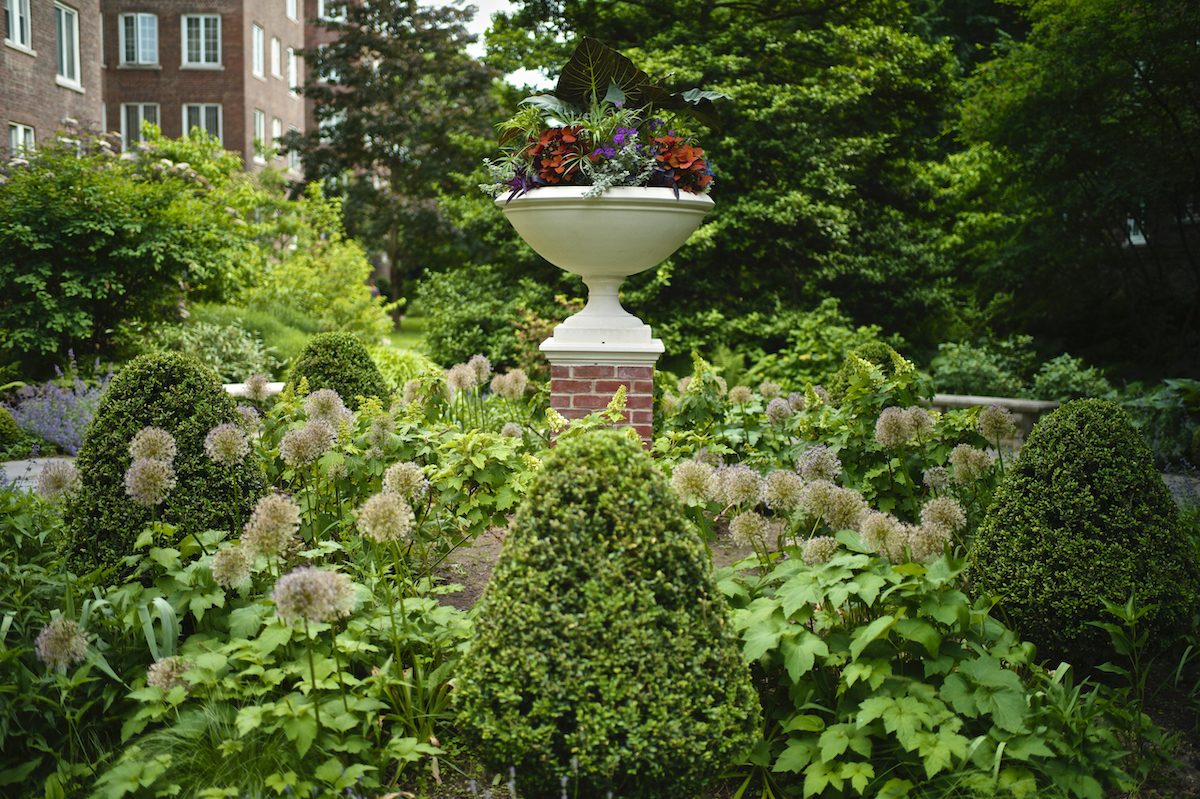 The bustling arteries of Roosevelt and 37th Avenues are well known, but Jackson Heights' bucolic historic district is a hidden surprise. Here, each garden apartment complex rings the block's perimeter, encompassing vast interior courtyards. That means every resident has a window overlooking the garden! The exteriors have lush greenery too. One can walk down any street and see something blooming — even in winter. With towering century-old trees, these streets are quiet and shady.
What Types of Apartments Are in the Historic District?
The buildings in the historic district encompass various architectural styles: Tudor, Georgian Revival, Italianate, and more. The apartments are generously sized with 10- to 12-foot ceilings and amenities like sunrooms, fireplaces, and Juliet balconies. "One of the best things about the housing stock," says Karatzas, "is how it runs the spectrum from luxurious — units that take up an entire floor with their own private elevator — to modest walkups." Learn more about different apartment types.
Many boast period details like dumbwaiters, root vegetable garden boxes, and a servant's bedroom and bath past the kitchen. Also unique: All of the historic apartment buildings have names — many modern ones, too, in keeping with tradition — and you will hear residents refer to living in "Hampton Court" or "the Berkeley" rather than giving an address. The gardens also range in styles from manicured parks to European-inspired landscaping.
Can you see the gardens without living there?
While these historic buildings are private, the Jackson Heights Beautification Group hosts a Jackson Heights Historic Weekend every June, when the gardens are opened free to the public. Events include walking tours, lectures, and exhibits that feature archival photos, blueprints, newspaper clippings, and original real estate ads.
Of course, you'll find new residential buildings in Jackson Heights too. Roosevelt Parc, for example, offers tenants spectacular vistas of the neighborhood and the Manhattan skyline.
Jackson Heights Has a Thriving Food Scene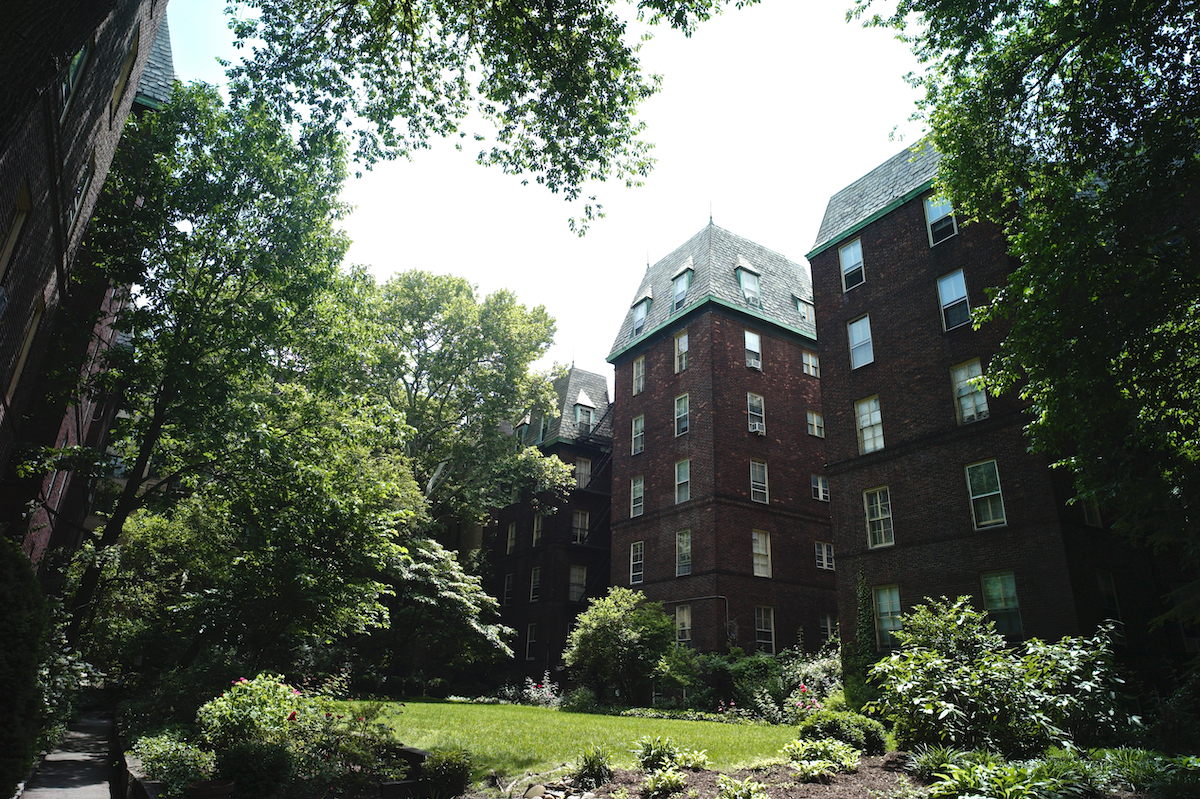 Jackson Heights offers a globe-spanning array of food, from samosas and Thai curry to Korean fried chicken and tacos.
For those who like to cook, markets and mom-and-pop grocers are abundant, catering to a broad range of tastes and cuisines. And everything is reasonably priced, or as locals like to say, "Queens prices."
Jackson Heights also hosts a farmers' market on Sundays. It's located on 34th between 79th and 80th, in front of I.S. 145 Joseph Pulitzer, a middle school serving nearly 2,000 students.
Quirky Historical Landmarks
Alfred Mosher Butts, the inventor of Scrabble, lived in Jackson Heights. The Community Methodist Church, on the corner of 35th Avenue and 81st Street, records the game being played there. If you look up while standing outside, you'll see the street sign bears scoring numbers under each letter of the street name, as if the letters were Scrabble tiles, in a tribute to Butts.
The Leveriches were among the oldest families in the neighborhood, having settled here in 1662, according to Karatzas. The Leverich Cemetery family burial plot is hidden down a winding alley. It's now under the care of JHBG and Hibridos Art Collective, which hosts weekly activities open to the community.
It's an Easy Commute to Midtown Manhattan
With five subway lines (E, F, M, R, 7) to choose from — including two express options — there are always trains running. The reliable Jackson Heights station rarely experiences shutdowns. But when they do happen, the city provides alternatives like additional bus routes. On the average weekday, commuters can zip to east Manhattan in about 10 minutes and midtown in 20. Several bus lines also serve the subway station; three can take you to LaGuardia Airport in less than 15 minutes, including the Q70 express. No neighborhood in Manhattan can beat that! Discover more affordable Queens neighborhoods for renters.