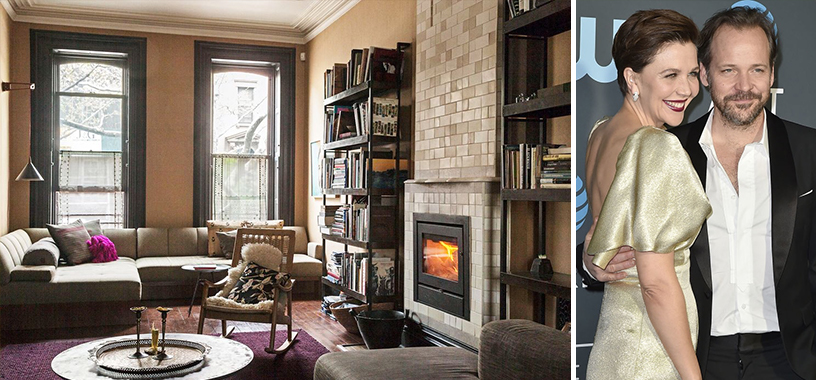 After 12 years of ownership, Maggie Gyllenhaal and Peter Sarsgaard are selling their Park Slope brownstone. According to the Wall Street Journal, the couple moved to the neighborhood in search of more space and peace and quiet and, "to be able to walk [the children] to school." Now that their daughters are older, they have decided to move on and are listing the four-story brownstone for $4.599 million.
The couple purchased the property back in 2006 for $1.910 million. At the time, it was a two-unit structure, but Gyllenhaal recruited friend and former neighbor, architect Elizabeth Roberts to help turn the townhouse into a single-family home. Mixing a laid-back, bohemian style with quintessential historic details and some luxury touches, the home is just how you'd imagine well-read stars of stage and screen would live. We are loving the woodwork, but especially the wooden bathtub in the master bathroom, which was reportedly imported from Scotland.
The 4-bedroom home dates back to the 1880s and features some classic Victorian details, including several working fireplaces. Modern touches include a movie projector in the parlor and a new Dutch fireplace. The outdoor space is reportedly Sarsgaard's inspiration and is filled with plantings such as a Meyer lemon tree and it has an outdoor tub.
The couple was among the first A-listers to settle down in Brooklyn, starting a wave of indie and A-list stars to follow in their footsteps. When they purchased back in 2006, some stars lived in Brooklyn, including Michelle Williams, but the borough was not the hotbed of Hollywood names that it is now. It would be another 10 years before other stars like Emily Blunt and John Krasinski and Matt Damon and his wife, Luciana Barroso would also land in Brooklyn.
—
Hey, why not like StreetEasy on Facebook and follow @streeteasy on Instagram?