While Sex and the City would like us to believe that New Yorkers eat all their dinners with Mr. Big, their brunches with girlfriends, and snacks at Tasti D-Lite, most young city-dwellers on the hustle can't afford Carrie Bradshaw's lifestyle.
Life on a budget in the city means we're often either schlepping our stuffed reusable bags back from the grocery store or hurriedly elbowing onto the subway to ensure we make it home in time to accept our scheduled grocery delivery. But when it comes to choosing a grocery store or food delivery service, which one is the best fit and most economical? Here's a roundup of NYC's best grocery stores and delivery services such as Max and FreshDirect.
How'd we size them up? We employed the tried-and-true quinoa test, which is comparing the cost of quinoa among grocery stores. Let's be real, you know you won't eat it if doesn't have quinoa in it.
Cost of quinoa: $9.49/12 oz. box
In most Brooklyn neighborhoods, there's a Key Food within walking distance. In the pre-online grocery store days, their ubiquity was a godsend and their prices for staples like dairy, canned goods and cleaning products made them the local favorite. Their produce leaves something to be desired and for specialty items – think quinoa, almond milk, etc. – the prices are much higher than other grocery stores. For example, a 12 oz. box of Ancient Harvest brand quinoa will cost you $9.49 at your local Key Food. That's a quite a bit of dough to cough up for a staple grain.
Cost of quinoa: $5.49/12 oz. box
The first time I went to Fairway, I thought I was in grocery heaven. Known for its fresh produce, bulk bins and great weekly deals — have you seen the cheese section at the UWS location? — Fairway is a city favorite. Ancient Harvest's quinoa was on sale this week; a 12 oz. box cost me just $5.49, marked down from its usual $6.59 price tag. But the reduced price comes with reduced convenience. With just six locations in the city, you're likely looking at having to lug that quinoa home on the subway with you.
Fairway, however, will deliver free on orders over $30, or $7.99 as a standard fee, assuming you live within their delivery zones.
Cost of quinoa: $7.99/12 oz. box
Colloquially known as "Whole Paycheck," it's no secret that Whole Foods can oftentimes feel more expensive than your local grocery store and, it usually is! If you love the store, but feel it's out of your price range, stay on top of their sales. One of my favorite food blogs, Budget Bytes taught me Whole Foods' weekly deals can occasionally help you get a great price on a top quality product. And don't be so quick to blow off Whole Foods for pantry staples. Sometimes it is actually cheaper than local grocery stores, as is the case with our beloved box of quinoa: $7.99 for 12 oz. of the Ancient Harvest brand – more expensive than Fairway, but cheaper than Key Food.
This is all well and good, you may be thinking, but what about when I don't have time to hit up the grocery store? I hear you – New Yorkers are busy folk; it is the city that never sleeps after all. Luckily, one of the perks of living in a major metropolis is there is no shortage of grocery delivery services. How does our #necessary box of quinoa stand up to the demand of laptop-to-fridge grocery shopping?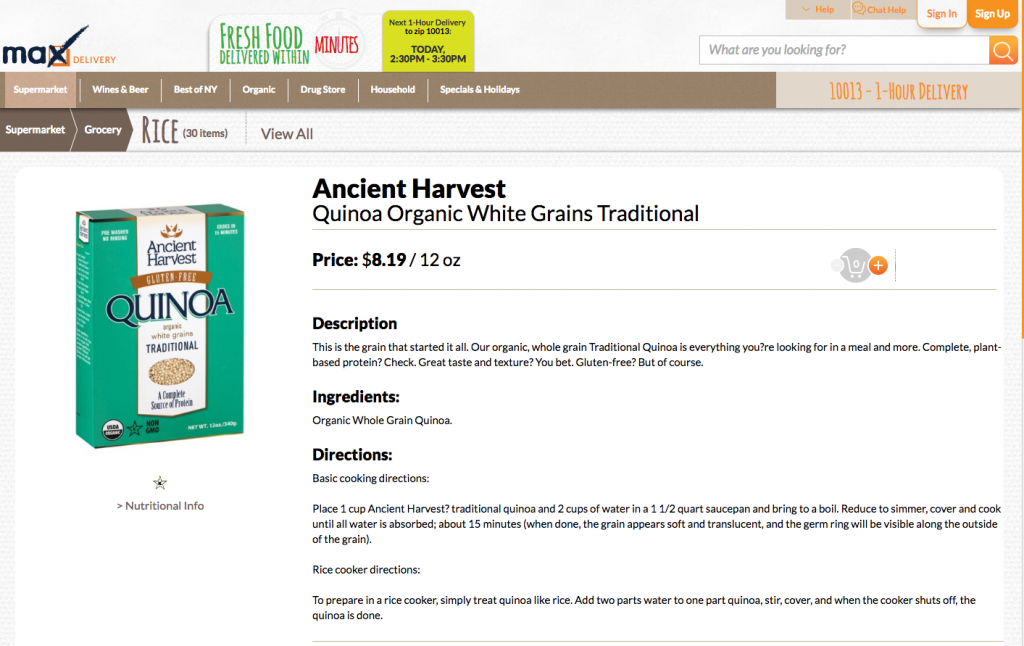 Cost of quinoa: $8.19/12 oz. box
Can't wait until tomorrow for your groceries? Enter Max Delivery, NYC's one-hour grocery delivery service. Sounds great, right? Don't get hooked yet. Before you fill your cart, be sure to check if they deliver to you. At the moment, Max only delivers to Manhattan residents south of 110th Street, which leaves many New Yorkers high and dry. If you are among the lucky Manhattanites that can take advantage and are curious how your box of quinoa measures up, here you are: our 12 oz. box of Ancient Harvest will cost you $8.19, plus a delivery fee of $5.95. But, if your order is over $100, delivery is free!
Cost of Quinoa: $6.59/12 ox box
Perhaps the most well-known grocery delivery service in NYC, FreshDirect promises quality products with an emphasis on sustainable and local food sourcing. It's like getting farmer's market kale without leaving your couch. For a flat fee of $5.99, Fresh Direct will deliver your groceries during a designated two-hour time slot of your choosing (usually the next day). Or, you can sign up for Delivery Pass: $69 gets you unlimited free delivery for six months and lets you reserve your preferred time slot. If you use FreshDirect every week, this could cut your delivery charges down by more than half. Sold? Not so fast – let's take a look at that box of quinoa. In general, I've found that the convenience of FreshDirect is mitigated by a decreased lack of choice; FreshDirect doesn't always seem to have my favorite brands. This is the case for our box of quinoa. They don't sell the Ancient Harvest box, but they do have a similar 12 oz. box of Roland's quinoa selling for $6.59.
Related: