The pandemic has changed the renting and selling game, with more homeowners trying to attract both renters and buyers with what StreetEasy calls a simultaneous listing, a home listed for rent and for sale at the same time. StreetEasy calculated the number of simultaneous listings appearing on StreetEasy between 2014 and 2021. The research revealed that units listed simultaneously for rent and sale jumped by 98.1% from 2019 to 2021, by 70.5% from 2019 to 2020, and by 16.2% from 2020 to 2021.
What's driving the spike in simultaneous listings? Homeowners with empty homes for sale were exploring their options for earning income on their properties. With the rentals market recovering – median asking rents were 8.2% higher in Q4 2021 compared to the first quarter of the previous year – there's more incentive to list a home for both rent and sale.
Nearly All Simultaneous Listings Are in Manhattan
In 2021, 93.6% of simultaneous listings were in Manhattan, compared to 3.3% in Brooklyn, 2% in Queens, and 0.7% in the Bronx. That said, it is no surprise that the top 25 buildings with simultaneous listings in 2021 were all in Manhattan. The Greenwich Club in the Financial District had the most in 2021, with 10. In second place is 75 Wall Street in FiDi with nine. What these buildings have in common is that they are all luxury, high-rise condos in central office centers, such as Midtown and Financial District. Condo buildings like these were hit the hardest by the sales market slowdown of 2018 to 2020 and are currently recovering the fastest in prices.
And the data makes sense: Manhattan had more empty units during the pandemic because sellers who could afford to purchase in Manhattan in the first place had the financial means to pack up their bags and move out of the city temporarily or permanently. Moreover, Manhattan condos typically attract investors and those seeking a second residence, making the borough home to the most vacant units.
NYC Rentals Under $3,000 on StreetEasy Article continues below
The Strong Housing Market Boosts Simultaneous Listings
Let's unpack this phenomenon seemingly unique to New York City. Homeowners were trying to get the best price on their properties when many New Yorkers decided to flee the city due to work from home. In 2020, the sales market was on pause, and rents fell precipitously.
In 2021, the housing market began to turn around for rentals and sales. Simultaneous listings increased as more homeowners tried to take advantage of the growth of both markets.
Now, rents are rising and demand to live in NYC is strong, making it easier for homeowners to find a renter to move in. It is a critical factor in the increase of NYC homeowners listing their properties in both the sales and rentals market.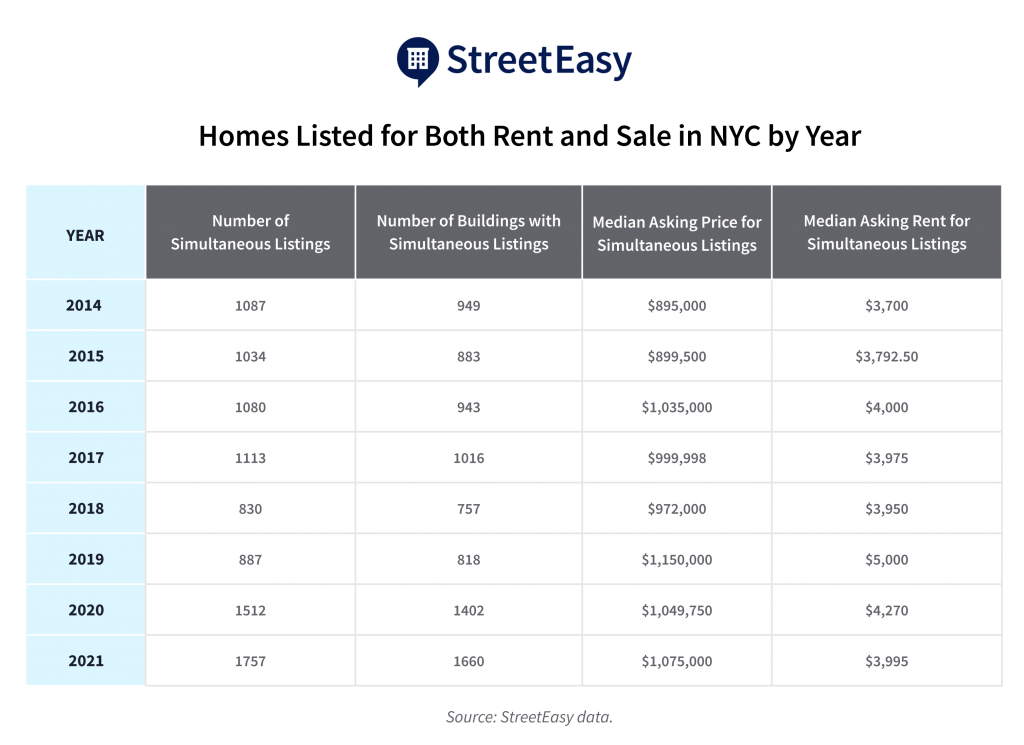 Asking Rents Fall as Owners of These Homes Remain Flexible on Price
Median asking rents for simultaneous listings dropped by 20.1% from 2019 to 2021. In previous years before the pandemic, rents for these listings rose steadily, parallel to the rental market. Interestingly, these same homes' median asking sales prices stayed relatively flat. In this context, the significant drop in asking rents from 2019 to 2021 could be a strategic decision made by homeowners. For instance, many sellers may have moved out of the city and listed their homes both for rent and sale to get the best deal possible. Demand for rentals was high in 2019, and sellers listing simultaneously wanted to take advantage of a strong market.
Even though the rental market started recovering in 2021, many renters were still looking for below-market deals in the condo market. Condo owners without steep overhead costs may have obliged. Offering lower rents helps homeowners find tenants quickly to help cover costs.
The big upshot units can stay on the sales market longer to get the highest prices.
NYC Homes for Sale Under $700K on StreetEasy Article continues below
What Are the Top Takeaways for Home Sellers?
For the typical seller thinking of listing, get a private and free valuation of your home. The StreetEasy Valuation tool shares estimated sales price and estimated rent for properties. You can also refer to the StreetEasy Data Dashboard to get up to speed on the sales and rentals market in any neighborhood.
Homeowners who are not in a rush to sell (and have another place to live) may consider listing their home for sale and for rent. Rents are rising, and renter demand is expected to increase as we approach the busy warmer months. And while it's impossible to time the market, sales prices have been growing after a three-year slowdown and show no signs of slowing. Since both markets are strong and show no signs of slowing, why not simultaneously list if you are open to delaying your sale and being a landlord?
---
Disclaimer: StreetEasy Valuation is our estimate for a home's market value and is not an appraisal. Use it as a starting point to determine your home value and monthly rental price.