If New Yorkers have learned anything from the pandemic, it's that access to the outdoors is key. And in the city, that often means NYC waterfront parks. These shoreline sanctuaries provide a refuge from the hustle and bustle of daily life. While the greenery and water views are enough to incite an audible sigh, many of these parks are packed full of activities worthy of a full-day itinerary. But since NYC has more than 1,700 parks across its five boroughs, it can be tough to narrow down which ones to visit. So to help you out, we are sharing the best NYC waterfront parks to visit right now.
Williamsburg Rentals Under $3000 on StreetEasy Article continues below
1. Domino Park in Williamsburg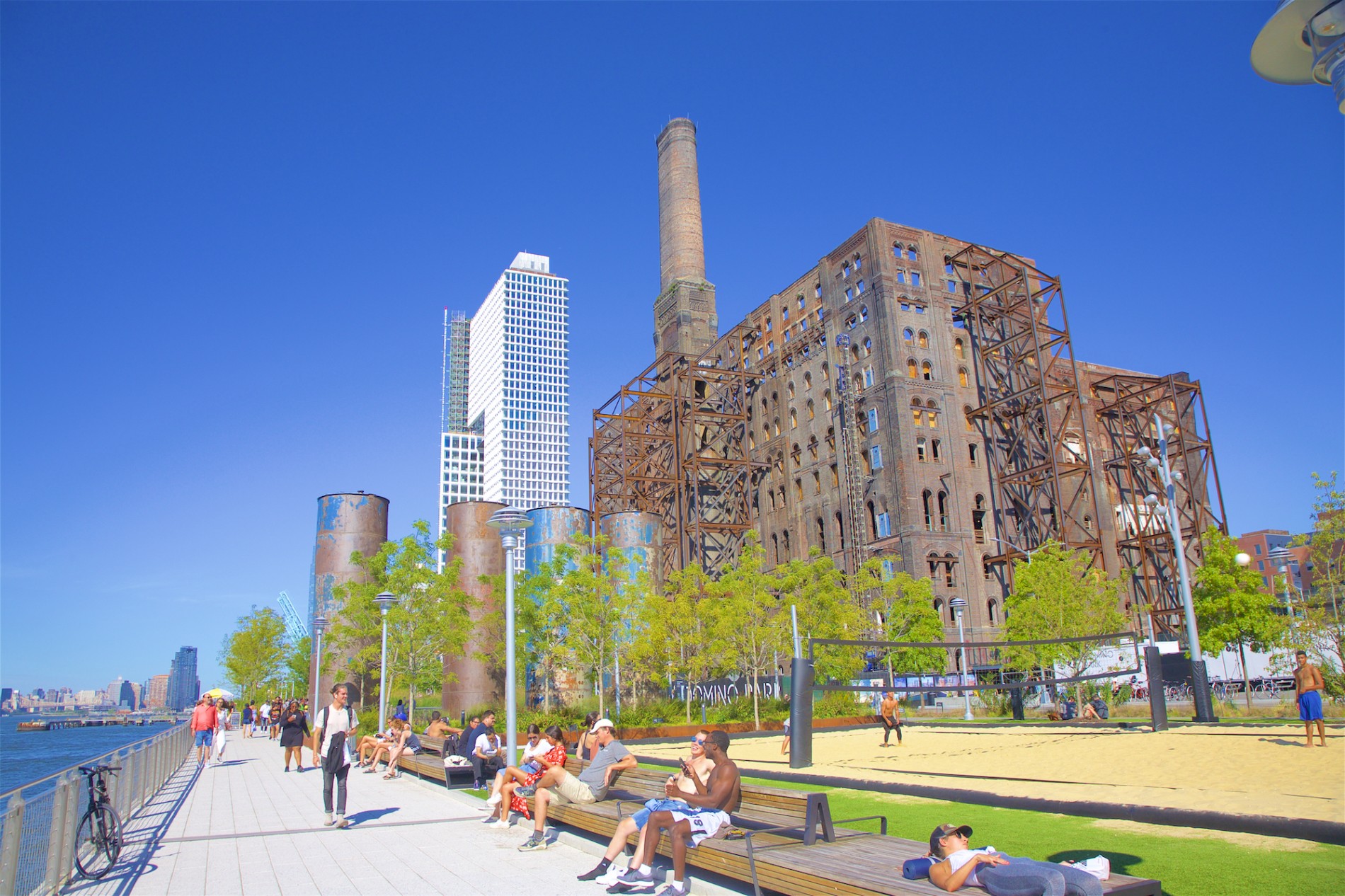 Opened in 2018, Domino Park spans five acres along the East River shoreline where the Domino Sugar Refinery once stood. While part of the factory remains, much of it was demolished to create several public entertainment sites. Now there's a children's playground, volleyball court, elevated walkway, dog run, a dancing fountain with eight-foot-tall spurts of water, plus one of the top gardens in NYC to visit. There's even a low-key Mexican eatery called Tacocina. And of course, that's all in addition to the open green space — which includes the four-season turf lawn — strewn with chairs and benches that face downtown Manhattan. While there, be sure to check out all the historic items salvaged from the factory, like syrup collection tanks that now act as unique decor at this NYC waterfront park.
2. East River State Park in Williamsburg
Stretching for seven acres along the East River in Williamsburg, East River State Park (also known as Marsha P. Johnson State Park) is a former 19th-century shipping dock. It's located just north of the newer Domino Park. The park boasts unique historical remnants like railroad tracks and cobblestones alongside native meadow plantings. It, too, faces the Manhattan skyline, which serves as a backdrop to the park's open green space. But this NYC waterfront park is currently undergoing extensive renovations. Upon completion in Summer 2021, it will feature a new park house with public restrooms, classroom space, and a park ranger contact station. The concrete event pads are also being refurbished. The park will also be adding new furniture and a modern stormwater management system. Because of the renovations, some parts of the park will be temporarily limited. Still, the north section of the park and the dog run will remain open via the Bushwick Inlet Park.
How much does it cost to live in Williamsburg?
As of May 2021, the median asking rent was $2,850. Homebuyers can expect to see a median asking price of $1.4 million in this Brooklyn neighborhood. FYI, budget-minded renters may want to consider living in Bushwick.
Greenpoint Rentals Under $3000 on StreetEasy Article continues below
3. WNYC Transmitter Park in Greenpoint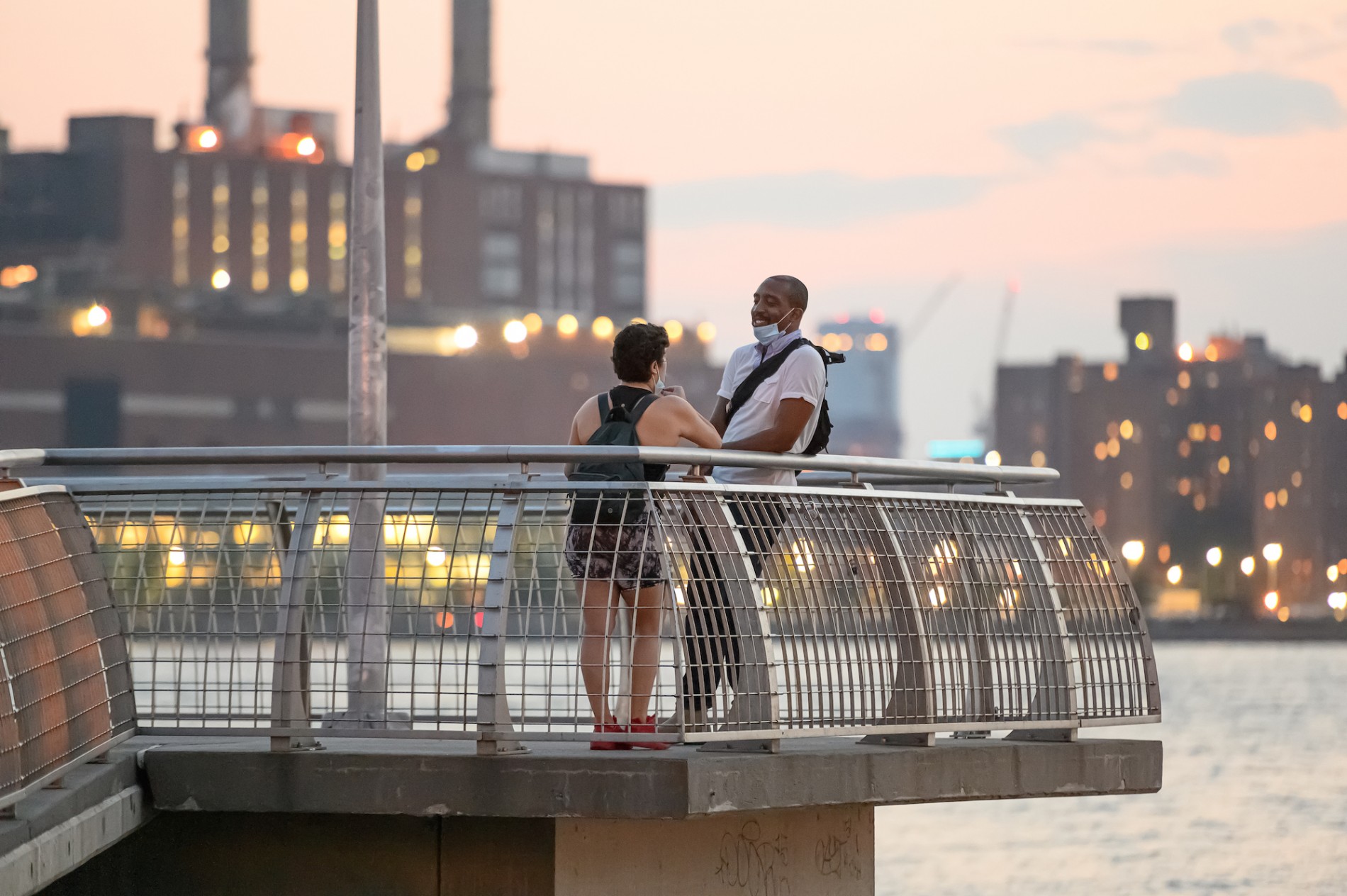 WNYC Transmitter Park was once home to radio transmission towers but is now a green space on the East River. It offers its visitors excellent vistas of the Downtown and Midtown Manhattan skyline. The park features a sprawling lawn, a children's play area with a nautical theme, gardens, a pedestrian bridge, and a recreational pier where you can fish. The six-acre NYC waterfront park is still home to WNYC's old transmitter house, with a new massive mural of a girl with flowers by the artist Faile covering one of its walls.
How much does it cost to live in Greenpoint?
The median asking price for a home in Greenpoint was $1.3 million as of May 2021. Meanwhile, renters can expect to see a median asking rent of $2,783. Here's what renters and home buyers should know about Greenpoint.
4. Brooklyn Bridge Park in Brooklyn Heights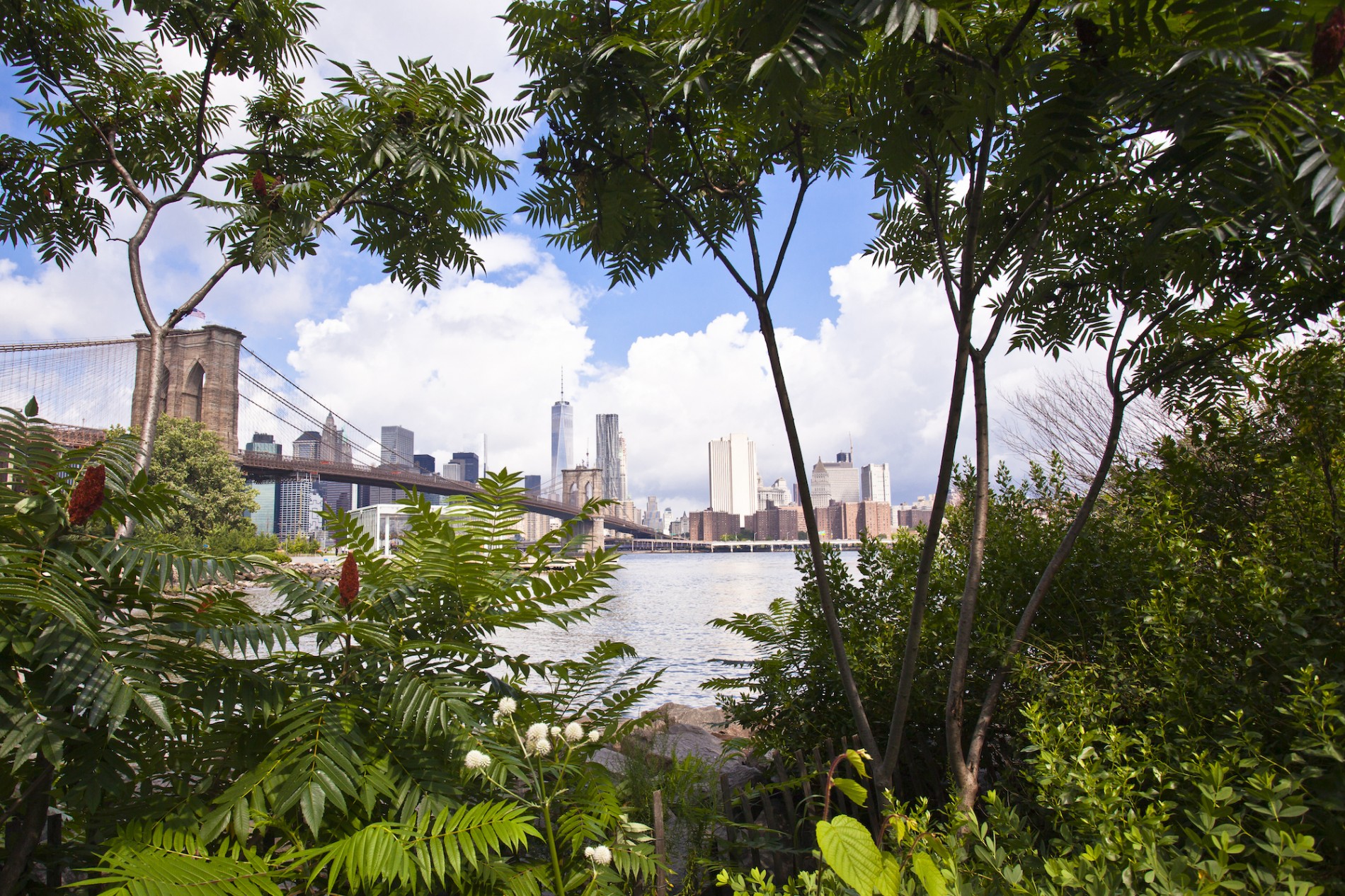 Brooklyn Bridge Park stretches 1.3 miles along Brooklyn's East River shoreline, from the Columbia Heights waterfront district to the Manhattan Bridge in Dumbo. Its promenade is marked by six different piers and looks over Lower Manhattan. Active New Yorkers and visitors will love the several recreational facilities, including basketball courts, sports fields, and Brooklyn's newest roller skating rink. Youngsters can also get their energy out at one of the many playgrounds. Kids have plenty of options for fun, from a giant sandbox and Tarzan swing to a ship-shaped jungle gym and two-story slide. The NYC waterfront park also has the basics, like the dog run and the classics, like the carousel. Top-notch food is plentiful here as well, with Brooklyn favorites Fornino pizza and the award-winning Ample Hills Creamery on site.
How much does it cost to live in Brooklyn Heights?
As of May 2021, the median asking rent was $2,900. The median asking price for home sales was $1.6 million.
Brooklyn Heights Rentals Under $3500 on StreetEasy Article continues below
5. Little Island in the Meatpacking District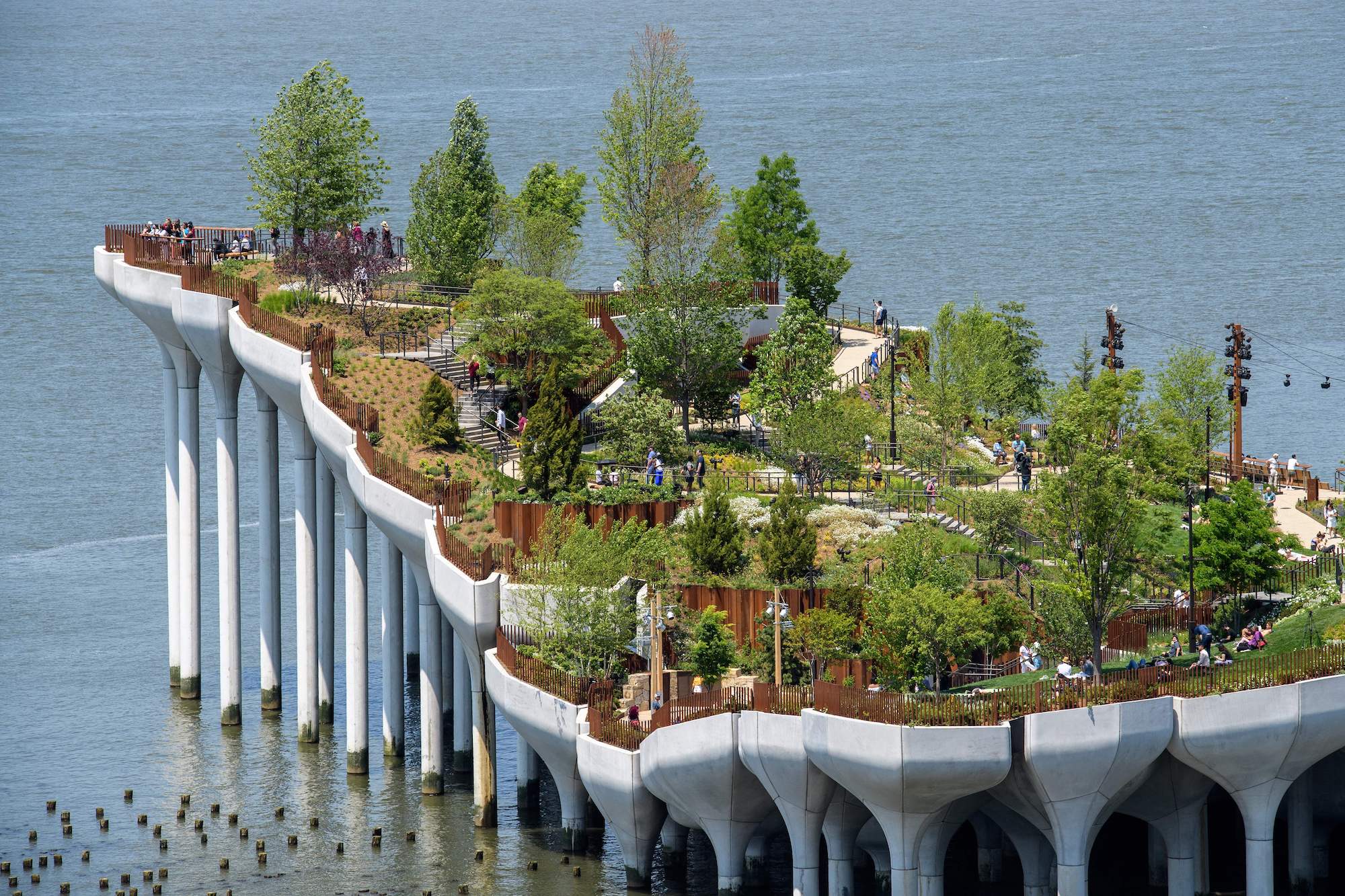 Manhattan's newest — and very anticipated — park opened on May 21, 2021, as part of Hudson River Park. Hudson River Park Trust, Barry Diller, and his spouse Diane von Furstenberg announced in 2014 that they would create an island to replace the dilapidated Pier 54. Over the years, the futuristic-looking structure designed by renowned architecture firm Heatherwick Studio took shape. The 2.7-acre public pier is now open and features a topographically diverse parkland designed by Signe Nielsen of MNLA.
The goal was to create a NYC waterfront park for New Yorkers and visitors alike to immerse themselves in nature and art. That's why the park features a slew of art-related events. For example, Little Island hosts an Artist Series highlighting musicians and free arts activities for families in The Glade. You can also download a self-guided audio tour explaining the island's various plants, trees, and flowers. No worries if you get hungry. Little Island has several food trucks dishing everything from local baked goods and coffee to fresh salads and sandwiches. And don't forget, while this is a free, public space, you need to book a reservation to visit after 12:00 p.m.
How much does it cost to live near the waterfront park Little Island?
The Meatpacking District is usually considered to be part of the neighborhood Chelsea. The median asking price in Chelsea was $2.2 million as of May 2021. The median asking rent sat at $3,658.
Manhattan Rentals Under $3000 on StreetEasy Article continues below
6. Greenwich Village Upland in the West Village
Like Little Island, Greenwich Village Upland is a unique section of the four-mile-long Hudson River Park. It stretches across Piers 45, 46, and 51. The park also covers a mile of greenery perched between Leroy Street and Horatio Street in the West Village. The relatively low-key NYC waterfront park consists mainly of benches overlooking the water and walkable piers that are often home to pop-up events. There's a children's playground at Pier 51, complete with water views, as well as Drift In, a casual outdoor eatery serving up beach-inspired fare. The park is also home to a memorial designed by artist Anthony Goicolea in tribute to victims of the Orlando Pulse nightclub shooting.
How much does it cost to live in the West Village?
The West Village is notoriously pricey. The median asking price for a home was $1.7 million as of May 2021. Renters can expect to see monthly payments hovering around $3,395.
West Village Rentals Under $3500 on StreetEasy Article continues below
7. Riverside Park in the Upper West Side
Stretching along the Hudson River from 59th Street to 155th Street, Riverside Park is one of only ten officially designated scenic landmarks in New York City. When this NYC waterfront park was first designed in the 1870s by Frederick Law Olmsted, access to the river was blocked by the New York Central Railroad West Side Line. More than 60 years later, prominent NYC developer Robert Moses covered the railroad tracks with a promenade, built the 79th Street Rotunda, extended the park to the waterfront, and developed its recreation areas.
One of the park's latest updates is its skate park at 108th Street. It is currently being expanded for twice the fun! Also, those looking for a nice bite nearby can enjoy outdoor dining at Ellington in the Park, known for its bar and burgers.
How much does it cost to live near Riverside Park?
Upper West Siders have easy access to Riverside Park. This neighborhood has a median asking price of $1.6 million and a median rent of $2,995.
Upper West Side Rentals Under $3000 on StreetEasy Article continues below
8. Riverbank State Park in Hamilton Heights
While this park is perched on the roof of a sewage treatment plant on the Hudson River, it's one of the most beautiful (and well-attended) NYC waterfront parks. That status is thanks to the 28 acres of beautiful green roof featuring foliage and recreational areas. In fact, it's the largest green roof in NYC.
The park is packed full of recreational facilities like an Olympic-size swimming pool, a covered skating rink for roller and ice skating, a gym, a wading pool, four tennis, and basketball courts, a softball field, a running track, and more. That's in addition to the 400-seat theater and onsite restaurant called Sofrito On The Hudson. Meanwhile, kids will love the two playgrounds, carousel, educational greenhouse, and water play area.
How much does it cost to live in Hamilton Heights?
The median asking price for a home in Hamilton Heights was $568K as of May 2021. At the same time, the median asking rent was $2,295.
Hamilton Heights Rentals Under $3000 on StreetEasy Article continues below
9. West Harlem Waterfront Park in Manhattanville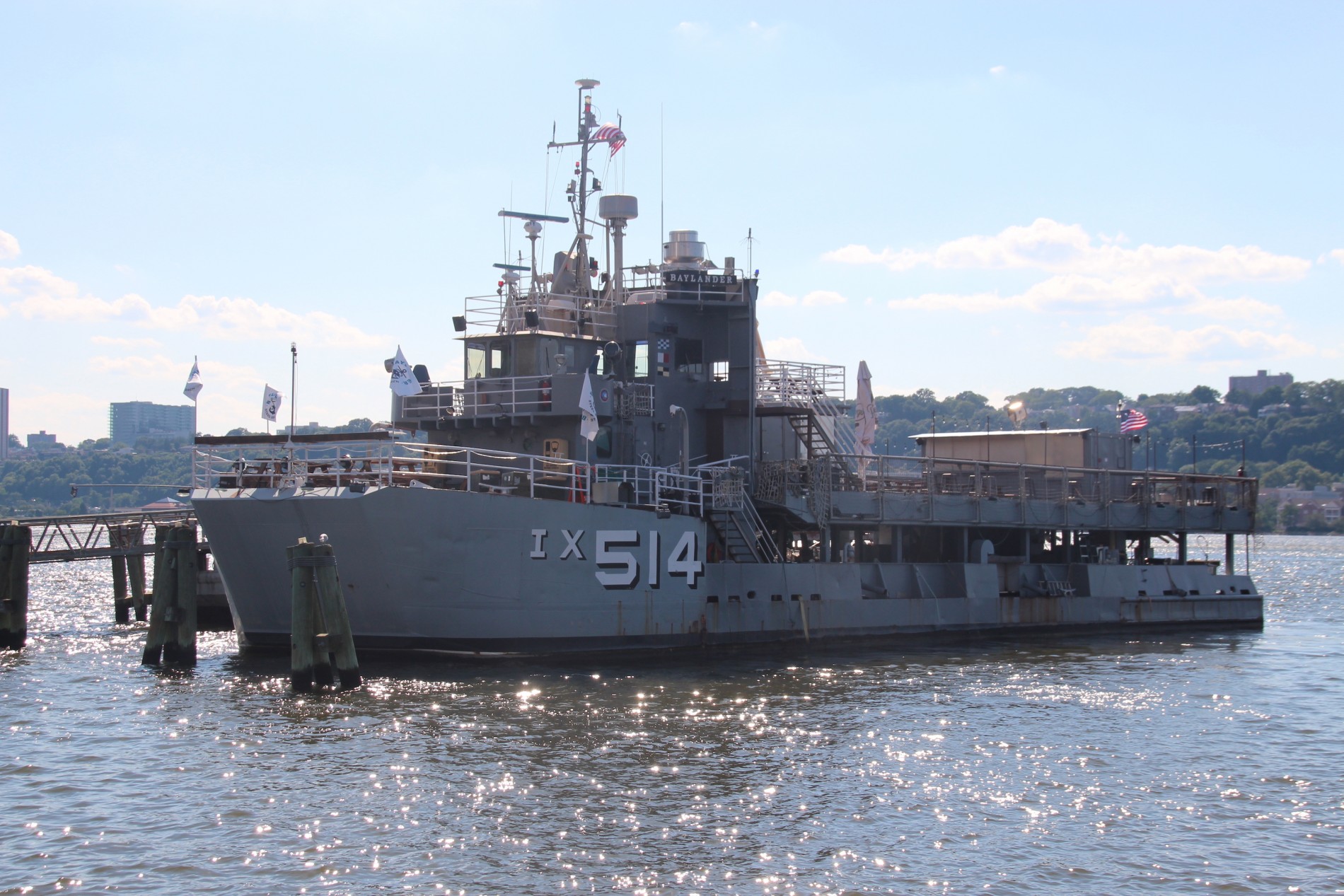 Also known as West Harlem Piers Park, the city transformed this former parking lot into a two-acre NYC waterfront park in 2009. Connecting West Harlem to the Hudson River Greenway, this park features recreational piers, landscaped open space, and bicycle and pedestrian paths. Its location faces the Palisades, George Washington Bridge, and Manhattan. The park's summer activities are fitness-heavy, like free tango lessons every Thursday and a few children's events with grab-and-go crafts. Fishing, kayaking, and canoeing are also available, and you can grab a bite at Baylander Steel Beach. FYI, Dinosaur Bar-B-Que is across the street.
How much does it cost to live near West Harlem Waterfront Park?
The median asking price for a home in West Harlem was $725K as of May 2021. The median rent in the same neighborhood was $2,347.
10. Governor's Island
Situated eight hundred yards from Lower Manhattan and even closer to Brooklyn, Governor's Island is a 172-acre escape right in the New York Harbor. The park is easily accessible by ferry and open to the public all summer long. And with so much space, there's plenty to do at this NYC waterfront park. Plus, there's no shortage of events. You can explore some two dozen arts, culture, and education organizations that will take over spaces on the island this summer. Or, foodies can participate in the dinner series or annual Jazz Age Lawn party. Governor's Island even has shopping covered, with one-of-a-kind handcrafted jewelry, art, apparel for sale at the FAD Market.
Everyday recreational options include bicycle rentals and a hammock grove. Meanwhile, children can have fun at the junk-themed playground and the longest slide in NYC. You can even spend the night on the island in a luxury tent through Collective Retreats.
11. Randall's Island Park
Nestled between East Harlem, the South Bronx, and Astoria, Randall's Island Park is known for its sports and recreational facilities. Not only is it home to miles of waterfront pathways, but it also features more than 60 athletic fields. For example, the park has an outdoor track and field venue, plus tennis and golf facilities. To get your nature fix, check out the gardens, wetlands, and the urban farm.
But Randall's Island isn't a one-trick pony: it's hosted huge events like Lollapalooza, Governors Ball, and Cirque du Soleil. The NYC waterfront park also has many recurring events throughout the summer, including nature tours and boot camps. These are just a few of the 300 free public events the park hosts each year!
Long Island City Rentals Under $3500 on StreetEasy Article continues below
12. Socrates Sculpture Park in Long Island City
Socrates Sculpture Park was transformed from a vacant lot into a significant arts destination on the beautiful Long Island City waterfront in 1986. A coalition of artists led by Mark di Suvero undertook the project, and their artistry is evident. Located at the junction of the Harlem and East Rivers, the park has been a catalyst for Long Island City's economic development since its official designation as parkland in 1998. Here you can enjoy various rotating exhibitions and regular yoga and meditation classes, beach gatherings, a farm stand, and children's dancing events. Of course, you can always just lounge on the flat grassy lawn.
How much does it cost to live in Long Island City?
The median asking price in this lively neighborhood was $1.1 million as of May 2021. The median asking rent was $3,019.
Astoria Rentals on StreetEasy Under $3500 Article continues below
13. Astoria Park in Astoria, Queens
Situated on the west shore of Queens, Astoria Park extends from south of the Triborough Bridge to north of the Hell Gate Bridge. Its panoramas of the East River and the Midtown Manhattan skyline make it a beautiful spot to watch the sunset. While the park has standard attractions like a playground, tennis courts, basketball courts, and a track, it's best known for its Olympic-sized swimming pool. As the largest pool in New York City, it was the site of the 1936 and 1964 Olympic qualifiers. The NYC waterfront park is also the site for regular outdoor events like waterfront concerts and a movie series during the summer. And when you get hungry, you can grab a quick bite at the pool bar or the Astoria Park Mobile Food Truck.
How much does it cost to live in Astoria?
As of May 2021, the median asking price for a home in Astoria was $821,300 and the median asking rent was $1,995. Here's what renters and home buyers should know about Astoria, Queens.
14. Franklin D. Roosevelt Boardwalk and Beach in Staten Island
Right on the Atlantic Ocean, Franklin D. Roosevelt Boardwalk and Beach is a 2.5-mile boardwalk and beach area parallel to Father Capodanno Boulevard on Staten Island. The park extends southeast from Fort Wadsworth to Miller Field's Gateway Recreational Area. Explore the entire NYC waterfront park on bike, or rent a specialty cycle from Wheel Fun Rentals at South Beach and Midland Beach. Along the way, you can check out basketball courts, baseball fields, beaches, volleyball courts, and bocce courts. In addition, children can climb and swing on three different playgrounds.
Food options include Midland Beach Mobile Food Truck and The Vanderbilt, both located at South Beach. And be sure to pay a visit to "The Fountain of The Dolphins," a fountain that contains six bronze dolphin figures that are illuminated at night.
How much does it cost to live near a waterfront park on Staten Island?
The median asking price of a home in South Beach on Staten Island was $749,999 as of May 2021. Median asking rent for all of Staten Island was $1,877, according to the StreetEasy Data Dashboard.
15. Pelham Bay Park in the Bronx
Clocking in at triple the size of Central Park, Pelham Bay Park is New York City's largest park by far. In addition to standard recreational amenities, the park is home to two golf courses and a 13-mile stretch of the Long Island Sound's saltwater shoreline. You will also find a wide variety of plant and animal life along the miles of bridle paths and hiking trails. The Siwanoy Indians, Ann Hutchinson, and the Continental Army walked here at one point in time.
You can find almost any recreational facility you could want at this NYC waterfront park. There are basketball courts, horseback riding trails, roller hockey areas, baseball fields, kayak launch sites, fishing spots, and four playgrounds for children. Plus, the Orchard Beach Snack Bar, Pelham Bay Park Mobile Food Truck, and Rodman's Neck Snack Bar will keep you full. Or, bring your food and try one of the many barbeque areas.
How much does it cost to live on the waterfront in the Bronx?
The median asking price for a home in Throgs Neck in the Bronx was $750K as of May 2021. The median asking rent was $2,200.
16. Concrete Plant Park in Longwood
Perched on the Bronx River shoreline, Concrete Plant Park opened in 2009 as part of the Bronx River Greenway, a project aiming to reclaim the waterfront for public use. This NYC waterfront park is situated on a former concrete plant that closed in the late 1980s and was saved from the auction block by community residents. Today, the park is a seven-acre waterfront park valued by Bronx residents providing multi-use greenways, a canoe/kayak launch into the Bronx River Corridor, and a waterfront promenade.
How much does it cost to live in Longwood in the Bronx?
The median asking rent in the Soundview neighborhood of the Bronx was $2,075 as of May 2021. Buyers can expect to see median asking prices of $555K.