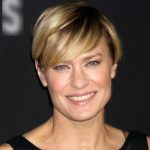 The West Village just got a whole lot cooler. Thank you, Robin Wright, who had the good sense to pick up a wonderfully decked-out co-op at 169 West 12th Street, the eternally trendy neighborhood already teeming with A-list celebrities. This jewel of an actress is now the proud owner of a jewel apartment in a prewar building that has buffed up beautifully to a 21st century remodel.
The "House of Cards" cutthroat Beltway player and former "Forrest Gump" love interest for Tom Hanks will cut a striking figure in her striking new pad: A $3.025 million, 2-bedroom beauty that is almost as slick as Claire Underwood. (Vanity Fair in its 2015 cover story on Wright called Claire Underwood a terrifying and pragmatic counterpart to Kevin Spacey's Frank Underwood.)
Wright's new apartment is dressed to kill in white subway tile, white marble counters, white kitchen cabinets all accented with dramatic black trim on the door and window frames.
It's straight out of central casting for Wright, whose post-marriage-to-Sean-Penn career has boomed thanks to her steely portrayal of the ultimate D.C. power player. And from the look of her new apartment, Wright must have been swayed by the no-nonsense luxury decor.
The co-op is located in a circa 1922 building that sports only 25 units. It sits on one of the West Village's classic tree-lined streets, which helps make this big-city purchase feel much closer to old-school New York than some of the bigger, bolder condo conversions that have attracted other celebrities to the West Village, like 150 Charles Street, where Ben Stiller just bought. Listing notes show that this building carries a low monthly maintenance charge (Wright will pay only $1,386) and a get a high tax deduction — nice for pied-a-terre use.
Related: