The L Train Shutdown
A StreetEasy series on the effects of the L Train Shutdown planned for April 2019: How it will affect homes and residents along the line, and how they're responding.
See the full series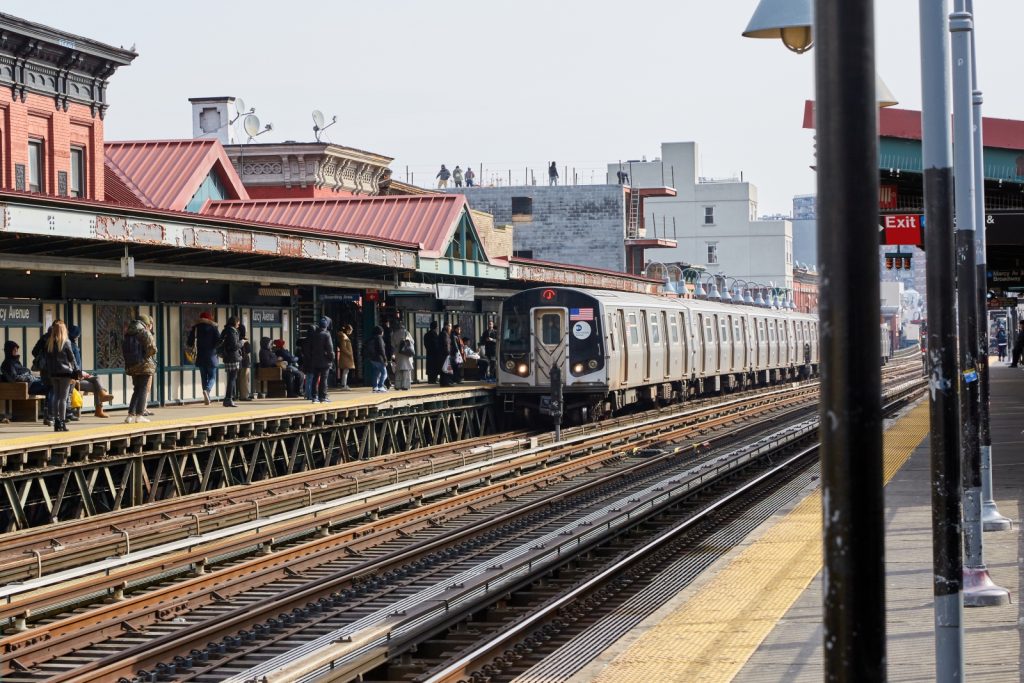 All this week, StreetEasy is covering the L train shutdown planned for April 2019, reporting on its impact on the housing market and how those affected plan to respond. Our coverage is running now to help readers make housing decisions well in advance of the shutdown. See all our L train shutdown coverage.
Even a five-minute walk through South Williamsburg will reveal its unusual mix: Industrial warehouses give way to glassy condos; hipster bikers break for school buses unloading Orthodox boys from the local yeshiva. "It's a very weird neighborhood," says Pola Rapaport, a film director who lives on Kent Avenue.
That's how it's long been — and that's how residents like it.  
But two converging forces have the potential to change the streets of South Williamsburg. Hundreds of new rental properties have entered the market in the past few years, with only more to come. This flood of new inventory hits just as the reality of the L train shutdown sets in for residents on either side of Grand Street. These factors could bring much change to an area long defined by its sense of settledness and insularity. Many residents are loyal to the neighborhood and plan to stay — but they're uncertain whether their pocket of Williamsburg will stay weird.
Housing That Lends Itself to Settling
Historically, the real estate market in South Williamsburg has favored sales over rentals, with several major condominiums like Schaefer Landing and the Smith Gray hitting the market in the early 2000s. The sales-heavy housing stock likely contributed to the area's sense of settledness. Those coming to South Williamsburg had to have the means to buy, the desire to settle, the foresight to invest.
Although South Williamsburg still has less for-sale inventory than North Williamsburg, its rate of inventory growth has lately recently eclipsed that of North Williamsburg. Over the past five years, South Williamsburg's for-sale inventory has increased by 96 percent, compared to North Williamsburg's 19 percent. Much of this can be attributed to new luxury new developments and condo conversions geared toward the well-heeled.
'Living in a Wasteland'
Pola Rapaport, 59, and her husband moved to Schaefer Landing 10 years ago, after renting on Greenwich Street in SoHo for decades. Over the years, they'd saved enough money to buy, and were drawn by the building's incredible tax abatements — "We pay next to nothing" — and what she calls "the cinematic views."
At that time, Williamsburg was up and coming, but not yet the nightlife center it is now. It had an authentic, gritty feel that comparably priced new developments in Manhattan and Downtown Brooklyn lacked.  When Rapaport moved in, there was an empty construction site across the street from their building that lay fallow for years. "At first," she says, "it felt like we were living in a wasteland."
'You Can't Ask For Better Neighbors'
The sizable Hasidic community that dominates South Williamsburg adds to the area's sense of permanence, and, Rapaport says, contributes to both its unusual character and its appeal. Due to their religious traditions, many Orthodox men choose to pursue Talmudic studies over typical employment, and Orthodox women tend not to work outside the home. As result, South Williamsburg has among the city's highest density of Section 8 voucher recipients.
"You can't ask for better neighbors than the Hasidics," Rapaport says of the family-oriented and devout ultra-Orthodox Jewish community. "They're a very polite and law-abiding people."
 The black-clad simplicity of the Hasidic community cuts a dramatic contrast with the glassy high-rises that are becoming more common. Rapaport says the new neighbors moving into her building are "Wall Street guys." On the ferry that departs from outside her place, it's just one stop to the Financial District.
'The Market Was Crazy'
Paolo Belfiglio, a 40-year-old lawyer who works for the Bank of Australia, moved in around the corner from Rapaport in 2013, a time when the South Williamsburg condo market was heating up. He had his eye on the Smith Gray Building, a former menswear factory built in the early 1900s that was converted to condos in the early 2000s. "The market was crazy," Belfiglio says. "Everything was going with multiple bids."
Although he did get outbid for a place in the Smith Gray, he ended up in a 1,000-square-foot 1-bedroom at the Gretsch around the corner. He closed in the summer of 2013 at 14 percent above the condo's asking price.
Once an Empty Lot, Now Condos
Two years after Belfiglio moved into the Gretsch, a 30-unit luxury condo went up a couple blocks down at 190 S. 1st  St. According to its developer, the building "is the first of its kind to offer unparalleled modern luxury amidst the increasingly popular and exciting backdrop of South Williamsburg." The building cuts a noticeable profile, and carries the cachet of a design by ODA Architecture. Units have an average recorded sales price of $1.3 million.
The condo boom seemed to peak in 2015 with the arrival of 338 Berry, which brought 60 new units to the South Williamsburg market. The converted factory building promised "authentic loft living in South Williamsburg," and boasts a mix of exposed beams, top-tier amenities and luxurious European finishes and appliances. Here, sales average $1.4 million.
More luxury condos are on the way. Just this year, 26 new building permits were filed in South Williamsburg, indicating that glassy towers are still going up.  Even the construction site that once lay abandoned across Rapaport's street is now a luxury building called the Oosten, where the average recorded sales price is $1.87 million.
Is South Williamsburg Now a Renter's Market?
The South Williamsburg rental market, on the other hand, has lagged notably behind that of North Williamsburg. Last year, the median asking rent for North Williamsburg was recorded at $3,325, a premium of $300 over South Williamsburg. The size of the rental market in North Williamsburg easily eclipses that of South Williamsburg, too, with 1,000 more rentals listed in in 2017.
Despite the huge disparity in available rentals, inventory levels are currently rising faster in South Williamsburg than further north — up by 15.5 percent in South Williamsburg, compared to 3.5 percent in North Williamsburg.
Pockets of Permanence Remain
Five years ago, when 27-year-old product manager Kristen Schaffer moved into a 3-bedroom walk-up on South 2nd Street, the neighborhood felt industrial and "not so spiffed up." Although her apartment had recently been renovated, most of the other units in her building had not. Her neighbors, she says, had lived in the building for decades and have rent-controlled units. Over the five years she's lived in the building, Schaffer's rent has gone up only $100.
Although she has noticed other buildings around her being tidied up in recent years, she says the pockets of change have been isolated from the pockets of permanence. "There are certain places that are standbys, that have existed forever and hopefully we'll always be here," she says. For Schaffer, this sets South Williamsburg apart from North Williamsburg, where she feels there are no pockets of permanence at all.
'It Feels Like a Small Village'
Jenny Scully, a 37-year-old account manager, moved to South Williamsburg for what she describes as "nostalgic reasons." She loved its mix of old factory buildings and quiet streets — even back when she used to live in the East Village, she would come walk here with Emma, her Cavalier King Charles Spaniel.
Scully only moved to the neighborhood last year, and didn't end up in one of the industrial warehouses she'd hoped to. Instead, she's currently renting at 15 Dunham Place, a 160-unit luxury rental building that opened for occupancy in 2012.  In the same breath that she says she loves how the neighborhood is "run down in just the right way," she also professes love for the new pilates studio that opened on Broadway.
Despite the influx of numerous destination restaurants, bars and clubs in the area, she says "it feels like a small village." In recent months, she's even taken to avoiding walking down Broadway, for fear of running into an old flame from the neighborhood.
Rapidly rising inventory and high levels of new construction are clear indications that South Williamsburg's provincial atmosphere could change, especially as the L train shutdown potentially lures renters and commuters south of Grand Street. Like many long-term residents, Pola Rapaport is acutely aware of the rising appeal of her neighborhood.
"We were at a New Year's party in Paris last year, and some kid was talking about the Marcy Avenue stop," Rapaport says. "I knew the French loved Brooklyn, but I thought we were still unknown on the JMZ."
>>  See more of StreetEasy's L train shutdown coverage.
—
Hey, why not like StreetEasy on Facebook and follow @streeteasy on Instagram?