Agents using StreetEasy will soon be able to easily schedule home tours directly from NYC sales listings for free
NEW YORK, June 8, 2022 – StreetEasy is announcing the addition of a free tour scheduling feature powered by ShowingTime, an industry leading showing management platform, which makes coordinating showings faster and easier for agents.
This summer, agents logged into StreetEasy will have access to ShowingTime's time-saving technology, directly from New York City sales listings. Free for agents and brokers who use StreetEasy, this feature will allow them the flexibility to schedule in-person or virtual showings directly through the ShowingTime platform – streamlining a process that has traditionally been cumbersome, manual and time-intensive for agents. ShowingTime enables agents to easily manage their showing schedules across platforms including desktop, tablet, or mobile, or via live phone calls from ShowingTime's 24/7 appointment center specialists. The technology makes it easy for buyer's agents to schedule multiple tours in a day and seller's agents to manage their showing requests on the go.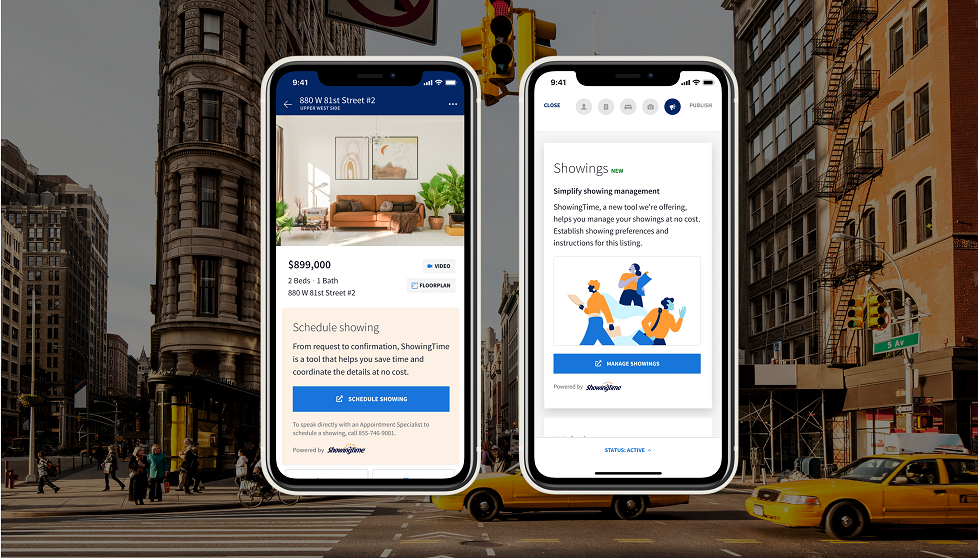 "The home tour is a critical part of the NYC moving process and one that is in need of innovation," says Caroline Burton, vice president and general manager of StreetEasy. "ShowingTime's unmatched tour scheduling technology helps us deliver a more seamless home shopping experience in NYC, and allows agents to spend more time focusing on what they do best — acting as trusted advisors for their clients."
Buyer's agents will be able to schedule showings for their clients quickly, which is especially important in today's competitive market where buyer demand is strong and the typical New York City home is selling in 44 days, the fastest pace in six years.
"More than a million agents across North America trust and use ShowingTime to coordinate their home showings, and we're thrilled to enable this technology in New York City," says Michael Lane, ShowingTime's vice president and general manager. "As we've seen, a more efficient tour scheduling process helps agents deliver more value to their buyers and sellers, and leads to more transactions."
A more efficient tour scheduling process with ShowingTime saves seller's agents hours of time coordinating schedules, and helps them showcase their clients' homes to more motivated buyers. Seller's agents can also access ShowingTime's detailed analytics and customizable feedback from buyer's agents who have toured the property, enabling them to give their clients helpful insights on how a listing is performing.
This offering is the latest example of free StreetEasy tools designed to help NYC agents grow their business, access robust market data, and connect with high-intent buyers, sellers, and renters. Other industry-leading tools StreetEasy offers agents for free include the Agent Tools platform to post and manage listings, daily Hotsheet emails, comparable reports, the StreetEasy Data Dashboard, and Experts Resource Center, among others.
StreetEasy and ShowingTime will offer training and share best practices with agents and brokerage partners leading up to the launch. Once the feature launches, showing scheduling will be available to logged-in agents on NYC sales listings, with the exception of for sale by owner and listings advertised through StreetEasy's Building Showcase offering. StreetEasy and ShowingTime value brokers' and agents' privacy as well as that of their clients. StreetEasy does not receive information from ShowingTime about agent/client relationships or individual touring activity.
About StreetEasy
StreetEasy is reimagining the way people buy, sell, and rent homes across New York City and New Jersey. Used more than any other local real estate platform, StreetEasy's website and mobile apps provide vetted and verified listings, plus intuitive search tools and data-driven guides to help people unlock the opportunity of living here. For NYC real estate agents, StreetEasy offers a suite of programs and tools to connect with NYC's largest audience of buyers, sellers and renters online. Launched in 2006 and based in NoMad, Manhattan, StreetEasy is owned and operated by Zillow Group (NASDAQ: Z and ZG) and is a registered trademark of Zillow, Inc.
About ShowingTime
ShowingTime is an industry leader in home touring technology and a proud affiliate of Zillow Group.  ShowingTime's technology and services simplify the tour scheduling process for buyers, sellers and agents across the industry. ShowingTime products are used in hundreds of Multiple Listing Services representing more than one million real estate professionals across the U.S. and Canada.